I have a very odd hobby. I enjoy putting lots of equipment in a rucksack and going up and down hills. Over time, friends have come to the conclusion that this either makes me a masochist or a hiker. I have yet to decide which term is the most accurate, although it is my belief that they think that it is the former.
Indeed, I go to extremes by having a fondness for long-distance hiking. This is where you put lots of equipment on your back and walk long distance over hills. Going to extremes, some people do this and camp out, carrying tents, cookers etc with them. The *real* masochists carry all this equipment and then decide to stay at YHA hostels ;-)
Hiking for me is a triumph of spirit over adversity. Or, if I have been drinking whisky, spirits over adversity. The main reason for this is that over they years I have had a series of operations on my left ankle (the last on Wednesday 13th May 1998) which has left it in a rather weakened state.
I have just finished my 6,266.5 mile walk around the coastline of Britain to raise money for the Riding for the Disabled Association. I started this walk on October 1st in Edinburgh, and finished on the 27th September 2003.
If you would like to see a few panoramic photographs, then please go to my page of panoramic photographs. These are very much experiments, but I like them...
Below is a map showing all the walks that I have done since the beginning of 1999. You can also see an animated GIF of my walks Here.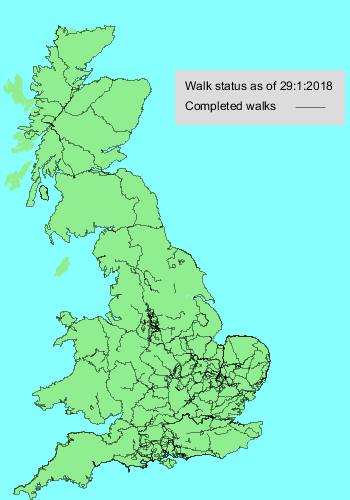 Map of completed walks
---
Walks List
Since the beginning of 1999 I have been keeping a detailed log of all the walks that I have done. Below is a list of all these walks, along with notes, directions, photos and other details.
Walks in 2013
6 walks were completed in 2013, a total distance of 103.6 miles.
Walks in 2012
28 walks were completed in 2012, a total distance of 578.4 miles.
Walks in 2011
65 walks were completed in 2011, a total distance of 1337.4 miles.
Walks in 2010
35 walks were completed in 2010, a total distance of 622.6 miles.
Walks in 2009
19 walks were completed in 2009, a total distance of 336.2 miles.
Walks in 2008
19 walks were completed in 2008, a total distance of 387.2 miles.
Walks in 2007
50 walks were completed in 2007, a total distance of 1023.6 miles.
Walks in 2006
48 walks were completed in 2006, a total distance of 1016.2 miles.
Walks in 2005
65 walks were completed in 2005, a total distance of 1150 miles.
Walks in 2004
56 walks were completed in 2004, a total distance of 1016.3 miles.
Walks in 2003
271 walks were completed in 2003, a total distance of 5019.7 miles.
Walks in 2002
139 walks were completed in 2002, a total distance of 2261.7 miles.
Walks in 2001
43 walks were completed in 2001, a total distance of 532.3 miles.
Walks in 2000
72 walks were completed in 2000, a total distance of 993.6 miles.
Walks in 1999
59 walks were completed in 1999, a total distance of 683.1 miles.
---
Hence I have walked a total of 17061.9 miles in 975 walks.
Alternatively, see the walks on a county-by-county basis, or look at the map of all my walks.
There is also a list of all the walks in relation to the OS maps that each walk needs, and also a calendar-based table showing the dates on which I have walked. Alternatively, have a look at a list of all the National Trails that I have walked.
---
Future Plans
Having just finished a 6,200+ mile walk, I am taking it easy for a while and am planning no immediate long-distance walks. I have a hankering to do the Wolds Way and the Cleveland Way in a two-week walk sometime in 2004, and I also would like to complete a few more walks to the highest points of every county on the mainland UK.
I would also like to do a long-distance path in Scotland over the summer; the Southern Upland Way appears to be tempting, but I may change thisplan later on.
---
Equipment List
Look at my list of all the hiking equipment that I currently use.
---
Why do I walk?
Will Self is quoted as having said in the Independant Magazine " I've taken to long-distance walking as a means of dissolving the mechanised matrix which compresses the space-time continuum, and decouples humans from physical geography ". Which I think is a convoluted way of saying that that walking allows you to escape from the everyday strains of modern life and gets you back to nature.
Walking for me means so much more, however; however bad I feel after any given walk, I always know that I shall recover, and that the next walk, the next beautiful sight or person to meet, is just around the corner. Life is not just about sitting in front of a desk writing computer software, it is also about experiences. And my walking has given me plenty of those. Even if I have to give up walking tomorrow, the last five years have given me a whole set of memories that shall stay with me forever, and a feeling of satisfaction that I have never got anywhere else. And I also met my girlfriend whilst on a hiking trip...
---
Disclaimer
All photography and text on this site is by, and copyright of, David Cotton, unless stated otherwise
---
Hiking Links
The links shown below are some relevant ones that I have picked up over time. I try and make sure that they are all current, but if any are dead then please accept my appologies.
Lands End to John O'Groats
General walking sites
Equipment
GPS
long-distance footpaths
Camping
Associations
---
---