Walk #486: Kilmore to Ferlochan
| | | |
| --- | --- | --- |
| | | |
| P20036304779 The seafront in Oban. | | P20036304785 Oban Roman Catholic Cathedral. |
General Data
| | |
| --- | --- |
| Date Walked | 30/06/2003 |
| County | Strathclyde |
| Start Location | Kilmore |
| End Location | Ferlochan |
| Start time | 11.24 |
| End time | 18.05 |
| Distance | 16.4 miles |
| Description | This was a short day along roads, the highlight of which was the lovely town of Oban. |
| Pack | Today I carried my 30-litre Karrimor HotRock rucksack, which was filled with my packed lunch, waterproof leggings, water bottle and a couple of spare shirts, together with the usual assortment of odds and ends. |
| Condition | I feel fine after this walk, and have no significant problems to report. The worst problem that I have is that one of the toes on my left foot hurts, as the nail is too long. |
| Weather | The weather today was a mixture of sunshine and cloud, with long sunny periods being separated by cloud. There was a fairly stiff breeze this morning, but this died down in the afternoon, and by the end of the walk it was mostly cloudy. |
| OS map | Landranger number 49 (Oban & East Mull) |
| | | |
| --- | --- | --- |
| | | |
| P20036304790 The remains of Dunollie Castle. | | P20036304792 Maiden Island. |
| | | |
| --- | --- | --- |
| | | |
| P20036304795 A distant view of the Connel Bridge. | | P20036304798 The Connel Bridge. |
---
Map of the walk
Maps courtesy of Google Maps. Route for indicative purposes only, and may have been plotted after the walk. Please let me
have comments
on what you think of this new format. For a detailed table of timings for this walk, please see
the table file
.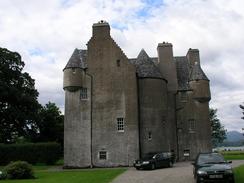 P20036304807 Barcaldine Castle.
---
Notes
I had an exceedingly late start to today's walk, as I spent time this morning creating an update of my website. I do this about every fortnight, and it takes ages to do. Fortunately I got it done, and the CD is now winging its way to Terry so that it can be uploaded to the website. Doing all this work on the website is quite hard - when I am not walking I seem to be typing text up, either on my PC or my Psion. Although this is annoying at the moment, I know that once I have finished the walk I will have a wealth of information on which to look back and remember the walk. It is also extremely gratifying when people send me emails stating how much they like the website; it is nice to know that people enjoy reading my assorted ramblings.
I find late starts to really upset my system, and I feel like I am playing catch-up for the rest of the day. Today was a classic example of this, and it was made worse by the fact that I had to get to Oban before one so that the local newspaper could interview me. I walked the initial stretch from Kilmore quite quickly and got into the town in plenty of time, I met Sam outside Boots, and we had a quick look around the town before the interviewer arrived. The interview was fairly standard, and hopefully we will get a good write-up from it. I was quite impressed by Oban; it is a nice town and I enjoyed having a quick look around it. It is definitely a place that I shall come back and visit at a more leasuirely pace in the future.
It was surprising to find that Oban had two cathedrals; strange things to find in such a small town. I passed the Roman Catholic cathedral on my way out of the town, and it is a very imposing stone building separated from the sea by the road. When I looked behind me I could see McCaig's Tower on the hillside above the town. This was built to be a replica of the Coliseum in Rome as an answer to local unemployment in the late nineteenth century, but it was never completed. I did not have time to go and visit it, and this will be another thing to put on my list of things to be done once the walk is over.
The A85(T) was the busiest road that I have had to endure for some time, and I did not like walking along it one bit. To avid it for as long as possible I walked along the seafront road to Ganavan Bay, and then along a track back to the road. The first section of the rest of the A85(T) stretch had a pavement, but when this ended I was forced to join the traffic. With hindsight I would have been better to force my way along the coast to Dunstaffnage, but even that would only have avoided the section with the pavement, and left me to walk along the road for the rest of the way. It was a noisy, dirty and busy stretch of road, and the only good that I an find to say about it is that there were some nice views northwards over Ardmucknish Bay.
The bridge over the mouth of Loch Etive at Connel is a fairly impressive steel structure, and it carries the road over the Loch at a place called the 'Falls of Lora'. At ebb tide the loch runs into the Atlantic at such a speed that the channel becomes a violent rapid. Unfortunately I got here at the wrong time and did not see this, but the bridge was impressive enough for me. It was being repaired, and I had to squeeze carefully along the pavement between the safety sheeting and the traffic. Loch Etive itself holds some happy memories for me, as it was a base for a long walking trip that I went on with my school in 1991, at a time when I was lucky enough to be able to walk without pain. The loch itself is nearly eighteen miles long, and I had ever seen the mouth of it before.
I met Sam again in Benderloch, and I went into Mervan for a short while. When we were in Glasgow I bought a new pair of trainers, but I have yet to wear them on a walk. I noticed that my old pair was getting extremely worn, and so I decided to change into my new pair for the last three miles. I was quite wary about doing this as my old pair of trainers are very comfortable, and the last thing that I want to do is get blisters breaking in a new pair. The old pair are far too worn, however, and I will need to get the new pair going sometime, so I wore the new pair for the last few miles. They were surprisingly comfortable, although as they are new they gripped extremely well to the road surface.
At one level today was quite disappointing, as I had hoped to walk further today. On the other hand it was a nice, short day, and as I did twenty-four miles yesterday I still have a reasonable average. I am unsure about when I am going to reach Fort William; it will probably be the day after tomorrow. I am hoping that the weather is nice the day after I reach there, as I would like to be able to climb Ben Nevis whilst I am in the area. Last time I was up there it was not a clear day and the views were few and far between, so it would be nice to be lucky enough to get to the summit on a clear day.
---
Directions
This walk starts off at a lay-by on the A816 road by a phone box in the village of Kilmore. Follow the A816 road as it heads northwestwards for three miles into Oban, as it descends under a railway bridge and meets the seafront. Join the promenade and follow this past a roundabout and on to a road that skirts the coast past the youth hostel and Dunollie until Ganavan Bay is reached. Do not descend down to the beach but turn to the right down a narrow surfaced road that heads southwards past a housing estate for a little under a mile until the A85(T) is reached.
Turn left to walk northeastwards along the A85(T). For the first couple of miles as far as Dunbeg there is a pavement, but after this you have to join the road, which is fairly busy. The road eventually enters Connel, and at a road junction with the A828(T) turn right along a road that curves around to reach the imposing bridge over the mouth of Loch Etive. Cross the bridge and on the other side turn left down a road into North Connel; when the road curves to the right follow it around northwards before it ends and a short path links it to the A828(T). Head north along the A828(T) for another couple of miles until Benderloch is reached. Continue past the church in the village and then turn left along a road that heads northwestwards into Tralee, where the road turns to the right to head northeastwards for a little under a mile. When a crossroads is reached turn right down a road that heads eastwards past Barcaldine Castle to a junction with the A828(T) road, where this walk ends.
---
Distances
| From | To | Distance (m) | Ascent (ft) | Descent (ft) |
| --- | --- | --- | --- | --- |
| Kilmore | Oban | 3.9 | 499 | 522 |
| Oban | Benderloch | 9.7 | 1007 | 971 |
| Benderloch | Ferlochan | 2.8 | 121 | 112 |
This makes a total distance of 16.4 miles, with 1627 feet of ascent and 1605 feet of descent.


For more information on profiles, ascents and descents, see this page
---
Accommodation
We parked Mervan in a little car park in Benderloch, opposite the newsagents.
---
Disclaimer
Please note that I take no responsibility for anything that may happen when following these directions. If you intend to follow this route, then please use the relevant maps and check the route out before you go out. As always when walking, use common sense and you should be fine.
If you find any information on any of these routes that is inaccurate, or you wish to add anything, then please email me.
All images on this site are © of the author. Any reproduction, retransmissions, or republication of all or part of any document found on this site is expressly prohibited, unless the author has explicitly granted its prior written consent to so reproduce, retransmit, or republish the material. All other rights reserved.
Although this site includes links providing convenient direct access to other Internet sites, I do not endorse, approve, certify or make warranties or representations as to the accuracy of the information on these sites.
And finally, enjoy your walking!
---
This walk was mentioned in the following routes:
---
Nearby walks
---