Walk #99: Newbury to Reading
| | | |
| --- | --- | --- |
| | | |
| O06 The very rare turf-sided lock at Garston. | | O05 Aldermaston Lock. |
General Data
| | |
| --- | --- |
| Date Walked | 03/06/2000 |
| County | Berkshire |
| Start Location | Newbury station |
| End Location | Reading station |
| Start time | 08.52 |
| End time | 17.00 |
| Distance | 19.6 miles |
| Description | This was a pleasant walk along the Kennett and Avon Canal. |
| Pack | Full Pennine Way kit. |
| Condition | I feel quite fatigued after this walk, although I recovered quite quickly for my journey home, however. On the outskirts of Newbury I got an insect bite on my right arm that has swollen the whole arm up and is causing me some discomfort. |
| Weather | Today's weather was a mixture of sunshine and cloud, with some quite high temperatures. There was not much wind, which meant that the heat was quite noticeable, and there was no sign of any rain. |
| OS map | Landranger number 174 (Newbury & Wantage, Hungerford & Didcot) and Landranger number 175 (Reading & Windsor, Henley-on-Thames & Bracknell) |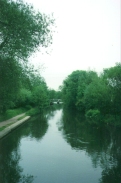 O03 Looking east along the canal at Greenham Lock.
---
Map of the walk
Maps courtesy of Google Maps. Route for indicative purposes only, and may have been plotted after the walk. Please let me
have comments
on what you think of this new format. For a detailed table of timings for this walk, please see
the table file
.
---
Notes
This was a highly enjoyable day's walk alongside the Kennet and Avon Canal between these two towns. It was surprisingly rural despite the whole walk being in an area where many high-tech companies have set up home. Beyond Garston Lock the route becomes noisier; firstly because of the M4, which we pass under, and then by other car noises as we start encroaching on the outskirts of Reading. However despite this the scenery is mostly still quite nice, and you only realise that you are entering a conurbation when a dual carriageway becomes visible as the canal bends northwards into Reading beyond Fobney Lock.
When I was planning this walk, I was intending to catch a train down and spend the entire weekend walking in Berkshire and Hampshire. However, due to a slight change in my plans I decided to drive down to Newbury instead. I was quite pleased that this took a lot less time than I had expected - I was in Newbury about two hours after I had left Cambridge.
A diversion had to be made north to the A4 for about three-quarters of a mile at Colthorp due to the canal towpath being closed by a collapsed culvert. This was slightly annoying, but fortunately there was a footpath alongside the road for the entire diversion which meant I did not have to brave the traffic too much.
Unfortunately a rather negative aspect to the day was the insect bite that I obtained on the outskirts of Newbury. This made my entire right arm swell up, and even a day later there is a noticeable and painful swelling over half the length of my arm. I have never reacted to an insect bite in this manner before, and it is quite concerning as well as painful.
---
Directions
Simply join the Kennet and Avon Canal in Newbury and head eastwards for 19 or 20 miles. Every so often the towpath swaps over to the other side of the canal; watch out for these as apparently many walkers continue on paths on the wrong side of the canal.
For more details of walking along the Kennet and Avon Canal, see the excellent "The Kennet and Avon Canal Walk", by Ray Quinlan, ISBN 1-85284-090-0, and published by Cicerone.
---
Distances
| From | To | Distance (m) | Ascent (ft) | Descent (ft) |
| --- | --- | --- | --- | --- |
| Newbury station | Thatcham station | 4.3 | 36 | 79 |
| Thatcham station | Aldermaston Wharf | 5.1 | 36 | 69 |
| Aldermaston Wharf | Theale | 3.9 | 20 | 46 |
| Theale | Reading station | 6.3 | 85 | 105 |
This makes a total distance of 19.6 miles, with 177 feet of ascent and 299 feet of descent.


For more information on profiles, ascents and descents, see this page
---
Transport
There are regular train services between Newbury and Reading, calling at some stations en route. For more details, please see the Railtrack Travel timetable website.
---
Disclaimer
Please note that I take no responsibility for anything that may happen when following these directions. If you intend to follow this route, then please use the relevant maps and check the route out before you go out. As always when walking, use common sense and you should be fine.
If you find any information on any of these routes that is inaccurate, or you wish to add anything, then please email me.
All images on this site are © of the author. Any reproduction, retransmissions, or republication of all or part of any document found on this site is expressly prohibited, unless the author has explicitly granted its prior written consent to so reproduce, retransmit, or republish the material. All other rights reserved.
Although this site includes links providing convenient direct access to other Internet sites, I do not endorse, approve, certify or make warranties or representations as to the accuracy of the information on these sites.
And finally, enjoy your walking!
---
This walk was mentioned in the following routes:
---
Nearby walks
---