Walk #518: Altandhu to Lochinver
| | | |
| --- | --- | --- |
| | | |
| P20038046309 The beach at Achnahaird. | | P20038046312 The beach at Achnahaird. |
General Data
| | |
| --- | --- |
| Date Walked | 04/08/2003 |
| County | Highlands |
| Start Location | Altandhu |
| End Location | Lochinver |
| Start time | 08.15 |
| End time | 15.22 |
| Distance | 18.9 miles |
| Description | This was a reasonable little plod along roads, which should have had magnificent views over mountains including Stac Pollaidh and Suilven, but they were unfortunately wreathed in low cloud. |
| Pack | For the first three miles of today's walk I did not carry any pack, but for the rest of it I carried my 30-litre Karrimor HotRock rucksack, which was filled with my packed lunch, waterproof leggings, water bottle and a couple of spare shirts, together with the usual assortment of odds and ends. |
| Condition | Aside from my cough I feel fine after this walk, and I could easily have walked further if I had needed to. My shoulder gave me no gip whilst I had the pack on, but when I took it off it started aching slightly. |
| Weather | Today's weather was highly annoying. Whilst the rest of the country was sweltering in high temperatures and sunny weather, I was treated to long periods of drizzle and low cloud, with only occasional sunshine. A thoroughly depressing day's weather, |
| OS map | Landranger number 15 (Loch Assynt, Lochinver & Kylesku) |
| | | |
| --- | --- | --- |
| | | |
| P20038046326 Loch na Dail. | | P20038046327 A loch beside the road. |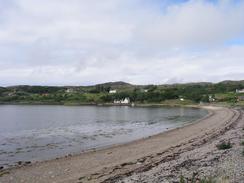 P20038046334 The beach at Inverkirkaig.
---
Map of the walk
Maps courtesy of Google Maps. Route for indicative purposes only, and may have been plotted after the walk. Please let me
have comments
on what you think of this new format. For a detailed table of timings for this walk, please see
the table file
.
---
Notes
Coughing woke me up again this morning, and I felt absolutely rotten as I lay in bed. Sam and I have been sleeping separately for the last few nights whilst I have been coughing so I do not disturb her too much, but I find that I miss having her beside me at night, cramped though the bed is with the two of us in there. Sam was still asleep by eight, and so I tried to get up quietly and get ready for the day's walk. I wanted to have an early start, so when Sam finally awoke I said goodbye and nipped off, leaving my pack behind in the van. Unencumbered with a rucksack I made good time, and three miles later I met Sam in a little car park near Achnahaird, where I had breakfast. It felt really nice to have got a few miles under my belt before breakfast, and I could relax whilst I had my first cup of coffee.
Sam had already packed me rucksack ready for the rest of the day's walk, and so I put it on and stepped out of the van. As son as I did so I got a phone call from a friend with some good news, and we ended up chatting for ten minutes whilst I admired the view over the beach at Achnahaird. I had strapped my new camera tripod to the side of my rucksack as I was expecting some nice views over Stac Pollaidh and Suilven, and I could see a couple of places on the map where there might be some good panoramic views. Unfortunately it soon started to drizzle and the cloud layer lowered, so there was no chance of getting any good views. The only thing really worth photographing was a helicopter that frequently flew over the fish farm by the River Polly, with a load slung underneath it. It would make the journey every five minutes or so, dropping off one tub and then picking up another. I can only assume that it was food being taken out to another fish farm, but a helicopter must be a very expensive way of doing it.
I met Sam for lunch at a little car park by the River Kirkaig in Inverkirkaig, where she had a piping hot bowl of soup ready for me. It had been drizzling fairly continuously for about an hour and I was consequently more than a little damp, and so I was glad of the warmth inside me. We had been hoping to spend the night at a campsite at Achmelvich, but unfortunately it was full. This was a bind as we had not been at a campsite for six days (or five days walking after my day off), and I was running out of storage on the cards for my digital camera. Consequently I set off for the last three miles to Lochinver in slightly low spirits, but I soon got a phone call from Sam, who had been an absolute star and got us a place where we could hook up for power for enough time to download the photos. This was not quite as good as having a campsite, as we could not fill up with water or have showers, but it got me out of a hole, and I was glad enough of that.
I spent a while downloading all the photos from my camera onto the PC as soon as I finished the walk, before we moved to outside the Culag Hotel in Lochinver. Sam cooked a lovely Bolognese, and we then went into the hotel for a drink and a pudding. This all made for a superb evening, and even my coughing did not spoil it too much. The only bad thing is that we will not be able to get a campsite for at least another two or three day in Scourie, and as well as having to write up those photographs I would have to write up the other five as well.
Given the weather over the last couple of weeks Sam and I have been amused by the news tonight. They have stressed that the country is in the middle of a heat wave and that speed restrictions have had to be put on rail services because of the threat of rails buckling in the heat. The image this conjures up - of cloudless skies and droughts - is, needless to say, not what we are experiencing. It has been routinely damp and grey, and if it has not rained continuously then there has been at least some rain most days. It is not that I would want massively high temperatures, as I find walking in high temperatures to be quite debilitating, but just that it would be nice to have sunny skies so that I can take some decent photographs.
The mountains in this area, such as Suilven, Quinag and Canisp, are not high (they are all less than the magical 3,000 foot mark they need to be a Munro), but they are impressive nonetheless as they are solitary mountains, sticking up from low plains. I am very tempted to climb at least Suilven, but yet again I fear that I need to walk on, especially as Cape Wrath is now so near. A quick guesstimate is that I shall have walked around 3,200 miles along the west coast of Britain (that is, from Land's End), and I am now getting anxious to start off on the north coast, which will be far shorter.
---
Directions
This walk starts off on the road about fifty yards northwest of the pub in the village of ALtandhu. Follow the road northwestwards past a phone box until a T-junction is reached on the right. Turn right along this road and follow it as it climbs uphill and then descends through Brae of Achnahaird to another T-junction at the northern end of Loch Rae.
At this junction turn left and follow the new road as it heads past the northern top of Loch Osgaig, where it turns to head southeastwards along the eastern side of the loch before climbing up to a road junction in Badnagyle. AT the junction turn left and follow the road as it climbs up over Druim Bad a' Ghaill and descends to cross the River Polly near a fish farm. Continue on along the road as it climbs uphill and passes a few lochs, before eventually descending and turning to head northwestwards to meet the sea at Loch an Eisg-brachaidh. The road then turns to head northeastwards and climbs uphill before descending steeply to a bridge over the River Kirkaig.
The road then curves to the left to parallel the River Kirkaig to the beach in Inverkirkaig, where it runs to the right to head northwards through the village. The road then climbs up through Inverkirkaig, Badnaban and Strathan before heading down to meet the side of Loch Culag. It then passes a school and descends into the village of Lochinver. Once in the village turn left to cross a bridge over a little river and continue on towards the harbour. This walk ends at the Culag Hotel by the harbour.
---
Distances
| From | To | Distance (m) | Ascent (ft) | Descent (ft) |
| --- | --- | --- | --- | --- |
| Altandhu | Badnagyle | 6.9 | 594 | 495 |
| Badnagyle | Lochinver | 12.0 | 2044 | 2231 |
This makes a total distance of 18.9 miles, with 2638 feet of ascent and 2726 feet of descent.


For more information on profiles, ascents and descents, see this page
---
Accommodation
We spent the night in the car park of the Culag Hotel in Lochinver, who were nice enough to allow us to stay there and use their facilities.
---
Disclaimer
Please note that I take no responsibility for anything that may happen when following these directions. If you intend to follow this route, then please use the relevant maps and check the route out before you go out. As always when walking, use common sense and you should be fine.
If you find any information on any of these routes that is inaccurate, or you wish to add anything, then please email me.
All images on this site are © of the author. Any reproduction, retransmissions, or republication of all or part of any document found on this site is expressly prohibited, unless the author has explicitly granted its prior written consent to so reproduce, retransmit, or republish the material. All other rights reserved.
Although this site includes links providing convenient direct access to other Internet sites, I do not endorse, approve, certify or make warranties or representations as to the accuracy of the information on these sites.
And finally, enjoy your walking!
---
This walk was mentioned in the following routes:
---
Nearby walks
---