Walk #347: Marazion to Porthcurno
| | | |
| --- | --- | --- |
| | | |
| P20032050069 Looking back towards St Michael's Mount. | | P20032050086 A distance view of St Michael's Mount. |
General Data
| | |
| --- | --- |
| Date Walked | 05/02/2003 |
| County | Cornwall |
| Start Location | Marazion |
| End Location | Porthcurno |
| Start time | 08.08 |
| End time | 16.56 |
| Distance | 14.1 miles |
| Description | This was a highly enjoyable and very scenic walk following the South West Coast Path, over a path that was quite hard going in places due to the path going over and around large boulders. |
| Pack | >Today I carried my 30-litre Karrimor HotRock rucksack, which was filled with my packed lunch, waterproof leggings, water bottle and a couple of spare shirts, together with the usual assortment of odds and ends. |
| Condition | I feel absolutely fine after this walk, and have no problems to report. I could also have walked much further today, not only because this was a short day but also because I took a long break off after the first few miles. |
| Weather | This was the first dry day for seemingly ages, with a mixture of sunshine and cloud being present for most of the day. It was also quite a mild day, and when the sun was shining as I was climbing up hills it actually got quite warm. All in all it was the best day for walking for some time. |
| OS map | Landranger number 203 (Land's End & Isles of Scilly, St Ives & Lizard Point) |
| | | |
| --- | --- | --- |
| | | |
| P20032050006 Mousehole Harbour. | | P20032050025 The beach at St Loy's Cove. |
| | | |
| --- | --- | --- |
| | | |
| P20032050031 Looking down over Penberth. | | P20032050034 Penberth. |
---
Map of the walk
Maps courtesy of Google Maps. Route for indicative purposes only, and may have been plotted after the walk. Please let me
have comments
on what you think of this new format. For a detailed table of timings for this walk, please see
the table file
.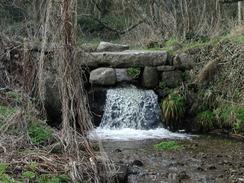 P20032050026 A stream running into St Loy's Cove.
---
Notes
This was a short day's walk on a quite busy yet enjoyable day, which was made all the better for being the first dry day for seemingly ages. The first part of the walk as far as Penzance was exceedingly easy as the path followed the railway line, and this gave me some good views of trains going by on the line. Unfortunately I also passed the old Pullman coaches near Marazion, and these were in a disgusting state. These coaches were placed in the sidings to be used as holiday accommodation, but over the years their condition has deteriorated. Now there are only three left, and one of those has been destroyed by fire and the other two are probably beyond repair. It is a shame for such historic coaches have been left to get into that state. Slightly later on I passed the Penzance heliport, from where large helicopters take passengers regularly over to the Scilly Isles, and one passed immediately overhead as I was walking past, which was a great sight.
When I got to Penzance I met Sam in the car park beside the harbour so that we could drive up to one of the local Riding for the Disabled Association groups near St Ives. This made for a very enjoyable couple of hours, and it was nice to see exactly what I am raising money for. In particular I must express admiration for the volunteers, who turn up week after week and give their time freely throughout the year to help those who are less fortunate than themselves. We had a nice chat with the people who were helping and they were all exceedingly nice people. Sam started chatting to the horses whilst we were waiting for the children to get ready, in the way she loves chatting to all sorts of animals.
Tom Isaacs, who is walking around the coast in the opposite direction, and I were due to meet up on the coast today. Tom was planning to walk into Penzance today, so I had thought that we would meet up somewhere like Lamorna or Mousehole. When I had passed both of these I thought that I must have missed him, so I continued on regardless. At one point I started to sing along with a tape, and of course that was the very moment that Tom and his girlfriend, Lindsey, chose to pop up from behind a bush to surprise me. Knowing that I had already got my revenge on them for this by inflicting my singing on them we chatted and took a couple of historic photos of Coastin meeting CoastWalk.
Later on as I was approaching Porthguarnon I saw Sam on the other side of the valley. She had walked for a couple of miles to meet me, and so we slowly walked back to the van in Porthcurno together. As we did so he fins of Dolphins became visible below us, and this made for a lovely sight, and particularly as they were amazingly the first dolphins that I have seen on this trip! It was nice having Sam walking with me, and we chatted away as we walked.
We had arranged to meet up with Tom and Lindsey this evening, and just after it got dark Tom walked past the van and he came in. We chatted for hours about our respective walks, before Lindsey joined us after she had finished doing some shopping. Later on we went into Penzance to have a meal, and yet again we continued talking about our trips. I was particularly interested in the route that Tom had taken, and where his favourite places were. Tom and Lindsey were great company, and I am so full of admiration for what he as achieved in the face of what can only be seen as quite severe adversity.
Tomorrow is going to be a red-letter day, as fairly early on in the walk I shall be reaching Land's End. This is important for to reasons; firstly it is my second right-hand turn in the walk, where I change from heading southwestwards to northeastwards; and secondly it means that I will connect up with walks that I have done on a pervious trip and I have now completed a circular walk around the entire south of England. I am very looking forward to reaching Land's End, and I hope that Sam will be able to meet me there so that she can take some photographs of me there. The walking is going to be quite hard for the next few days, and consequently I have reduced the distance that I am planning to walk each day.
---
Directions
During this walk I followed the South West Coast Path, the route of which is detailed in the Ordnance Survey National Trail Guide 9, Padstow to Falmouth (ISBN 1-854108-50-6). Unfortunately the route description is written in reverse to the direction that I am walking, but the 1:25,000 maps in the book are clear and the signs on the ground are very good. Also to be recommended is the South West Coast Path Association guidebook (ISBN 0-907055-04-4), which has less concise directions and no maps, but includes accommodation details and grades each section of the walk according to difficulty. They also publish reverse directions, which are suitable for walking in the direction that I walked the route. They have a website at www.swcp.org.uk, which is well worth a visit.

National Trail Guide: Padstow to Falmouth

SWCP Association guide 2004
---
Distances
| From | To | Distance (m) | Ascent (ft) | Descent (ft) |
| --- | --- | --- | --- | --- |
| Marazion | Penzance | 2.9 | 52 | 43 |
| Penzance | Lamorna Cove | 5.8 | 751 | 732 |
| Lamorna Cove | Porthcurno | 5.4 | 1535 | 1427 |
This makes a total distance of 14.1 miles, with 2338 feet of ascent and 2202 feet of descent.


For more information on profiles, ascents and descents, see this page
---
Accommodation
We parked on the Western Promenade Road in Penzance for the night, which was not too noisy and was convenient for the centre of town, which was a short walk away.
---
Disclaimer
Please note that I take no responsibility for anything that may happen when following these directions. If you intend to follow this route, then please use the relevant maps and check the route out before you go out. As always when walking, use common sense and you should be fine.
If you find any information on any of these routes that is inaccurate, or you wish to add anything, then please email me.
All images on this site are © of the author. Any reproduction, retransmissions, or republication of all or part of any document found on this site is expressly prohibited, unless the author has explicitly granted its prior written consent to so reproduce, retransmit, or republish the material. All other rights reserved.
Although this site includes links providing convenient direct access to other Internet sites, I do not endorse, approve, certify or make warranties or representations as to the accuracy of the information on these sites.
And finally, enjoy your walking!
---
This walk was mentioned in the following routes:
---
Nearby walks
---