Walk #694: A circular walk from Clare to Suffolk county top
| | | |
| --- | --- | --- |
| | | |
| P2005B057905 Clare. | | P2005B057916 Looking west from between Hermitage Farm and New House Farm. |
General Data
| | |
| --- | --- |
| Date Walked | 05/11/2005 |
| County | Suffolk, Essex |
| Start Location | Clare |
| End Location | Clare |
| Start time | 10.17 |
| End time | 16.49 |
| Distance | 19.6 miles |
| Description | This was an enjoyable stroll, heading northwards from the beautiful village of Clare to the highest point of Suffolk, and back via Cavendish. |
| Pack | Today I carried my 30-litre Karrimor rucksack filled with my waterproofs, a book and various other odds and ends. |
| Condition | Aside from a couple of hot spots on my feet (a result of wearing only a thin pair of socks in my boots) I am okay. My right knee gave me a little gip towards the end of the day, which is of concern. |
| Weather | The day started off sunny with scarcely a cloud in the sky, but as the afternoon drew on the clouds started to gather. There was a short, sharp shower a couple of hours from the end, but this soon died away. It was quite a breezy day, and although it was mild for the time of year, the wind was quite biting. |
| OS map | Landranger number 155 (Bury St Edmunds, Sudbury & Stowmarket) |
| | | |
| --- | --- | --- |
| | | |
| P2005B057924 A skeletal tree beside the track. | | P2005B057932 Kings Wood trig pillar. |
| | | |
| --- | --- | --- |
| | | |
| P2005B057949 Looking north towards the mast marking Suffolk's highest point. | | P2005B057972 The track leading south towards Hawkedon. |
---
Map of the walk
Maps courtesy of Google Maps. Route for indicative purposes only, and may have been plotted after the walk. Please let me
have comments
on what you think of this new format. For a detailed table of timings for this walk, please see
the table file
.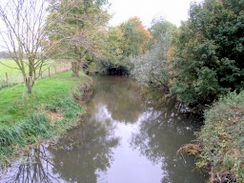 P2005B058007 The River Stour at Bower Hall.
---
Notes
When I had last done a walk here in, in January this year, I had been very impressed by the lovely Suffolk village of Clare. As I looked back at the photos that I took on that trip this week, I found a plan forming to do another walk based on the village. A quick look at a map led me to sketch out a walk from Clare to the highest point in Suffolk, marked by an aerial in an otherwise flat terrain.
I set off much later than I had been expecting, and consequently did not get to Clare until well after ten. This meant that it was touch and go whether or not I would be able to finish the walk before dusk, but after a little thought I decided to go ahead with the walk anyway. Once I had parked up I needed to go to the loo urgently, and so after buying a ticket (at a cost of a pound for all day) I jogged through the country park, passing the broken remains of the castle standing high on its motte. On the way back I took my time, and climbed up onto the Lady's Walk, which led for a short distance towards the motte.
It did not take me long to pull my kit together, and I soon found myself heading along the road into the centre of Clare. As I walked I was reminded exactly why this village had made such an impression on me - some of the buildings look superb, and several have exquisite detailing on them. I called into the shop to get a few snacks to eat during the day, and I then headed off. Before I got to the church I followed a road eastwards out of the village, and then skirted past some playing fields and a police station before following a path northwards.
The path soon had hedges on both sides, and brambles hanging down right at face level. Despite this it was not a hard walk, and it emerged into fields for the last stretch to Hermitage Farm. A track then led on northwards, and in the morning sunshine it was a superb walk, with some nice views to be head over to the west. I stopped to take a panoramic photo, and headed on towards a dead tree, standing stark and leafless against the blue sky behind. I stopped again to take a photo, but my eyes were averted to the right by some sudden movement. I was startled to se a herd of large deer moving along a hedge ahead of me, and I just stood and watched as they thundered past. It was a magical sight, and after they passed I continued on, and when I passed the point they had crossed I smelt a musky odour in the air.
The track ended at a road, and a short distance along this road I was due to follow a footpath shown on the map, but as I walked I could see no sign of it. I continued on up the road until it was obvious that I had missed it, and this forced me to turn back to find a footpath that was before a bend. This proved to be the correct route, as after a few yards the path that I wanted turned of to the left. It skirted some fields complete with horses, before heading across some rougher ground and reaching a trig pillar. I did not stay too long here, and followed another path that reached a stream, and in the distance near King's Wood I could see a large herd of deer running across a field, another magical sight.
Shortly after this the footpath became a rough bridleway, and I followed this as it crossed a fairly undistinguished countryside until it reached a road at Upper Street. This was a fairly pleasant road to follow, and the church at Stansfield was pretty. Shortly after this I left the road, and started following a footpath that headed northwards towards Purton Green, where some footpath diversion signs stated a diversion off the route marked on the map. The new route was easy to follow, and after passing an exquisite house to the right of the path I reached Cordell Hall.
Here I went slightly off route; the track that I was following descended downhill, and instead of taking the easternmost branch of a stream that led uphill past some ponds, I followed the westernmost branch, which also led uphill. After a few hundred yards I realised that I had gone wrong, but as I did not want to turn back I headed across a field back towards the track, joining it just before Gatesbury Farm. Another track led on northwards, and I soon found myself at a road junction by a large aerial, which is roughly the position of the highest point in Suffolk. I had walked past this point on a walk years ago, and I walked for a few yards up the road until I reached what I thought was the highest point, in a field to the right of the road, a short distance away from the aerial.
It was hardly a salubrious place to stay and I was short of time, so after doing a quick check to ensure that I had been at roughly the highest point in the flat terrain, I headed off back along the track. Instead of following it to Gatesbury Farm I headed off to the left, following a bridleway that crossed fields, before reaching a pretty little lake. A track took me on from here, before depositing me on a road in Hawkedon. The next stretch of path took me along the eastern side of a stream, but after a while it became hard to find the proper route and I floundered around until eventually joining a track that led down to a road and Gallowgate Farm.
A good track led southwards, climbing uphill to reveal some reasonable views, and when I turned around the aerial that I had visited earlier was clearly visible. The track soon met a road at Fenstead End, and I followed this for a short distance until another track led off to the right, heading downhill. At the bottom of the track it started to drizzle and, as rain was expected in the forecast, I stopped to put my coat on, but once I started climbing along the track it ended, leaving me slightly warm with the extra layer on. The clouds overhead still looked threatening and so I decided not to take it off, and as I headed past Easty Wood I got increasingly warm.
At the end of the track another road took me south into the village of Cavendish.I had visited this village on a walk earlier in the year, and I was glad to see that it was as picturesque as I remembered. The church has a rather unusual structure on top of its tower, and on the large village green adjacent to the church people were throwing things onto the large bonfire, ready for the festivities later in the evening. The sun was sinking lower in the sky as I walked past all of this, and I left the village via the A1092, where I had two choices; either to follow the road all of the way back to Clare, or to take a longer walk along paths on the southern side of the river Stour.
After a little thought I decided to do the latter, and I headed from the road along a footpath towards the bridge over the river at Bower Hall. This path was quite narrow in places as it squeezed past some gardens, and some brambles tried to attack me as I walked. Despite this I reached the bridge with no real problems, and I started following the bridleway along the southern side of the river. As I did so the sun was sinking below the horizon behind me, and this caused me to put my head torch on, although it was not quite dark enough to use it yet. The bridleway eventually joined a track, which led up to a road, and after a short distance I turned off along another footpath, which in turn led back to a bridge over the river. By this time it was dark, and I joined a road and then a path that led me back into Clare Country Park and my car, where I could look back on a long but rewarding walk through the Suffolk countryside.
---
Directions
This walk starts off at the Clare Country car park, beside the River Stour in the village of Clare. Leave the car park via the entrance road and head up towards the A1092 road. Turn right along this road and follow it as it head northwards through the village for a hundred yards; just before the church is reached it turns sharply to the right. Continue along the road as it heads eastwards with a stream and some playing fields to the left, and once a track is reached on the left start heading up it, heading northwards past a small police station. After this the track becomes a path, which can be followed easily as it heads through trees and then along field edges to Hermitage Farm.
When the path meets a track follow this past the farm buildings northwestwards; shortly afterwards it curves sharply to the right to start climbing uphill in a rough northerly direction. The track eventually ends, but a good path continues on to end at a road near New House Farm. Turn right and follow this road northeastwards for a few hundred yards; when a left-hand bend is reached turn right along a footpath for a few yards, and just before this emerges out of some trees turn left along another footpath that skirts some fields before crossing some scrubby land northeastwards, descending to cross a small stream and climbing uphill to reach a trig pillar.
At the pillar take another footpath that heads northwards for about half a kilometre until it reaches a stream; cross the stream and once on the other side turn left to follow it westwards. At the end of a field a bridleway is reached, turn right and follow this bridleway as it heads in a rough northerly direction, twisting and turning until it eventually ends at a road to the south of the hamlet of Upper Street. At the road turn right and start following the road as it head northwards, descending down towards Lower Street and Stansfield. In the latter the road crosses a stream before climbing uphill northwards, passing the church to the left, and when a road junction is reached shortly afterwards turn left for a few yards before taking a footpath that leads off to the right.
This footpath heads northwards along a track, before crossing a stream and following the edge of a field uphill towards Purton Green. Here the path has been diverted from that shown on the map, but it was easy to follow as it skirted around to join a track that headed north past Cordell Hall. Continue on along the track as it heads on downhill, and once at the bottom cross a stream and then take a footpath that leads uphill slightly east of north; be careful not to follow the more westerly stream as I did. The path ends at a track near Gatesbury's Farm; follow this track as it curves around the hall and starts heading directly northwards, ending at a road beside an aerial.
Once at the road (which is more or less the highest point in Suffolk) turn around and start heading back southwards along the track, but a few hundred yards before Gatesbury's Farm is reached a bridleway leads off to the left. Join this bridleway and follow it as it heads southeastwards across fields, passing to the east of the farm. It is easy to follow as it descends down to a little lake, and shortly after this a track is joined, and can be followed southwards all the way to a road in Hawkedon. Turn left along this road for a hundred yards away from the village, and then take a footpath that leads off to the right, initially heading along a green track to cross a stream.
The track soon ends but the path continues on southeastwards; when a junction with another path is reached turn right and follow this new path southwestwards until it ends at another road. Turn left and follow this road southeastwards until a track is reached on the right; turn down this and follow it as it crosses the tiny River Glem and climbs up to pass Gallowgate Farm. The track continues onwards southwards, climbing uphill before ending at a road in Fenstead End. Continue on southwards along this road through Fenstead End, and shortly after Hooks Hall Farm on the right turn right down another track. This crosses a stream and then turns sharply to the left to head southwards, climbing uphill to pass immediately to the east of Easty Wood before dropping downhill to end at another road.
Follow this road as it heads southwards for a little over a mile until it ends at the A1092 road in the village of Cavendish. Turn right and follow the A1092 as it heads southwestwards out of the village, there is a pavement that can be followed. The houses soon end on the right, but once they begin again on the left turn left along a footpath that heads southeastwards past some back gardens before reaching a footbridge over the River Stour at Bower Hall. Once on the southern side of the river turn right and start following a track westwards for a hundred yards; when this curves to the left continue straight on along a bridleway, which is easy to follow as there is a hedge to the right. Continue along the bridleway for about a mile as it heads in roughly a straight line until it turns sharply to the right to head down to a track.
At this track turn left and start following it as it heads southwestwards for about half a mile, before ending at a road near Hickford Hill. Turn right to follow this road westwards for a hundred yards until a footpath leads off to the right; turn right down this footpath and follow it to a bridge over the river. Cross this bridge, and once on the other side follow a driveway to a road, and the over a bridge over an old railway line. Immediately on the other side of this bridge turn left down a residential road for a few yards before turning left to descend down a footpath that leads into Clare Country Park. At the bottom turn right to follow the old railway trackbed westwards for a couple of hundred yards, passing the old station buildings before reaching the car park, where this walk ends.
---
Distances
| From | To | Distance (m) | Ascent (ft) | Descent (ft) |
| --- | --- | --- | --- | --- |
| Clare | Suffolk county top | 9.3 | 705 | 430 |
| Suffolk county top | Cavendish | 7.1 | 348 | 613 |
| Cavendish | Clare | 3.2 | 118 | 128 |
This makes a total distance of 19.6 miles, with 1171 feet of ascent and 1171 feet of descent.


For more information on profiles, ascents and descents, see this page
---
Disclaimer
Please note that I take no responsibility for anything that may happen when following these directions. If you intend to follow this route, then please use the relevant maps and check the route out before you go out. As always when walking, use common sense and you should be fine.
If you find any information on any of these routes that is inaccurate, or you wish to add anything, then please email me.
All images on this site are © of the author. Any reproduction, retransmissions, or republication of all or part of any document found on this site is expressly prohibited, unless the author has explicitly granted its prior written consent to so reproduce, retransmit, or republish the material. All other rights reserved.
Although this site includes links providing convenient direct access to other Internet sites, I do not endorse, approve, certify or make warranties or representations as to the accuracy of the information on these sites.
And finally, enjoy your walking!
---
Nearby walks
---