Walk #83: Port Isaac to Boscastle
| | | |
| --- | --- | --- |
| | | |
| K26 Looking back at the hotel and Port Isaac from the road to Westdowne. | | K27 Tintagel Castle. |
General Data
| | |
| --- | --- |
| Date Walked | 22/04/2000 |
| County | Cornwall |
| Start Location | Port Isaac |
| End Location | Boscastle hotel |
| Start time | 09.15 |
| End time | 16.05 |
| Distance | 13.5 miles |
| Description | This was a mixture of both road and beautiful coastal path walking. |
| Pack | Today I carried my Craghoppers WP70 rucksack, without tent, sleeping bag or trangia. |
| Weather | Today's weather was quite nice and it was warm. Indeed it was very much like it had been for the previous two days, a mixture of sunshine and showers, but without the fierce wind. On the way up to Treknow it started to spit, and so I stopped at a bench on the ascent to the village to put my coat on, only for the spitting to almost immediately stop. At Tintagel there was a massive hailstorm, and so I had to put my coat on again only shortly after I had taken it off. There were a couple more showers, but nothing too serious. I have developed a theory today - that when I put my coat on the sun starts to shine, and the moment that I take it off it rains! Still, it was nice to have a day when I could walk without a coat, even if it was only for a short period. |
| OS map | Landranger number 200 (Newquay & Bodmin, Camelford & St Austell) and Landranger number 190 (Bude, Clovelly & surrounding area) |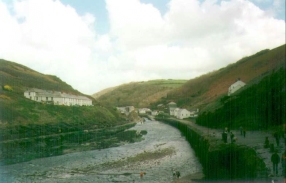 K30 Boscastle Harbour.
---
Map of the walk
Maps courtesy of Google Maps. Route for indicative purposes only, and may have been plotted after the walk. Please let me
have comments
on what you think of this new format. For a detailed table of timings for this walk, please see
the table file
.
---
Notes
This was a fairly strenuous day's walking. I started off by walking on the coast path for the first mile or so, before taking a footpath leading off before Bounds Cliff which leads up to the Port Isaac to Whitewell road. For this initial section of the walk I joined a nice young couple who were backpacking the coast path in the same direction as me - as far as I can recall they started off from Penzance last Sunday and they had walked the coast path from there until the Rumps, when the lady was sick, probably induced by a Cornish Pasty that she had eaten earlier in the day. They then took a taxi to Port Isaac and stayed in a hotel for the night to allow her to recover.
After I had joined the road I road walked all the way to Tintagel. After dodging a fierce hailstorm I made the fatal mistake of going down the hill to look at the remains of Tintagel Castle, which was followed by the even more fatal mistake of deciding to follow the coastal path all the way to Boscastle. This was a fairly strenuous route, but I took my time over it. I joined a large ramblers party for a period, the leader of which I had met the previous afternoon in Port Isaac. They were walking fairly slowly, so after descending into Rocky Valley I left them behind and strode on.
Boscastle harbour is quite nice and picturesque, with a handy stream draining into it with which I could wash my boots. I did not stay around to study the harbour area, as I was fairly fatigued, so I set off on the half-mile journey up the steep hill to my hotel.
Halfway up the hill I stopped for a breather, and so I sat down on a stone step that led up to a school playground. After a couple of minutes a man came out of the house opposite and asked me "Are you from special branch?". It turned out that he was a Cornish Nationalist who was "known" to the special branch and that I "did not look like a normal tourist". After I had managed to assure him that I was just a long-distance walker he kept on talking at me for about 20 minutes about Cornish nationalism. Apparently there is a Celtic Conference in Bude next week, which means that I will probably see more like him before I finish the Cornish legs of this trip.
---
Directions
Follow the coast path northwards out of Port Isaac and past Port Gaverne. After about a mile you come across a footpath that leads off to the right from the coastal path across a field and leads to the Port Gaverne to Whitewell Road. Turn left down this road and follow it towards Whitewell.
After about a mile and a half you reach the B3314 road. Turn left down this road and follow it to the village of Westdowns. Take the second left turning (the one just past the phone box) that leads towards Trebarwith and Treknow.
After Trebarwith the road descends steeply downhill and joins another road. Almost immediately another road leads to the left steeply uphill past a pub and into the village of Treknow. Continue on through Treknow and join the B3263 into Tintagel.
AtT Tintagel go down the hill to the castle and join the south west coast path by turning right and crossing the stream. The path can then be followed for five miles northwards into Boscastle.
---
Distances
| From | To | Distance (m) | Ascent (ft) | Descent (ft) |
| --- | --- | --- | --- | --- |
| Port Isaac | Westdowns | 5.1 | 1096 | 489 |
| Westdowns | Tintagel | 4.5 | 374 | 863 |
| Tintagel | Boscastle hotel | 5.0 | 1703 | 1552 |
This makes a total distance of 14.6 miles, with 3173 feet of ascent and 2904 feet of descent.


For more information on profiles, ascents and descents, see this page
---
Accommodation
I stayed at The Tolcarne House Hotel, Tintagel Road, Boscastle, PL35 OAS. A single room was 29.00 per night and was very nice. There is a nice pub down the road in which an evening meal can be obtained, but it must be noted that this hotel is about half a mile away from the coast path at the top of a very steep hill from the harbour.
For more details of suitable accommodation in this area, please see the South West Coast Path Association's Annual handbook.
---
Disclaimer
Please note that I take no responsibility for anything that may happen when following these directions. If you intend to follow this route, then please use the relevant maps and check the route out before you go out. As always when walking, use common sense and you should be fine.
If you find any information on any of these routes that is inaccurate, or you wish to add anything, then please email me.
All images on this site are © of the author. Any reproduction, retransmissions, or republication of all or part of any document found on this site is expressly prohibited, unless the author has explicitly granted its prior written consent to so reproduce, retransmit, or republish the material. All other rights reserved.
Although this site includes links providing convenient direct access to other Internet sites, I do not endorse, approve, certify or make warranties or representations as to the accuracy of the information on these sites.
And finally, enjoy your walking!
---
This walk was mentioned in the following routes:
---
Nearby walks

Notice: Undefined offset: 1 in /home/britishw/public_html/PHPTemplates/NearWalks.php on line 34

Notice: Undefined offset: 2 in /home/britishw/public_html/PHPTemplates/NearWalks.php on line 35

| # | Title | Walk length (miles) |
| --- | --- | --- |