Walk #335: Freathy to Polperro
| | | |
| --- | --- | --- |
| | | |
| P20031230079 The view westwards over Whitsand Bay. | | P20031230087 The hill before Portwrinkle. |
General Data
| | |
| --- | --- |
| Date Walked | 23/01/2003 |
| County | Cornwall |
| Start Location | Freathy |
| End Location | Polperro |
| Start time | 08.15 |
| End time | 16.20 |
| Distance | 16.0 miles |
| Description | This was a superb walk following the South West Coast Path westwards around Whitsand Bay in some beautiful weather. |
| Pack | Today I carried my 30-litre Karrimor HotRock rucksack, which was filled with my packed lunch, waterproof leggings, water bottle and a couple of spare shirts, together with the usual assortment of odds and ends. |
| Condition | I feel absolutely fine after this walk, and I could easily have walked further if I had needed to. My ankle ached once or twice, but never really seriously or over a prolonged period. My feet ached slightly early on, but this soon stopped and allowed me to enjoy all of the views. |
| Weather | Today's weather was absolutely superb, and for the first time this year I could describe the day as being warm, particularly in the sun. At times the wind was cold enough to counteract the warming effect of the sun, and for this reason I did not take my coat off. Temperature control was therefore the biggest problem of the day, but this was a problem that I could easily live with. |
| OS map | Landranger number 201 (Plymouth & Launceston, Tavistock & Looe) |
| | | |
| --- | --- | --- |
| | | |
| P20031230089 The view westwards towards Britain Point. | | P20031230002 The view eastwards along Whitsand Bay. |
| | | |
| --- | --- | --- |
| | | |
| P20031230006 The beach in Downderry. | | P20031230010 The beach in Seaton. |
---
Map of the walk
Maps courtesy of Google Maps. Route for indicative purposes only, and may have been plotted after the walk. Please let me
have comments
on what you think of this new format. For a detailed table of timings for this walk, please see
the table file
.
| | | |
| --- | --- | --- |
| | | |
| P20031230028 The view back towards Looe bridge. | | P20031230038 Looking east towards Looe Island. |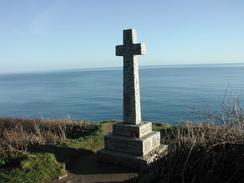 P20031230051 The war memorial above Talland.
---
Notes
It was absolutely superb to have a full day walking on some lovely coastal paths, rather than yet more estuary walking. The views today were fantastic, and there were not many hard sections of terrain for me to walk along and take my attention off the scenery.
As I was walking along the road towards Freathy I became aware of a warship coming into view from behind Rame Head. This was followed by another, larger, ship, and then a smaller one. As I was approaching Tregantle Fort a small black plane - probably a Hawk, came low overhead and flew straight towards the larger of the three ships. It then flew around them and was joined by several more. I assumed that this was a deployment going to the Gulf, and that they were testing their anti aircraft defences, but I later found out that Thursdays was the day when the Royal Navy came out of Plymouth to play war games, and so this is what they were doing.
I was slightly disheartened at a road junction near Tregantle Fort, as I saw a sign saying that Antony was only 1.5 miles away! This was where I had finished the walk on the day before yesterday, and so I had walked for over a day to end up only 1.5 miles from where I had been! This shows exactly how tortuous the coast around the western side of Plymouth was. To make matters worse, a few minutes earlier I had had a good view of the Tamar bridges, where I had spent the night before that. I seem to have walked a very long distance over the last few days only to end up not very far away from where I started.
Looe was exceedingly nice, and I enjoyed the little walk inland to the bridge over the river as it gave me a chance to have a look around this town a little more. I met Sam near the bridge, and I ate some lunch as we chatted for a few minutes whilst I had a rest. I had been planning to finish the walk at Looe, but since it was still early I decided to walk he little extra distance to Polperro before it got dark. I was glad that I made this decision, as this last section of the walk was by far the finest with some absolutely superb views available, particularly those back over Whitsand Bay towards Rame Head.
After I had looked around and read the war memorial at Downend Point I started the descent down into Polperro. On the way I met Sam walking uphill with a man she had met on the way, and we continued downhill, chatting as we went. It is so lovely walking with her, although her habit of stopping and talking to every dog that she meets means that a short walk becomes a long one! When we reached the outskirts of Polperro there were some old people sitting on a bench, and we had a long chat as my Achilles slowly started ceasing up, and this made the rest of the walk highly enjoyable.
Polperro is an absolutely superb little town, and the houses in the harbour area are fantastic - in particular the aptly named 'House on Props' which is built over the river is superb, with hardly a straight line or right angle in it. A stream runs downhill into the harbour between houses, and the streets in the area are very narrow, so much so that it hard for two people to walk side by side down some of them. I love this village, and it would be nice to be able to explore it more some time in the future. The narrow streets means that you cannot drive down to the harbour without permission, so we had to walk for a little under a kilometre inland to get to a large car park for visitors.
Tomorrow I have to walk about seven miles to get to Polruan, and after that I have a long walk to do up the River Fowey. This will be yet another estuary walk, and although it is not a long one I hope it will be more interesting than the walk around Plymouth Harbour was. I have three estuaries to be walked around before I reach Land's End, these being the Fowey, the Fal and the Helford, of which the Fal to Falmouth will be by far the longest.
---
Directions
During this walk I followed the South West Coast Path, the route of which is detailed in the Ordnance Survey National Trail Guide 10, Falmouth to Exmouth (ISBN 1-854108-90-5). Unfortunately the route description is written in reverse to the direction that I am walking, but the 1:25,000 maps in the book are clear and the signs on the ground are very good. Also to be recommended is the South West Coast Path Association guidebook (ISBN 0-907055-04-4), which has less concise directions and no maps, but includes accommodation details and grades each section of the walk according to difficulty. They also publish reverse directions, which are suitable for walking in the direction that I walked the route. They have a website at www.swcp.org.uk, which is well worth a visit.

National Trail Guide: Falmouth to Exmouth

SWCP Association guide 2004
---
Distances
| From | To | Distance (m) | Ascent (ft) | Descent (ft) |
| --- | --- | --- | --- | --- |
| Freathy | Looe | 10.7 | 2139 | 2293 |
| Looe | Polperro | 5.3 | 1201 | 1125 |
This makes a total distance of 16.0 miles, with 3340 feet of ascent and 3418 feet of descent.


For more information on profiles, ascents and descents, see this page
---
Accommodation
We stayed at the Tencreek Caravan and Camping Park, Looe, Cornwall PL13 2RJ. They can be contacted at www.tencreek.co.uk or by telephone on 01503 262447 or 01503 262757. This site cost us 8.50 for the night as they kindly gave us our electricity hook-up for free, and had a very nice swimming pool on the site, which Sam enjoyed immensely.
---
Disclaimer
Please note that I take no responsibility for anything that may happen when following these directions. If you intend to follow this route, then please use the relevant maps and check the route out before you go out. As always when walking, use common sense and you should be fine.
If you find any information on any of these routes that is inaccurate, or you wish to add anything, then please email me.
All images on this site are © of the author. Any reproduction, retransmissions, or republication of all or part of any document found on this site is expressly prohibited, unless the author has explicitly granted its prior written consent to so reproduce, retransmit, or republish the material. All other rights reserved.
Although this site includes links providing convenient direct access to other Internet sites, I do not endorse, approve, certify or make warranties or representations as to the accuracy of the information on these sites.
And finally, enjoy your walking!
---
This walk was mentioned in the following routes:
---
Nearby walks
---