Walk #688: Tring Station to Linslade Station
| | | |
| --- | --- | --- |
| | | |
| P20059117570 Heading north from Tring. | | P20059117583 Marsworth Lock No 39 (Startop's End). |
General Data
| | |
| --- | --- |
| Date Walked | 11/09/2005 |
| County | Hertfordshire, Bedfordshire |
| Start Location | Tring Station |
| End Location | Linslade station |
| Start time | 11.25 |
| End time | 16.41 |
| Distance | 11.6 miles |
| Description | This was a nice, short stroll following the Grand Union Canal as it heads northwards into Bedfordshire. |
| Pack | Today I carried my 30-litre Karrimor Hotrock rucksack, containing my waterproofs, a fleece, a few odds and ends such as spare batteries, my Psion 5 and two litres of water. |
| Condition | This was my first walk for a month, during which I hoped that the injury to my right knee had healed. Unfortunately after about six miles it started to ache, and this got worse as the walk progressed, although it was never anywhere near causing me to stop walking. Aside from this I feel fine, and have no other problems to report. |
| Weather | The day was very overcast with lots of low cloud. There was scarcely any sign of the sun, and it frequently drizzled, although never hard enough for me to put my coat on. It was not a cold day, and although the weather was far from perfect it really was not a bad day for a stroll. |
| OS map | Landranger number 165 (Aylesbury & Leighton Buzzard, Thame & Berkhamstead) |
| | | |
| --- | --- | --- |
| | | |
| P20059117594 A bridge over the canal. | | P20059117609 Heading north along the canal. |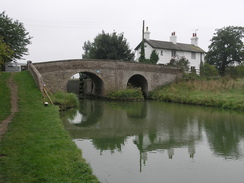 P20059117615 Looking back at Church Lock No 29.
---
Map of the walk
Maps courtesy of Google Maps. Route for indicative purposes only, and may have been plotted after the walk. Please let me
have comments
on what you think of this new format. For a detailed table of timings for this walk, please see
the table file
.
---
Notes
I had not been able to do a walk for a month for a variety of reasons, and I was keen to get another one done today. One of those reasons was my right knee, which had injured on my last trip and which I now believed was healed. Sencan wanted to come with me on a walk, and as the weather forecast was reasonable we decided upon a nice twelve-mile circular walk based on Tring, and taking in Ivinghoe Beacon. We set off from Cambridge quite late in the morning, and on the way down I realised with horror that I had left the Ordnance Survey map on my desk at home. This meant that, unless I could find somewhere to buy another map, we could not do the walk. As we drove it was obvious that the weather was far from perfect, with low cloud and occasional drizzle showers, so I decided to change he plans - instead of trying to do Ivinghoe Beacon, instead we would stay low, and follow the Grand Union canal for twelve miles northwards.
We parked at Tring station and Sencan waited at the car whilst I went to the station to get details of train times back from Leighton Buzzard to Tring. This was easier said than done as the station building was shut, but eventually I found suitable timetables on the platform, and I was pleased to see that there were trains every hour throughout the afternoon. We soon set off (after Sencan reminded me to put my car into Park as it slowly started rolling downhill). We made out way to the canal, and started heading north as it went through a deep cutting.

The bridge at Bulbourne was reached at about midday, and we nipped into the Grand Junction Arms for a short period so that we could use the toilets. I used the opportunity to avail myself of a pint, and we soon set off again, passing the junction with the Wendover branch of the canal and, later on, the reservoirs that provide the canal with water at Startop's End. The canal towpath was quite popular with both walkers and cyclists, and a short distance further on there was a small shop, which we went into for a quick look-see. Jewellery is not really my thing, and I became much more interested when we went into the cafe below. Unfortunately neither of us were hungry enough to buy any of the assorted cakes and treats on sale so we left and headed back along the canal.

The next thing of any note was the junction with the Aylesbury Arm of the canal at Marsworth, where we crossed the lock gates of the narrow canal before heading on along the main broad canal. As the walk became increasingly rural the weather became more inclement, with occasional drizzle showers emerging from the grey clouds overhead. Despite this I enjoyed the walk, and we chatted as we strolled along, putting the world to rights between us. As I did not have my map with me I was unsure of when we would reach the station at Leighton Buzzard (which is actually called Linslade Station, after the nearest settlement). Fortunately I had taken my road atlas with me, and I could se that we would pass under a large main road bridge before we reached the town. Before we did so we reached Grove Lock, and as there was another pub there we decided to nip in to get a late lunch.

The meals that we had (a nut roast for Sencan, and a lovely pork roast for me) were filling and large, and I washed it down with another pint. It was a really enjoyable meal, and we left after about an hour in the pub, to resume the walk along the canal. I reckoned that we had a couple of miles still to walk to reach the station, and about fifty minutes before the next train, so I set a reasonably fast pace along the towpath, as suburban houses began to encroach on either side. Eventually we reached the A4146 in Linslade where we left the canal, following the road for a few yards, where I had to ask for directions from a man inside a kebab shop.

As the time for the train was getting increasingly near we started to jog, and we reached the station forecourt a couple of minutes before the train was due. Hurriedly we purchased tickets from the self-service machine, and we ran over the footbridge to the correct platform. It turns out that I had written down the wrong time, and we had an extra five minutes to spare before the train was due. Fortunately Sencan did not mind too much, and we chatted away as we waited for the train. Once on the train Sencan took her boots off - they were not proper walking boots, and her feet was soaked after the drizzle; the dye having come out of her boots and stained her white socks all sorts of lovely colours. It was a funny end to a pleasant short walk, although the aching from my right knee shows that the injury has not yet fully healed.
---
Directions
The directions for this walk are quite simple; leave Tring station and turn left to walk southwestwards along the road for about a hundred yards. When a bridge over the canal is reached, descend down some steps to the right and start following the canal as it heads northwestwards, with the water on your left. Continue along the canal for a little over ten miles, until the bridge carrying the A4146 road over the canal is reached at SP910250 in Linslade. Climb up the steps onto the bridge, and then turn left to cross the canal. Continue along the road as it heads up a slight hill, and then follow the B4032 road that curves off to the left. After a few yards turn left down Station Road, which leads directly to the forecourt of Linslade railway station.
---
Further information
The walk is also covered in detail in the Grand Union Canal Walk, by Anthony Burton and Neil Curtis, ISBN 1 85410 244 3, published by Aurum Press Ltd. Click on the image to the right to go the Amazon page for this book.

For more details on the Grand Union Canal see Jim Shead's canal pages.
---
Distances
| From | To | Distance (m) | Ascent (ft) | Descent (ft) |
| --- | --- | --- | --- | --- |
| Tring station | Linslade station | 11.6 | 233 | 354 |
This makes a total distance of 11.6 miles, with 233 feet of ascent and 354 feet of descent.


For more information on profiles, ascents and descents, see this page
---
Transport
There are regular train services (hourly even on Sundays) running between Linslade (Leighton Buzzard) and Tring railway stations. A single ticket for the journey cost me £3.40.
---
Disclaimer
Please note that I take no responsibility for anything that may happen when following these directions. If you intend to follow this route, then please use the relevant maps and check the route out before you go out. As always when walking, use common sense and you should be fine.

If you find any information on any of these routes that is inaccurate, or you wish to add anything, then please email me.

All images on this site are © of the author. Any reproduction, retransmissions, or republication of all or part of any document found on this site is expressly prohibited, unless the author has explicitly granted its prior written consent to so reproduce, retransmit, or republish the material. All other rights reserved.

Although this site includes links providing convenient direct access to other Internet sites, I do not endorse, approve, certify or make warranties or representations as to the accuracy of the information on these sites.

And finally, enjoy your walking!
---
Nearby walks
---