Walk #35: East Marton to Malham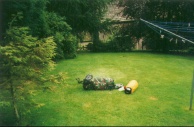 ZY01 My pack at the campsite at East Marton before setting off to Malham.
General Data
| | |
| --- | --- |
| Date Walked | 12/08/1999 |
| County | North Yorkshire |
| Start Location | East Marton |
| End Location | Malham |
| Start time | 08.10 |
| End time | 12.35 |
| Distance | 9.2 miles |
| Description | This was a short and enjoyable walk, following river valleys from the campsite up into the beautiful village of Malham. |
| Pack | Today I carried full camping gear. |
| Condition | I feel fine after this walk. I called in at a chemists in Cargrave on the way to Malham and got some anti-inflammatory cream for my back. I put some on at Malham YH and my back is getting *much* better - it is still slightly sore, but it no longer looks totally red raw. My feet and legs are both fine, giving my no trouble during the day. |
| Weather | Today's weather was okay. There was not much sun and a fair amount of cloud, but the cloud never threatened to cause any rain. The temperature was about right as well, which made it a very nice day for a walk. |
| OS map | Outdoor Leisure number 2 (Yorkshire Dales - Southern & Western Areas) |
---
Map of the walk
Maps courtesy of Google Maps. Route for indicative purposes only, and may have been plotted after the walk. Please let me
have comments
on what you think of this new format. For a detailed table of timings for this walk, please see
the table file
.
---
Notes
I got into Malham in plenty of time, and after calling in at the post office in order to post off some postcards and a film and some maps which are no longer needed I decided to have a restful afternoon.
When I got to the YH I had a great surprise - Sam had been taking a day off to rest his left foot which had a very large blister on it. We went to the pub and did a little shopping. And then of course went back to the pub. Not that I would ever want to give the impression that I like alcohol...
Generally an easy half-days walking. There is absolutely nothing strenuous about this leg of the walk, and although the walk is along flat valley bottoms for most of its way it is still quite scenic.
I also decided to take the next day off as a rest day. There were two reasons for this; firstly to give my back a day to recover, and secondly because Sam had decided to give his foot another day to recover. His blister is actually quite impressive and unfortunately goes rather deep. he has also discovered the wonders of Compeed blister plasters, and is wearing one over his blister.
---
Directions
I am not going to bother giving any directions for any of the stages of the Pennine Way; there are many route descriptions produced that will better anything that I could produce. The main guides I used were the OS National Trail Guides, which come complete with strip maps of the route. Click on one of the links below to go to the Amazon page for each guide.


National Trail Guide South
National Trail Guide North
---
Distances
| From | To | Distance (m) | Ascent (ft) | Descent (ft) |
| --- | --- | --- | --- | --- |
| East Marton | Gargrave | 2.7 | 174 | 331 |
| Gargrave | Airton | 3.9 | 456 | 295 |
| Airton | Malham | 2.6 | 377 | 220 |
This makes a total distance of 9.2 miles, with 1007 feet of ascent and 846 feet of descent.


For more information on profiles, ascents and descents, see this page
---
Disclaimer
Please note that I take no responsibility for anything that may happen when following these directions. If you intend to follow this route, then please use the relevant maps and check the route out before you go out. As always when walking, use common sense and you should be fine.
If you find any information on any of these routes that is inaccurate, or you wish to add anything, then please email me.
All images on this site are © of the author. Any reproduction, retransmissions, or republication of all or part of any document found on this site is expressly prohibited, unless the author has explicitly granted its prior written consent to so reproduce, retransmit, or republish the material. All other rights reserved.
Although this site includes links providing convenient direct access to other Internet sites, I do not endorse, approve, certify or make warranties or representations as to the accuracy of the information on these sites.
And finally, enjoy your walking!
---
This walk was mentioned in the following routes:
---
Nearby walks
---