Walk #454: Portslogan to Cairnryan
| | | |
| --- | --- | --- |
| | | |
| P20035273274 Looking north along the B738. | | P20035273281 Collecting grass from a field. |
General Data
| | |
| --- | --- |
| Date Walked | 27/05/2003 |
| County | Dumfries and Galloway |
| Start Location | Portslogan |
| End Location | Cairnryan |
| Start time | 09.33 |
| End time | 16.48 |
| Distance | 24.1 miles |
| Description | This was a long walk, mostly along roads and with only one short section of muddy track, around the northern half of The Rhins. |
| Pack | Today I carried my 30-litre Karrimor HotRock rucksack, which was filled with my packed lunch, waterproof leggings, water bottle and a couple of spare shirts, together with the usual assortment of odds and ends. |
| Condition | When I finished this walk I was quite fatigued, but aside from this I had no problems. When I was in the shower, however, I noticed that I had a big blood blister on the my left Achilles. This did not give me any pain during the walk, so I am slightly amazed that it developed today. As it is a blood blister I shall burst it tonight, and will have to carefully put a plaster over it to keep it clean. |
| Weather | It was overcast all day today, with very little sunshine to be seen. At one point some low cloud came over and there was some damp in the air, but fortunately this never converted itself to rain. It was also quite warm, and so all in all it was not a bad day for walking. |
| OS map | Landranger number 82 (Stranraer & Glenluce, The Rhins) |
| | | |
| --- | --- | --- |
| | | |
| P20035273293 A seacat coming in to port. | | P20035273298 Stranraer. |
| | | |
| --- | --- | --- |
| | | |
| P20035273307 The foreshore at the southern end of Loch Ryan. | | P20035273309 Two Llamas at the caravan site at Innermessen. |
---
Map of the walk
Maps courtesy of Google Maps. Route for indicative purposes only, and may have been plotted after the walk. Please let me
have comments
on what you think of this new format. For a detailed table of timings for this walk, please see
the table file
.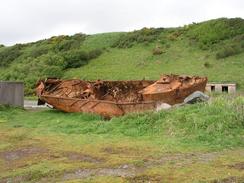 P20035273314 The old army base to the north of Innermessen.
---
Notes
I took an unexpected day off yesterday, as we had a friend, Ben, visiting from Cambridge. I thought that it would be nice if the three of us spent the day together, and as I had a long week last week (a 139 mile week, the longest of the trip so far) I decided that I could treat myself to a day off. It was nice to be able to have a lie-in without having to worry about the day's walk, and we got up late for the drive to Portpatrick. This allowed me to have a better look around the town that I got the day before, and we found a lovely ruined church a little way from the harbour. The round tower of the church had a number of birds nesting in it, and the ammonia small from the droppings was all pervasive. We then drove down to the Mull of Galloway, and it was a shame to see that the lighthouse was shut so Sam and Ben could not climb up it (I would have expected it to be open on a bank holiday Monday). The visitor centre for the nature reserve was open, however, and so we had a quick look around that. After this we drove to Port Logan, only to find that Mervan had a puncture. A quick tyre change followed (this is the second time that we have changed a tyre on Mervan, and it was much easier to do this time), and we then went to the Port Logan fishpond. This was very much the highlight of the day, and Sam loved seeing all the fish in the fish larder. They are extremely tame, and some even hold their mouths out of the water for you to feed them. The fishpond was created by Andrew McDouall, Laird of Logan, in 1800, and was used to keep fish fresh for the dinner table. The pond is about seven feet deep, and is home to several species of fish and crustaceans, including a little shark! It was a great experience feeding the fish, and there was always something to see in the pond. It was far better than I had been expecting it to be, and was well worth the three pounds fifty entrance fee.
This morning I was in two minds about which route to take. I had a hankering to visit Milleur point, at the northern end of The Rhins, but there are no roads, track or paths heading there, and so I decided to make a route that headed along roads for almost the entire way (the exception being a section of less than half a mile which was along a muddy track). If I had stuck religiously to the cliff top the walk would have been much harder, as suitable tracks were few and far between on the map. I also was quite keen to finish the Rhins off, as I have spent far too long on it already. The purists may say that I have not walked the coast on this section; my retort would be that I have walked around the northern section of The Rhins using my criteria, which was the nearest right of way to the sea.
I was well aware that this meant that the day was going to be one long road slog. To make it more interesting I decided to try and walk quite fast over the initial section. I easily managed to walk the first mile at a little over four miles an hour, and I managed to keep this up for another two hours, reaching Kirkcolm in a little over three hours. My legs and feet did not suffer too badly from the pace, so although I slowed down slightly I still walked at above three miles an hour all the way down to Stranraer. The views from the road over Loch Ryan were quite nice, and I enjoyed the walk along the road, which was fortunately not too busy.
BBC Radio Cambridgeshire was due to ring me up at about two twenty this afternoon for an interview, and I was quite keen to do this in Mervan, which was waiting for me in Stranraer. Unfortunately the timings proved too tight, and I ended up sitting on the concrete wall by the promenade in the town whilst I did the interview. It turned out that this was only a few hundred yards from Mervan, so if I had walked slightly fast I could have made it. When I did reach Mervan Sam was waiting for me, and I chatted whilst I ravenously devoured my lunch. I had already done over my average mileage for the day, but I was keen to push myself after my day off, and I arranged to meet Sam at the caravan site where we were planning to spend the night. This involved another six miles walking, and I was pleased when I managed to reach the caravan site in under two hours. This meant that I had walked at over three and a half miles an hour all day, and I did not suffer too much for it. If pushed I could have walked for another couple of hours, but I must admit that I was quite glad when I reached the site and I could have a shower.
Just north of the caravan site at Innermessan I followed the course of an old railway line, which went past a series of ruined buildings, large concrete structures and a rusting boat near Rock McGibbon. This intrigued me, so when I met a local who was out walking his dog I enquired what the area was. Apparently it was an army base, and the railway line was built to supply it. The concrete structures were hollow, and during the war they had been anchored at the mouth of Loch Ryan so that the Germans would think that many more ships were at anchor than there really were. I am quite surprised by this as the blocks, although hollow, did not look anything like ships, although I daresay that they may have from 10,000 feet in wartime. This has quite intrigued me, and after the walk I shall have to try and find out more.
I am quite glad that I have finished off walking around The Rhins, as I was getting fed up with it. It also means that I will be heading north for the next few days (indeed until I near Glasgow), so I shall feel as if I am making real progress instead of walking around in a circle. Tomorrow also promises to be another long slog along roads and tracks. Unfortunately most of it will be along the A77(T), which promises to be quite a busy road, but I shall be able to miss the worst and bendiest sections of it by walking along tracks between Finnart's Bay and Ballantrae.
---
Directions
This walk starts off at Portslogan farm, just off the B738 about four miles north of Portpatrick. Head northwards along the B738 road for a few miles until a junction with the B7043 is reached, and then turn left to continue along the B738 road for another few miles past the Mains of Cairnbrook and Little Cairnbrook. When a road leads off to the left towards Mains of Airies turn left down this road, and by some cottages turn right to head northwards along a muddy track that leads to a farm at Valleyfield. Go through the farm and join a road that heads northwards and swings around to meet the B738 road.
Head eastwards along the B738 for a couple of hundred yards and then turn left along another road that heads uphill for about a kilometre before ending at a T-junction to the east of Cairnbowie Hill. Turn right along this road and follow it for a mile until it meets another road just past Kirkbryde, and then turn right to head southeastwards down this road until it meets the B738 once more. Turn left and follow the B738 southwards through Kirkcol, where it becomes the A718. This can be followed southwards alongside the western shore of Loch Ryan for a few miles until it turns to head inland and reaches a roundabout with the B798 road. Turn left to continue along the A718 in a southeasterly direction past a golf course and into Stranraer. In the town join the promenade and follow this around past the harbour.
The A77(T) road has to be joined to cross the railway line, but after this a little seawall can be followed northwards until a car park and some toilets are reached near Low Balyett. Continue on along the A77(T) until a caravan site is reached on the left turn left down its access road, which parallels the sea. When the road through the site ends go through a gate and follow an old railway line northwards; at one point this has been eroded away, and I had to clamber down onto the foreshore for about a hundred yards. On the other side of this breach there is a large area full of ruined sheds, and the track continues on before climbing up to rejoin the A77(T). Turn left and walk north along the A77(T) to the southern outskirts of Cairnryan, and here is a campsite on the right where this walk ends.
---
Distances
| From | To | Distance (m) | Ascent (ft) | Descent (ft) |
| --- | --- | --- | --- | --- |
| Portslogan | Kirkcolm | 12.4 | 761 | 945 |
| Kirkcolm | Stranraer | 6.4 | 302 | 243 |
| Stranraer | Cairnryan caravan site | 5.3 | 213 | 161 |
This makes a total distance of 24.1 miles, with 1276 feet of ascent and 1349 feet of descent.


For more information on profiles, ascents and descents, see this page
---
Accommodation
We spent the night at the Carinryan Caravan and Chalet Park, Cairnryan, Stranraer, Wigtownshire, Dumfries & Galloway DG9 8QX. This site was quite nice, the toilets were clean and the showers were nice and hot. It cost us ten pounds for the night, and they can be contacted on (01581) 200231.
---
Disclaimer
Please note that I take no responsibility for anything that may happen when following these directions. If you intend to follow this route, then please use the relevant maps and check the route out before you go out. As always when walking, use common sense and you should be fine.
If you find any information on any of these routes that is inaccurate, or you wish to add anything, then please email me.
All images on this site are © of the author. Any reproduction, retransmissions, or republication of all or part of any document found on this site is expressly prohibited, unless the author has explicitly granted its prior written consent to so reproduce, retransmit, or republish the material. All other rights reserved.
Although this site includes links providing convenient direct access to other Internet sites, I do not endorse, approve, certify or make warranties or representations as to the accuracy of the information on these sites.
And finally, enjoy your walking!
---
This walk was mentioned in the following routes:
---
Nearby walks
---