Walk #142: Huntingdon Station to Hargrave
| | | |
| --- | --- | --- |
| | | |
| P7140008 Stream near Hinchinbrook House. | | P7140014 The church in Hargrave. |
General Data
| | |
| --- | --- |
| Date Walked | 14/07/2001 |
| County | Cambridgeshire, Northamptonshire, Bedfordshire |
| Start Location | Huntingdon |
| End Location | Hargrave |
| Start time | 09.15 |
| End time | 14.55 |
| Distance | 17.3 miles |
| Description | This was a walk over relatively flat and undemanding terrain, the aim of which was to reach the highest point of the old county of Huntingdonshire. |
| Pack | Today I carried a medium-sized pack, with no sleeping bag, spare clothes or food. |
| Condition | Okay. My ankle only gave one minor twinge during the whole of the walk, which was nice after the trouble that I had had on the previous walk. I have had one blister at the front of my right foot which was causing me discomfort towards the end. I would normally have put a compeed plaster on this earlier on in the walk, but the wet conditions made me loathe to stop. My legs were quite tired at the end of the walk, although I had no cramp or other problems. |
| Weather | The weather today was very changeable. It started off being nice and sunny for the first couple of hours, and I was too warm in a baser layer shirt. It then started raining quite heavily for about three hours before the rain stopped and the clouds parted. The rest of the walk was then dry, with long periods of sunshine. |
| OS map | Landranger number 153 (Bedford & Huntingdon, St Neots & Biggleswade) |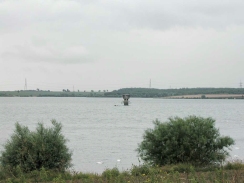 P7140009 The tower in the middle of Grafham Water.
---
Map of the walk
Maps courtesy of Google Maps. Route for indicative purposes only, and may have been plotted after the walk. Please let me
have comments
on what you think of this new format. For a detailed table of timings for this walk, please see
the table file
.
---
Notes
This was a great walk, despite the weather which was anything but optimal. During the pervous walk I had found it hard to even walk six miles with virtually no pack, so when planning this walk I decided to aim to walk between eight and ten miles, with the ability to extend if I felt good. In the end I walked for just under sixteen miles, which I fell to be a great acheivement after such a long period of not having done any walking.
The main aim of this walk was to get to near the highest point in the old county of Huntingdonshire, a place called Boring Field which is now on the Cambridgeshire / Northamptonshire border. In the end I got beyond this location, which was really an excellent job. Although Boring Field is the highest point of Huntingdonshire it is actually the lowest county top on the whole of Britain, beating even Norfolk into second place. For this reason I knew that there would not be much ascent or descent during this walk.
The weather was not very good today, which was a great shame as this was othwisean enjoyable walk. When is started raining it kept on raining persistently for hours, but fortunately it stopped shortly before the end of the walk. This led to one of those curious sights; as soon as it stopped raining the sun came out and the temperature shot up, which led to the mpisture on the grass and roads to rise up in great sheaths of steam. It was a very picturesque sight.
Grafham Water is very nice, although by the time I reached it the weather was starting to descend so the reflections in the water were grey rathre then the nicer blue. There were many boaters out on the water enjoying themselves. As I left the road at Grafham Water and started heading north along a path I met a couple walking, and I said to them "Good morning. Lucky the rain's holding off". Of course this upset the rain god and almost immediately afterwards it started raining.
The church at Hargrave was very interesting, with a lovely carved wooden porch amid a lovely stone building. There were some interesting gravestones in the graveyard, including some very old carved ones that were still clearly legible after a few hundred years. I found it quite depressing that modern gravestones all looked bland in comparison with the ancient ones.
The walk from Spaldwick to Covington was very long and pretty dreary in the persistent rain, but this was made up for by the route, the initial part of which was along a very wide grassy track. I was puzzled about the purpose of this track, as at times its width was more like a long continuous strip field than a track. I can only assume that it had previously been an ancient trackway that has fallen out of use for traffic, but whch has become a footpath due to its historic useage.
Navigation on this walk was very easy, with much of the route being on either public roads or following the Three Shires Way. I did not need to use any navigtion techniques at all. Yhis makes a nice change from some walks, although it provided no navigation training ready from my Scottish walk in about a months time.
This walk has positioned me well to do more walks; to Northampton via Wellingborough to the west; to Corby and Oakham to the north and to Bedford to the south. For the moment I will probably concentrate on walking the Grand Union Canal north to Birmingham and on my round East Anglia walk. This is all leading up to a planned attempt on the Crieff to Spean Bridge section of my Land's End to John O'Groats walk in a months time.
---
Directions
Unfortunately this walk involves a fait amount of road walking, which is more or less unavoidable when walking west from Huntingdon. That said all the roads were quiet or had pavements where they were busy (mainly on the section between Huntingdon and Brampton), so it did not feel too bad.
This walks starts off at the railway station in Huntingdon. Walk up the station approach and then turn left to head westwards along the B1514. Almost immediately you pass under the A14 before passing the stately Hinchinbrook House. Just after the house an old road leads off to the right, and this provides a quiet alternative to the B1514 for a short distance, including a bridge over a picturesque stream. The B1514 is then reached again for a walk along the pavement to a roundabout. Go straight over this roundabout and take the first major road to the left, leading into the village of Brampton.
At a T-junction turn right and follow a road to the southeast. After about a mile this crosses over the A1(T) by a bridge and starts to head in a roughly westerly direction to the south side of Brampton Wood. After passing under a bridge of the old Huntingdon to Kettering railway line it soon reaches the small village of Grafham. Continue staight on at a road junction and pass to the north of the church. This road continues on for about a mile before it ends at a car park at Hill Farm, right beside Grafham Water. From here a trackway (actually a byway) starts to head north. This soon passes under another old railway bridge (part of the same line as the previous one), and immediately to the north of this bridge the Three Shries Way long distance path is joined. The byway continues north westerly under two sets of powerlines before reaching a road. Turn right down this road until shortly after a ninety degree left-hand bend the village of Easton is reached.
Continue on past the church in Easton and then along the Three Shires Way in a south-northeasterly direction until a minor track is reached. Turn right up this track and then almost immediately left to reach a road. Turn right up this road towards the village of Spaldwick. When the road bends around sharply to the right turn to the left and follow a track to the west. After about a kilometre the track ends but a byway continues on in a north-southwesterly direction along a very wide grassy track. The track continues up a valley to the northof Bunkers Hill before ending at a T-junction with the B660 road. Turn left down the B660 for a short distance before turning right down another road at Tilbrook Grange.
Follow this road as it yet again crosses over the old railway line, this time on the level instead of a bridge, before it ends a couple of miles later at a T-junction with another road. Turn left down this road until the main B645 road is reached.
Turn right along the B645 and follow it uphill towards a water tower at Three Shires House, the place where the counties of Cambridgeshre, Northamptonshire and Bedfordshire meet, and is also near the highest point of the old county of Huntingdonshire. As the B645 turns to the right a bridleway heads straight on to the south-northwest for about a kilometre to the village of Hargrave. When this bridleway ends at a road turn left downhill for a short distance to the attractive church in the centre of the village.
---
Distances
| From | To | Distance (m) | Ascent (ft) | Descent (ft) |
| --- | --- | --- | --- | --- |
| Huntingdon Station | Grafham | 5.6 | 197 | 79 |
| Grafham | Spaldwick | 4.1 | 82 | 190 |
| Spaldwick | Hargrave | 7.6 | 348 | 177 |
This makes a total distance of 17.3 miles, with 627 feet of ascent and 446 feet of descent.


For more information on profiles, ascents and descents, see this page
---
Transport
I arranged for my girlfriend, Sam, to pick me up from wherever I finished the walk. There are some bus services that head back east from where I finished my walk to Huntingdon, but they are infrequent services.
---
Disclaimer
Please note that I take no responsibility for anything that may happen when following these directions. If you intend to follow this route, then please use the relevant maps and check the route out before you go out. As always when walking, use common sense and you should be fine.
If you find any information on any of these routes that is inaccurate, or you wish to add anything, then please email me.
All images on this site are © of the author. Any reproduction, retransmissions, or republication of all or part of any document found on this site is expressly prohibited, unless the author has explicitly granted its prior written consent to so reproduce, retransmit, or republish the material. All other rights reserved.
Although this site includes links providing convenient direct access to other Internet sites, I do not endorse, approve, certify or make warranties or representations as to the accuracy of the information on these sites.
And finally, enjoy your walking!
---
Nearby walks
---