Walk #823: Newbury to Hungerford
| | | |
| --- | --- | --- |
| | | |
| P20091015717 The war memorial outside St Nicholas' church, Newbury. | | P20091015723 Newbury Lock, with Water Bridge in the background. |
General Data
| | |
| --- | --- |
| Date Walked | 01/01/2009 |
| County | Berkshire |
| Start Location | Newbury station |
| End Location | Hungerford station |
| Start time | 10.16 |
| End time | 13.41 |
| Distance | 9.1 miles |
| Description | This was a short walk along the Kennet and Avon canal, celebrating ten years of walking. |
| Pack | Today I carried my 30-litre Karrimor rucksack, filled with waterproofs, a book, Sencan's spare shoes and other odds and ends. |
| Condition | I feel absolutely fine after this walk, with no problems to report/ |
| Weather | The day was grey, overcast and very cold, with frost remaining on the ground all day in sheltered locations. Fortunately there was no breeze, which meant that it did not feel too cold. |
| OS map | Landranger number 174 (Newbury & Wantage, Hungerford & Didcot) |
| | | |
| --- | --- | --- |
| | | |
| P20091015724 Sencan. | | P20091015738 Higg's Lock (no. 83). |
---
Map of the walk
Maps courtesy of Google Maps. Route for indicative purposes only, and may have been plotted after the walk. Please let me
have comments
on what you think of this new format. For a detailed table of timings for this walk, please see
the table file
.
| | | |
| --- | --- | --- |
| | | |
| P20091015744 A pillbox beside the canal to the west of the A34(T). | | P20091015753 A canalside house. |
| | | |
| --- | --- | --- |
| | | |
| P20091015758 Following the canal westwards. | | P20091015761 Dreweatt's Lock (Mo. 79). |
---
Notes
This is the shortest logged walk that I have done for some time, and there were several reasons for this. Firstly, today marked the tenth anniversary of my first walk, a short walk to Shining Tor in Cheshire. It felt fitting to mark that anniversary with another short, enjoyable stroll, and not one of the long ones that I normally do.
Secondly, Sencan has been suffering from problems with her feet on recent walks. On Saturday we did a short, seven-mile stroll along the sea near Hamble-le-rice, and within a mile and a half she had developed large blisters on the back of her heels. Something was obviously wrong, so we decided to do another walk today to see if we could work out what was wrong. She bound her feet up well, and then we set off for the short drive up the A34(T) to Newbury.
It felt good to be walking again, after what had been, due to injury, illness and a house move, an exceedingly lacklustre 2008. We parked up, bought a ticket for the car, and then headed off down towards the canal. The local Woolworths had recently shut, but we nipped into the WH Smiths opposite to buy some grub for the day's walk.
We followed the canal westwards out of the town with dark grey clouds overhead that threatened rain at any time. Soon we passed an old railway bridge abutment on the other side of the canal - part of the old Lambourn Valley Railway. The A34(T) bridge was soon reached, and I wondered how many times I had travelled over that bridge in the last year. We progressed quickly; although it was New Years Day the towpath was hardly deserted, and there were plenty of people out and about, enjoying the sunshine.
As we approached Hamstead Lock Sencan started flagging, and we sat down on a bench as she inspected her feet. Despite the bandages that she had put on they had started to blister once more, so she changed into her trainers. There is a definite problem with her boots that we shall have to work on before we do a longer walk. Once she had changed into her boots she managed much better.
We passed through Kintbury, and Sencan was feeling well enough to continue onwards. We were both warning up by this point, and I was quite ecstatic at celebrating the tenth anniversary of my first walk. Eventually I had to stop talking about my previous walks, for fear of boring Sencan.
I set off in the belief that I had walked this stretch of canal before, but there was little that was familiar. As we strolled along, I became more convinced that I had not been here before. It turns out that when I walked the Kennet and Avon canal in 2000 (see walk 74), I diverted off the canal at Hungerford to visit my B&B in Kintbury, only rejoining it at Newbury. This made me feel like this short walk was worthwhile - I was filling a gap in the Kennet and Avon canal.
In places the canal was frozen hard over, and dirt and sticks lay on the icy surface in various places. This confused us for a few minutes, until we realised that the dirt had come from rabbits and other animals who had thrown dirt over the canal whilst digging holes. Given the quantity of dirt, I can only guess that the canal had been frozen for some time.
There were many World War II-era pillboxes arranged along the canal, all part of the GHQ stop-line Blue, which was built to protect this stretch of the Kennet & Avon Canal from a potential German invasion. These pillboxes were sometimes only a few hundred yards apart, although I wonder how effective they would have been against a German Panzer juggernaut. I quite like them, though - they are a reminder of what this country went through over sixty years ago.
Eventually we approached Hungerford. The station is just off the canal, but when we got there a train back to Newbury had just gone. It was tempting to continue on for another six or seven miles to the next station at Great Bedwyn, but it was doubtful whether we would make it before it got dark. Beside, the purpose of the day was not to walk a long distance, but to celebrate ten years of walking. Near to the station was a pub, so we walked over there and had a quick celebratory drink whilst we waited for the next train.
The Kennet and Avon Canal
The Kennet and Avon Canal runs for 87 miles from Bath on the River Avon in the west, to Reading on the Thames in the east. At first the rivers were canalised, and finally the remaining stretch between Newbury and Bath came into use in 1810, after a survey by the famous engineer John Rennie. Sadly, the coming of the Great Western Railway in 1841 (which parallels the canal for much of the way) led to the canal losing much of its traffic.It fell into neglect, but a long restoration campaign led to it being reopened in full in 1996.
There are many locations of interest on the canal; perhaps the most famous is the spectacular flight of 20 locks atCaen Hill, immediately to the west of Devizes. Another feature is the Doric-styled Dundas Aqueduct, to the east of Bath. There is only one tunnel on teh entire route; the 502-yard Bruce Tunnel.
I first walked the majority of the canal in 2000, as part of my sectional Land's End to John O'Groats walk. Since then I have always had a soft spot for the canal, although I have only got to walk it again since I moved down to Southampton.
| | | |
| --- | --- | --- |
| | | |
| P20091015769 An inpressive building in Kintbury. | | P20091015783 A bridge over the canal at Hungerford. |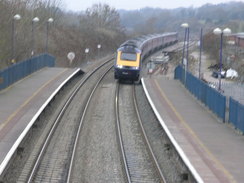 P20091015784 An HST at Hungerford.
---
Directions
This walk starts off at the car park on the northern side of Newbury railway station, opposite the main entrance. Walk half-left through the car park, aiming for some steps that lead up to a road. This heads past a building before ending at another road opposite a car park. Turn left along this road, and then right to start heading along a street lined with shops. Continue on until an ornate bridge over the Kennet and Avon canal is reached.
Cross the bridge, and on the other side turn left to join the canal towpath. Head west along the canal out of the town, and continue on for nearly nine miles, passing through Kintbury, until a wooden footbridge over the canal is reached in Hungerford at SU340686. Here turn left, and head south for a few yards to Hungerford railway station, where this walk ends.
---
Distances
| From | To | Distance (m) | Ascent (ft) | Descent (ft) |
| --- | --- | --- | --- | --- |
| Newbury station | Kintbury station | 5.8 | 112 | 72 |
| Kintbury station | Hungerford station | 3.3 | 89 | 49 |
This makes a total distance of 9.1 miles, with 201 feet of ascent and 121 feet of descent.


For more information on profiles, ascents and descents, see this page
---
Transport
There are regular train services from Hungerford to Newbury station. See the National Rail Enquiries website for more details.
---
Disclaimer
Please note that I take no responsibility for anything that may happen when following these directions. If you intend to follow this route, then please use the relevant maps and check the route out before you go out. As always when walking, use common sense and you should be fine.
If you find any information on any of these routes that is inaccurate, or you wish to add anything, then please email me.
All images on this site are © of the author. Any reproduction, retransmissions, or republication of all or part of any document found on this site is expressly prohibited, unless the author has explicitly granted its prior written consent to so reproduce, retransmit, or republish the material. All other rights reserved.
Although this site includes links providing convenient direct access to other Internet sites, I do not endorse, approve, certify or make warranties or representations as to the accuracy of the information on these sites.
And finally, enjoy your walking!
---
Nearby walks
---