Walk #342: Feock to Falmouth
| | | |
| --- | --- | --- |
| | | |
| P20031300006 The green lane leading from Feock towards Penpol. | | P20031300014 The church at Mylor Churchtown. |
General Data
| | |
| --- | --- |
| Date Walked | 30/01/2003 |
| County | Cornwall |
| Start Location | Feock |
| End Location | Falmouth |
| Start time | 08.56 |
| End time | 15.43 |
| Distance | 15.4 miles |
| Description | This was a long and boring plod, with only a few nice sections of walk between Mylor Churchtown and Penryn. |
| Pack | Today I carried my 30-litre Karrimor HotRock rucksack, which was filled with my packed lunch, waterproof leggings, water bottle and a couple of spare shirts, together with the usual assortment of odds and ends. |
| Condition | I feel quite fatigued after this walk, and it took me a while after the walk finished to warm up after the cold and wet day. My ankle also ached during the walk, but not enough to really worry me. |
| Weather | The weather for long periods of today was really atrocious, with long periods of heavy hail and rain accompanied with strong gale-force arctic winds that made the morning bitterly cold. Fortunately later on in the afternoon the sun came out, and although the wind was still present I managed to warm up slightly. |
| OS map | Landranger number 204 (Truro & Falmouth, Roseland Peninsula) |
| | | |
| --- | --- | --- |
| | | |
| P20031300022 The view over Carrick Roads towards St Mawes and St Anthony Head. | | P20031300024 The footpath beside Carrick Roads. |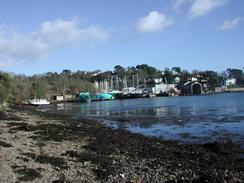 P20031300031 The river to the west of Flushing.
---
Map of the walk
Maps courtesy of Google Maps. Route for indicative purposes only, and may have been plotted after the walk. Please let me
have comments
on what you think of this new format. For a detailed table of timings for this walk, please see
the table file
.
---
Notes
The weather today really spoilt this walk, and made it a chore instead of a pleasure. The rain started within an hour of my setting off with a heavy hailstorm with stones that stung my face when they hit it. The wind was also very strong, and this made matters worse as it chilled me and blew the hail straight into my face. After a while the hail became rain, and this continued until I reached Mylor Bridge. By this time I was fairly wet and quite depressed, so I went into the Lemon Arms to try and warm myself up. By the time I emerged an hour later the rain had stopped, but unfortunately this did not last long and another hailstorm came along. When it did my hands became ice blocks, and my fingers were very numb, which made for a most unpleasant experience.
I had quite an enjoyable time in the pub, and the landlord gave me a fiver for the charity. This was very nice of him, and made the hour that I spent waiting for the rain to stop worthwhile. Before I went to the pub I nipped into the local shop and bought a copy of the latest Private Eye, so I read this as I sat supping my drinks.
I had to walk along the A39 for about a mile between Devoran and Perranarworth, and this was the worst section of road that I have had to walk along so far on this trip. The road was narrow and twisting, the verges were non-existent in places and it was full of traffic, including lorries, going past at fifty miles an hour. If anyone replicates this walk, I severely suggest that they try and find another route that avoids this road unless they like putting their life on the line. A better and safer route would be to walk from the A39 in Devoran along a byway to Perranwell Station, and then head along roads down into Perranarworth.
I phoned up the vets in Highertown in Truro again this evening, and I enquired about how the Collie dog was from yesterday. The lady at the vets told me that the dog went home today, and it has a fractured pelvis. This could have been much worse, and I can only hope that the pelvis heals well and quickly. I am strangely emotional about this as I feel like I am to blame for what happened, and it is strange because I do not normally get this emotional about animals. This event has really quite shaken me, and I really wish that it had never happened.
I have now done a little over 2,000 miles on this trip - 2001.1 to be precise - so another target has been reached. I am also very glad that my last large estuary for a while has been completed, which I am exceedingly glad about, as the last couple have been far from enjoyable. I now have only a thirteen-mile walk around the Helford estuary - which I shall start tomorrow - and then there are no more major estuaries until I get to Padstow. Hurrah!
---
Directions
This walk starts off at a car park on the northern side of the village of Feock. Head south through the village along the main road until it ends at a T-junction just past a right-hand bend, passing the church on the way. At this junction turn left and after a few hundred yards take a footpath that leads off to the right. This footpath starts off by heading along an access road to some houses before it becomes a rough track and then a narrow footpath that descends through trees. Eventually climb over a stone stile that brings you out onto an access road.
Continue on down this road as it descends to meet the side of the Restronguet Creek before it continued on and becomes a road. This shortly ends at a T-junction with another road, and turn left down this road for a couple of hundred yards until it too ends at another T-junction. Turn left at this junction down another road that heads down towards Creek, where the road turns to the right to head westwards for a couple of kilometres until it ends at the A39 road in Devoran.
Here turn left and follow the A39 southwestwards for a little over a mile into Perranarworth. I would seriously advise you to find an alternative route for this section, as the road was not suitable for walking along. One a pub is passed on the right take the next road off to left, and follow this road as it climbs uphill for about a mile, until it ends at a T-junction. At this junction turn to the left to head eastwards past two other junctions. The road continues on past Angarrick and then follow it as it swings to the right and descends down into Mylor Bridge.
Descend down though the village and cross the bridge over the end of Mylor Creek. On the southern side of the bridge turn to the left down a road for a few hundred yards until a junction is reached. At this junction turn to the left along a minor road that follows the southern bank of Mylor Creek for a little over a mile. the road becomes narrower and eventually ends with a squeeze stile before eventually emerging at a road beside the church at Mylor Churchtown.
Turn left down the road and follow it as it curves around to the right past the church. The road continues on with a little marina on the left, and a footpath then leads off beside the creek before the road ends. This footpath heads past Penarrow Point where it curves around to the right to head southwards, and there are some lovely views over Carrick Roads towards St Mawes and the lighthouse at St Anthony Head. The footpath curves around slowly and eventually heads westwards and meets a road just beyond Trefusis Point. Continue along this road as it turns sharply to the right, past a ferry that heads over to Falmouth, and on northwestwards up the road.
The road passes a pub in Flushing and then turns sharply to the right and then the left. A right-hand bend then follows; at this bend when the road heads uphill continue straight on down a minor road. When this road ends after a short distance continue straight on along a footpath. This footpath follows the northern bank of part of the river for about a mile before it eventually ends at a road below the church in Penryn. Turn left down this road and follow it until it ends at the B3292 road.
Turn left down the B3292 road as it heads southeastwards for a little under a kilometre to a roundabout with the A39. At this roundabout continue straight on down the A39 to another roundabout at which you take a road off to the right. This road leads past Falmouth Marina and continues on alongside the river. This walk ends just after a church on the right, where we parked on the roadside for the night.
---
Distances
| From | To | Distance (m) | Ascent (ft) | Descent (ft) |
| --- | --- | --- | --- | --- |
| Feock | Mylor Bridge | 7.6 | 764 | 784 |
| Mylor Bridge | Falmouth | 7.8 | 883 | 853 |
This makes a total distance of 15.4 miles, with 1647 feet of ascent and 1637 feet of descent.


For more information on profiles, ascents and descents, see this page
---
Accommodation
Sam had parked the van in Stratton Avenue in Falmouth, which was convenient as I was precisely on my route. This was quite near the place where the ferry over from St Mawes lands, which is where the South West Coast Path restarts, so it is handy for the morning.
---
Disclaimer
Please note that I take no responsibility for anything that may happen when following these directions. If you intend to follow this route, then please use the relevant maps and check the route out before you go out. As always when walking, use common sense and you should be fine.
If you find any information on any of these routes that is inaccurate, or you wish to add anything, then please email me.
All images on this site are © of the author. Any reproduction, retransmissions, or republication of all or part of any document found on this site is expressly prohibited, unless the author has explicitly granted its prior written consent to so reproduce, retransmit, or republish the material. All other rights reserved.
Although this site includes links providing convenient direct access to other Internet sites, I do not endorse, approve, certify or make warranties or representations as to the accuracy of the information on these sites.
And finally, enjoy your walking!
---
This walk was mentioned in the following routes:
---
Nearby walks
---