Walk #389: Solva to Abereiddy
| | | |
| --- | --- | --- |
| | | |
| P20033200263 An island just off the coast at Solva. | | P20033200274 Porth Clais. |
General Data
| | |
| --- | --- |
| Date Walked | 20/03/2003 |
| County | Dyfed |
| Start Location | Solva |
| End Location | Abereiddy |
| Start time | 08.55 |
| End time | 17.00 |
| Distance | 19.1 miles |
| Description | This was another delightful day, with some great coastal scenery and nice weather to go along with it. |
| Pack | Today I carried my 30-litre Karrimor HotRock rucksack, which was filled with my packed lunch, waterproof leggings, water bottle and a couple of spare shirts, together with the usual assortment of odds and ends. |
| Condition | I feel relatively okay after this walk, and I have had less problems that I had yesterday. I noticed last night that the knuckle of my right ankle was bruised, so I wore my trainers once again instead of my boots. I will probably continue to do this for a couple of more days to allow it to heal. I had a couple of twinges from my bad ankle as well, but nothing too major or long lasting. I had no repetition of the chaffing that annoyed me yesterday, mainly because I applied Vaseline to the affected places. |
| Weather | Today was much cloudier than yesterday, with some thin, high cloud obscuring the sun for long periods. There were frequent gaps in this cloud, which the sun could shine through. Despite this it got quite warm in the afternoon, and all in all it was a lovely day for a walk. |
| OS map | Landranger number 157 (St David's & Haverfordwest) |
| | | |
| --- | --- | --- |
| | | |
| P20033200290 St Justinian's lifeboat station. | | P20033200302 The Coetan Arthur Neolithic burial chamber. |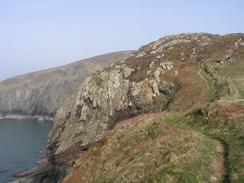 P20033200310 The view eastwards along the cliffs.
---
Map of the walk
Maps courtesy of Google Maps. Route for indicative purposes only, and may have been plotted after the walk. Please let me
have comments
on what you think of this new format. For a detailed table of timings for this walk, please see
the table file
.
---
Notes
This was another highly enjoyable walk, with some great scenery and some good views (although these were spoilt by a haze in the sky). It was another long day with a good mileage walked, which is helping keep my averages up.
On the last couple of days I have been walking with my cost off in the afternoons (the mornings have not been warm enough to take my coat off), and I have been having trouble putting everything in my trouser pockets. I had to carry my wallet, keys and spare batteries, and these are all quite heavy and are items that I need too regularly to put them into my backpack. To solve this Sam got the balance pockets from my large Craghoppers rucksack and has found out that they can be attached to my small rucksack. Yesterday I tried walking with one of these on, and it solves the problem brilliantly - I can access the items in the pocket easily it does not get in the way too much. The only downside is that it looks strange, although this hardly matters, as I look strange at the bets of times!
The little harbour at Porthclais was beautiful, and is in a lovely setting at the end of a channel that winds inland. Beside the harbour there are some restored limekilns, and you can walk up and around them so that you can see inside. There have been so many lovely little villages on the Pembrokeshire Coast Path that it is hard to mention them all - it is a lovely part of Britain.
I met Sam for lunch at the car park at Whitesands Bay. As I walked through the car park I saw her sitting at a bench chatting to a South African couple, so I sat down beside them and scoffed down my sandwiches whilst they chatted. I was aware that I would be meeting Sam, so I had drunk lots of water in the morning, and so when we went to Mervan I had to have my water bottle refilled.
The next part of the walk past St David's Head was absolutely fantastic, and the scenery was unsurpassed. The ground was strewn with boulders of various sizes, and in some ways it reminds me of parts of the Peak District. The only downside to this was that it made the going slightly hard, as the path passed over various boulders and these were hard on my feet as I was wearing trainers. As I walked I listened to my radio, and was very surprised to find that I could get three Irish radio stations, including RTE Radio One. This shows just how near to Ireland I am, which is a very strange feeling.
I jogged down the last section of road into the car park in Abereiddy as I was still feeling quite fit. Sam was sitting on the ground in the car park, chatting to a couple in another camper van and I went over to join them. They seemed a nice couple, and they gave me a glass of wine that was very gratefully received. They have a different van to ours, and Sam had a look around it before we had to leave - the layout differs as the vans shave different purposes; ours has four berths, for instance, whilst theirs only has two. If anyone had told me a couple of years ago that I would enjoy looking at motor homes before my thirtieth birthday I would not have believed them!
Sam visited St David's today, and was amazed by the cathedral. The city is the smallest in the country, and in the seventies had a population of just 2,000, which is about the size of the village I come from in Derbyshire. She suggested that I may want to look at the cathedral, so instead of staying at Abereiddy we drove into the city to have a look around. The cathedral is very spectacular, part so it made of red sandstone that looked brilliant in the early evening sun. We had a quick look around the interior and the ceiling is probably the best that I have seen in a cathedral, but unfortunately an evensong was about to begin so I could not see too much of it. Next to the cathedral are the ruins of the old Bishop's palace, itself an enormous building, but unfortunately these too were shut. After this we went around to a local pub where we had a quick drink, but neither of us wanted to stay too long as it was packed to the rafters and was very noisy.
Tomorrow I shall probably try and get quite near to Fishguard, although to actually reach the town will be too long a walk, especially as I have had a couple of long walks over the last couple of days. I am quite keen to try and cover long distances whilst the weather is good, but trying to get to Fishguard will probably be a bit too far considering the terrain.
---
Directions
| | |
| --- | --- |
| This walk follows the Pembrokeshire Coast Path, the route of which is detailed in the Ordnance Survey National Trail Guide 7, Pembrokeshire Coast Path (ISBN 1-85410-770-4). Unfortunately the route description is written in reverse to the direction that I am walking, but the 1:25,000 maps in the book are clear and the signs on the ground are very good. Please click on the image to the right to go to the Amazon page for this book. | |
---
Distances
| From | To | Distance (m) | Ascent (ft) | Descent (ft) |
| --- | --- | --- | --- | --- |
| Solva | Whitesands | 11.9 | 2441 | 2467 |
| Whitesands | Abereiddy | 7.2 | 1765 | 1768 |
This makes a total distance of 19.1 miles, with 4206 feet of ascent and 4235 feet of descent.


For more information on profiles, ascents and descents, see this page
---
Accommodation
We spent the night in the car park beside the Tourist Information office in St David's, which had more facilities nearby than the car park in Abereiddy. Yet again this car park had a sign prohibiting overnight parking, and we ignored this as usual.
---
Disclaimer
Please note that I take no responsibility for anything that may happen when following these directions. If you intend to follow this route, then please use the relevant maps and check the route out before you go out. As always when walking, use common sense and you should be fine.
If you find any information on any of these routes that is inaccurate, or you wish to add anything, then please email me.
All images on this site are © of the author. Any reproduction, retransmissions, or republication of all or part of any document found on this site is expressly prohibited, unless the author has explicitly granted its prior written consent to so reproduce, retransmit, or republish the material. All other rights reserved.
Although this site includes links providing convenient direct access to other Internet sites, I do not endorse, approve, certify or make warranties or representations as to the accuracy of the information on these sites.
And finally, enjoy your walking!
---
This walk was mentioned in the following routes:
---
Nearby walks
---