Walk #95: Nottingham to Long Eaton
| | | |
| --- | --- | --- |
| | | |
| N11 Castle Lock, Nottingham. | | N14 Looking along the Trent from 5258 3432 near Barton Island. |
General Data
| | |
| --- | --- |
| Date Walked | 13/05/2000 |
| County | Nottinghamshire, Derbyshire |
| Start Location | Nottingham |
| End Location | Long Eaton |
| Start time | 12.10 |
| End time | 16.15 |
| Distance | 10.3 miles |
| Description | This was a lovely walk along rivers and canals. |
| Pack | Today I carried my Craghoopers WP70 tucksack conatining full camping Kit. |
| Condition | I am slightly dehydrated after a very hot day, but am otherwise okay. I tried having a double-layer thickness of Sorbothane footpads in my boots to combat the pounding the underside of my feet get on hard ground, but I removed them after a couple of miles as they were trapping circulation to my toes. Otherwise everything was fine. |
| Weather | Today was sunny and very hot. There were a few clouds in the sky, but nothing that decreased the heat. There was very little if no breeze, which made the walk slightly uncomfortable. |
| OS map | Landranger number 129 (Nottingham & Loughborough, Melton Mowbray) and Nottingham A to Z |
---
Map of the walk
Maps courtesy of Google Maps. Route for indicative purposes only, and may have been plotted after the walk. Please let me
have comments
on what you think of this new format. For a detailed table of timings for this walk, please see
the table file
.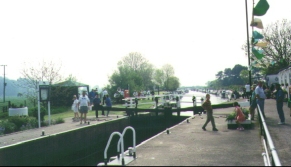 N16 Festivities at Cranfleet Lock - the Nottingham yacht Club Annual Rally.
---
Notes
This was a short and level walk, which was just as well considering the hot and clammy weather. I only took a 1-litre water bottle with me, which was obviously not enough. Fortunately I knew that there would be plenty of refreshments stops en route, and so it turned out. It was the hottest weather that I have had to walk in so far this year, and fortunately I coped with it very well. It is in weather like this that the advantages of good base layers becomes very obvious, as at the end of my walk the only sweat on my body was at the top of my shoulders where the rucksack straps sit. My back, front and sides were all dry, which shows how well the base layer transports moisture away from the skin.
Although not very dramatic, the scenery the walk passes through is quite nice and varied. At the start the canal passes through the centre of Nottingham, which is of course fairly built up. However, as is common with canals in built up areas, it is not long before greenery starts encroaching and it becomes easier to forget that you are in a city. It certainly beats road walking, which in cities can be a real pain, both on the feet and on your nerves as drivers constantly speed past you.
A rather strange and worrying thing occurred as I was strolling along the banks of the Trent. I was approaching a man walking towards me when a woman passed on the narrow path. She swerved around him, got her front wheel on the long grass and, before anyone could do anything, cycled down the bank and into the river. We both ran over to see her emerge, soaked to the skin and thankfully unhurt. We helped her out, and the other gent retrieved her bike from the water. No harm done, to either lady or machine, but it could have been much worse.
As I approached the Cranfleet canal from the Trent the strange sound of a brass band could be heard drifting across the meadows beside the river. As I rounded the last corner, a series of cars parked on the bank side beside the river became visible, and I reached Cranfleet Lock a large amount of festivities were visible on both sides of the lock. It transpired that the area surrounding the Lock was the headquarters of the Nottingham Yacht Club, and it was their Annual Rally. The area was absolutely full of canal and other small boats. Since I was quite thirsty and did not want to use up my precious water supply, I popped into the bar at the club and had a quick half of coke. Not the best drink to be having on a hot day, but welcome nonetheless.
The rest of the walk was easy going along the rest of the short Cranfleet canal up to Trent Lock and then north into Long Eaton via the Erewash Canal.
---
Directions
Head south down Carrington Street from the Broadmarsh Shopping Centre towards the railway station. Before you reach the station, you cross a bridge over the Nottingham to Beeston Canal. Cross over the bridge, and then descend to the right down to the canal.
Follow the canal westwards past Castle Lock. From here the mound of Nottingham Castle can be viewed to the right, alas with only a museum on top, not a castle. The canal progresses westwards, passing a superstore on the left, before swinging southwards to pass under the A52. It continues along a green corridor for a couple of miles, gradually swinging southwestwards and finally meeting the River Trent at Beeston Lock.
At Beeston Lock there is a marina and facilities including a café and a pub, so this makes a fairly good refreshment stop, particularly if the day was as hot as the one when I walked this section.
From Beeston Lock the path follows the north side of the river as it heads south-westwards on a corridor of land between the River and Attenborough Nature Reserve. This is a very scenic section of walk, and good fast progress can be made. Unfortunately it is also very popular with cyclists, and there was a couple of times on this section where I was nearly run into by cyclists speeding towards me from behind. I find this sort of thing very off-putting and worrying, and I wish more cyclists would either fir their bikes with bells or actually use them.
After a few miles the river forms a big loop which the path follows. As it turns westerly again the Cranfleet canal leads off to the west. Leave the Trent and follow the short Cranfleet Canal past Cranfleet Lock. After passing under a bridge carrying the main Nottingham and Derby to London railway line you reach Trent Lock, the meeting place of the Rivers Trent and Soar, and of the Cranfleet and Erewash Canals.
At Trent Lock there is another pub, which can be called into before heading north-north-westwards along the Erewash Canal. Shortly after you pass under two railway bridges a road bridge is met, which can be climbed up to. This is Fields Farm Road, and after turning left along this road it is a five-minute walk to Long Eaton Railway Station.
---
Distances
| From | To | Distance (m) | Ascent (ft) | Descent (ft) |
| --- | --- | --- | --- | --- |
| Nottingham | Beeston Lock | 4.1 | 20 | 33 |
| Beeston Lock | Long Eaton station | 6.2 | 43 | 23 |
This makes a total distance of 10.3 miles, with 63 feet of ascent and 56 feet of descent.


For more information on profiles, ascents and descents, see this page
---
Transport
There are regular train services between Long Eaton and Nottingham stations. There are also many bus services serving the local area.
---
Disclaimer
Please note that I take no responsibility for anything that may happen when following these directions. If you intend to follow this route, then please use the relevant maps and check the route out before you go out. As always when walking, use common sense and you should be fine.
If you find any information on any of these routes that is inaccurate, or you wish to add anything, then please email me.
All images on this site are © of the author. Any reproduction, retransmissions, or republication of all or part of any document found on this site is expressly prohibited, unless the author has explicitly granted its prior written consent to so reproduce, retransmit, or republish the material. All other rights reserved.
Although this site includes links providing convenient direct access to other Internet sites, I do not endorse, approve, certify or make warranties or representations as to the accuracy of the information on these sites.
And finally, enjoy your walking!
---
This walk was mentioned in the following routes:
---
Nearby walks

Notice: Undefined variable: indWalks in /home/britishw/public_html/PHPTemplates/NearWalks.php on line 44
There are no walks local to this one.

---