Walk #705: A circular walk from Shirley to Kirk Langley and Brailsford
| | | |
| --- | --- | --- |
| | | |
| P2005C319437 Shirley Church. | | P2005C319452 Heading east from Longford. |
General Data
| | |
| --- | --- |
| Date Walked | 31/12/2005 |
| County | Derbyshire |
| Start Location | Shirley |
| End Location | Shirley |
| Start time | 08.45 |
| End time | 15.11 |
| Distance | 18.7 miles |
| Description | This was a long and muddy walk following the Bonnie Prince Charlie Walk and the Centenary Way around the area to the northwest of Derby. |
| Pack | Today I carried my 30-litre Karrimor rucksack filled with my waterproofs, a book and various other odds and ends. |
| Condition | My right knee hurt a great deal at times today, probably as a result of the extra strains placed on it by having to walk through mud. Aside from this I am fine and have had no other problems. |
| Weather | Today had quite a mixture of weathers, with periods of sunshine interspersed with drizzle and one heavy shower. It was fairly mild compared to recent days, although the wind was biting when I was exposed to it. |
| OS map | Landranger number 128 (Derby & Burton upon Trent) or Explorer number 259 (Derby, Uttoxeter, Ashbourne & Cheadle) |
| | | |
| --- | --- | --- |
| | | |
| P2005C319462 Radbourne Brook. | | P2005C319472 The view north over Mercaston Hall. |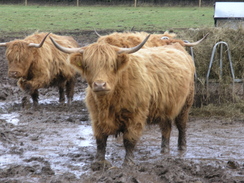 P2005C319488 Highland cows to the south of Mercaston Hall.
---
Map of the walk
Maps courtesy of Google Maps. Route for indicative purposes only, and may have been plotted after the walk. Please let me
have comments
on what you think of this new format. For a detailed table of timings for this walk, please see
the table file
.
---
Notes
After having done some walks that involved some reasonably long drives I fancied doing something a bit nearer to home, and so I decided to do a walk that I had planned a while back, extending a walk that had taken me to Shirley this time last year. The short drive did not take me too long, and when I reached Shirley I drove around for a while looking for somewhere to park, a task made more difficult by the lack of any car park. Eventually I pulled up beside another car opposite the village pub, and started to pull on my gaiters and boots, but before I had completed a man came out of he cottage. He politely asked me to move as he was expecting visitors, and suggested that In use the pub car park. I did not mind moving but was hesitant about using the pub car park as it was private property; he said that it would be fine, and so I repositioned my car and got ready for the day's walk.
The initial stretch of the walk took me along a stretch of the Bonnie Prince Charlie Walk, which runs between Ashbourne and Derby. This path turned out to be quite well signposted, and I made good time, initially along roads and then along a muddy track that headed due south. The mud was not too bad and I made good time as I walked, the track variously petering out and restarting as it progressed, before passing near Longford Hall and skirting to the east of Longford.
So far the walk had not been too difficult, but as I started heading eastwards the paths generally became boggier and harder to walk along, The thaw had brought the frost of the last few days out of the ground, and as many of the fields had been ploughed this autumn they were very muddy, and often my boots had inch-=wide cakes of mud around them, which weighed down my boots and placed extra strains on my legs and knees. The ground was also slippery in places, which again placed extra and unwelcome strains on my body.
This situation was made worse by my going off course on two occasions. The first of these was when I followed a field boundary too far and ended up walking up a track towards Brockley Meadows; this involved traversing a large pool of muddy water, which I had to re-cross when my GPS showed me that I was heading in the wrong direction. Even then it was not obvious where the proper path was, and it took me a few minutes to eventually get back on course. The second occasion was to the southeast of the village of Lees where, after crossing the Radbourne Brook, I could not find the proper path. The position of the stream and the overhead power lines on the maps confused me, and once I had reached a hedge at the edge of a field I started to head downhill to where I thought the stile might be. This led me to enter the wrong field over a crooked gate, which was very stupid as all of the field boundaries so far had had stiles. After about ten minutes wandering around I found the stile very near to where I had initially been!
There are several abandoned Medieval villages in this area, and at Osleston the path crossed an area of bumpy ground where the houses once sat. It was impossible for me to work out how the bumps and hollows corresponded to houses, or what the ground plan may have been, but it was nonetheless fascinating to have a quick walk around the area and to wonder what the village must have been like. Many of these villages were abandoned after the plague, but many were just in the wrong place and as people moved away they were simply left and the remaining buildings left to rack and ruin.
It had been my plan to follow footpaths northwestwards across Radbourne Common to avoid the B5020 road, but by this time my knees were aching and I therefore decided to walk along the road instead of the footpaths. The road was not too busy but neither was it quiet, and I walked carefully along it northwestwards, stepping onto the verge whenever cars were coming towards me. By the pub at Langley Common a pavement started and this made the walk on to Kings Langley much safer and slightly more pleasant, although I was still relieved when the B5020 road ended at the A52 in the village.
After crossing the A52 local roads took me on northwards, and although these roads were quiet they were also fairly boring with nothing much to see until near Mercaston, where I got some good views northwards to where the ground starts to rise up to the southern outskirts of the Peak District. Before the road descended down to Mercaston Hall I spotted a field of Highland Cows, and I stopped for a few minutes to watch them feeding and to take some photographs of these magnificent creatures.
From Mercaston Hall I joined the Centenary Way, a path that proved to be slightly less well waymarked than the Bonnie Prince Charlie Walk. This led me uphill to the west, and as I climbed uphill it started to rain. There were dark clouds overhead but around them were slightly lighter clouds, and so I chose not to stop to put on my waterproofs and plodded on. Some of the fields were muddy and as my feet slipped around I felt my knees give twinges of discomfort, making my decision to wlk along the roads instead of footpaths quite wise. I lost the path on the descent to Brailsford, but this was not too important as I headed down straight to a short track that led to the A52, and there were no stiles to cross.
From Brailsford I left the Centenary Way and walked along he road and a track to the pretty Brailsford Church, situated on its own in fields some way outside the village. Fortunately by this time the rain had stopped, and there was even some brief periods of sunshine to make the next stretch of path to Ednaston more enjoyable. This path was not too muddy and was much nore enjoyable to walk along, and when I finally reached Ednaston a long road walk followed, initially heading northwards towards the A52 before taking a local road westwards back towards Shirley and the end of the walk. Once I finished I looked back on a generally unsatisfying walk; the pain in my knees being concerning and the navigational errors annoying.
---
Directions
This walk starts off at the church in the village of Shirley, which is to the southeast of Ashbourne, and for the first nine and a half miles follows the Bonnie Prince Charlie Walk, a guide for which can be obtained from the Derby Ramblers website Leave the church and turn left to start walking south along the road, passing a pub on the right; shortly after the pub the road curves to the right to head southwestwards and becomes Mill Lane. After a few hundred yards take the second road off to the left, which heads southwards, and when it ends continue straight on along a green lane. This climbs uphill and peters out after a while; simply keep walking straight on and after skirting the eastern edge of Coppice Plantation the track restarts, and to the east of Longford Hall it becomes a surfaced track that ends at a road.
Cross the road and continue straight on along the path, which heads southeastwards across a field to a footbridge over a stream and continues on before ending at a bend in a road near Burton Farm. Join the road for a couple of yards and then turn left to start walking along a footpath. Initially this heads northeastwards with the hedge on the left, but it then joins a short track and crosses a stile to take a more easterly course, reaching a road to the north of Crowtrees. Cross this road and continue on eastwards across a series of fields, initially with a hedge to the left but when the hedge turns to the left continue straight on up a slight hill until a track is reached. Cross the track and on the other side cross a stile to head northeastwards with a hedge on the left.
When this footpath ends at a road to the south of Thurvaston cross it and head slightly south of east across a series of fields until another road is reached immediately to the north of Osleston Hall. Cross this road and head slightly downhill to the northeast to a little stream. Cross this and turn slightly to the left to head uphill to another stile, and then turn right to head eastwards towards Grange Fields Farm. The footpath heads immediately to the south of the farm and descends down a hill, before curving to the right to head southeastwards to the Nunsclough Brook. Cross the stream and head eastwards uphill across a couple of fields before ending at a road in the village of Lees.
Turn left for a few yards towards the village pub and then turn right to heads southeastwards along a road. This heads downhill for a few hundred yards, and when the road curves sharply to the left turn right to cross a stile and then turn left to start heading southeastwards across fields towards Radbourne Brook. Cross the brook and on the other side head east uphill, passing under some power lines towards a hedge, and then turn to the right to head up the hedge to reach a stile. After this the path heads southeastwards across a series of fields before ending at a road.
At this road turn left and start walking east along it; when it ends at a junction turn right and continue walking along the road as it passes through Radbourne, and then turns to the right to descend a slight slop to a bridge over a stream. Cross this stream and on the other side turn left along a footpath; this climbs uphill to the east, passing immediately to the north of Silverhill Farm and continuing on across a couple of fields before slowly curving to the left to take a more northeasterly course and ending at the B5020 road.
At the B5020 road turn left and start following it northwestwards towards Langley Common and finally into Kirk Langley, where the road ends at the A52(T). Cross the A52(T) and on the other side head straight on up Flagshaw Lane. The road curves to the northwest before settling on a northerly course and reaching a crossroads. Here head straight on along Slade Lane and follow it as it descends downhill before ending at a T-junction. Here turn left and follow the road as it curves to the right and starts climbing uphill, and shortly after passing Mercaston Hall turn left along another footpath.
This footpath climbs uphill across a series of fields, before reaching a track called Wood Lane. Turn left along this track for a few yards and then when immediately past a mast turn right to join another footpath that heads slight south of west, descending downhill and ending at a road in Brailsford. Turn left down this road for a few yards until the A52(T) is reached; carefully cross the A52(T) and then turn right to start heading northwestwards along the road. The road curves to the left after a short distance, and after this turn left down a road. This heads directly south before sharply curving to the right to head westwards. After a few hundred yards the road curves to the left; here continue straight on along a surfaced track that leads downhill to Brailsford Church.
When the church is reached turn right to walk in front of it, and then left to join a footpath that heads westwards past the church before crossing a field and descending down some steps to reach Brailsford Brook. On the other side continue along the footpath as it heads westwards across a couple of fields, eventually skirting a garden before ending at a road in Ednaston. Here turn right to walk northwards along this road, passing the pub on the right before leaving the village and continuing on towards the A52(T). Just before the junction with the main road turn left to join another road that heads westwards for about a mile, eventually climbing uphill to end at a junction in Shirley. Here turn right to walk northwards for a few yards, passing the pub on the left before reaching the church on the right, where this walk ends.
---
Distances
| From | To | Distance (m) | Ascent (ft) | Descent (ft) |
| --- | --- | --- | --- | --- |
| Shirley | Longford | 2.9 | 26 | 187 |
| Longford | Radbourne | 5.7 | 367 | 354 |
| Radbourne | Mercaston Hall | 5.6 | 361 | 279 |
| Mercaston Hall | Shirley | 4.5 | 365 | 299 |
This makes a total distance of 18.7 miles, with 1119 feet of ascent and 1119 feet of descent.


For more information on profiles, ascents and descents, see this page
---
Disclaimer
Please note that I take no responsibility for anything that may happen when following these directions. If you intend to follow this route, then please use the relevant maps and check the route out before you go out. As always when walking, use common sense and you should be fine.
If you find any information on any of these routes that is inaccurate, or you wish to add anything, then please email me.
All images on this site are © of the author. Any reproduction, retransmissions, or republication of all or part of any document found on this site is expressly prohibited, unless the author has explicitly granted its prior written consent to so reproduce, retransmit, or republish the material. All other rights reserved.
Although this site includes links providing convenient direct access to other Internet sites, I do not endorse, approve, certify or make warranties or representations as to the accuracy of the information on these sites.
And finally, enjoy your walking!
---
Nearby walks
---