Walk #507: Strathcarron to Tornapress
| | | |
| --- | --- | --- |
| | | |
| P20037235726 The River Carron at Strathcarron. | | P20037235730 A ruined building and burial ground at Kirkton. |
General Data
| | |
| --- | --- |
| Date Walked | 23/07/2003 |
| County | Highlands |
| Start Location | Strathcarron |
| End Location | Tornapress |
| Start time | 09.50 |
| End time | 15.56 |
| Distance | 15.8 miles |
| Description | This was quite an enjoyable short walk, with some nice expansive views available over Loch Carron and Loch Kishorn. |
| Pack | Today I carried my 30-litre Karrimor HotRock rucksack, which was filled with my packed lunch, waterproof leggings, water bottle and a couple of spare shirts, together with the usual assortment of odds and ends. |
| Condition | The biggest problem that I had today was that during this afternoon my legs totally ran out of energy and I found progress to be quite hard. Aside from this I had no real problems, although I am glad that I did not have to walk any further. |
| Weather | The weather today was exactly as forecast - cloudy with some significant periods of rain. Fortunately the rain was not continuous, and the main period of rainfall only lasted for a couple of hours, and was not too heavy. There was not much wind, and it was also quite warm. |
| OS map | Landranger number 25 (Glen Carron & Glen Affric) and Landranger number 24 (Raasay & Applecross, Loch Torridon & Plockton) |
| | | |
| --- | --- | --- |
| | | |
| P20037235738 Strome Castle. | | P20037235741 Loch Carron viewed from Strome Castle. |
| | | |
| --- | --- | --- |
| | | |
| P20037235754 The forest track beside Reraig Burn. | | P20037235763 Looking over Loch Kishorn to the Applecross Hills. |
---
Map of the walk
Maps courtesy of Google Maps. Route for indicative purposes only, and may have been plotted after the walk. Please let me
have comments
on what you think of this new format. For a detailed table of timings for this walk, please see
the table file
.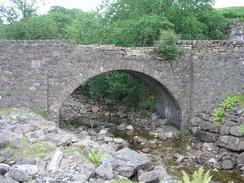 P20037235773 An old road bridge at Tornapress.
---
Notes
I knew that today was going to be a short day, and so I was not in a hurry to set off, particularly with the weather forecast stating that it would rain all day. To make some use of the spare time I went into Strathcarron post office so that I could use the Internet. I spent the best part of three-quarters of an hour on the 'net, doing various pieces of research until I got bored stiff. I used to work designing software for Internet Appliances, and I find that I cannot surf the 'net for more than an hour without getting bored!
We had already packed my rucksack, so I grabbed it out of the van and set off on the day's walk. The rain started fairly soon after I set off, initially as a light drizzle that increased with intensity as the morning went on. I had started the walk with my coat on and the rain was too heavy to walk without it, but I also got very warm - it was far from being a cold day. I was stuck with either taking my coat off and getting drenched or overheating with my coat on, which was not a nice choice.
I met Sam for a bite of lunch at Lochcarron after I had walked only three and a half miles, and we went into the Spar shop to have a look at what they had. Sam's sandwiches are superb, but every so often I feel like a change, and so I chose to have a pork pie instead. This went down well, and I set off into the rain once more. The walk down the minor road to North Strome was nice despite the rain, and the three miles seemed to take no time at all. North Strome was once the site of a ferry across Loch Carron to Stromeferry on the southern bank, but this ceased to run once the new road between Stromeferry and Strathcarron along the southern bank opened, which I suspect left North Strome far quieter than it used to be.
I diverted off my route by a couple of hundred yards so that I could visit the remains of Strome Castle, which is sited on the side of a little peninsular. The castle had a short lifetime, and is now very ruinous - it was blown up in 1602, and there are very large sections of stonewall scattered around the area where they must have landed. The walls are all quite low, typically less than ten feet high, and nearby there was a sign showing how the castle would have looked when it was intact. The picture showed a very tall and slender building, and I found it hard to equate this with the ruins that I could see, but I guess a lot could have happened to the ruins in the last four hundred years.
From Ardaneaskan I took a track through some woodland beside the Reraig Burn, which eventually became a path that headed northwards over some moorland. I got some beautiful views northwestwards over Loch Kishorn to the Applecross Mountains, which I shall be crossing tomorrow. I could see dots moving down a narrow grey band on the mountain, and through my ocular I could see that they were cars going down the road. Sam has been advised not to drive Mervan up there tomorrow as it is 1 in 4 with hairpin bends, and so she is going to have to drive the long route around the coastal road. I am very much looking forward to walking along the road up the mountain to the pass of Bealach na Ba (the pass of the cattle) at 2,054 feet, although if the weather is bad it may not be very nice. If the weather is nice, however, I would be severely tempted to walk a few miles to the summit of Beinn Bhan at 896 metres.
Sam was waiting for me near Ardarroch, and I nipped into Mervan for a chat. I did not want to end the walk there, but for the last couple of hours I had found the miles really hard to complete; my legs were feeling leaden and I did not have any energy. This did not really slow em down at all, but it did make me hate every calorie that I expanded on the climb over the moorland, a stretch of walk that I really should have enjoyed. I used the opportunity to change from my boots into my trainers for the last few miles of road walking, but it did not make the miles any easier as my legs were still leaden. In the end I could not wait for the walk to end, and I was glad when I met Sam at the junction with the road over the mountains at Tornapress. There was nowhere really to stay near there, so we decided to drive the six miles back to Lochcarron for the night, which at least had some facilities.
I think that I have invented a new word today: 'Pastaeurisation' - the effect that you get from eating too much of Sam's delicious pasta. I had double helpings last night as it was such a culinary delight, and so I doubt that my lethargic feeling this afternoon was anything due to lack of food!
---
Directions
This walk starts off in the car park of Strathcarron Railway Station. Turn right out of the station and follow the A890 road northwestwards for a little under a mile until it reaches a T-junction with the A896 road. Turn left at this junction to head southwestwards along the A896 road for two and a half mile into the village of Lochcarron. Follow the road through the village and shortly after it starts a climb uphill turn left down a minor road that heads past Slumbay Harbour and continues on for three miles to North Strome. You can divert down to look at the ruins of Strome Castle, otherwise continue on as the road curves to the right to head westwards for a couple of miles through Leacanashie before it ends near a phone box in the village of Ardaneaskan.
Once the road ends continue on as it becomes a track that heads uphill and over a cattle grate, where it enters forestry land. The track is firm underfoot as it descends down out of the woodland along the southern bank of Loch Reraig to pass Reraig Cottage. Near the cottage the track passes over Reraig Burn and then curves around to head in a more easterly direction as it enters the frest once more. The track heads uphill through the trees, and immediately after it crosses the Reraig Burn once more turn left down a path. This path is well surfaced and very distinct as it heads northwards through the trees, before it emerges out onto some moorland. Here the path is less distinct in some places, but still quite easy to follow as it reaches a summit and heads downhill to the northwest until it ends at a road in Achintraid. Turn right and follow the road as it heads in a rough northerly direction, crossing the Abhainn Cumhang a Ghlinne and passing through Ardarroch before ending at a T-junction with the A896 road. At the junction turn left and follow the A896 northwards for a couple of kilometres until a road junction is met on the left at Tornapress, where this walk ends.
---
Distances
| From | To | Distance (m) | Ascent (ft) | Descent (ft) |
| --- | --- | --- | --- | --- |
| Strathcarron Station | Lochcarron | 4.2 | 148 | 161 |
| Lochcarron | Strome Castle | 3.5 | 276 | 272 |
| Strome Castle | Tornapress | 8.1 | 1450 | 1444 |
This makes a total distance of 15.8 miles, with 1874 feet of ascent and 1877 feet of descent.


For more information on profiles, ascents and descents, see this page
---
Accommodation
There was nowhere to park in Tornapress, so we drove back to Lochcarron for the night, where there were inns, shops and, luxuries of luxuries, a public toilet.
---
Disclaimer
Please note that I take no responsibility for anything that may happen when following these directions. If you intend to follow this route, then please use the relevant maps and check the route out before you go out. As always when walking, use common sense and you should be fine.
If you find any information on any of these routes that is inaccurate, or you wish to add anything, then please email me.
All images on this site are © of the author. Any reproduction, retransmissions, or republication of all or part of any document found on this site is expressly prohibited, unless the author has explicitly granted its prior written consent to so reproduce, retransmit, or republish the material. All other rights reserved.
Although this site includes links providing convenient direct access to other Internet sites, I do not endorse, approve, certify or make warranties or representations as to the accuracy of the information on these sites.
And finally, enjoy your walking!
---
This walk was mentioned in the following routes:
---
Nearby walks
---