Walk #30: Edale to Crowden
| | | |
| --- | --- | --- |
| | | |
| ZX08 On Bleaklow summit. | | ZX05 Looking up towards Mill Hill from the saddle between Kinder and Mill Hill. |
General Data
| | |
| --- | --- |
| Date Walked | 07/08/1999 |
| County | Derbyshire |
| Start Location | Edale |
| End Location | Crowden |
| Start time | 08.00 |
| End time | 17.00 |
| Distance | 16.5 miles |
| Description | This walk, the first day of the Pennine Way, climbs up over Kinder Scout before crossing Snake Pass and climbing up the aptly-named Bleaklow. |
| Pack | Today I carried full camping gear. |
| Condition | My condition is reasonable after the first day on the way; my legs stiffened up for periods, but are feeling reasonable now. I have some bad soreness on my lower back from my pack rubbing against it - I think it was happening because my shirt was riding up. I will have to be treat this and try and ensure that it does not happen again. My feet are okay, but I have a blister beneath the big toe on my right foot and a small one on my fourth toe. I am also feeling quite fatigued, which is hardly surprising. |
| Weather | Today's weather was overcast, with very little sun. Conditions on Kinder were very disappointing, with low cloud and a great deal of wind. At the time I could only see about ten feet in front of me. After I got to Mill Hill the weather brightened as I dropped down off Kinder, and after that I was never troubled again, except for a fierce wind as I was approaching the descent to Longendale. |
| OS map | Outdoor Leisure number 1 (The Peak District - Dark Peak Area) |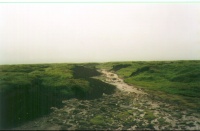 ZX07 On the way up to the top of Bleaklow.
---
Map of the walk
Maps courtesy of Google Maps. Route for indicative purposes only, and may have been plotted after the walk. Please let me
have comments
on what you think of this new format. For a detailed table of timings for this walk, please see
the table file
.
---
Notes
I came very near turning back just after Kinder Downfall - the weather was atrocious. My map navigation worked quite well, and I did not really get lost. Once past Mill Hill things got better as the stretch to the Snake pass was paved with stone slabs.
Bleaklow lived up to its name to a certain extent, as it was fairly bleak on the summit with low cloud. I did not divert off the path to see the Wain Stones (otherwise known as the Kissing Stones), and instead listened to the football results on Radio Five as I emerged from the cloud and saw the reservoirs unfold beneath me.
The campsite is quite nice, and it was nice to be able to stand under a shower to relax my muscles. I did not bother going anywhere tonight - after my shower I cooked and that snuggled down in my tent, as I am fairly exhausted.
---
Directions
I am not going to bother giving any directions for any of the stages of the Pennine Way; there are many route descriptions produced that will better anything that I could produce. The main guides I used were the OS National Trail Guides, which come complete with strip maps of the route. Click on one of the links below to go to the Amazon page for each guide.


National Trail Guide South
National Trail Guide North
---
Distances
| From | To | Distance (m) | Ascent (ft) | Descent (ft) |
| --- | --- | --- | --- | --- |
| Edale | Kinder Downfall | 5.3 | 1699 | 512 |
| Kinder Downfall | Snake Pass | 4.2 | 410 | 696 |
| Snake Pass | Crowden | 7.0 | 886 | 1883 |
This makes a total distance of 16.5 miles, with 2995 feet of ascent and 3091 feet of descent.

For more information on profiles, ascents and descents, see this page
---
Disclaimer
Please note that I take no responsibility for anything that may happen when following these directions. If you intend to follow this route, then please use the relevant maps and check the route out before you go out. As always when walking, use common sense and you should be fine.
If you find any information on any of these routes that is inaccurate, or you wish to add anything, then please email me.
All images on this site are © of the author. Any reproduction, retransmissions, or republication of all or part of any document found on this site is expressly prohibited, unless the author has explicitly granted its prior written consent to so reproduce, retransmit, or republish the material. All other rights reserved.
Although this site includes links providing convenient direct access to other Internet sites, I do not endorse, approve, certify or make warranties or representations as to the accuracy of the information on these sites.
And finally, enjoy your walking!
---
This walk was mentioned in the following routes:
---
Nearby walks
---