Walk #720: Diss to Norwich
| | | |
| --- | --- | --- |
| | | |
| P20064081615 A field to the northeast of Diss. | | P20064081631 Gissing Church. |
General Data
| | |
| --- | --- |
| Date Walked | 08/04/2006 |
| County | Norfolk |
| Start Location | Diss station |
| End Location | Norwich Station |
| Start time | 10.00 |
| End time | 17.39 |
| Distance | 24.2 miles |
| Description | This was a very long road walk to head north to Norwich. |
| Pack | Today I carried my 30-litre Karrimor rucksack filled with my waterproofs, two litres of water, a book and various other odds and ends. |
| Condition | As I wore my trainers today the undersides of my feet hurt considerably, and probably much more than would have been the case if I had worn my Scarpa boots. I have a hot-spot on my right heel, and both my knees were aching for the last couple of miles as a result of limping due to the pain in my feet. |
| Weather | The day was cloudy with some sunshine, but the wind was fairly bitter. There was no sign of any rain, but yet again I have been unable so far this year to take my fleece off when walking. |
| OS map | Landranger number 144 (Thetford & Diss, Breckland & Wymondham) and Landranger number 134 (Norwich & The Broads, Great Yarmouth) |
| | | |
| --- | --- | --- |
| | | |
| P20064081644 Aslacton Church. | | P20064081670 The road leading to Hapton Hall. |
| | | |
| --- | --- | --- |
| | | |
| P20064081681 The track heading north from Newton Greenways. | | P20064081691 The River Yare at Harford Bridge. |
---
Map of the walk
Maps courtesy of Google Maps. Route for indicative purposes only, and may have been plotted after the walk. Please let me
have comments
on what you think of this new format. For a detailed table of timings for this walk, please see
the table file
.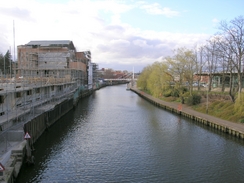 P20064081703 The River Wensum in Norwich.
---
Notes
After the walk north from Stowmarket to Diss last week, I now wanted to continue the walk for the last stretch to Norwich, which I have walked to before from another direction and thus joining up another gap in my map of walks. It took me longer than expected to reach Diss station, and once I parked up I hurriedly went round trying to find a ticket machine in the car park. Part of the rush was also due to the fact that I was desperate for the loo, and I was dismayed to find that the toilet on the station platforms was locked.
Not wanting to ask the ticket office for a key to the toilet, I jogged back to the car and quickly out all of my gear into my rucksack, put my boots on and started off down the access road to the station. On the map I had found it difficult to find a good route to start heading north, and instead of heading through the housing estate to the west of the station that had proved difficult to navigate last week, I chose to take a slightly more roundabout route. Thus I headed down a road southwards, before taking a road that headed around the eastern side of the town, passing a new housing estate that was under construction before reaching a bridge under the railway line. Here I finally manage to find a secluded place to have a pee, and, relieved but with aching kidneys, I headed on up the road towards Walcot Green.
A short by-way took me northwards from Walcot Green, and this was followed by a fairly long road walk towards the village of Burston. There was not much of interest to see in the village, until I left it and reached another junction, this time with Gissing Road. On the road sign it said 'On the Candlestick Route 1914 "we want our teachers back"'. This seemed very curious, and when I got home some research showed that this was the longest strike in history, where scholchildred went on strike from 1914 to 1939 in sympathy with the sacking of two of their teachers. A strike school was set up, and this still exists nearby to this day, and there is an annual rally every September. Thoughts about what the sign could have meant enlivened an otherwise pedestrian stroll north to Gissing, which had a pleasant round-towered church, and more roads took me northwards to the B1134, and onwards past the old airfield near Sneath Common. Despite being only a short way into the day I found that my feet were starting to hurt I had worn my trainers today as I knew that the vast majority of the walk was along roads, but this was turning out to be a wrong decision as a hot-spot developed on my left foot. I stopped to retie my shoelaces, and this helped stop the rubbing that was causing the discomfort.
To the south of Aslacton the road passed the stump of an old windmill that had no sails, which I always have thought of as being a very sad sight, and this led me on through Aslacton, and then the twin village of Forncett St Peter and Forncett St Mary, passing a couple of other round-towered churches on the way. I am unsure why I find churches with round towers so appealing, but even the simplest round tower can certainly raise more cheer in me than even the slenderest and graceful spires ever can. Just to the north of Forncett St Mary the road passed a steam museum that intrigued me (presumably full of static engines?), before continuing on northwards to cross a ford (totally dry today) to reach Hapton. As I walked I noted how cold it was, particularly in the cold wind, and I was glad that I had my fleece to keep the worst of the wind off me.
At Hapton I diverted away from the road to take a track that headed eastwards towards Hapton Hall. This is now the home of the Redwings Horse Sanctuary, and I enjoyed looking at the horses and reading the informative signs that were attached to the buildings. I find horses to be some of the most graceful creatures alive, and I am glad that there is a place like this that cares for those that have fallen on hard times. The track ended at Flordon, and from here a road paralleled the railway line northeastwards; when it suddenly curved to the right to cross a level crossing across the railway I turned left to join a footpath that headed northwards. It was nice to be on a footpath for a change after all the miles of road walking, and my feet, which were both aching by this time, felt better despite the uneven ground and lack of lateral support from my trainers.
As the path approached Kennigham Hall it diverts off to the left, but I could not find it so I continued along the track for a short distance until it ended at a road by the hall. This was a minor diversion, and as I started following a road northwards towards Swardeston I tried to walk faster to catch up with a horse rider who was about fifty yards in front of me. This was a welcome diversion but proved to be a fruitless task, as the horse proved to be much faster than me. The stretch of road past Cowthorpe Manor (which had a peacock on its drive) was enjoyable in the sunshine, and I passed a family out for a walk before the road ended at the B1113 in Swardeston.
The next stretch of road along the B1113 was not very pleasant as there was no pavement and the road was reasonably busy, but the verges were wise and I soon found myself climbing up a slight hill and descending to pass under the A47(T). Near Keswick church (another church with a round tower) I was glad to find that a pavement began, and this took me northeastwards to Harford Bridge, which carries the A140 over the River Yare. Here there was a sign stating that I was entering Norwich, and this was accompanied by a motto "Norwich: A Fine City". This amused me, as surely they could find something better to claim. I wondered if other cities and town would follow suit with such understated mottos: "Derby: a reasonable place", or "Slough: Not as bad as everyone thinks".
At Hardford Bridge I took a road that headed northeastwards towards the city centre, and this proved to be an absolutely unspectacular walk with little to see and nothing worth commenting on. I listened to my Walkman and just plodded on, and before I knew it I had reached a section of the of Medieval walls that used to surround the town. These were fascinating, and I followed them for a while as they headed steeply downhill, an obvious route to the station not being visible on the map. After passing some road works I crossed the River Wensum, and to the east of the bridge were the magnificent ruins of two old towers on the city walls, strangely still present in their prominent position.
A road took me past Norwich City football ground, and from here it was a short stroll to the station. I knew that there were trains every half hour back to Diss and so I took my time, nursing my aching feet as I approached the grand frontage of the station and queued for five minutes to buy a ticket. I quite like Norwich station, and after buying a packet of crisps at WH Smiths I wandered around for a few minutes, before finally boarding my train and waiting for the short journey back to Diss to commence.
---
Directions
This walk starts off at Diss station. Leave the station by the entrance next to the station building, and turn right to head south down Station Road, passing a little strip car park on the left before the road ends at the A066. Turn left along the A1066 and follow it as it heads away from the railway southeastwards, before turning left up Mission Road. This road heads northwards, and after about a kilometre turns left to head under a bridge under the railway line. On the other side of the bridge there is a junction; turn right and follow this new road as it heads northwards for half a mile until it curves sharply to the left At Walcot Green. At this junction continue straight on along a track that soon kinks to the right and then the left; a few yards past the last bend a by-way leads off to the left. Turn left and take this by-way as it initially heads westwards, before curving to the right to head northwards for about half a mile before it ends at Bursiton road.
Turn right and follow this road as it heads northeastwards; it curves sharply to the left to head northwards for about half a mile before curving to the right to enter Buriston. Follow the road through the village, passing a crossroads with Rectory road before reaching Gissing Road on the left on the outskirts of the village. Turn left and follow Gissing Road as it heads northwards, until a road junction is reached. Here turn right, and follow Buriston road as it heads northwards to Gissing. Walk past the church in the village, and when the road curves to the left to the north of the church head straight on along Malthouse Lane. This heads northwards for about half a mile before curving around to the right to head southeastwards to end at a junction with Rectory Road.
Turn left and start following this road northwards for a little over a mile until it reaches the B1134 road on Gissing Common. Turn right and follow the B1134 northeastwards for about fifty yards, before turning left to follow Plantation Road northwards for a couple of miles, as it crosses Sneath common before reaching the church in Aslacton. At the church turn right for a few yards, and then turn left to start following Pottergate Street slightly to the east of north. After a little under a kilometre the road ends at a junction with Muir Lane; turn left along Muir Lane for a few yards as it crosses the river Tas and then turn right to follow Aslacton Road northeastwards, before it curves to the left to head northwards through forncett St Peter and Forncett St Mary.
The road passes to the left of Forncett St Mary church, before heading on in a roughnortherly direction, passing a steam museum on the right. When Spring Lane is reached on the left turn left and follow it northwards for a few hundred yards until it reaches a junction; here turn right and follow Hayes Road as it heads northeastwards, becoming Bayes lane before ending at the B1135 in Hapton. Cross the B1135, and follow Holly Lane as it heads north and then eastwards towards Hapton church. When the lane curves sharply to the left continue on along a footpath that follows a track eastwards for about a kilometre until it curves to the left to reach Hapton hall. Pass through the stables and then turn to the left, to start following another track northeastwards until it ends at a road in Flordon.
Turn right along this road and follow it as it winds eastwards away from the village; just before it reaches a railway turn left along Greenways, which heads northeastwards alongside a railway line for a couple of miles before sharply bending to the right to cross the railway line on a level crossing. At the bend turn left to follow a footpath that heads northwards for a kilometre across fields, passing under some power lines. The path becomes a track, that ends at a road immediately opposite Kenningham Hall. Turn left and follow this road westwards for a few hundred yards, when it curves sharply to the right to continue on a more northerly course. After a couple of kilometre the road curves to the left to head on for another kilometre before ending at the B1114 road in Swardeston.
Turn right and follow the B1113 (carefully, as there is no pavement) as it heads northeastwards, passing under some power lines and then descending to pass under the A47 dual carriageway. Continue along the B1113 for another mile form the A47, passing Keswick (where a pavement begins) until the road ends at the A140 at Harford Bridge. Cross the A140 and turn left to cross the bridge, passing a pub on the right before turning right along Hall Road. After a mile this reaches a roundabout; head straight on over this, and continue on along Hall Road until the A147 is reached. Turn right along the A147, and then shortly after a right-hand bend turn left down Carrow Hill, which heads steeply downhill for a short distance until the A147 is once again reached. Turn left along he road for a short distance, and then turn right to cross the River Wensum on a bridge. Head straight on along the road, passing Norwich City football ground on the right before curving to the left to head northeastwards for a few hundred yards until the road curves once more to the right. to the right at this bend is Norwich station, where this walk ends.
---
Distances
| From | To | Distance (m) | Ascent (ft) | Descent (ft) |
| --- | --- | --- | --- | --- |
| Diss station | Gissing | 5.4 | 141 | 102 |
| Gissing | Forncett St Mary | 6.3 | 138 | 180 |
| Forncett St Mary | Swardeston | 7.6 | 289 | 299 |
| Swardeston | Norwich station | 4.9 | 203 | 276 |
This makes a total distance of 24.2 miles, with 771 feet of ascent and 857 feet of descent.


For more information on profiles, ascents and descents, see this page
---
Transport
There are regular train services (half hourly during the week) between Noriwch and Diss, and a single ticket costs £5.40 for the journey. Check the National Rail timetables service for more information on train times.
---
Disclaimer
Please note that I take no responsibility for anything that may happen when following these directions. If you intend to follow this route, then please use the relevant maps and check the route out before you go out. As always when walking, use common sense and you should be fine.
If you find any information on any of these routes that is inaccurate, or you wish to add anything, then please email me.
All images on this site are © of the author. Any reproduction, retransmissions, or republication of all or part of any document found on this site is expressly prohibited, unless the author has explicitly granted its prior written consent to so reproduce, retransmit, or republish the material. All other rights reserved.
Although this site includes links providing convenient direct access to other Internet sites, I do not endorse, approve, certify or make warranties or representations as to the accuracy of the information on these sites.
And finally, enjoy your walking!
---
Nearby walks
---