Walk #89: Woolacombe to Combe Martin
| | | |
| --- | --- | --- |
| | | |
| L22 Looking east from Morte Point towards Bull Point lighthouse. | | M02 Photo of me at Rillage Point. Hillsborough and lfracombe are in the distance. |
General Data
| | |
| --- | --- |
| Date Walked | 28/04/2000 |
| County | Devon |
| Start Location | Woolacombe |
| End Location | Combe Martin |
| Start time | 08.40 |
| End time | 16.00 |
| Distance | 13.0 miles |
| Description | This was a very nice walk following the coastal path. |
| Pack | Today I carried my Craghoppers WP70 rucksack, without tent, sleeping bag or trangia. |
| Condition | I feel generally okay after this walk. The underside of my feet are aching as is usual when I wear my boots. My bad ankle aches, but not too much too overly concern me. |
| Weather | Today was by far the best day of the trip so far in regard to the weather. It started off sunny with scarcely a cloud in the sky, and over the course of the day it slowly clouded over. Half an hour after I finished it started raining, so I was quite lucky in that respect. |
| OS map | Landranger number 180 (Barnstable & Ilfracombe, Lynton & Bideford) |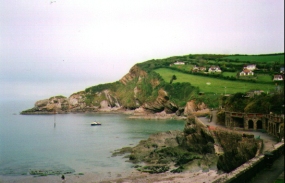 M04 Combe Martin.
---
Map of the walk
Maps courtesy of Google Maps. Route for indicative purposes only, and may have been plotted after the walk. Please let me
have comments
on what you think of this new format. For a detailed table of timings for this walk, please see
the table file
.
---
Notes
A very enjoyable day that I took my time over completing. I frequently stopped to chat to other walkers, and this unhurried walking helped me get through the day relatively unfatigued. The slow progress was also helped by the lovely weather - I don't mind dawdling when it is sunny, but when it is raining all I want to do is finish the walk. It was also nice to see the way that sun can really glitter in bright sunshine.
This section of the walk is very picturesque in places; in particular the sections around Morte and Bull Points are very beautiful. I am very glad that I chose to walk around the coast path around here, as it was far more beautiful than any inland alternative that I could see, although it was undoubtedly more strenuous.
Combe Martin is quite a nice village, although it has signs of being taken over by tourism. The village of Lee that I passed through was very nice, nestling around Lee Bay with some very attractive cottages. It also had what was apparently a very nice cafe in the valley, but I did not stop to sample its wares.
Ilfracombe, however, was IMHO a total dump, which was a shame as I get the impression that it could have been very nice. Unfortunately the scourge of all beautiful areas, tourism, had got it's hooks far too far into Ilfracombe for it to be saved. Every other shop seemed to sell typical touristy things, and of low quality as well. I got the impression that the whole town was geared too tourism, and unfortunately it is probably very quiet and run-down out of season.
This evening I braved the light rain that was falling and went for an evening meal in a pub that is on the right as you descend into Combe Martin. The food was very nice, and the fish that came with my meal was very fresh and I can honestly say that it was the most succulent fish that I have tasted in a long time. The bitter was also quite nice, so by the time I left I felt quite merry.
I am actually quite looking forward to the next few days walking - they promise to be reasonably hard but quite rewarding, especially if the weather remains nice.
---
Directions
Simply follow the South West Coast Path north out of Woolacombe. It turns east around Morte Point and skirts Rockham Bay as it makes for the lighthouse at Bull Point.
From Bull Point, head east to Lee Bay and then on to Ilfracombe. From Ilfracombe you head east, climbing Hillsborough and descending down into Hele Bay. Another climb is made up to Rillage Point, which is followed by a slow descent into Watermouth Bay. The path then climbs again before finally descending into Combe Martin.
---
Distances
| From | To | Distance (m) | Ascent (ft) | Descent (ft) |
| --- | --- | --- | --- | --- |
| Woolacombe | Ilfracombe | 7.9 | 2343 | 2408 |
| Ilfracombe | Combe Martin | 5.1 | 1726 | 1413 |
This makes a total distance of 13.0 miles, with 4069 feet of ascent and 3821 feet of descent.


For more information on profiles, ascents and descents, see this page
---
Accommodation
I spent the night at the Hillview Guest House, The Woodlands, Combe Martin EX34 OAT, telephone 01271 882331, grid ref. 575 469.
For more details of suitable accommodation in this area, please see the South West Coast Path Association's Annual handbook.
---
Disclaimer
Please note that I take no responsibility for anything that may happen when following these directions. If you intend to follow this route, then please use the relevant maps and check the route out before you go out. As always when walking, use common sense and you should be fine.
If you find any information on any of these routes that is inaccurate, or you wish to add anything, then please email me.
All images on this site are © of the author. Any reproduction, retransmissions, or republication of all or part of any document found on this site is expressly prohibited, unless the author has explicitly granted its prior written consent to so reproduce, retransmit, or republish the material. All other rights reserved.
Although this site includes links providing convenient direct access to other Internet sites, I do not endorse, approve, certify or make warranties or representations as to the accuracy of the information on these sites.
And finally, enjoy your walking!
---
This walk was mentioned in the following routes:
---
Nearby walks

Notice: Undefined offset: 1 in /home/britishw/public_html/PHPTemplates/NearWalks.php on line 34

Notice: Undefined offset: 2 in /home/britishw/public_html/PHPTemplates/NearWalks.php on line 35

| # | Title | Walk length (miles) |
| --- | --- | --- |