Walk #269: Clacton-on-Sea to Brightlingsea
| | | |
| --- | --- | --- |
| | | |
| P2002B170004 Clacton Pier. | | P2002B170009 The Martello Tower near the pier in Clacton. |
General Data
| | |
| --- | --- |
| Date Walked | 17/11/2002 |
| County | Essex |
| Start Location | Clacton-on-Sea |
| End Location | Brightlingsea |
| Start time | 08.55 |
| End time | 16.14 |
| Distance | 18.8 miles |
| Description | This walk was dominated by a long walk around several creeks between Point Clear and Brightlingsea. Before this there was a simple and boring walk along seawalls and roads from Clacton-on-Sea. |
| Pack | Today I carried my 30-litre Karrimor HotRock rucksack, which was filled with my packed lunch, waterproof leggings, water bottle and a couple of spare shirts, together with the usual assortment of odds and ends. |
| Condition | I am fairly fatigued after this walk, and felt like going straight to sleep after I finished the walk. I had far less trouble with my feet than I had yesterday, which was probably due to the fact that my feet mostly remained dry. |
| Weather | The day started off fairly foggy, and this lasted until about midday, although it did slowly clear as the morning progressed. In the afternoon there was over an hour of continuous light rain that was enough to get me soaked. Once the rain stopped I slowly started drying out, but another light rainstorm about an hour from the end of the walk got me wet yet again. The day was fairly mild, but there was no significant sign of the sun all day. |
| OS map | Landranger number 169 (Ipswich & The Naze, Clacton-on-sea) or Landranger number 168 (Colchester, Halstead & Maldon) |
| | | |
| --- | --- | --- |
| | | |
| P2002B170018 The Martello Tower in Jaywick. | | P2002B170022 People using metal detectors in Point Clear. |
| | | |
| --- | --- | --- |
| | | |
| P2002B170023 The beacon in Point Clear. | | P2002B170029 Boats in St Osyth Creek. |
---
Map of the walk
Maps courtesy of Google Maps. Route for indicative purposes only, and may have been plotted after the walk. Please let me
have comments
on what you think of this new format. For a detailed table of timings for this walk, please see
the table file
.
| | | |
| --- | --- | --- |
| | | |
| P2002B170032 Boats in St Osyth Creek. | | P2002B170035 The path from St Osyth to the B1027. |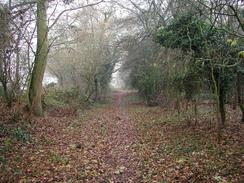 P2002B170036 The path from the B1027 to the end of Flag Creek.
---
Notes
I found the weather today to be highly annoying. The initial fog spoilt what may have been some nice photographs, and later on the rain got me wet and although it was continuous it never really let me dry off. This was a drastic change from yesterday when the weather had been so lovely, but unfortunately I should expect plenty more weather like todays (and indeed worse) over the next year.
Whilst walking along the promenade at Clacton I came across a plaque on the wall stating that Winston Churchill landed there in April 1914 after having made a forced landing in a naval seaplane. This made me wonder how much different today may be if he had been killed in that crash - I found it to be quite a sobering thought as I walked along.
As I was starting to round Point Clear I could see some land off to my left. At first I thought that this as Brightlingsea on the other side of the channel, but after closer inspection I could see that it was the easternmost point of Mersea Island. In a couple of days I have to decide whether or not I am going to walk around this island, as according to my rues I do not have to as it is an island. Nonetheless it is quite tempting to walk around it, although it will add a day onto my walk. I daresay I shall make the final decision when I see what the weather is going to be like on the day in question.
When we were planning the phase of the walk whilst she is away, Sam decided that she would get us some food in. We were both half expecting that my diet would consist of fish and chips and beans for the entire week, but fortunately that has not been the case, as Mike has shown himself off to be a good cook. Tonight he made a lovely curry, which I wolfed down, as I was more than a little hungry.
As I was approaching Brightlingsea Mike phoned me too tell me where the van was. I found the place on the map and then totally ignore it and walked down to the end of the western promenade before I turned around and walked back to where I had started. This may seem like a silly thing to do, but it was a sign of exactly how tired I was after this walk. My mind was just not functioning clearly, and this is a fairly dangerous state to get into.
By the time I reached Clear Point I as feeling fairly tired and in need of a rest, so I nipped into the Ferry Boat Inn where I had a pint of Courage and whiled away twenty minutes. After this I felt much better, and the next few miles came easier than the previous few had. At Clear Point there is a Martello Tower that has a building painted in two-tone camouflage green on top of it. The building also sports an RAF roundel, so it left me wondering if the building was in official use still or whether an enthusiast had taken it over.
---
Directions
This walk starts off at the pier in Clacton-on-Sea. From the pier turn left to head southwestwards along the promenade past some Martello Towers. The promenade ends as it approaches a golf course but a seawall continues on past another Martello Tower and into Jaywick. Continue on through Jaywick and out of the town, before reaching a footpath that leads past St Osyth Beach and heads westwards on top of a sea bank to Lee-over-Sands. Just before Lee-over--Sands is reached the bank turns to the left to enter the small hamlet. Cross the access road and continue on along the bank on the other side, passing some little chalets before the bank turns to the right to head in a roughly northerly direction for a short distance.
The path continues along the bank as it passes to the left of a little sewage works. On the northern side of the works a footpath leads off the bank to the right, heading past the compound housing the works and across a field before ending at the access road to Lee-over-Sands. When the road is reached turn left to follow it northwards past Lee Wick Farm, after which it twists and turns before ending at a T-junction with another road.
At the junction turn left and follow this road for a little over a mile westwards into Point Clear. At a roundabout turn left and then right to join a footpath that runs along the top of a sea wall. Follow this footpath as it heads northwestwards to reach Saint Osyth Point. From here the path continues along the bank as it turns to head northeastwards beside Britghlingsea Creek. After nearly two kilometres the path and bank turn to head eastwards along the southern bank of St Osyth Creek before ending a mile later at the causeway which carries a road over the creek.
Turn left to cross the creek using the causeway, and when on the northern side turn left down another footpath. This follows the northern bank of St Osyth Creek for a few hundred metres before it turns to the right and heads northwards across fields. It joins a track for a short distance before entering a nature reserve. After the reserve it joins an access track to a quarry for a short distance before turning eastwards for a short distance before ending at the B1027 road.
At the B1027 road turn left and follow it as it heads northwards for a little over a mile until it climbs up towards the top of Hollybush Hill. Here a footpath leads off to the left, initially down a track before entering an area of woodland for a short distance and then reaching crossing the end of Flag Creek. Once on the western side of the creek turn left to follow the western bank southwards for about half a kilometre. When a point is reached follow the bank as it turns sharply to the right as it heads northwestwards along the northern bank of another creek. After about a kilometre this creek turns to the left to head in a more southerly direction before it finally ends.
At the end of the creek turn right and then left to climb uphill to the southwest to a couple of house at the top of the hill. From here a track is joined which heads westwards into Brightlingsea. When the track ends at a T-junction with a road turn left and follow the road as it swings around to head south towards Hurst Green. At Hurst Green the road forks; take the right-hand fork, which heads westwards towards the church. At the church the road forks once again take the left-hand fork and follow it as it heads southwestwards for a short distance until it ends at a T-junction, where there is a car park at which this walk ends.
---
Distances
| From | To | Distance (m) | Ascent (ft) | Descent (ft) |
| --- | --- | --- | --- | --- |
| Clacton-on-Sea | Lee-over-Sands | 5.0 | 43 | 72 |
| Lee-over-Sands | St Osyth Stone Point | 5.0 | 62 | 62 |
| St Osyth Stone Point | Brightlingsea | 8.8 | 246 | 243 |
This makes a total distance of 18.8 miles, with 351 feet of ascent and 377 feet of descent.


For more information on profiles, ascents and descents, see this page
---
Accommodation
We spent the night in a car park in Brightlingsea, as we could not find a suitable caravan site which was open in the area.
---
Disclaimer
Please note that I take no responsibility for anything that may happen when following these directions. If you intend to follow this route, then please use the relevant maps and check the route out before you go out. As always when walking, use common sense and you should be fine.
If you find any information on any of these routes that is inaccurate, or you wish to add anything, then please email me.
All images on this site are © of the author. Any reproduction, retransmissions, or republication of all or part of any document found on this site is expressly prohibited, unless the author has explicitly granted its prior written consent to so reproduce, retransmit, or republish the material. All other rights reserved.
Although this site includes links providing convenient direct access to other Internet sites, I do not endorse, approve, certify or make warranties or representations as to the accuracy of the information on these sites.
And finally, enjoy your walking!
---
This walk was mentioned in the following routes:
---
Nearby walks
---