Walk #477: Grogport to Campbletown
| | | |
| --- | --- | --- |
| | | |
| P20036204388 Grogport. | | P20036204393 Carradale Water at Bridgend. |
General Data
| | |
| --- | --- |
| Date Walked | 20/06/2003 |
| County | Strathclyde |
| Start Location | Grogport |
| End Location | Campbeltown |
| Start time | 09.35 |
| End time | 15.56 |
| Distance | 19.0 miles |
| Description | This was a fairly straightforward road plod, the highlight of which was seeing the carved grave slabs at Saddell Abbey. |
| Pack | Today I carried my 30-litre Karrimor HotRock rucksack, which was filled with my packed lunch, waterproof leggings, water bottle and a couple of spare shirts, together with the usual assortment of odds and ends. |
| Condition | My neck was very sore today, which meant that when I wanted to look to my side I had to twist my whole body. Aside from this I had no other significant problems, and my legs and feet are all fine. |
| Weather | There was some very heavy rain overnight, but this had mostly cleared up by the time that I set off on this walk. The day was dry except for a heavy half-hour shower near the start, and later on the clouds lifted and it got sunnier. There was quite a strong wind for most of he day, although this only bothered me on the rare occasion that I was exposed to it. |
| OS map | Landranger number 62 (North Kintyre & Tarbert) and Landranger number 68 (South Kintyre & Campbeltown) |
| | | |
| --- | --- | --- |
| | | |
| P20036204396 Torrisdale Bay. | | P20036204399 Saddell Water in Saddell. |
| | | |
| --- | --- | --- |
| | | |
| P20036204406 The remains of Saddell Abbey. | | P20036204412 The Saddell Stones. |
---
Map of the walk
Maps courtesy of Google Maps. Route for indicative purposes only, and may have been plotted after the walk. Please let me
have comments
on what you think of this new format. For a detailed table of timings for this walk, please see
the table file
.
| | | |
| --- | --- | --- |
| | | |
| P20036204417 The view down over Saddell Bay. | | P20036204426 The view south towards Island Davaar. |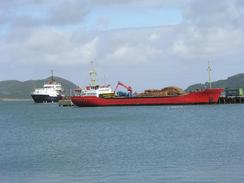 P20036204436 A ship loading with logs in Campbletown.
---
Notes
I took the seventh day of my walk off yesterday, which was totally unintended. The night before I had gone to bed with a slightly sore neck, and when I woke up in the morning this had worsened so much that any movement of my neck caused intense pain. I was fairly determined to do a walk, but as the morning wore on I realised that it would be folly, and I therefore lay in the bed downstairs in Mervan reading a book or altering the computer scripts to allow Arran to appear as an island on my automatically generated maps. I was feeling quite lethargic, and as the mere act of moving my head caused me fairly intense pain, I really did not do as much as I should have done, which was a shame.
I lay in bed for most of the day, and in the afternoon Sam walked into Carradale so that she could catch the bus into Campbletown so that she could do some shopping. I found that I really wanted to do things in the afternoon, but I found that I had no willpower to do anything, the first time on this trip that this has been the case. As a result I ended up wasting a day, but I find it hard to know what else I could have done in the circumstances. By the time Sam came back my neck was feeling even worse, and so I was rather worried that I was not going to fit enough for today's walk. Fortunately when I woke up it felt far better, although far from perfect, so I decided that I could do the walk.
The first part of the walk south from Grogport towards the road junction with Carradale was a fairly boring and uninspiring road slog. I discovered that there was amore coastal route that headed through the woodland from a car park near Kirnashie Hill towards Carradale, but I decided no to take this as my neck was very stiff and I wanted a very straightforward stroll today. This was a shame, as although the road was easier going it was far less inspiring, and there were a fair few logging lorries on it. I had also planned to go into Carradale so that I could visit the village, but in the end I did not do this.
The surprising highlight of today was the ruins of the abbey at Saddell. The ruins are very unimpressive and surrounded by gravestones, but there is a new building adjacent to it that houses the most amazing graveslabs. They are of the Kintyre and Iona schools and the effigies depicted on the largest of these are quite amazing, depicting men in West Highland armour or churchmen. I sat down in the building and ate my sandwiches whilst I looked at the figures, and wondered who may have been buried beneath them. The new building that they in is nice, and although partially open to the elements the slabs are superbly laid out on some stainless steel framing. Saddell itself is a Norse name, meaning 'Sandy Valley', and the abbey was only founded once Norse control of the area had finished in the 12th century when the Hebridean warrior Somerled defeated them. In 1106 Somerled founded the Cistercean Abbey, and James IV disbanded it in 1507. Nearby there is also Saddell Castle, a tower house, which I did not go and visit, but apparently the basement has a pit prison! This little village fascinated me, and I shall have to come back here in the future so that I can explore it in more detail.
Towards the end of the walk there were some lovely views over Island Davaar, the imposing island that dominated the mouth of Campbletown Loch. This appears to be connected to the mainland by a small sand spit, although this may not be he case in all tidal conditions. On the northern side of the loch I could see a jetty of a NATO refuelling base, and further up the loch Campbeltown itself was visible. Campbeltown turned out to be a lovely little village; not as pretty as, say, Inveraray, but larger and well formed. The people were also very kind, and more than anything else this contributes to my finding a place nice.
I was getting quite tired by the time that I was approaching Campbleton, and I was looking forward to reaching Sam and Mervan. They were waiting for me on the seafront near the harbour, and when I got into the van Graham jumped up from where he had been hiding on the ground. I had last seen him on what seems to be a lifetime ago in Brighton, and it is amazing to think about how far we have both walked since then. There then followed a long chat combined with three pints, and he is a truly amazing chap. Graham lost his wife to cancer last year, and doing a walk of this distance is hard enough without having to do it through grief. We had a quick chat before walking to the Tourist Information office for an interview with a local newspaper, and we then retired to a nearby pub for a few drinks. Graham eventually left as he wanted to get a few more miles walked (he ended up walking for another seven!), and we all arranged to meet up again tomorrow night. I felt very fatigued, and as I lay in bed this evening I felt like my head was about to drop off my shoulders - not a very pleasant feeling, and this has added to my concerns about what I may have done to my neck.
---
Directions
This walk starts off at the picnic site at Grogport on the B842 road. Head south along the road, initially climbing up a steep hill with a hairpin bend, and the continue on along the road for a couple of miles until the junction with the B879 is reached. Remain on the B842 as it heads southwards through Bridgend and climbs up and down hills before reaching the little hamlet of Saddell, after which the road passes the remains of an old abbey and heads on for another few miles to Peninver. Continue on as the road slowly turns to head westwards along the northern bank of Campbletown Loch before descending down into Campbletown itself. Turn left down a minor road blocked to traffic and pa a little pier, and then turn left to join a road that passes alongside the waterfront until the roundabout with the A83 is reached, where this walk ends.
---
Distances
| From | To | Distance (m) | Ascent (ft) | Descent (ft) |
| --- | --- | --- | --- | --- |
| Grogport | Saddell | 9.4 | 1280 | 1253 |
| Saddell | Campbeltown | 9.6 | 1112 | 1148 |
This makes a total distance of 19.0 miles, with 2392 feet of ascent and 2401 feet of descent.


For more information on profiles, ascents and descents, see this page
---
Accommodation
We parked Mervan on the side of the road near the tourist information and harbour in Campbletown, which was very convenient for the local pubs and other facilities.
---
Disclaimer
Please note that I take no responsibility for anything that may happen when following these directions. If you intend to follow this route, then please use the relevant maps and check the route out before you go out. As always when walking, use common sense and you should be fine.
If you find any information on any of these routes that is inaccurate, or you wish to add anything, then please email me.
All images on this site are © of the author. Any reproduction, retransmissions, or republication of all or part of any document found on this site is expressly prohibited, unless the author has explicitly granted its prior written consent to so reproduce, retransmit, or republish the material. All other rights reserved.
Although this site includes links providing convenient direct access to other Internet sites, I do not endorse, approve, certify or make warranties or representations as to the accuracy of the information on these sites.
And finally, enjoy your walking!
---
This walk was mentioned in the following routes:
---
Nearby walks
---