Walk #544: Inverness to Nairn
| | | |
| --- | --- | --- |
| | | |
| P20039017806 The River Ness. | | P20039017815 A suspension bridge over the River Ness in Inverness. |
General Data
| | |
| --- | --- |
| Date Walked | 01/09/2003 |
| County | Highlands |
| Start Location | Inverness |
| End Location | Nairn |
| Start time | 09.20 |
| End time | 17.55 |
| Distance | 25.6 miles |
| Description | This was a very long walk that was somewhat spoilt because much of it was along roads; however there was much more of interest to be seen than there had been on recent days, so all in all it was not a bad day. |
| Pack | Today I carried my 30-litre Karrimor HotRock rucksack, which was filled with my packed lunch, waterproof leggings, water bottle and a couple of spare shirts, together with the usual assortment of odds and ends. |
| Condition | I think I pushed myself a little too far today; for the last mile or so of the walk my left foot was aching considerably, a pain that I cannot recall having had on the walk so far. By the time that I reached the bus station in Nairn this was causing me to limp, but by the time the bus stopped in Inverness it had eased. I can only hope hat this was a temporary ailment and that I am okay tomorrow, as it really cramped my style. |
| Weather | The weather today was quite nice; although it was overcast and there were few sunny periods it was a relatively warm day, and there was not much wind to chill me. I walked without a coat or fleece all day (the first time that I have done this for some time), and although I was chilly for the first couple of miles for the rest of the time I was fine. All in all it was a lovely day for a walk. |
| OS map | Landranger number 26 (Inverness & Loch Ness) and Landranger number 27 (Nairn & Forres, River Findhorn) |
| | | |
| --- | --- | --- |
| | | |
| P20039017840 Castle Stuart. | | P20039017857 Fort George. |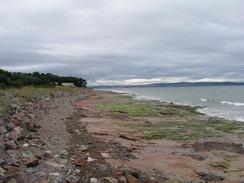 P20039017871 The foreshore in Nairn.
---
Map of the walk
Maps courtesy of Google Maps. Route for indicative purposes only, and may have been plotted after the walk. Please let me
have comments
on what you think of this new format. For a detailed table of timings for this walk, please see
the table file
.
---
Notes
We both had to wake up early this morning, as Sam was getting a train to Edinburgh before seven this morning. She had to catch this from the railway station, which is over twenty minute's walk away, so when our alarms went at five thirty we both leapt up and got ready. Some coffee was definitely in order, and this was drunk quickly and was swiftly followed by another cup. Sam soon left, and I then sat down to do some work. Last night I had been in two minds about whether to do a walk today or not, but the weather outside looked reasonable and I felt fine, so it seemed a shame to waste the day.
Despite this I still set off later than I ideally wanted, as I spent some time doing some work on the website. When I finally did set off I took a very pleasant route into the city, which took me alongside the river and over the Ness Islands. At the Ness Bridge I diverted into the centre for a short time to do some emergency shopping and to get the timetable for bus services from Nairn to Inverness. I must admit that I very much like Inverness; it is a nice city and is very well looked after; in particular the riverfront area south of the Ness Bridge is attractive, and made for a lovely walk.
The rest of the walk from Inverness to Alturlie Point was mostly along roads and was fairly boring; at the A9()T / A96(T) roundabout on the eastern outskirts of Inverness I had hoped to join a track marked on the map that crossed over the adjacent railway line and skirted the shore, but I totally missed the start of the track (I have a feeling that it was below the level of the A96(T) road), and so I walked along the A96(T) instead. Fortunately there was a pavement for the majority of the way, so it was not too dangerous.
At Alturlie Point I got my first proper views over the Moray Firth of the day, and I stopped to chat to a local man before heading eastwards along a little access track that ran behind the foreshore. Some fields took me much closer to Castle Stuart, but before I reached it I had to cross two small streams. I managed this fairly easily (it could be much harder after heavy rainfall), and had nearly got over to the other side of the surrounding marshland before my right trainer plunged into a deep boggy area and got damp. Not devastated by this, I skirted around a little steep section of hill and walked past the impressive Castle Stuart to gain access to the B9039 road via a churchyard.
Before I set off I knew that this would be a long walk, and that if I wanted to get to Nairn I would have to hurry and not take many rests. On the outskirts of the village of Ardersier I was could see a bus approaching, and I was tempted to get on it after having completed under fifteen miles. I felt fine, however, and at the very least I wanted to reach Fort George, so I pressed on. A short while later whilst still in the village I had a phone call from BBC Radio Cambridge, and I did a nice radio interview whilst huddling behind a small flood bank to get out of the wind. This was my only real break during the walk, and I did not take my rucksack off until I got the taxi in Inverness.
Fort George is quite an unusual place, with an army barracks open to the public. It was built between 1748 and 1763 to replace the stronghold that had been destroyed by Bonnie Prince Charlie in 1746. It particularly interested me because it shoes how citadel design changed over the years; instead of building tall, high castles on high areas of land, such as the castles I have seen over the last few weeks on the east coast, Fort George is low and squat. Traditional castles were very hard to storm, but they were extremely susceptible to cannon, and so Fort George has large earth banks against stone walls, designed to absorb impacts. Between these there are channels, designed to trap invading troops in killing zones. It could not be more different from traditional castles, and does not look nearly as impressive from ground level. From Fort George I could see clearly across to the lighthouse at Chanonry Point, where I had stood a few days before looking across the narrow channel at Fort George. There are large areas of prohibited military land blocking access to the beaches; although the red flags were not flying the usual 'do not enter unless red flags are flying' signs were supplemented with 'no unauthorised access' ones. I was not feeling very brave, so I decide to walk along the road - this was a shame, as I have the impression that I have missed a lovely stretch of coast.
The last couple of miles to Nairn were very hard. As I crossed the golf course my left foot started to ache, and by the time that I reached the seafront I started to limp. This got worse as I headed into the centre of the town, although the nice views helped take my mind off it somewhat. I could clearly make the northwestern coast of the Moray Firth out easily, and could see where I had walked last week. I felt it quite sad to be leaving this area, and tomorrow I shall be leaving the Highlands and entering Grampian. I have been in the Highlands since the first of July, so it has taken me two months to walk around the county - a massive length of time. I had to wait for nearly half an hour in Nairn for the bus back to Inverness, and annoyingly the bus station (which is nothing more than a simple shelter) did not have proper seats, so I went to sit on a nearby wall instead. Once I got back to Inverness I did not fancy the walk back to the campsite, so I got a taxi instead, which cost me three pounds fifty - money well spent.
Sam got back quite late; she caught the penultimate train from Edinburgh, which reached Inverness at nine. She has had quite a successful day; the room for the party at the end of the walk has been arranged, and several other little bits and bobs to do with the end of the walk have been finalised. We can now tell everyone who is attending what will be happening, and formal invites can be sent out. The end of the walk is only 26 days away now, and I must admit that I really do not want to think about it; I have got so used to walking that I cannot imagine not walking day after day. We listened to Tom Isaac's program about Parkinson's Disease on Radio 4 this evening, a very moving piece about how progress on a cure for the disease is going. This was superb listening, and reminded me of exactly how amazing his walk around the coast was. I am honoured to have met him on the walk, and it makes my walk look positively easy.
---
Directions
This walk starts off at the Torvean Caravan Park, by the Tomnahurich Bridge over the Caledonian Canal in southwestern Inverness. Leave the campsite and turn left to cross the Tomnahurich Bridge. Once on the other side immediately turn right down Bught Road and follow this as it curves to the left past a fairground. When Bught Drive comes in from the left turn right to cross over a suspension bridge onto the southernmost Ness Island. a path head northeastwards across the islands, before eventually reaching another suspension bridge that leads out onto the eastern bank of the river at Ban Road. Turn left and follow a footpath northwards, which eventually becomes Ladies Walk.
This joins Ness Bank beside another suspension bridge, and Ness Bank then joins Castle Road. Pass the Ness Bridge and continue northwards along the roads that skirt the eastern bank of the river. Pass under the dual carriageway Friars Bridge, and when Riverside Street ends at a T-junction turn right for a few yards down to a roundabout. Take the first road to the left, Shore Street, which heads under a railway line and continues on before becoming Cromwell Road. This passes Cromwell Quay and Longman Quay, before curving to the right to pass under the Kessock bridge, where it becomes Stadium Road. It passes the Inverness Caledonian Thistle football stadium before curving to the right and ending at a roundabout with the A9(T).
At the roundabout turn left to walk southeastwards down the A9(T) for a mile. There is a cycle path on the southern side of the road, which can be followed safely. Continue along the cycle path as it descends down a slip road to reach the roundabout that joins the A9(T) and A96(T) road. At the roundabout turn left and walk eastwards along the A96(T), where there is a pavement on the southern side of the road.
Past a retail park the road becomes single carriageway, and just past Milton the pavement ends. Continue on for a short distance before a road leads off to the left, crossing a railway line on a level crossing and reaching the foreshore. The road skirts the foreshore northwards for a mile to reach Alturlie Point.
At the point turn right and follow the road as it becomes a track that heads eastwards towards a cottage. When the track ends at the cottage continue on, skirting the foreshore across fields. Eventually some low-lying boggy land is reached; there are two channels to be crossed which I managed easily; at high tides or after heavy rain this may be another matter. On the northern side there is a steep overgrown cliff; walk to the right for a short distance to where it lowers and climb up onto fields beside Castle Stuart, and then turn left to climb up to a road beside a churchyard.
Turn right at the churchyard to walk northeastwards for a short distance down a narrow country lane until it ends at a T-junction with the B9039 road. Turn left and follow the B9039 road northeastwards as it passes an industrial estate and Inverness Airport. It eventually drops down to meet the foreshore, and curves around to head northwards to enter Ardersier.
When the road curves to the right in the village continue straight on along a road beside a small flood bank, and when this ends join a path that runs behind the foreshore northwestwards for a little over a mile until it reaches the car park outside Fort George. At the car park turn right and walk east along the B9006 for a short distance, and when it curves to the right turn left down a minor road.
This heads eastwards for a short distance and then curves to the right to take a more southeasterly direction. At Baddock turn left along another road that curves through Carse Wood before eventually reaching the B9092 road near Sunnyhillock. Turn left to head eastwards along the B9092 road for a little over a mile until it reaches the A96(T). Continue straight on along the A96(T) for a little under a kilometre until a track is reached on the left that leads to a couple of houses.
Turn left down this track and when it ends by the houses continue straight on northwards down a path that leads between hedges to a golf course. Carefully cross he golf course until the foreshore is met. At the foreshore turn right and walk eastwards along a path that heads between the golf course and the foreshore. Eventually this reaches a road beside the golf course clubhouse, and this can be followed eastwards into Nairn. Pass the swimming pool, and near a bandstand turn right across a grassy area and then head through Nairn to the bus station, where this walk ends.
---
Distances
| From | To | Distance (m) | Ascent (ft) | Descent (ft) |
| --- | --- | --- | --- | --- |
| Inverness caravan site | Ardersier | 14.9 | 466 | 505 |
| Ardersier | Nairn bus station | 10.7 | 341 | 312 |
This makes a total distance of 25.6 miles, with 807 feet of ascent and 817 feet of descent.


For more information on profiles, ascents and descents, see this page
---
Accommodation
We spent the night at the Torvean Caravan Park, Glenurquhart Road, Inverness, Highlands IV3 8JL. This site cost us twelve pounds for the night (we spent two nights here), and was very clean and tidy. They can be contacted on (01463) 220582.
---
Disclaimer
Please note that I take no responsibility for anything that may happen when following these directions. If you intend to follow this route, then please use the relevant maps and check the route out before you go out. As always when walking, use common sense and you should be fine.
If you find any information on any of these routes that is inaccurate, or you wish to add anything, then please email me.
All images on this site are © of the author. Any reproduction, retransmissions, or republication of all or part of any document found on this site is expressly prohibited, unless the author has explicitly granted its prior written consent to so reproduce, retransmit, or republish the material. All other rights reserved.
Although this site includes links providing convenient direct access to other Internet sites, I do not endorse, approve, certify or make warranties or representations as to the accuracy of the information on these sites.
And finally, enjoy your walking!
---
This walk was mentioned in the following routes:
---
Nearby walks
---