Walk #46: Bellingham to Byrness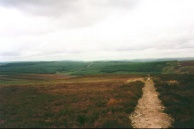 ZZ33 On the Bellingham to Byrness section.
General Data
| | |
| --- | --- |
| Date Walked | 24/08/1999 |
| County | Northumberland |
| Start Location | Bellingham |
| End Location | Byrness |
| Start time | 08.30 |
| End time | 15.00 |
| Distance | 14.7 miles |
| Description | This was a pleasant walk, much of which was through forestry plantation. |
| Pack | Today I carried full camping gear. |
| Condition | I feel absolutely fine after today's walk. My ankle is okay, and so are my legs. I am a bit fatigued, but that is to be expected. |
| Weather | Today was generally good walking weather, initially with more sun than cloud, but unfortunately the clouds slowly gathered as the day progressed. |
| OS map | Outdoor Leisure number 42 (Kielder Water) and Outdoor Leisure number 16 (The Cheviot Hills) |
---
Map of the walk
Maps courtesy of Google Maps. Route for indicative purposes only, and may have been plotted after the walk. Please let me
have comments
on what you think of this new format. For a detailed table of timings for this walk, please see
the table file
.
---
Notes
I arrived too early for the YHA again, so was forced (reluctantly of course) to spend some time in the pub chatting to the landlord. In the evening I went to the pub again with the Holmes family (who have been on the same day of the Pennine Way as me since my day off in Malham).
Generally a nice days walking, but was very fatigued until I had had a rest in the pub. There are a party of schoolchildren in the YHA and it is full, so I do not know how much sleep I am going to get. Tomorrow promises to be a *very* hard day, so I hope that I manage to get enough sleep.
The walk today involved more forests. Many people really give the impression that they hate the forest sections of the Pennine Way, but in my honest opinion the variety of scenery you see on the Way is one of its best points. If the Way kept to windswept hillsides all the time I would have found it most boring. As it stands, we had two days involving forestry plantations, and we only spent about half our time each day inside them. It was not as if we spent weeks walking through them, which would have been a bind. After all, variety is the spice of life, and that goes for walking as much as anything else.
Tomorrow is the start of the Cheviot traverse, an 18-mile climb over the remotest part of England. It also includes my first taste of Scotland. The end is so near that you can almost taste it...
---
Directions
I am not going to bother giving any directions for any of the stages of the Pennine Way; there are many route descriptions produced that will better anything that I could produce. The main guides I used were the OS National Trail Guides, which come complete with strip maps of the route. Click on one of the links below to go to the Amazon page for each guide.


National Trail Guide South
National Trail Guide North
---
Distances
| From | To | Distance (m) | Ascent (ft) | Descent (ft) |
| --- | --- | --- | --- | --- |
| Bellingham YHA | Padon Hill | 6.9 | 1109 | 381 |
| Padon Hill | Blakehopeburnhaugh | 5.6 | 476 | 1024 |
| Blakehopeburnhaugh | Byrness YHA | 2.2 | 187 | 85 |
This makes a total distance of 14.7 miles, with 1772 feet of ascent and 1490 feet of descent.


For more information on profiles, ascents and descents, see this page
---
Disclaimer
Please note that I take no responsibility for anything that may happen when following these directions. If you intend to follow this route, then please use the relevant maps and check the route out before you go out. As always when walking, use common sense and you should be fine.
If you find any information on any of these routes that is inaccurate, or you wish to add anything, then please email me.
All images on this site are © of the author. Any reproduction, retransmissions, or republication of all or part of any document found on this site is expressly prohibited, unless the author has explicitly granted its prior written consent to so reproduce, retransmit, or republish the material. All other rights reserved.
Although this site includes links providing convenient direct access to other Internet sites, I do not endorse, approve, certify or make warranties or representations as to the accuracy of the information on these sites.
And finally, enjoy your walking!
---
This walk was mentioned in the following routes:
---
Nearby walks
---