Walk #572: Knettishall Heath to North Pickenham
| | | |
| --- | --- | --- |
| | | |
| P2003A199809 The first stretch of the Peddars Way. | | P2003A199816 Heading north along the Peddars Way. |
General Data
| | |
| --- | --- |
| Date Walked | 19/10/2003 |
| County | Suffolk, Norfolk |
| Start Location | Knettishall Heath |
| End Location | North Pickenham |
| Start time | 11.35 |
| End time | 18.15 |
| Distance | 19.7 miles |
| Description | This was a very enjoyable walk along the southern stretch of the Peddars Way, and although the going was good and easy underfoot the scenery and views were not particularly great. |
| Pack | Today I carried my 70-litre Craghoppers rucksack holding full camping gear and my new Jack Wolfskin Gossamer tent. |
| Condition | I feel absolutely fine after this walk, and I could easily have walked further if I had needed to. My shoulders and neck ached occasionally, but this was not particularly bothersome. |
| Weather | Recently the weather has been very good and dry in this area, although I was disappointed to see that the forecast was for it to get worse today. Although the wind picked up considerably and it became cloudier, there was fortunately no sign of any rain. |
| OS map | Landranger number 144 (Thetford & Diss, Breckland & Wymondham) |
| | | |
| --- | --- | --- |
| | | |
| P2003A199821 Heading north along the Peddars Way. | | P2003A199829 The view back towards Little Cressingham. |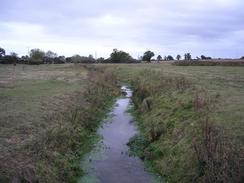 P2003A199833 The River Wissey.
---
Map of the walk
Maps courtesy of Google Maps. Route for indicative purposes only, and may have been plotted after the walk. Please let me
have comments
on what you think of this new format. For a detailed table of timings for this walk, please see
the table file
.
---
Notes
There were three main purposes behind today's walk, which is pat of a two and a half day trip along the Peddars Way to Hunstanton. The first reason was to give myself a little exercise (it was five days since I had last done a walk); secondly, walking the Peddars Way would allow me to say that with a little caveat I have walked the entire Peddars Way and Norfolk Coast Path, a National Trail; and lastly it give me an opportunity to test my new Gossamer tent. These reasons seemed good enough to do the trip, although the weather forecast did not look too good.
As I wanted to test my tent out I wanted to wild camp where I could, and so I was keen to do a long distance today and I wanted to set off at about nine o'clock. Unfortunately last night we had been entertained by a couple of friends in Soham, and so we decided it would be wise to set off a bit later. The Peddars Way starts off at a place called Knettishall Heath to the east of Thetford, and this is literally in the middle of nowhere. It took us some time to find the car park at the start, but eventually Mervan got there a little before eleven thirty, making it one of the latest starts to a walk for some time. I quickly put my pack on, and poised for a photograph before setting off. The initial stretch of the walk goes through woodland and is very nice, until after about half a mile a bridge over the River Little Ouse is reached. This marks the boundary between Suffolk and Norfolk, and I find it very strange indeed that the trail spends half a mile in Suffolk and the rest in Norfolk!
The Peddars Way follows good tracks for the majority of the way, and navigation is almost farcically simple, as with all National Trails it is well waymarked, and there are not many turn-offs to get confused by. It is also a very straight route, with not many bends to contend with. All of this allowed me to walk on autopilot for significant periods, especially as the woodlands and hedges that form a boundary to the track restricted the views. Despite (or perhaps because of) this I found the walk very enjoyable, and it was drastically different to the coastal walking that I have done recently.
I was aware that if I wanted to walk twenty miles before it got dark that I would have to get a move on, and so I decided not to take a rest if I could help it. The trail guide showed a couple of pubs on the route - at Stonebridge and Little Cressingham - but both of these appeared to have closed down recently, a great shame, but this did not bother me too much. It is another sign of how country life is slowly and inexorably changing. More importantly, it also means that on the entire twenty miles of the walk today there was nowhere from which refreshments could be obtained. This is a great surprise as the area is hardly massively rural, but the trail avoids most habitations. Tomorrow the situation could be much worse, with Castle Acre being the only place of any size on the route, and so I shall plan to reach there for when the pubs open.
I am quite impressed by the fact that I managed to walk almost twenty miles without a rest whilst carrying full camping equipment - this is a sign of exactly how much fitter I am now than I was before I set off on my coastal walk. I would very much like to maintain this level of fitness, but this is dependant on doing regular walks, which may prove to be difficult over the next month as I have many other priorities on my time. It would be nice to do a couple more National Trails before Christmas (with the Wolds Way possibly being one of them), but that would very much be dependant on my being able to find the time.
By the time that I was approaching North Pickenham it was starting to get quite dark, and so I decided to look for somewhere to put my tent up. I found a good spot before the village, but I reckoned that there was probably at least half an hour of light left, and so I decided to keep on walking. I eventually found another secluded site in a clearing in the woodland by the abutments of an old rail bridge, and I put the tent up in the very last of the dusky light. I then cooked dinner in the dark; baked beans and sausages eaten in three pitta breads filling a yawning whole in my stomach. This new tent is much smaller than my old one, and I had been concerned that I would not be able to fit all my kit in it and that I would have to leave my rucksack outside. In the end I managed to fit everything in, although it is a little cramped and it may take me another night or two to get everything organised well. The tent seems reasonable from my first hour's experience in it, although as it is a mesh inner it is a little draughty in this stiff breeze. I shall have to see how I feel in the morning before I make any conclusions about it.
---
Directions
This walk follows the Peddars Way stretch of the Peddars Way and Norfolk Coast Path National Trail for its entirety. This path is very well waymarked and is navigationally easy, and directions and route maps are included in the excellent National Trail Guide 15, Peddars Way and Norfolk Coast Path by Bruce Robinson and published by Aurum Press, ISBN 1-85410-852-2.

Because of this excellent guide I (as normal for National Trails) am not including directions for this walk, as the guidebook is unbeatable. Please click on the link to the right to access the Amazon page for the guidebook.
---
Distances
| From | To | Distance (m) | Ascent (ft) | Descent (ft) |
| --- | --- | --- | --- | --- |
| Knettishall Heath | Stonebridge | 6.6 | 226 | 203 |
| Stonebridge | Little Cressingham | 7.7 | 194 | 148 |
| Little Cressingham | North Pickenham | 4.7 | 226 | 246 |
| North Pickenham | Campsite | 0.7 | 43 | 16 |
This makes a total distance of 19.7 miles, with 689 feet of ascent and 613 feet of descent.


For more information on profiles, ascents and descents, see this page
---
Accommodation
I spent the night camping in a little wooded glade at grid reference TF 8540107480, a little under a mile to the north of North Pickenham. This was a reasonable place to spend the night and I was sheltered slightly by the trees in what was a reasonably secluded spot.
---
Disclaimer
Please note that I take no responsibility for anything that may happen when following these directions. If you intend to follow this route, then please use the relevant maps and check the route out before you go out. As always when walking, use common sense and you should be fine.
If you find any information on any of these routes that is inaccurate, or you wish to add anything, then please email me.
All images on this site are © of the author. Any reproduction, retransmissions, or republication of all or part of any document found on this site is expressly prohibited, unless the author has explicitly granted its prior written consent to so reproduce, retransmit, or republish the material. All other rights reserved.
Although this site includes links providing convenient direct access to other Internet sites, I do not endorse, approve, certify or make warranties or representations as to the accuracy of the information on these sites.
And finally, enjoy your walking!
---
This walk was mentioned in the following routes:
---
Nearby walks
---