Walk #387: Milford Haven to Wooltack
| | | |
| --- | --- | --- |
| | | |
| P20033180129 The cliffs above Sandy Haven. | | P20033180138 Looking towards Little Castle Head from Great Castle Head. |
General Data
| | |
| --- | --- |
| Date Walked | 18/03/2003 |
| County | Dyfed |
| Start Location | Milford Haven |
| End Location | Wooltack |
| Start time | 08.27 |
| End time | 17.05 |
| Distance | 19.7 miles |
| Description | This was another lovely walk, with some absolutely fantastic coastal scenery to be seen once I had passed the refineries to the west of Milford Haven. |
| Pack | Today I carried my 30-litre Karrimor HotRock rucksack, which was filled with my packed lunch, waterproof leggings, water bottle and a couple of spare shirts, together with the usual assortment of odds and ends. |
| Condition | I feel absolutely fine after this walk, and I could easily have walked further if I had needed to. The only problem I had was a pain at the top of my right ankle for the last couple of miles, as if a pebble had been trapped at the top of my foot. I stopped to see if I could find a pebble, but there was not one so I am unsure what has caused the problem. |
| Weather | The morning started of foggy, with the lights of the jetties on the other side of the estuary only barely visible. This slowly burnt off over the course of the morning leaving a bright sunny sky behind. Unfortunately it also left a haze in the sky that slightly spoilt all the views of anything in the distance, although this was a minor problem as I was pleased with the warm day and slight winds. All in all it was a lovely day for walking. |
| OS map | Landranger number 157 (St David's & Haverfordwest) |
| | | |
| --- | --- | --- |
| | | |
| P20033180142 The cliffs near Watch House Point. | | P20033180148 The River Gann. |
| | | |
| --- | --- | --- |
| | | |
| P20033180150 The bridge over the River Gann. | | P20033180159 Castlebeach Bay, with Dale Point behind. |
---
Map of the walk
Maps courtesy of Google Maps. Route for indicative purposes only, and may have been plotted after the walk. Please let me
have comments
on what you think of this new format. For a detailed table of timings for this walk, please see
the table file
.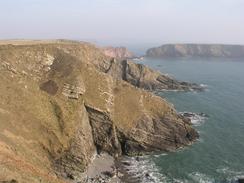 P20033180181 The view back towards Gateholm.
---
Notes
I felt much better this morning that I did yesterday, and I found that I had a spring in my step as I walked westwards from Milford Haven. I had slept for over nine hours last night, and this was the longest that I had slept for some considerable time. Unfortunately it was achieved after taking a couple of sleeping tablets, but as much as I dislike taking tablets they certainly had the desired effect. I will probably take a couple of tablets for the next few nights to try and get myself into the habit of sleeping well.
There are two river crossings that had to be done today, and both of these can be crossed for two hours at either side of low tide. I was unsure about the time of low tide, but I knew that it was low early on in yesterday's walk, and so I was hopeful about not having to do the long inland diversions. When I finally reached Sandy Haven, I was glad to see that the tide was out and the stepping-stones and the little bridge were well uncovered. I strode over, being careful not to slip on the slime on the stones, and went up the road on the over side. According to the guidebook it takes two hours to walk to the Gann estuary (the next tidal crossing), and this again can be crossed for two hours either side of low tide. As the tide had been very low at Sandy Haven, I was slightly concerned about getting to the Gann in time and so I walked quite fast, taking a little over an hour and a half to get there. I need not have worried, as when I reached the Gann the tide was well out. I crossed the first little bridge over a small tributary before reaching the main estuary. There was no bridge over this section, but it was fairly easy to cross at a series of boulders without getting my feet wet. The area around the Gann Estuary is quite nice, and as I walked along the beach at Pickleridge I admired the views of the extensive mudflats.
I met Sam for lunch at the lovely little village of Dale, although after she had parked Mervan we discovered that the local pub was not open on Tuesdays. We reconvened in the van, and I ate my lunch as we sat and chatted about the day so far. it is really nice meeting Sam for lunch, and it certainly seems to add something to the day. I had reached Dale much earlier than I had expected to due to not having to make diversions around the estuaries, and as I ate I therefore decided to extend the walk and make the end of the walk Wooltack Point, rather than St Ann's Head. This made the walk quite long, but I was feeling fine and I was eager to make the most of the glorious weather.
Mill Bay is famous for two reasons. Henry Tudor landed at the bay on 7th August 1485 (his 2,000 men landed at Dale) and after a 15-day march through Wales he won the English crown at the battle of Bosworth Field, becoming Henry VII. There is a little memorial to this above the bay, but I could find no trace of the other (in)famous event - in February 1996 the Sea Empress spilt 72,000 tons of oil into the Haven when it ran aground at Mill Bay, one of the worlds worst oil spills. A little over seven years later I could see no trace of oil, and all the beaches and rocks looked clean. I daresay that experts could show me where oil remains, but I certainly saw no trace of it.
unfortunately there is not much access to St Ann's Head, as there is a coastguard station at the tip of the headland. This stopped me getting some views that I wanted, but I could still clearly make out Sheep Island on the other side of the Haven, which I passed a few days ago. However at St Ann's Head there is access to quite a spectacular section of cliff called Cobbler's Hole, where the folding of the rocks can be seen very clearly and exemplifies the forces that cause such folding. It is amazing that the way that rocks, normally so brittle, can be bent into such dramatic folds by the extreme forces and pressures without shattering. The cliffs on the path north from St Ann's Head were very spectacular, and it made for a beautiful walk in the lovely sunshine, and it is a walk that I would love to do again. Even though it is a cliff top walk it is very easy going, with a good path underfoot and only a few descents and ascents to make the going harder.
Tomorrow promises to be another sunny day, and I am looking forward to the walk along the cliff tops as I start to head northwards once more. I am rapidly nearing the halfway point of my walk, and when I reach it we will certainly have to have a celebration.
---
Directions
| | |
| --- | --- |
| This walk follows the Pembrokeshire Coast Path, the route of which is detailed in the Ordnance Survey National Trail Guide 7, Pembrokeshire Coast Path (ISBN 1-85410-770-4). Unfortunately the route description is written in reverse to the direction that I am walking, but the 1:25,000 maps in the book are clear and the signs on the ground are very good. Please click on the image to the right to go to the Amazon page for this book. | |
---
Distances
| From | To | Distance (m) | Ascent (ft) | Descent (ft) |
| --- | --- | --- | --- | --- |
| Milford Haven | Dale | 10.0 | 1900 | 1837 |
| Dale | Wooltack | 9.7 | 2136 | 2113 |
This makes a total distance of 19.7 miles, with 4036 feet of ascent and 3950 feet of descent.


For more information on profiles, ascents and descents, see this page
---
Accommodation
There is not much at Wooltack, so we drove Mervan the short distance into Marloes, where we parked in front of the toilets and opposite from the Lobster Pot Inn.
---
Disclaimer
Please note that I take no responsibility for anything that may happen when following these directions. If you intend to follow this route, then please use the relevant maps and check the route out before you go out. As always when walking, use common sense and you should be fine.
If you find any information on any of these routes that is inaccurate, or you wish to add anything, then please email me.
All images on this site are © of the author. Any reproduction, retransmissions, or republication of all or part of any document found on this site is expressly prohibited, unless the author has explicitly granted its prior written consent to so reproduce, retransmit, or republish the material. All other rights reserved.
Although this site includes links providing convenient direct access to other Internet sites, I do not endorse, approve, certify or make warranties or representations as to the accuracy of the information on these sites.
And finally, enjoy your walking!
---
This walk was mentioned in the following routes:
---
Nearby walks
---