Walk #388: Wooltack to Solva
| | | |
| --- | --- | --- |
| | | |
| P20033190189 Looking west along the cliffs. | | P20033190197 The cliffs near Warey Haven. |
General Data
| | |
| --- | --- |
| Date Walked | 19/03/2003 |
| County | Dyfed |
| Start Location | Wooltack |
| End Location | Solva |
| Start time | 08.35 |
| End time | 17.15 |
| Distance | 19.8 miles |
| Description | This was a absolutely superb walk, albeit a long one, with some lovely scenery to be seen on a beautifully sunny day. |
| Pack | Today I carried my 30-litre Karrimor HotRock rucksack, which was filled with my packed lunch, waterproof leggings, water bottle and a couple of spare shirts, together with the usual assortment of odds and ends. |
| Condition | The problem that I had with my right foot yesterday was evident again this morning, so I was forced to walk in my trainers. Towards the end of the walk I had some nasty chaffing on the inside of my thighs, but aside from this I was fine and could easily have walked further if I had needed to. |
| Weather | There was no repetition of the early fog of yesterday, and therefore the entire day was sunny. There was scarcely a cloud in the sky all day, and in the afternoon it got quite hot. There was not much wind to cool me down, and it was the best day of the year so far. |
| OS map | Landranger number 157 (St David's & Haverfordwest) |
| | | |
| --- | --- | --- |
| | | |
| P20033190198 A curious monument on the path. | | P20033190206 A view northwards over the beach at Little Haven. |
| | | |
| --- | --- | --- |
| | | |
| P20033190219 The cliffs to the north of Druidston Haven. | | P20033190235 Rock formations near Penycwm beach. |
---
Map of the walk
Maps courtesy of Google Maps. Route for indicative purposes only, and may have been plotted after the walk. Please let me
have comments
on what you think of this new format. For a detailed table of timings for this walk, please see
the table file
.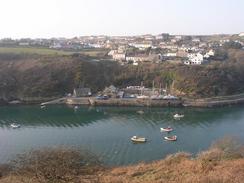 P20033190253 The view down over Lower Solva.
---
Notes
The day started off badly when I got out of the van in the car park at Wooltack Point and realised that the problem that I had with my right foot yesterday had not gone. I hobbled up and down the car park, and realised that although I could walk it was going to be painful. I went back into the van and changed into my trainers, and this fixed the problem. I was quite loathe to walk in my trainers as I am paranoid about twisting my ankle, but I was willing to risk that to save myself the pain that my boots are causing me. It seems that I have injured the side of my right foot, and I can only hope that a day without my boots on has fixed the problem, as I do not really want to walk another day with my trainers on if I can help it.
The coastal scenery was absolutely superb again today, with some great examples of folded rocks and slumping of cliffs. There was scarcely a minute when the views were not good, and it really was a very spectacular walk. A geologist would really have a great time looking at these cliffs, and even I (who has not done any geology for ten years) found them absolutely fascinating. It is hard not to be impressed with the forces that can cause such extreme folding of rocks, and the resultant shapes are weird.
I met Sam in the Galleon Inn in Broad Haven, where I had a pint of a drink that was far from being the best bitter that I have ever had. The pub was quite busy, but I was glad that I was inside and out of the sun for a while, as I had got quite hot during the course of the morning. Broad Haven looked beautiful in the sunshine, and the view of the village from the beach was worth seeing. The fact that the tide was out was useful, as it meant that I could walk from Little Haven to Broad Haven along the beach and avoid the road walk between the two villages.
On my way to Newgale I met a couple on the beach who I chatted to for a while, and it turns out that I had met with some friends of theirs a couple of days before in Neyland. I am quite pleased that meeting me is such an event that people tell their friends about me, but it is hardly anything to get a big head about! What is nice is the number of people who have heard me on the radio, even on the rather bad interview I did on Saturday and which was broadcast on Sunday. The walk is slowly getting more publicity as time goes on, and I am getting more used to coping with this, although it still feels weird.
I had been expecting to reach the halfway point of the entire walk tomorrow, and I was surprised when I put the last three walks on the computer tonight and discovered that I reached it today - at the end of this walk I had done 50.04% of the walk. The reason why is that I did seven miles less yesterday due to not having to walk around a couple of estuaries, and that seven miles pushed the halfway point into today. It is a great feeling to be halfway into the walk, although the end seems just as far away as ever. Each one percent of the walk takes me over three days to walk, and that means it takes me an age to get any visible progress on the percentage. My next target percentage wise would be to reach sixty-six percent, and that will be five or six weeks away, and I will be back in England. All this is fairly academic anyway; as the total distance that I will walk is not set in stone and I could well end up walking more - or less - than the 5,600 miles that is my current estimate. So far on the walk the total has increased by over 100 miles, so it would not surprise me if it was to increase again before I finish.
Tomorrow I do not have much choice about how far I walk. If I walk to Whitesands Bay then it is only twelve miles, but to get to the nearest place with road access is over nineteen miles. If I do not want to walk that far (and the terrain looks difficult on the map) then I may have to go inland a little to the nearest road. It looks as though the weather might be nice once again, and so I will have to be careful that I do not overheat.
---
Directions
| | |
| --- | --- |
| This walk follows the Pembrokeshire Coast Path, the route of which is detailed in the Ordnance Survey National Trail Guide 7, Pembrokeshire Coast Path (ISBN 1-85410-770-4). Unfortunately the route description is written in reverse to the direction that I am walking, but the 1:25,000 maps in the book are clear and the signs on the ground are very good. Please click on the image to the right to go to the Amazon page for this book. | |
---
Distances
| From | To | Distance (m) | Ascent (ft) | Descent (ft) |
| --- | --- | --- | --- | --- |
| Wooltack | Broad Haven | 9.5 | 1683 | 1755 |
| Broad Haven | Newgale | 6.2 | 1211 | 1230 |
| Newgale | Solva | 4.1 | 1368 | 1332 |
This makes a total distance of 19.8 miles, with 4262 feet of ascent and 4317 feet of descent.


For more information on profiles, ascents and descents, see this page
---
Accommodation
We spent the night at the caravan site at Mount Farm, Solva, Haverfordwest, Pembrokeshire SA62 6XL. They can be contacted on (01437) 721301, and is quite a basic site, but it cost us only one pound for the night as they were officially shut and the showers were non-operational. It was very kind for the owner to let us stay despite this.
---
Disclaimer
Please note that I take no responsibility for anything that may happen when following these directions. If you intend to follow this route, then please use the relevant maps and check the route out before you go out. As always when walking, use common sense and you should be fine.
If you find any information on any of these routes that is inaccurate, or you wish to add anything, then please email me.
All images on this site are © of the author. Any reproduction, retransmissions, or republication of all or part of any document found on this site is expressly prohibited, unless the author has explicitly granted its prior written consent to so reproduce, retransmit, or republish the material. All other rights reserved.
Although this site includes links providing convenient direct access to other Internet sites, I do not endorse, approve, certify or make warranties or representations as to the accuracy of the information on these sites.
And finally, enjoy your walking!
---
This walk was mentioned in the following routes:
---
Nearby walks
---