Walk #622: Lower Quinton to Buckley Green
| | | |
| --- | --- | --- |
| | | |
| P20047301116 The path leading to the B4632 road. | | P20047301123 The Heart of England way to the northwest of Long Marston. |
General Data
| | |
| --- | --- |
| Date Walked | 30/07/2004 |
| County | Warwickshire |
| Start Location | Lower Quinton |
| End Location | Buckley Green |
| Start time | 09.10 |
| End time | 19.21 |
| Distance | 22.2 miles |
| Description | This was a fairly easy and relaxing stroll, heading north along the Heart of England Way. |
| Pack | Today I carried my 75-litre Craghoppers Rucksack. I did not carry my camping gear, but I did have more other assorted gear with me, which made up for most of the weight of the camping gear. |
| Condition | I have two significant problems after today's walk; I have bad and painful chaffing between my thighs, and somehow I have injured the big toe on my left foot to such a degree that it hurts to move it, although I did not realise that I had the latter injury until I took my boots off. Despite these by the time that I reached the B&B I was fairly resigned to walking, and I could have gone on along road for much longer if I had needed. |
| Weather | Today was a mixture of sunshine and cloud, and it got quite hot at times when the sun was shining. There was a little breeze, although this did not seem to help much in keeping me cool. |
| OS map | Landranger number 150 (Worcester & The Malverns, Evesham & Tewkesbury) and Landranger number 151 (Stratford-upon-Avon, Warwick & Banbury) |
| | | |
| --- | --- | --- |
| | | |
| P20047301125 Dorsington. | | P20047301127 The Heart of England Way approaching Barton Farm. |
| | | |
| --- | --- | --- |
| | | |
| P20047301130 The view across the floodplains towards Bidford-on-Avon church. | | P20047301141 Fields near Moor Hall. |
---
Map of the walk
Maps courtesy of Google Maps. Route for indicative purposes only, and may have been plotted after the walk. Please let me
have comments
on what you think of this new format. For a detailed table of timings for this walk, please see
the table file
.
| | | |
| --- | --- | --- |
| | | |
| P20047301150 The River Arrow in Alcester. | | P20047301155 Malt Mill Lane in Alcester. |
| | | |
| --- | --- | --- |
| | | |
| P20047301161 Alcester. | | P20047301171 The path near Coughton Fields Lane. |
---
Notes
The morning dawned nice and bright, and I was feeling extremely happy as I lay in bed reading before going down to breakfast. The previous evening had been marvellous, and as I had finished the Cotswold Way yesterday I knew that the rest of the walk could be done in a more relaxed manner. I was in two minds about where I was going to walk to today, and for this reason I had not booked any accommodation for tonight. I had two choices; I could walk to Alcester, which would be a twelve mile walk, or Henley-in-Arden, eight miles on. I did not want to make a decision on this until later in the day, and so I ate breakfast in a fairly unpressured manner, having a chat to the landlady as I ate. It turns out that she is from the same part of Staffordshire as my brother-in-law, and we chatted about the area for some time, which proved to be a welcome delay to the start of my walk.
I decided that instead of using a short-cut along the B6432 road I would walk back into Upper Quinton, and then join the Heart of England Way from there. This also gave me an opportunity to go into the post office in the village to buy some snacks for the day ahead, but once inside nothing really took my fancy, and I decided just to walk on without buying anything. On the way out of the village the Way passes through the grounds of the school and enters a field, before curving to the left to reach the B4632 road. The Way then crosses fields on the southern side of the disused Long Marston aerodrome, and although the airfield is disused by planes it was a hive of activity, as a fairground was in town. The path did not pass though this, but it did pass a field that was filled with lorry tractor units, a few odd trailers, and many, many tents. I was unsure about whether these belonged to people involved with the fair, or whether there was some form of festival going on. As I left the area of the aerodrome I climbed over a stile and nearly trod in a decaying dead fox; a grotesque sight and smell that stayed in my memory for some time.
The path continued on in a rough westerly direction, following field boundaries before passing a sewage works and reaching the old Stratford upon Avon to Broadway railway line. This is now a National Cycle Path leading to Stratford-upon Avon, although there are plans to re-open the entire route in the future. The line is still in use immediately to the south of the level crossing as there is a large military depot to the south that is rail-connected. As I had no accommodation planned for the night I was tempted to change my plans and walk up the old railway line to Stratford-upon-Avon, which I have never visited before, but some contemplation led me to decide to continue on my original planned route.
Long Marston was a fairly uninteresting village, and I soon found myself crossing yet more fields to get to the village of Dorsington. This was a pretty place, and I ended up chatting for a few minutes to an American who was waiting for a bus. Unlike many other tourist Americans whom I had met on this trip, this one was actually a walker, and we chatted about walking poles and the South West Coast Path, which he was planning to walk some stretches of later in the walk. It was a lovely chat, and it put me in a good mood as I headed along the road that led out of the village.
The path between Dorsington and Barton was fairly easy to follow, and the scenery, although nice, was unremarkable. I lost the path on my way to Barton Farm as I took the wrong path at a junction, but this was soon corrected and I found myself in Barton, which has a pub called the 'Cottage of Content'. The Heart of England Way does not follow the road from Barton to Bidford-on-Avon, but instead chooses a route that crosses the floodplain, which gave me a lovely view of the fifteenth century Avon Bridge, and of St Lawrence's Church on the other side of the river. I crossed the bridge and entered the town, which I was not massively impressed by as the architecture in the centre was not as promising as the bridge and church had promised.
In Bidford-on-Avon I had to make a decision about what I was going to do for the day. If I was only going to walk as far as Alcester I could have a long lunch break in the town and split the day up; if I was going to walk as far as Henley-in-Arden then I really could not afford a long break. I was still feeling fit, and so I decided not to stop and that I would walk on. A series of nondescript roads led me northwestwards out of town, and I soon reached the road on the southern edge of Broom. The Way does not follow roads through the village, but instead uses footpaths to cut across the centre. I crossed another road, and was soon heading northwards out of the village, and I was surprised to find some horse-racing stalls stored in a field; quite what they were doing there I do not know.
The Way continued on northwards, taking me to the B4085 road by the Fish Inn in Wixford. I was tempted to stop here for a drink, but Alcester was only a few miles away and it seemed more sensible to continue on walking. The Way headed past the little Wixford Church, which apparently has the finest set of memorial brasses in Worcestershire, and then on along tracks around the hill on which Oversley Castle stands. The present building fates form the nineteenth century, and the small glimpses of it that I got through the trees did not make it look like it was worth a visit. The track soon curved to head northwards, heading on towards Lower Oversley Farm and the A46(T). The latter was crossed by a road bridge, and this took me into the pretty hamlet of Oversley Green. I enjoyed the walk to the bridge over the River Arrow, which led me on into the southern outskirts of Alcester. There were some gypsies camping beside the road, and along with their caravans there was a great deal of mess, which depressed me slightly until I entered a narrow row of ancient houses, architecturally fascinating, which I walked through slowly in wonderment to reach the centre of Alcester.
By this time I was in need of a rest, and so I decided to stop off for a drink in the Holly Bush Inn, which is slap-bang in the centre of the town. This seemed to be a slightly rough pub, but I soon found myself chatting to the people who were at the bar. One pint was followed by an exquisite omelette, which I ravenously devoured, and this was followed by another pint. The rest allowed me to cool my feet down, and the welcoming nature of the locals in the pub improved my mood no end. My improving mood led me to decide not to stop in Alcester, but to walk on towards Henley-in-Arden, and so I phoned up a B&B to book myself in. Unfortunately I did not ask them for directions to the place, which was to have repercussions later on in the day.
With some regret I put my rucksack on and left the pub, before starting to walk northeastwards out of Alcester. Initially the Way followed the B4089 road, before heading off across fields, passing a trig point and heading onwards. The next few miles made for fairly nondescript walking and I started to get slightly bored, so I switched my Walkman on and listened to some music as I strolled along. Soon after crossing Spernal Lane I came across a little table outside a house that was selling plums, and as they looked absolutely delicious I decided that I would buy some. They were 30 pence for a carton, and as a carton held far too many for me to consume I decided to only have a couple. As I was selecting some a woman came out of the house, and when I explained she gave me a bag of five plums for free, which was exceedingly kind of her. I munched on the plums as I headed northwards, passing Lodge Hill and eventually reaching Burford Lane.
On my map I could see a trig pillar at the top of Round Hill, and as it was a short distance away from the path I resolved to climb up to bag it. Unfortunately as I entered the field nearest to the pillar - and whilst still following the Heart of England Way - I came across a herd of immature bulls. These took an immense interest in me, and decided to follow closely behind me and to my left. As I head the hedge on my right I felt slightly exposed, and I decided that a visit to the trig pillar was out of the question. Once I reached the stile at the end of the field some of the bulls that were to my left overtook me and stood right in front of it, essentially trapping me in a semicircle of bulls, with the other side being the hedge. I was unsure quite what to do, and I walked on towards the stile. Fortunately as I got to within a few yards of them the bulls stampeded away from me, and with relief I reached the stile and crossed it.
At Bannam's Wood the official Way has been diverted to avoid though woodland, and whilst following this diversion I found that I could not locate where the diversion went from the middle of some fields. Instead of floundering about, I decided to use local footpaths that headed past Upper Wawensmoor to reach the road; this extended the walk by a fair distance, but I felt that it was easier than trying to find the diversionary path. By the time that I got back onto the Way proper I was starting to feel chaffing at the top of my thighs, and over the next couple of miles as I headed northeastwards towards Hunger Hill this got quickly worse, until eventually I was waddling. Realising that this would make progress increasingly hard, I decided to sit down on the ground to give them some rest. I applied some Vaseline to the afflicted area, and after five minute's rest I decided to continue on. The thighs were not as bad and I no longer waddled, but they were still painful. It was with some relief that I crossed the A4189 and some fields to reach Henley-in-Arden railway station, and then the centre of the town.
By the time that I finally reached Henley-in-Arden I was too tired to really take in the beauty of the town, especially as I had been through so many beautiful towns already on the trip and I was getting rather too used to them. I was more bothered in trying to find my B&B for the night, and after asking in a couple of shops I still had no idea where it was. Feeling slightly tired and dejected I tried phoning the B&B for directions, but the line was engaged and so I started trudging northwards along the road out of town.
Eventually I managed to get through top the B&B and they gave me directions, and I found my way along winding lanes to my accommodation for the night. As I was walking along roads my chaffing was not bothering me and I started to feel better than I had for a fair few miles. It was still a relief; however, when I reached the B&B, and I net to my room and collapsed onto the bed, not getting up to have a shower for over an hour.
| | | |
| --- | --- | --- |
| | | |
| P20047301180 The path crossing fields towards Hunger Hill. | | P20047301187 Henley-in-Arden. |
---
Directions
This walk followed the Heart of England Way for almost all the way, with the exceptions detailed below. The directions for walking the Heart of England Way are available in the book Heart of England Way (Recreational Path Guide), published by Aurum Press, ISBN 1854105388. This book has detailed directions and notes of the walk, along with a 1:25,000 strip map of the entire path from Bourton-on-the-Water to Milford.
The exceptions to this are the stretches at the beginning and end of the day. At the beginning of the walk, simply leave the B&B and walk back the half-mile into the centre of Lower Quinton, where the Heart of England Way can be joined near to the post office.
At the end of the day, when the centre of Henley-in-Arden is reached turn left to walk northwards up the A3400 road. Pass the abutments of an old railway bridge and continue on for another few hundred yards, before turning to the right along Buckley Green Road. Follow this road as it heads northeastwards, and when it splits turn right to head southwards along a lane. After a couple of hundred yards the lane passes an old railway bridge, and the B&B that I stayed it is a short distance further on at the end of the lane.
If you wish to buy the guidebook, then please click on the link to the right: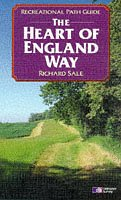 ---
Distances
| From | To | Distance (m) | Ascent (ft) | Descent (ft) |
| --- | --- | --- | --- | --- |
| Lower Quinton | Bidford-on-Avon | 7.2 | 184 | 246 |
| Bidford-on-Avon | Alcester | 4.7 | 279 | 256 |
| Alcester | Henley-in-Arden | 8.6 | 666 | 551 |
| Henley-in-Arden | Buckley Green | 1.7 | 72 | 62 |
This makes a total distance of 22.2 miles, with 1201 feet of ascent and 1115 feet of descent.


For more information on profiles, ascents and descents, see this page
---
Accommodation
I spent the night at Holland Park Farm Bed and Breakfast, Buckley Green, Henley-in-Arden, Solihull, West Midlands B95 5QF. This was a superb bed and breakfast and Mrs Connolly made me feel very welcome. An en-suite twin room for one person cost me only 30.00, and the facilities were very good. They can be contacted on (01564) 792625.
---
---
Disclaimer
Please note that I take no responsibility for anything that may happen when following these directions. If you intend to follow this route, then please use the relevant maps and check the route out before you go out. As always when walking, use common sense and you should be fine.
If you find any information on any of these routes that is inaccurate, or you wish to add anything, then please email me.
All images on this site are © of the author. Any reproduction, retransmissions, or republication of all or part of any document found on this site is expressly prohibited, unless the author has explicitly granted its prior written consent to so reproduce, retransmit, or republish the material. All other rights reserved.
Although this site includes links providing convenient direct access to other Internet sites, I do not endorse, approve, certify or make warranties or representations as to the accuracy of the information on these sites.
And finally, enjoy your walking!
---
Nearby walks
---