Walk #623: Buckley Green to Berkswell
| | | |
| --- | --- | --- |
| | | |
| P20047311192 Approaching the Heart of England Way. | | P20047311202 Fields between the M40 and the Grand Union Canal. |
General Data
| | |
| --- | --- |
| Date Walked | 31/07/2004 |
| County | Warwickshire |
| Start Location | Buckley Green |
| End Location | Berkswell Station |
| Start time | 09.44 |
| End time | 14.38 |
| Distance | 13.4 miles |
| Description | After the glorious scenery of the last few days, this walk was a bit of a let-down as it was getting into more built-up and less scenic areas. It was still a nice walk, however, and well worth doing, with much of historic interest to be seen on the way. |
| Pack | Today I carried my 75-litre Craghoppers Rucksack. I did not carry my camping gear, but I did have more other assorted gear with me, which made up for most of the weight of the camping gear. |
| Condition | I feel absolutely fine, although slightly tired, after this walk, which is to be expected after having walked such a relatively short distance. |
| Weather | The weather today was yet again a mixture of sunshine and cloud, with a slight breeze to help keep me cool. |
| OS map | Landranger number 151 (Stratford-upon-Avon, Warwick & Banbury) and Landranger number 139 (Birmingham & Wolverhampton) |
| | | |
| --- | --- | --- |
| | | |
| P20047311207 St Lawrence's Church, Rowington. | | P20047311211 Baddesley Clinton church. |
| | | |
| --- | --- | --- |
| | | |
| P20047311217 The path through Priests Park Wood. | | P20047311220 A pond by Balsall Lodge Farm. |
---
Map of the walk
Maps courtesy of Google Maps. Route for indicative purposes only, and may have been plotted after the walk. Please let me
have comments
on what you think of this new format. For a detailed table of timings for this walk, please see
the table file
.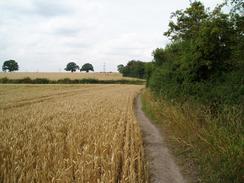 P20047311222 The path to the southwest of Balsall Farm.
---
Notes
Last night I had arranged for Sam to pick me up at Berkswell Station, which meant that I would have a relatively short 13-mile walk ahead of me. Before I got up and went down to breakfast I had a quick look at the map, and concluded that the terrain would be far from challenging, and that I should be able to make good time in reaching the end of the walk. For this reason I decided to have a little lie-in before heading off, and consequently I had what was for me quite a late breakfast at 08.30. When I eventually did emerge Mrs Connolly made me a wonderful meal, and I took my time on savouring it before I was joined by another guest, an antiques dealer who was in the area to attend an antiques sale at the NEC. Her son went to QMW in London at the same time as I did, and we chatted about the East End for quite a while.
Eventually I had to pull myself away from the conversation and I went upstairs to get ready for the day's walking. I was suffering a little as the big toes on my left foot hurt a great deal when I moved it; somehow I had hurt it during yesterday's walk, but it is an injury that I have never had before in all the walks that I have done. I was not too bothered as I assumed (correctly, as it turned out), that my boot would stop it from moving around too much and causing me any problems. Before I put my left boot on I ran my fingers around the inside of the boot to ensure that there was nothing pressing on the toe that had caused the problems, and when I found nothing I put it on and packed my rucksack up ready for the stroll.
The first task of the day was to get from the B&B to get back to the Heart of England Way, which I was going to follow for most of the day. This proved very simple, with a footpath leading from near the B&B up a little escarpment to reach the waymarked path near Edge Lane. From here the path led on across fields, passing farms before reaching the trackbed of the old link railway between the Redditch to Cheltenham and Stratford to Birmingham lines. This ran in a deep cutting, and as I crossed it on an old brick bridge it was hard to look down into the cutting as the trees had grown up taller than the height of the bridge, blocking the view. The path continued on to Coppice Corner Farm, before turning to head eastwards towards the Stratford-upon-Avon canal, crossing it near to Rowington Lock (No. 30). The canal runs from King's Norton Junction on the Worcester and Birmingham canal, for a little over 25 miles to Stratford-upon-Avon. Work on the canal started in 1795 and it was opened in 1816, with work having stopped and started on several occasions. The canal deteriorated in the twentieth century, and this led to Warwickshire County Council announcing plans to abandon the canal in 1958. Over 6,000 formal objections to these plans were lodged, and these led to the canal being saved and restored to navigable condition.
From the canal a long and fairly boring road walk took me northeastwards through Finwood and on onto a bridge over the M40 and a railway line. Immediately on the other side of this bridge the Way thankfully left the road, and a footpath took me along a track and then across fields, to reach Rowington Hill Bridge (no. 62) on the Grand Union Canal. On reaching the bridge I felt more than a little happy, as it meant that I had officially reached the target of my walk; I had linked up my previous walk along the Grand Union Canal with my Land's End to John O'Groats walk at bath. I descended from the bridge down to the canal towpath for a few moments contemplation, before heading back up to the bridge and following the road into the pretty little village of Rowington.
The Heart of England Way passed St Lawrence's Church in the village, and I enjoyed having a quick walk around the outside of this church as I passed it. More fields took me past an attractive house near the church, before depositing me out onto a road near a strange red-bricked building, which I later found out was the remains of Rowington windmill, now sadly sans sails. I have always found windmills without sails to be strange features on the landscape, and this was no exception; they only really look alive when they have sails. A short stretch of road walking led me on to a fairly nondescript footpath, which went northwards, finally ending at the St Michael's church at Baddesley Clinton. This was an attractive church and I would have liked to have spent some more time having a look around, but time was becoming a pressing concern and I was well aware that I was soon going to find it hard to meet Sam at our arranged meeting place. I hate being late for anything, and so I decided to try and speed up for the last seven miles of the walk.
Shortly after leaving the church I reached the car park of the National Trust-run Baddesley Clinton Hall. This hall is supposed to be the best-preserved example of a medieval hall in existence, with a moat and a fine timbered interior. Unfortunately I could see none of this from the car park, and I was unwilling to spend the entrance fee or the time going in to have a look around. The hall dates from the 15th century and has changed little since 1534. The Catholic Ferrers family owned the hall, and this meant that there are no less than three priest holes in the building. More information on the hall can be found at The Heritage Trail website, and having looked at it I am definitely going to have to go back and have a look around this fascinating building on another occasion.
From Baddesley Clinton Hall a long stretch of very overgrown path (which I had to walk along using my poles to deflect thistles and nettles from my legs and midriff) led me northeastwards to a road, and then finally onwards to the main road in Chadwick End. I found it hard to find the proper path on the northern side of the road and the Orange Tree pub looked like a tempting diversion, but I finally found it and followed it past some garages and into Priests Park Wood. Yet another fairly boring stretch of path followed, curving to head northwards and ending at Oldwich Lane near some houses. It appears that many people take the wrong route here, as a man gesticulated at me from one of the houses and shouted that I must keep to the path (which I was on). It is the first time that I have ever been yelled at for being on the correct path! Fortunately I only had to follow the road for a few yards before diving off and heading northwards along a footpath. When I reached Oakley Cottage I came across a big red sign stating that the footpath was closed. This annoyed me as the necessary diversion was going to be quite long and make me later, but when I looked at the footpath closure notice attached to the sign I discovered that it had run out at the end of the previous month. This meant that, despite the fact that the sign was still up, the footpath was not officially closed, and I headed along the footpath to Balsall Lodge Farm.
The path crossed Fen End Road by Gate Farm, before heading across more fields to reach Magpie Lane, and then shortly afterwards the B4101 Balsall Street. It was here that I left the Heart of England Way, as I had to make my way to Berkswell railway station to meet Sam. This was simply a case of following the B4101 eastwards towards the centre of Balsall Common, and then diverting down a road that led towards the station. I must admit that Balsall Common did not exactly fill me with joy as I found it to be a fairly nondescript place, and I found nothing of any interest to have a look at. When I finally get down to Berkswell Station I found that the level crossing by the station was closed and under reconstruction, but Sam was waiting for me in our car in the car park by the pub. It should have been quite an emotional moment having finished an eight-day walk, but I was too tired to really care, and it was so nice to see Sam again after a week apart. It had been a good trip and more strenuous that I had expected, but it had definitely been well worth doing.
---
Directions
This walk followed the Heart of England Way for almost all the way, with the exceptions detailed below. The directions for walking the Heart of England Way are available in the book Heart of England Way (Recreational Path Guide), published by Aurum Press, ISBN 1854105388. This book has detailed directions and notes of the walk, along with a 1:25,000 strip map of the entire path from Bourton-on-the-Water to Milford.
The exceptions to this are the stretches at the beginning and end of the day. At the beginning of the walk, use the following directions to get from the B&B to the Heart of England Way by Edge Lane.
At the end of the day, when the B4101 road is reached in Balsall Street, turn to the right and walk southeastwards along the B4101. After a little under a kilometre turn left along a road that heads northeastwards for a little over a mile, passing a roundabout over the A452 in the centre of Balsall Common before reaching Berkswell railway station, where this walk ends.
If you wish to buy the guidebook, then please click on the link to the right: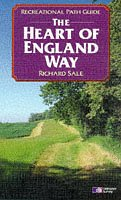 ---
Distances
| From | To | Distance (m) | Ascent (ft) | Descent (ft) |
| --- | --- | --- | --- | --- |
| Buckley Green | Rowington | 5.9 | 266 | 295 |
| Rowington | Chadwick End | 3.2 | 125 | 102 |
| Chadwick End | Berkswell Station | 4.3 | 456 | 344 |
This makes a total distance of 13.4 miles, with 847 feet of ascent and 741 feet of descent.


For more information on profiles, ascents and descents, see this page
---
---
Disclaimer
Please note that I take no responsibility for anything that may happen when following these directions. If you intend to follow this route, then please use the relevant maps and check the route out before you go out. As always when walking, use common sense and you should be fine.
If you find any information on any of these routes that is inaccurate, or you wish to add anything, then please email me.
All images on this site are © of the author. Any reproduction, retransmissions, or republication of all or part of any document found on this site is expressly prohibited, unless the author has explicitly granted its prior written consent to so reproduce, retransmit, or republish the material. All other rights reserved.
Although this site includes links providing convenient direct access to other Internet sites, I do not endorse, approve, certify or make warranties or representations as to the accuracy of the information on these sites.
And finally, enjoy your walking!
---
Nearby walks
---