Walk #467: Auchenbreck Burn to Ardlamont Point
| | | |
| --- | --- | --- |
| | | |
| P20036093941 The River Ruel. | | P20036093950 The view back up Loch Riddon. |
General Data
| | |
| --- | --- |
| Date Walked | 09/06/2003 |
| County | Strathclyde |
| Start Location | Auchenbreck Burn |
| End Location | Ardlamont Point |
| Start time | 10.27 |
| End time | 17.21 |
| Distance | 17.1 miles |
| Description | This walk was mainly along roads, but this was made by bearable by some of the superb views that were available. |
| Pack | Today I carried my 30-litre Karrimor HotRock rucksack, which was filled with my packed lunch, waterproof leggings, water bottle and a couple of spare shirts, together with the usual assortment of odds and ends. |
| Condition | I had a little trouble with the toes on my left foot, but this was more annoying than troublesome. It came and went, but at the end of the day they were okay. After my late start I found it hard to get going, and my legs felt more tired than usual all day. |
| Weather | the day started off quite sunny with a little cloud cover, but as the day went on the cloud cover started to increase. Later on there were a few short periods of light drizzle, but I ended the walk a couple of minutes before the rain began. |
| OS map | Landranger number 55 (Lochgilphead & Loch Awe), Landranger number 63 (Firth Of Clyde area) and Landranger number 62 (North Kintyre & Tarbert) |
| | | |
| --- | --- | --- |
| | | |
| P20036093954 The Kyles of Bute. | | P20036093960 The lighthouse on Eilean Dubh. |
| | | |
| --- | --- | --- |
| | | |
| P20036093973 Looking north from Tighnabruaich. | | P20036093977 The seafront in Kames. |
---
Map of the walk
Maps courtesy of Google Maps. Route for indicative purposes only, and may have been plotted after the walk. Please let me
have comments
on what you think of this new format. For a detailed table of timings for this walk, please see
the table file
.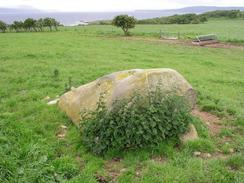 P20036093983 The 'Cup and ring marked rock' to the south of Point Farm.
---
Notes
I feel quite strangely deflated after today's walk. This is quite strange as in many ways it was a lovely walk, particularly in respect of the scenery. I set off late, as I spent a while on the computer writing up the last four day's photographs. Sam had a lie in, and she only got up a few minutes before nine - I can only say that I wish that I could have a lie-in as well. Unfortunately when I wake up in the morning I find it extremely hard to get back to sleep again, and so I prefer to get up and do something instead of lying in bed doing nothing. This morning was a case in point - I woke up at five thirty, and as soon as I woke up my mind started thinking about this and that, and sleep became an impossibility. Dad had agreed to drive me to the start of the walk, so Sam could stay at the campsite for a little longer to get Mervan ready.
A strange coincidence happened this morning - a gentleman Sam was talking to at the campsite lives two miles from Spud Talbot-Ponsonby (the lady who walked the coastline in 1994), and the RDA helps one of his children. We chatted for a while, but unfortunately I soon had to leave to start the walk. It is nice meeting people who have been helped by the RDA, and it is amazing where I have met such people on this trip.
When dad dropped me off on the roadside where I finished yesterday's walk I waited for my GPS to acquire satellites and then set off. It became obvious within a few steps that my legs were not operating as normal - they felt slightly leaden, and they remained like that for the rest of the day. I seemed to have a general lack of energy, and although this did not really matter, as today's walk was not too strenuous, it was annoying nonetheless. This occasionally happens and I cannot put my finger on why it is - I did not feel particularly tired after yesterday's walk, so perhaps I am just a little under the weather.
The A8003 road goes quite high on the hillside in places, and in one place there is a viewpoint from where there was a fantastic view over the Kyles of Bute, Loch Riddon and the Isle of Bute itself. It really was a fantastic view, and I stood there for a few minutes and watched the Colintraive ferry ply its way across the Kyles of Bute. The sun was glinting on the water and it was a magical moment. A little earlier the road goes through a cutting, and engraved on the end of the cutting there is a memorial to a Norse warrior who died on the way to the Battle of Largs in 1263.
By the time that I reached Tighnabruaich my left toes were aching, and so I decided to have a rest. I could not find any pubs, so I nipped into the public bar (called the Shinty Bar) of the Royal Hotel. This was empty, but I sat down and had a pint and a half and wrote up some notes on my Psion. Whilst doing all this I chatted to a couple of the staff, and they kindly gave me a donation in my charity box. Unfortunately when I set off again my left foot was not much better, although the aching did eventually go away for a while.
I was quite tempted to try and walk around the entire peninsular from Ardlamont Point northwestwards, but when I neared An Cnap the coastline looked fairly difficult, and as I was wearing trainers I decided to divert inland. I still wanted to visit Ardlamont Point, however, so I walked for a mile down a track to the point. The view from the point was fantastic, with the Isle of Arran ahead and the Kintyre peninsular to the right. I stood and surveyed the scene for a few minutes before heading back along the track. Beside the track near Point Farm there is a Cup and Ring Marked Rock, and I diverted to have a look at this. I have seen many of these marked on maps in southwestern Scotland, but I had yet to actually examine one. As this one was near I decided to do so, and I must admit I was not very impressed. The stone was a medium-sized boulder lying on its own in the middle of the field, and I could just make out a couple of carved depressions on the surface of the stone. It would be extremely easy to just walk past the stone thinking that it was just a boulder in the middle of the field, but as far as I am concerned that is all it was!
Tomorrow I am faced with a choice; I could either fight my way around the coast to Portavadie and walk north from there, or I could just cut inland along the road to meet the B8000 and walk along that instead. This is far less coastal, but there is no coastal route and so if it is raining I will be tempted to walk along the road instead of pushing my way through overgrowth.
---
Directions
This walk starts off at the junction of the B836 and A886 roads, just to the north of the bridge over the Auchenbreaack Burn. Head northwestwards along the A886 road for a little over a mile until a junction with the A8003 road is reached on the left. Turn left and follow the A8003 southwards as it crosses over the River Ruel and follows the western bank of this. At Shellfield the road passes a junction, before climbing uphill, eventually reaching an absolutely superb viewpoint over Loch Riddon. Continue along the road for about a mile until a picnic area is reached on the left; from here a path descends downhill to the east through the woodland until it meets a path junction. Turn to the right down another path, and immediately after it passes a nice little lake turn to the left down another path that turns northwestwards before reaching a good track at the watrs edge near the lighthouse at Eilean Dubh.
Turn right and follow the track southwards as it heads towards the headland of Rubha Ban, where it turns to the right to head westwards into Port Driseach. The path turns to head southwestwards past Tighnabruich pier and lifeboat station, where the road joins the B8000. At the A8003 junction continue straight on down the B8000 into Kames, and when the road turns sharply to the right turn left down a road and after a couple of hundred yards turn left once again to reach the shore. Follow this road as it heads southwards along the coast out of Kames, passing Blair's Ferry and Rubha Mor Corrachra. Just before the road reaches Carry a path lads off to the left and heads along the foreshore towards Carry Point. At Carry Point turn to the right and head southwards down Blindman's Bay. When a cottage is reached on the right turn right to climb off the foreshore and take a road westwards uphill for a couple of hundred yards until a junction is reached near a phone box. Turn left to head southwards down a track that passes Point Farm and a cup and ring marked rock before reaching the shore by Ardlamnont Point. One there turn back and had northwards back to tehroad by the phone box, where this walk ends.
---
Distances
| From | To | Distance (m) | Ascent (ft) | Descent (ft) |
| --- | --- | --- | --- | --- |
| Auchenbreck Burn | Tighnabruaich | 9.9 | 1552 | 1611 |
| Tighnabruaich | Ardlamont Point | 7.2 | 479 | 400 |
This makes a total distance of 17.1 miles, with 2031 feet of ascent and 2011 feet of descent.


For more information on profiles, ascents and descents, see this page
---
Accommodation
There was not really anywhere convenient to park for the night where we finished the walk, so we drove back towards Kames and parked Mervan in a lay-by near the Kames and Tighnabruaich waste water treatment scheme.
---
Disclaimer
Please note that I take no responsibility for anything that may happen when following these directions. If you intend to follow this route, then please use the relevant maps and check the route out before you go out. As always when walking, use common sense and you should be fine.
If you find any information on any of these routes that is inaccurate, or you wish to add anything, then please email me.
All images on this site are © of the author. Any reproduction, retransmissions, or republication of all or part of any document found on this site is expressly prohibited, unless the author has explicitly granted its prior written consent to so reproduce, retransmit, or republish the material. All other rights reserved.
Although this site includes links providing convenient direct access to other Internet sites, I do not endorse, approve, certify or make warranties or representations as to the accuracy of the information on these sites.
And finally, enjoy your walking!
---
This walk was mentioned in the following routes:
---
Nearby walks
---