Walk #466: Ardtaraig to Auchenbreck Burn
| | | |
| --- | --- | --- |
| | | |
| P20036083905 The view south down Loch Striven. | | P20036083909 Looking back up Loch Striven. |
General Data
| | |
| --- | --- |
| Date Walked | 08/06/2003 |
| County | Strathclyde |
| Start Location | Ardtaraig |
| End Location | Auchenbreck Burn |
| Start time | 08.49 |
| End time | 17.02 |
| Distance | 19.6 miles |
| Description | The first part of this walk was extremely strenuous, and although it improved later on this still did not compensate for the difficulty of the first six miles. |
| Pack | Today I carried my 30-litre Karrimor HotRock rucksack, which was filled with my packed lunch, waterproof leggings, water bottle and a couple of spare shirts, together with the usual assortment of odds and ends. |
| Condition | I feel more or less okay after this walk, although I am very fatigued. The worst problems are that the toes on my left foot hurt, and that I slightly (although not seriously) twisted my left ankle. |
| Weather | The day started off quite sunny and warm, although it had been raining during the night and there were a few ominous clouds about. The first three and a half hours of the walk were dry, and at times sunny, but after this there was nearly three hours of rain, which at times was heavy. The last part of the walk was dry with a few clouds in the sky, although there was not much wind to help the drying out process. |
| OS map | Landranger number 56 (Loch Lomond & Inveraray) and Landranger number 63 (Firth Of Clyde area) |
| | | |
| --- | --- | --- |
| | | |
| P20036083913 The ruined croft at Ardbeg Point. | | P20036083916 The track leading towards Troustan. |
| | | |
| --- | --- | --- |
| | | |
| P20036083927 A ruined building near Strone Point. | | P20036083936 Loch Riddon. |
---
Map of the walk
Maps courtesy of Google Maps. Route for indicative purposes only, and may have been plotted after the walk. Please let me
have comments
on what you think of this new format. For a detailed table of timings for this walk, please see
the table file
.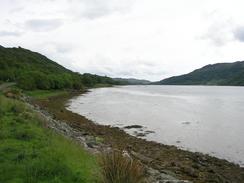 P20036083939 Loch Riddon.
---
Notes
I had not been looking forward to the first part of this walk, as it looked as though it was going to be a bit of a pig. It is unusual for me to find a walk that I would never want to do again, but I am afraid that this is one - it was just not worth the effort that I spent on it. I had been tempted to avoid the entire peninsular that I walked around today and to walk along the top of it along the B836 road instead, and indeed I may have done this if it had been raining hard in the morning. It was not, however, so I set off on the walk. I had two choices on how to get down from the head of Loch Striven to the nearest track at Ardbeg - I could either walk on the high ground at the top of the hills, or keep low around the shoreline. After looking carefully at the terrain on the map and during yesterdays walk along the other side of the loch, I decided that keeping low would be by far the best option, and so this is what I set out to do.
The first part along the B836 from Ardtaraig was easy enough, and it passed a hydroelectric power station near the head of Loch Striven, which was fed by large pipes coming down from Loch Tarsan. At Craigendive I decided to leave the road and set off along the shoreline. I chatted to a farmer there, who told me that the route used to be walked much more frequently than it is nowadays, as twenty years ago the forest was planted, which has made the walk much harder. This makes some sense, as in John Merrill's book about his 1977 walk he describes as making his way across tough terrain through six-foot high bracken, which as now mostly been replaced by coniferous forest.
For the first stretch I kept low along he foreshore, and I managed to walk about a kilometre south with no great difficulty in this manner. One piece of advice that I would give people who want to do this walk is not to do it at high tide - dong it at low tide allows you to get around some of the small cliffs by going under rather than over them, which is far easier. At one cliff this was impossible, however, so I had to go over the top, plunging through an exceedingly rough area of boulders, bracken and conifers. This was all very energetic, and slowed my progress considerably. And this was the way the walk continued all the way to Ardbeg Point - either fighting my way up and down some steep slopes through vegetation, or scrambling over rocky and stony foreshores.
It was therefore with some relief that I finally reached Ardbeg Point. This is a lovely little area of flattish land around the steep hillsides, and there is an old ruined croft that was nearly submerged in bracken. Here I had another choice; I could either plough on along the shoreline, or I could make my way uphill to try and find the track that led through the forest. I decided to do the latter, and strode uphill, using breaks in the trees wherever possible to make my way uphill. Eventually I reached the end of the track, which was little more than a break in the trees that was sometimes filled with Rhododendron bushes. It was better than scrambling along the foreshore, however, so I made my way along the path down to the farm building at Troustan. On the way I managed to slightly twist my left ankle - a classic example of being overconfident on rough ground.
From Troustan a farm track led onwards along the side of the estuary, and this slowly became a better track before eventually becoming a road that lead southwards to Strone Point. I met Sam just beyond the ferry terminal in Colintraive, where I sat down, read the paper and had my lunch. Colintraive was quite nice, and I enjoyed watching the ferry go to and fro from the Isle of Bute as I sat eating my sandwiches. I was fairly tired by this time, and I was quite unsure about whether I wanted to continue or not, but eventually after a little rest I decided that it would be best to, so I walked for another five miles northwards along the western side of Loch Riddon.
I reached the 4,300-mile mark of my route today, and this is a milestone for more than one reason. Firstly it is yet another 100-mile marker, and hence I could have a drink to celebrate (not that I need much reason to have a drink), and secondly 4,300 miles was the distance that Richard and Shally Hunt did on their walk around the coastline in 1995. The difference in mileages between my and their walks is simply due to the fact that I am not taking ferries (they did not even visit the stretch of coastline that I am on at the moment), but I am not trying to denigrate them at all - they set out to do what they wanted to do, and I have set out to do something different. It does feel weird, however, to know that I have about 1,500 miles still to walk and yet have completed the distance that they walked!
My parents had come up to see us again, and coincidentally they had picked the same campsite to stay n that we had booked last night (although this should not be too surprising - the area does not exactly have a surplus of sites). We ended up chatting for ages, before eventually I had to go away and have a shower and eat before going to bed for a solid night's sleep.
---
Directions
This walk starts off on the B836 road at Ardtaraig, on the eastern bank at northern end of Loch Striven, where a footpath meets the road. Follow the road as it heads around the northern end of the loch, descending to reach a power station, where the road curves around the northern end of the loch to cross Balliemore Burn and curves to head southwards. When Craigendive Farm is reached on the left walk own the driveway towards the farm, and then start walking south along the foreshore. There is no path for the next three or four miles to Ardbeg Point; you have to carefully pick your way along the foreshore until the first cliff, where you have to divert uphill through trees and scrubland. Progress is quite hard, but the secret has to be to keep as low as possible and not to enter the forested land, which is separated from the sea in most places by a narrow strip. When you reach Ardbeg Point walk to the southern end of the clearing and then plunge through the trees. There was no path, but I found a couple of deer tracks that helped me through the trees. Head steeply uphill, and when a stone wall is reached cross it and continue uphill.
If you are lucky and have navigates through the woods well then you will have reached a track that is little more than a gap in the trees. Turn left and follow this track as it contours around the hillside southeastwards, before eventually descending and reaching the barn at Troustan. From here a track leads southwards besides the sea, passing a house at Braingortan until a farm is reached at Couston, where the track becomes a road. Follow this road southwards to Stone Point, where the road heads westwards towards Bargehouse Point before turning to head northwestwards along the Kyles of Bute. The road passes the church at Lower Altgaltraig before entering the village of Colintraive. At the ferry terminal the road becomes the A886, and after a kilometre the B886 road heads off to the left. Turn left and follow the B886 road, which skirts the coast much more religiously as it passes Bagh Fearnoch and Eilean Dearg, before it eventually rejoins the A886 road near Salthouse Point. Head north along the A886 road for a couple of miles, and this walk ends when the B836 road comes in from the right, just after the bridge over Auchenbreack Burn.
---
-
Distances
| From | To | Distance (m) | Ascent (ft) | Descent (ft) |
| --- | --- | --- | --- | --- |
| Ardtaraig | Troustan | 7.2 | 1043 | 1178 |
| Troustan | Colintraive | 7.1 | 545 | 538 |
| Colintraive | Auchenbreck Burn | 5.3 | 620 | 568 |
This makes a total distance of 19.6 miles, with 2208 feet of ascent and 2284 feet of descent.


For more information on profiles, ascents and descents, see this page
---
Accommodation
We spent the night at the Glendraurel Caravan Park, Glendaurell, Argyll PA22 3AB. This site was quite nice and well situated for the end of the walk, and they can be contacted on (01369) 820267, and they have a website at www.glendaurelcaravanpark.co.uk. They very kindly knocked a few pounds off the price of the site as we are doing a charity event.
---
Disclaimer
Please note that I take no responsibility for anything that may happen when following these directions. If you intend to follow this route, then please use the relevant maps and check the route out before you go out. As always when walking, use common sense and you should be fine.
If you find any information on any of these routes that is inaccurate, or you wish to add anything, then please email me.
All images on this site are © of the author. Any reproduction, retransmissions, or republication of all or part of any document found on this site is expressly prohibited, unless the author has explicitly granted its prior written consent to so reproduce, retransmit, or republish the material. All other rights reserved.
Although this site includes links providing convenient direct access to other Internet sites, I do not endorse, approve, certify or make warranties or representations as to the accuracy of the information on these sites.
And finally, enjoy your walking!
---
This walk was mentioned in the following routes:
---
Nearby walks
---