Walk #345: Coverack to Mullion Cove
| | | |
| --- | --- | --- |
| | | |
| P20032030093 The path leading towards Black Head. | | P20032030003 The cliffs at Black Head. |
General Data
| | |
| --- | --- |
| Date Walked | 03/02/2003 |
| County | Cornwall |
| Start Location | Coverack |
| End Location | Mullion Cove |
| Start time | 08.10 |
| End time | 16.31 |
| Distance | 16.6 miles |
| Description | This was a lovely and scenic walk over some very good walking terrain that was unfortunately spoilt by the rather inclement weather. |
| Pack | Today I carried my 30-litre Karrimor HotRock rucksack, which was filled with my packed lunch, waterproof leggings, water bottle and a couple of spare shirts, together with the usual assortment of odds and ends. |
| Condition | I am more or less okay after this walk, the main problems being my right eye that was still hurting and my left hand, which I hurt slightly today (see below for details). My ankle ached slightly on occasion, but it was nothing that lasted or was worrying. |
| Weather | The weather today was fairly inclement, with a mixture of sunshine and showers. Once I had passed the Lizard I was exposed to the full fury of the westerly winds, and when this was combined with the rain it was quite a miserable walk. Fortunately the periods when this occurred were quite short, and I soon warmed up once again when the sun started shining once more. |
| OS map | Landranger number 204 (Truro & Falmouth, Roseland Peninsula) and Landranger number 203 (Land's End & Isles of Scilly, St Ives & Lizard Point) |
| | | |
| --- | --- | --- |
| | | |
| P20032030011 The view westwards towards Carrick Luz. | | P20032030016 A rockfall above Spernic Cove. |
| | | |
| --- | --- | --- |
| | | |
| P20032030022 A Shetland Pony on the cliffs. | | P20032030027 A funny wall in Cadgwith. |
---
Map of the walk
Maps courtesy of Google Maps. Route for indicative purposes only, and may have been plotted after the walk. Please let me
have comments
on what you think of this new format. For a detailed table of timings for this walk, please see
the table file
.
| | | |
| --- | --- | --- |
| | | |
| P20032030030 The Devil's Frying Pan. | | P20032030037 A view down into Church Cove. |
| | | |
| --- | --- | --- |
| | | |
| P20032030053 The Lizard lighthouse. | | P20032030067 The view eastwards over Kynance Cove. |
---
Notes
The path on today's walk was exceedingly muddy in places, and this made it quite annoyingly slippy. To make matters worse, in many sections the path consisted of Serpentine that had been polished by fee and was also very slippy. Some of the Cornish-style stiles were made of Serpentine, and these were quite difficult to negotiate after the rain. It was annoying to have such a muddy day after so many days where the going has been reasonable (the last really muddy days were near Lulworth in Dorset). Fortunately most of the walk was fairly flat, and so there were not man ascents and descents that I had to take great care over.
Kynance was lovely, especially the descent down into it. As the tide was out I took the lower route that continued along the beach, and I found the sense of being right beneath the tall cliffs to be quite overpowering. The boulders beside me, which had obviously fallen off the cliffs, were larger than me, and I felt like an ant against such a dramatic landscape. It was a magical moment, and I cannot really explain why I felt this way about it.
It feels really strange to have reached the Lizard, which is the southernmost cardinal point of the British mainland. From now on until I reach Glasgow I will essentially be 'filling up' the country, as I have now gone as far south as I ever will on this walk, and from this point I will always be north of here. The Lizard itself is actually more impressive than I remember Lands End to be, although there is no handy lamppost to show the distance to various points. This is a shame, as I particularly liked the interesting but understated dial on the seawall at the Ness in Lowestoft, the easternmost point of Britain.
I had my first little incident of the walk today (at least as far as I can remember). When I was walking north to the valley a Gew-graze I managed to totally miss the track that lead down off the moors into the valley and I continued on along the side of the valley, mainly because of the heavy rain that made this part of the walk difficult. I soon realised that I had walked to far up the valley, but instead of walking back to attempt to find the path I chose to walk down into the valley cross-country. It was not a long way or a step descent, but as I was passing across an area of scrub my left leg went into a covered hole and I fell into an area of brush that was covered with a spiky plant. I landed on my left-hand side, and the first thing that I could feel was a prickle all the way down my left-hand side and pain in my fingers. I took me a couple of minutes to get up, as whenever I moved new thorns would press through my coat. When I got up I started to find thorns in my left hand, and as I walked I started pulling these out, including one a quarter of an inch long that was stuck at an angle in the fourth finger. This was still aching later on this evening, so I have dosed it with TCP in case it may get infected, and hopefully it will be okay in the morning.
There were several places on today's walk that had been fenced off so that Shetland Ponies could graze the hillsides. It was quite nice seeing these animals in a couple of the enclosures, and it seems an exceedingly good way of keeping the land relatively clear. Later on near Gew-graze I could see what I thought were Highland Cows in the distance, although I could not be sure if they were Highland or a similar type of cow from this distance.
Just before I reached the lighthouse at the Lizard I passed two black wooden huts by the path. These are actually the earliest remaining wireless huts, dating from 1901, and were used as part of Marconi's transatlantic communication efforts. Poldhu Coves, which I shall pass early tomorrow, is apparently an even earlier site, so I shall look forward to seeing the monument there.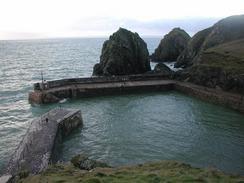 P20032030083 A view of the harbour at Mullion Cove.
---
Directions
During this walk I followed the South West Coast Path, the route of which is detailed in the Ordnance Survey National Trail Guide 9, Padstow to Falmouth (ISBN 1-854108-50-6). Unfortunately the route description is written in reverse to the direction that I am walking, but the 1:25,000 maps in the book are clear and the signs on the ground are very good. Also to be recommended is the South West Coast Path Association guidebook (ISBN 0-907055-04-4), which has less concise directions and no maps, but includes accommodation details and grades each section of the walk according to difficulty. They also publish reverse directions, which are suitable for walking in the direction that I walked the route. They have a website at www.swcp.org.uk, which is well worth a visit.

National Trail Guide: Padstow to Falmouth

SWCP Association guide 2004
---
Distances
| From | To | Distance (m) | Ascent (ft) | Descent (ft) |
| --- | --- | --- | --- | --- |
| Coverack | Cadgwith | 6.8 | 1381 | 1381 |
| Cadgwith | Lizard Point | 3.8 | 1142 | 1083 |
| Lizard Point | Mullion Cove | 6.0 | 1371 | 1457 |
This makes a total distance of 16.6 miles, with 3894 feet of ascent and 3921 feet of descent.


For more information on profiles, ascents and descents, see this page
---
Accommodation
We stayed at the campsite at Skewes Farm, Cury Cross Lanes, Helston TR12 7BD, telephone (01326) 240208, and cost us five pound fifty for the night, including electric hook-up.
---
Disclaimer
Please note that I take no responsibility for anything that may happen when following these directions. If you intend to follow this route, then please use the relevant maps and check the route out before you go out. As always when walking, use common sense and you should be fine.
If you find any information on any of these routes that is inaccurate, or you wish to add anything, then please email me.
All images on this site are © of the author. Any reproduction, retransmissions, or republication of all or part of any document found on this site is expressly prohibited, unless the author has explicitly granted its prior written consent to so reproduce, retransmit, or republish the material. All other rights reserved.
Although this site includes links providing convenient direct access to other Internet sites, I do not endorse, approve, certify or make warranties or representations as to the accuracy of the information on these sites.
And finally, enjoy your walking!
---
This walk was mentioned in the following routes:
---
Nearby walks
---