Walk #282: Wennington to Island Gardens
| | | |
| --- | --- | --- |
| | | |
| P2002B300055 Wennington Church. | | P2002B300059 A pleasantly rural scene underneath the A13(T) in Dagenham. |
General Data
| | |
| --- | --- |
| Date Walked | 30/11/2002 |
| County | London |
| Start Location | Wennington |
| End Location | Island Gardens |
| Start time | 07.45 |
| End time | 14.21 |
| Distance | 16.0 miles |
| Description | This was a fairly boring walk eastwards through the east end of London, trying to stick as close as possible to the river, which was not accessible for long periods in this area. |
| Pack | Today I carried my 30-litre Karrimor HotRock rucksack, which was filled with my packed lunch, waterproof leggings, water bottle and a couple of spare shirts, together with the usual assortment of odds and ends. |
| Condition | I feel absolutely fine after this walk, with absolutely no significant problems to report. |
| Weather | Today's weather was cloudy with no sunny periods, although at times the sun did try to make an appearance. It did not rain at all whilst I was walking, but it did after the walk whilst we were in the pub. |
| OS map | Landranger number 177 (East London, Billericay & Gravesend) |
| | | |
| --- | --- | --- |
| | | |
| P2002B300067 Boats in the Royal Albert Dock. | | P2002B300070 Lock gates leading into King George V Dock. |
| | | |
| --- | --- | --- |
| | | |
| P2002B300076 An old crane beside the river in North Woolwich. | | P2002B300080 The Millennium Dome viewed from the bridge over the River Lea. |
---
Map of the walk
Maps courtesy of Google Maps. Route for indicative purposes only, and may have been plotted after the walk. Please let me
have comments
on what you think of this new format. For a detailed table of timings for this walk, please see
the table file
.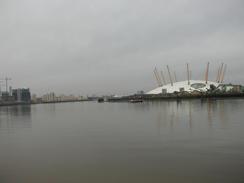 P2002B300091 The river beside the Isle of Dogs.
---
Notes
Yesterday Sam bought me some wrist weights, which I can put on my wrists to try and build up my arms a bit. I wore these all day and at times I swung my arms around to try to make them effective but I felt rather silly doing this along busy roads. I also felt rather silly walking into pubs with my full walking gear on, looking very much as though I was ready to tackle Ben Nevis rather than a stroll around the Isle of Dogs. I was waiting for someone to ask me exactly why I need a GPS around London, but unfortunately (or perhaps fortunately) no one obliged. I never really thought that I would feel like a stranger in London, but that is now the case; I loved the four and a half years that I spent there but I have changed and am now a very different person to who I was then. Just walking around the streets and seeing people bustling about (even on a Saturday) made me remember how much I hated that aspect of London; people should just learn to slow down and relax every so often.
Sam had never really been around the East End before, and she wanted to have a look around it to see some of the places. We had arranged to meet at Blackwall DLR station, but whilst I was walking Sam phoned me up and told me that she wanted to walk with me from Gallions Reach Station. I therefore met her there, and spent the rest of the day walking around the docks, through areas which varied from brand spanking new to very dinghy.
I had spent a year living in Landons Close on the very northern side of the Isle of Dogs, and I had not been back there for over a year. When we walked onto the Isle I was absolutely stunned to see how the area had changed. New flats were going up everywhere, and some of them cost between 300,000 pounds up to 2.5 million pounds! The change in the whole area totally flabbergasted me, particularly as the two new towers at Canary Wharf were now completed. It was with a little relief that I crossed the Blue Bridge and got back to an area, which had not changed that, much.
When we entered the Isle of Dogs we both needed to visit the toilet, so we decided to stop at the Brunswick Arms near the flat where I used to live. I remember this pub as being fairly dinghy, but it is now fairly nice and we had a long chat to the owner about how the area had changed
I had arranged to meet an ex-colleague of mine, Justin, at three in the afternoon. Since I had expected to finish the walk somewhere on the Isle of Dogs I thought that the best place to meet would be Tower Gateway, at he western end of the Docklands Light Railway where there are plenty of nice pubs. Unfortunately when we got to Islands Gardens DLR station it turned out that the DLR was not running west of Canary Wharf, so we had to make a long diversion up to Bow Church and change to the District Line. Despite this we were only a few minutes late and we spent a good four hours chatting away with Justin. It is really nice to catch up with someone whom I used to work with - it is a sort of anchor with my previous life, which currently seems very far away and quite dreamlike.
By the time we left Justin and made our way back to Mervan in Beckton it was fairly dark and it was raining. As we walked up to the van I saw that the rear bike was half-off the bike rack. After looking at it closely it was obvious that someone had undone the strap holding the rear wheel on and had attempted to take the bike off, only to be foiled by the three chains that also hold the bikes on. I found this incredibly annoying even though they had not really caused any damage. To make matters worse, when we retired to bed early at nine at night there was a group of youths outside who were very noisy right outside the van. They continued making noise for an hour or so, which included asking whether there was anyone in the van and knocking on the door, which did not do our nerves that much good. Fortunately it started to rain once more, and fairly soon this dispersed them and we could finally get to sleep. In the morning Sam moved the van to a different place as neither of us felt it was that secure where we had parked it.
Tomorrow I will have the walk around the Thames to the centre of London and back out the other side to do. I am very much looking forward to this, as I love the area around the north bank of the Thames.
---
Directions
This walk starts off at Wennington church, on the road leading into Rainham. From the church turn left to walk westwards along the B1335 road. The road curves to head northwestwards into Rainham and when the station is reached it turns to the right to head northwards, crossing a roundabout leading to a supermarket before meeting the A1306 road at another roundabout.
At this roundabout turn left to walk westwards along the A1306 dual carriageway. The road passes the Ford Dagenham motor works on the left before reaching Kent Avenue. Turn left down Kent Avenue and head southwards, heading over the railway on a bridge and then immediately under the A13(T). After the A13(T) bridge a footpath heads of to the right, passing a lake and crossing a railway siding before reaching the end of Breach Lane. Continue on down the lane for a short distance until it ends, and then turn left down Chequers Lane. This passes to the right of a power station, and before the end of the station turn right down Hindmans Way, which soon becomes Choats Way.
I meant to follow Hindmans Way as it turns to the left to reach the start of a footpath, but I missed the turn and continued on westwards along Choats Way. I soon realised this mistake, so I turned left through a gap in the palisade fences and climbed up onto the top of a little ridge of land. At the top there was an obvious path that led to the river. At the river turn right to follow a rough track westwards alongside the river until a pier is reached. Here turn right to head inland along a rough track. Lorries had churned the area around here up massively, with ankle-deep mud making the going hard. Eventually I managed to reach River Road to the south of an electricity sub-station.
Turn left along River Road and follow it as it curves around to head southwestwards towards the river and then had northwards to the east of Barking Creek. This whole area is very industrial, and it made for a fairly bleak walk. At the top of River Road it meets the A13 East Ham and Barking by-pass at a roundabout. Turn left to walk westwards along the A13. At a footbridge cross over onto the northern side of the road and continue on along the pavement over Barking Creek on a bridge. On the other side of the bridge turn right to descend down some steps onto Jenkins Lane.
Turn right and follow Jenkins Lane as it heads under the A13 Continue on southwards passing a multi-screen cinema on the left before turning right down Eric Clark Lane. Follow this lane until it ends at the A1020 Docks Road, and turn left to head southwards down this road. It does not have a pavement, but the verge was wide enough for this not to be a problem. Pass a traffic-light controlled junction which leads to a supermarket and continue on, passing under a bridge that leads to nowhere before reaching a roundabout beside Gallions Reach DLR station. At the roundabout continue straight on down the A117 Woolwich Manor Way and follow it as it heads over the entrance to the docks. When the road curves to the right continue straight on down Barge House Road towards the river.
At the end of the road turn right to walk along a footpath alongside the river which passes some buildings before reaching the Royal Victoria Gardens. Walk beside the river through the garden until it ends at Pier Road, which leads to the Woolwich Ferry. Walk along Pier Road and then turn right down Store Road and then left down Factory Road. When Factory Road ends beside the Silvertown and City Airport railway station continue straight on westwards along the A1020 North Woolwich Road.
North Woolwich Road passes the large Tate and Lyle factory on the left before it starts to curve to the right. As it starts to curve turn left down North Woolwich Dock Road and follow this until it ends at the Lower Lea Crossing. Turn left and follow the Lower Lea Crossing as it passes over the River Lea and end at a roundabout on the western side of the river. At the roundabout turn left own Aspen Way and then almost immediately bear left own a slip road that leads to a roundabout under Aspen Way.
At the roundabout turn left to head southwards down Preston's Road as it leads onto the Isle of Dogs. It crosses over the entrance to the West India Docks on a large blue drawbridge before it reaches a roundabout. At the roundabout continue straight on down Manchester Road as it curves around the Isle. This walk ends at Island Gardens DLR station, at the southern end of the island.
---
Distances
| From | To | Distance (m) | Ascent (ft) | Descent (ft) |
| --- | --- | --- | --- | --- |
| Wennington | Creekmouth | 6.6 | 52 | 69 |
| Creekmouth | Island Gardens | 9.4 | 89 | 89 |
This makes a total distance of 16.0 miles, with 141 feet of ascent and 158 feet of descent.


For more information on profiles, ascents and descents, see this page
---
Accommodation
We parked Mervan in a street near Beckton Docklands Light Railway Station, which was all well and good except for the fact that the area was slightly dodgy (see notes above).
---
Disclaimer
Please note that I take no responsibility for anything that may happen when following these directions. If you intend to follow this route, then please use the relevant maps and check the route out before you go out. As always when walking, use common sense and you should be fine.
If you find any information on any of these routes that is inaccurate, or you wish to add anything, then please email me.
All images on this site are © of the author. Any reproduction, retransmissions, or republication of all or part of any document found on this site is expressly prohibited, unless the author has explicitly granted its prior written consent to so reproduce, retransmit, or republish the material. All other rights reserved.
Although this site includes links providing convenient direct access to other Internet sites, I do not endorse, approve, certify or make warranties or representations as to the accuracy of the information on these sites.
And finally, enjoy your walking!
---
This walk was mentioned in the following routes:
---
Nearby walks
---