Walk #549: Macduff to Rosehearty
| | | |
| --- | --- | --- |
| | | |
| P20039068193 The view east over the coast. | | P20039068195 Gardenstown Harbour. |
General Data
| | |
| --- | --- |
| Date Walked | 06/09/2003 |
| County | Grampian |
| Start Location | Macduff |
| End Location | Rosehearty |
| Start time | 09.28 |
| End time | 16.39 |
| Distance | 20.5 miles |
| Description | After the lovely walk of yesterday this was a bit of a let-down with far too much road walking, but it was still quite enjoyable nonetheless. |
| Pack | Today I carried my 30-litre Karrimor HotRock rucksack, which was filled with my packed lunch, waterproof leggings, water bottle and a couple of spare shirts, together with the usual assortment of odds and ends. |
| Condition | I feel absolutely fine after today's walk, and I could easily have walked further if I had needed to. The only slight black cloud is that I had two or three twinges from my right foot; these were not at all painful long-term, but were the first for some days. |
| Weather | There was some significant rainfall overnight, and more was forecast for today, but when I woke up this morning there was cloud with some blue sky. It was quite chilly when I set off, but things soon improved and more sun became visible as the day wore on. There was quite a breeze and this was chilly when I was exposed to it, but all in all it was a nice day for a walk. |
| OS map | Landranger number 29 (Banff & Huntly, Portsoy & Turriff) and Landranger number 30 (Fraserburgh, Peterhead & District) |
| | | |
| --- | --- | --- |
| | | |
| P20039068199 The view from the path between Gardenstown and Crovie. | | P20039068211 Pennan. |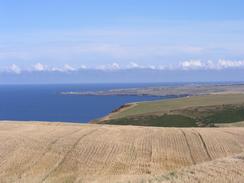 P20039068223 Looking east along the coast.
---
Map of the walk
Maps courtesy of Google Maps. Route for indicative purposes only, and may have been plotted after the walk. Please let me
have comments
on what you think of this new format. For a detailed table of timings for this walk, please see
the table file
.
---
Notes
I woke up this morning to find a cloudy sky with a little blue, which was quite a relief as it had rained during the night. I had wanted to set off quite early, but I ended up prevaricating and hence set off far later than I had intended. I soon came across my first hurdle; I had intended to walk along the cliffs towards the Bay of Cullen and Old Haven, but I soon came across a golf course on the eastern side of Macduff. I could have walked along the edge of the cliffs past the course, but the fairways were busy and I really did not feel like going through all the hassle that so often happens when you have to cross a golf course. I therefore reluctantly made my way past the clubhouse to the A98(T) road, and started a long morning of walking along roads.
I made a little diversion down a road past the farms at the Mill of Melrose and the Mains of Melrose before rejoining the B9031 and following it eastwards, a little way inland from the sea. Another road then took me on into Gardenstown and down a set of sweeping hairpin beds to the attractive harbour area. I had a quick look around this and started on along the path (guarded with signs proclaiming it as being a dangerous path) that took me past a little headland and on into Crovie, another pretty little fishing village. Another track took me steeply up the hill and I then made my way back around towards the B9031 road, the last section taking me across a field and a difficult crossing of a stream valley - I was wearing trainers that were not ideal for that sort of terrain.
Eventually I reached the main road once more and made my way on to Pennan. I had arranged to meet Sam there for lunch, but as I descended down into the village I was slightly concerned. The road was very steep and winding, and at the bottom it squeezes out into the village through a narrow opening between the pub and a house. Sam had got Mervan down okay and was waiting for me in the car park at the far end of the village, so I went over to join her, where a kind lady gave us a nice donation for the charity.
After I had eaten my soup I started walking again, but had to stop at the pub to guide Sam around the corner and up the hill. This took three attempts, not because of any bad driving on Sam's part but because every time we started the manoeuvre a car would come down! Eventually she got up okay and I could explore the harbour area in a little more detail. The village is where the film 'Local Hero' was filmed, and is apparently still visited by people wanting to see the location of the film. It is an absolutely superb little village, and I fell in love with it as I walked around the harbour.
A combination of roads, footpaths and tracks took me uphill and on eastwards to Bankhead and past Dundarg Castle. The footpath and track sections were enjoyable, but I found the road stretch to be quite boring and annoying - I just wanted to have a more interesting walk.
The long plod along the road was fairly boring, and so near the intriguingly-named farm at Egypt I decided to leave it and try to make my way along the coast. At a house I chatted to a man and his dog (who did not like the look of my walking poles and growled at them continuously), who told me the path down to the cliffs was overgrown, but it was passable. for this reason I chose not to take the path (which was indeed overgrown with thistles amongst other things) and walked across the fields to the edge of the cliffs. The walk eastward from here was fairly easy, and he views west and east along the cliffs were very nice. Eventually I reached the outskirts of Rosehearty, and at a car park by a strange lookout-tower style structure I met a few scuba divers who looked as if they were getting ready for a dive, although it was quite late in the afternoon.
When I reached Rosehearty I was very much in two minds about whether to continue on for the four or five miles to the campsite in Fraserburgh. I certainly felt fit enough to do it, but it was getting late in the afternoon and if I had walked it then I would have arrived at the campsite well after six. Normally a late finish does not matter much, but when we have access to mains power (i.e. are staying at a campsite) it is best for me to spend as long on the computer as possible and get lots of work done. So with regret I decided to end the walk in Rosehearty, having done a little over twenty miles. This evening as we sat in the campsite we saw a most unusual sight - a large ship went past, which looked veer much like a cruise ship. It had at least four decks in the main part of the superstructure (deduced by counting the rows of portholes), but also had five large sails! It looked quite a modern ship as it had a large radar mast, but I have never, ever, seen such a ship with sails!
Tomorrow I shall probably do a little more work on the computer and then get Sam to drop me off back in Rosehearty. The initial walk into Fraserburgh promises to be quite nice, and this will be followed by a long walk along the beach for the rest of the day. We are going to be spending the night at a B&B at Rattray Head, which promises to be a very luxurious evening for us! I may well end up walking past there, in which case Sam will have to pick me up and drive back to the B&B; I always feel bad about Sam having to do this, and this is why, where possible, I always end a day's walk at a place where we can park Mervan for the night.
---
Directions
This walk starts off in the car park by the aquarium in Macduff. Leave the car park and follow the road eastwards alongside the shore. I had intended to continue along the road and cliffs to Old Haven, but when I reached a golf course I turned to the right and walked past the clubhouse to gain access to the A98(T). Once the A98(T) is reached turn left and follow it southeastwards until the junction with the B9031 road is reached. Turn left along the B9031 road and follow it eastwards for about a mile, and then turn left down a minor road that heads past the Mill of Melrose and the Mains of Melrose before rejoining the B9031 road.
Continue eastwards along the B9031 road until it reaches a junction with the B9123 road. Turn left to head northwards along the B9123 as it descends down a series of zigzags to reach the harbour in Gardenstown. At the harbour turn right and follow a road through a set of harbourside buildings until it ends, and then join a footpath that runs along the foreshore for a short distance before climbing up onto the cliffs and rounding a headland to reach Crovie.
In Crovie turn right before the pier is reached to climb steeply uphill along the access road to the village. Shortly after the first sharp right-hand bend turn left down a track that loops around a stream and passes a house at Stonehouse. After this turn left down another, rougher, track that dips steeply into and out of a little valley and climbs up towards Crovie Farm. Follow this track as it becomes firmer and swings around before ending at a T-junction with a road to the southwest of the farm at Northfield.
Here I continued straight on across fields, descending down into a steep and overgrown valley before emerging out onto the B9031 road near the farm at Jacobshall. Turn left and walk along the B9031 road as it descends towards Cullykhan Bay and up the other side; at a crossroads turn left to descend down into the village of Pennan.
At the T-junction at the bottom of the hill in the village of Pennan turn right to walk past the harbour to the eastern end of the village. Here a path leads steeply uphill, signposted for New Aberdour. Follow this path uphill (it is very distinct on the ground) until Pennan Farm is reached.
Here the path becomes a track that can be followed towards the farm at East Mains; however at a right-hand bend just before the farm is reached the footpath leads off through a gate on the left and down a green lane before ending at another track after a few hundred yards. Turn left down this track and after another couple of hundred yards turn left down another track that heads eastwards towards Clinterty Farm and Bankhead before eventually descending down and up a valley and ending at a road near Mill Farm.
Follow this road as it heads eastwards and slowly curves to head in a more northeasterly direction, passing near to Dundarg Castle. When a track is met on the left leading to Egypt, turn left and follow this track for a short distance until it ends at a farm, and then continue northwards across fields until the edge of the cliff is reached. Turn right and follow the cliffs northeastwards for a couple of miles until a car park is met on the western outskirts of Rosehearty. Enter the car park and follow the access road until it ends at a junction with another road; here continue straight on and follow the road until it reaches the harbour.
---
Distances
| From | To | Distance (m) | Ascent (ft) | Descent (ft) |
| --- | --- | --- | --- | --- |
| Macduff | Gardenstown | 8.5 | 1017 | 961 |
| Gardenstown | Pennan | 4.3 | 1194 | 1106 |
| Pennan | Rosehearty | 7.7 | 955 | 1083 |
This makes a total distance of 20.5 miles, with 3166 feet of ascent and 3150 feet of descent.


For more information on profiles, ascents and descents, see this page
---
Accommodation
We spent the night at the Esplanade Caravan Park, Aberdeenshire Council, Harbour Road, Fraserburgh, Aberdeenshire, Grampian AB43 9TB. This site was fairly clean and tidy and was very handy for the beach, which it had great views over. It cost us ten pounds fifty pence for the night. They can be contacted on (01346) 510041.
---
Disclaimer
Please note that I take no responsibility for anything that may happen when following these directions. If you intend to follow this route, then please use the relevant maps and check the route out before you go out. As always when walking, use common sense and you should be fine.
If you find any information on any of these routes that is inaccurate, or you wish to add anything, then please email me.
All images on this site are © of the author. Any reproduction, retransmissions, or republication of all or part of any document found on this site is expressly prohibited, unless the author has explicitly granted its prior written consent to so reproduce, retransmit, or republish the material. All other rights reserved.
Although this site includes links providing convenient direct access to other Internet sites, I do not endorse, approve, certify or make warranties or representations as to the accuracy of the information on these sites.
And finally, enjoy your walking!
---
This walk was mentioned in the following routes:
---
Nearby walks
---