Walk #446: Palnackie to Kirkcudbright
| | | |
| --- | --- | --- |
| | | |
| P20035182847 The path through the woodland to the south of South Glen. | | P20035182848 Wildflowers on the side of Castle Hill. |
General Data
| | |
| --- | --- |
| Date Walked | 18/05/2003 |
| County | Dumfries and Galloway |
| Start Location | Palnackie |
| End Location | Kirkcudbright |
| Start time | 09.20 |
| End time | 17.50 |
| Distance | 23.4 miles |
| Description | This was quite an enjoyable walk, with a mixture of on-road, footpath and cliff top walking. |
| Pack | Because I slightly hurt my right shoulder yesterday, I decided that it would be best if I did not take a pack with me today, to give it a chance to recover. Instead I used Sam's bum bag, which allowed me to carry two small bottles of water, spare batteries and a few other little bits and bobs. |
| Condition | I generally feel okay after this walk. I have a couple of hotspots on my right foot, and my right shoulder ached towards the end of the walk, but aside from these niggles I had no problems. |
| Weather | Today was another day of sunshine and showers, some of which were quite heavy. On the exposed cliff tops a heavy and gusting wind was coming off the sea, but I did not notice this on inland sections of the walk. The heaviest shower - with the rain lashing down and a few minutes of hail - thankfully occurred when I was safely ensconced in Mervan, eating my lunch. |
| OS map | Landranger number 84 (Dumfries & Castle Douglas) |
| | | |
| --- | --- | --- |
| | | |
| P20035182861 Orchardton Tower. | | P20035182867 The Hass Burn in Auchencairn. |
| | | |
| --- | --- | --- |
| | | |
| P20035182868 Looking northwards over Auchencairn Bay. | | P20035182876 A lifeboat and helicopter practicing in the bay. |
---
Map of the walk
Maps courtesy of Google Maps. Route for indicative purposes only, and may have been plotted after the walk. Please let me
have comments
on what you think of this new format. For a detailed table of timings for this walk, please see
the table file
.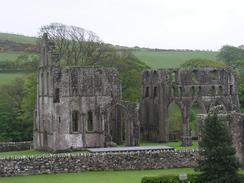 P20035182896 The remains of Dundrennan Abbey.
---
Notes
The rain had been lashing down on Mervan for most of the night, and so when I got up I was expecting to have a wet day. Fortunately there were gaps in the rain, and took advantage of one of these to set off. I passed the little village shop in Palnackie, where I bought myself a chocolate bar, and headed off to walk around Castle Hill to Almorness House. This path was in places very muddy, but nonetheless it was a quite agreeable walk, with some nice woodland walking and clearances filled with wild flowers. Later on the path rose up the hillside, and nice views were available across Rough Firth towards Rough Island.
From Almorness House the walk was mainly along roads for the next few miles, but I reached an absolute highlight of today's walk at Orchardton, where there is a lovely round house tower. This is unique in Scotland, other towers being either square or rectangular, with other rooms built off to one side. This tower was probably built around 1450 by John Cairns, and it is still substantially complete. I initially went into the storage cellar, which was low but complete, before going around the tower and climbing up to enter the main house. The house is of a very small diameter, but the walls are very thick, and this has probably saved the house from more destruction. Some steps led up a tight spiral staircase towards the top of the tower, but I did not fancy climbing up there. I had a good look around and tried to imagine what the tower would have been like when it was in use, before leaving and starting the long road trudge as far as Auchencairn.
When I reached the public car park next to Balcary Hotel, I saw a Range Rover that looked like the one owned by my parents. Closer inspection showed that it was theirs, so it was obvious that they were doing a walk locally. I had no idea where they were, however, and so I set off to head around Balcary Hill to Balcary Point. Out to sea the RNLI and Coastguard were practicing, and there were four inshore and one offshore lifeboats, plus a coastguard helicopter, between the point and Hestan Island (which has a weirdly named place called Daft Ann's Steps on it - I would love to know who Ann was, and why she was daft!). About half a mile after Balcary Point I caught up with my mum and dad. I walked with them for a few minutes as I chatted to them, before setting off once more along the coast. This section of path was lovely, if a bit breezy, and the views would have been expansive if only the weather had been slightly better. The path soon dropped off the cliffs and followed a path along the edge of Rascarrel Bay, and as the tide was high the sound of the waves crashing nearby was superb.
Just before I reached Rascarrel I came to a flooded section of path at the mouth of the Tacher Burn. As the tide was high the path had been flooded by seawater, and so I had to carefully make my way along the hillside past this short section of path. After this I passed through Rascarrel farm, and I then headed towards the path that is marked on the map, heading west uphill. A young lad came out of the farm and said that it was private land, but when I told him what I was doing he allowed me to cross their land. I had to divert away slightly away from the path, as there was a bull in the field that the path passed through, and I wished to avoid this.
I was quite grateful when I reached Sam, who was waiting for me in Mervan by the church in Dundrennan. I had not yet had any lunch, and so I devoured the sandwiches that she had made for me. It started to rain very heavily, and so I started to read the paper as I waited for it to end. Mum and dad pulled up in their range rover, and dad came into say a quick hello. Eventually the rain ended and I restarted my walk, although I took a short diversion to take a few photographs of the elegant ruins of Dundrennan Abbey, which is unfortunately nowhere near as complete as New Abbey was the other day.
The last six miles of the walk was a long plod along the A711 road, which was fortunately very quiet. I decided to miss out the walk along the roads through the army ranges, which are to the south of the road, as it would have added three miles on, and would have delayed my reaching Kirkcudbright by an hour. Kirkcudbright itself was a lovely little town, and fortunately my route took me through the centre of it, until I met Sam by the ruins of MacLellan's Castle, which were quite impressive.
This evening mum and dad took us out for a meal to the pub and restaurant that is next to the golf course on the site. Afterwards I went and had a bath in one of the two bathrooms - the bath was massive, and I could totally submerge myself under the water, something that I have always loved doing in baths. I let myself soak for about an hour, allowing my body to totally relax for the first time in ages. This was a great way to end a long day's walk, and I was glad that I got the opportunity to have the bath.
---
Directions
This walk starts off at the Barlochan caravan park in Palnackie. Leave the caravan park and turn right to walk south for a few yards down the A711 road until a road goes of to the left. Follow this road into the village of Palnackie, and then take a road that leads off to the left, which passes a shop before heading uphill past North Glen. On the approach to South Glen turn to the right down a track that heads above the farm at South Glen before descending onto the valley floor. The first part of this path is very overgrown, but it becomes slightly less overgrown but more boggy in patches as it heads southwards past Castle Hill. The path climbs uphill through the woodland, before curving to the right to join a track that leads past Almorness House. Follow the track as it curves around to head northwards and eventually becomes a surfaced public road. A short distance past The Holm a road leads off to the left, passing Orchardton Tower and heading northwestwards before ending at the A711 main road.
Turn left and head south down the A711 for three miles until Auchencairn is reached. Cross the bridge over the Hass Burn, and on the other side turn left past the war memorial and head southeastwards for a couple of miles until the road ends at a car park by the hotel at Balcary Bay. From here follow a footpath that leaves the car park and heads through a field, before diving into some woodland that leads to Balcary Point. It then climbs up along an obvious path onto the top of the cliffs past Airds Point, before descending to walk along the foreshore westwards past Rascarrel Bay until the mouth of Tacher Burn is reached. Do not cross the footbridge over the burn, but continue on northwestwards along the track for a short distance until it ends at a road.
From here I turned left to walk across the burn and into the farm at Rascarrell. Here I turned to the right to walk past a barn down a track. This passes to the left of a little cottage, after which I turned to the left and climbed uphill to the west. Note that this is private land, and I got warned for walking on it, so you may wish to choose a different route. Pass an area of little woodland and then join a track to the south of Nether Hazelfield, which can be followed westwards past Dons Knowe House, and then on southwestwards until it ends at a bend in a road. Continue straight on down this road, which curves around to pass Upper Rerrick and approaches a cemetery. The road then curves to the right and heads westwards and then northwards to end at a T-junction with the A711 road in Dundrennan.
Turn left and walk southwestwards along the A711 road, pass the church and the remains of the abbey, before the road curves to the right and heads westwards for nearly four and a half miles until Mutehill is reached. Here the road curves to the right and heads northwards for another mile and a half into Kirkcudbright. Head through the town, and just before the bridge is reached the tourist information office is down a road to the left, near the ruins of the church. This walk ends by the tourist information office in the town.
---
Distances
| From | To | Distance (m) | Ascent (ft) | Descent (ft) |
| --- | --- | --- | --- | --- |
| Palnackie | Auchencairn | 7.8 | 807 | 817 |
| Auchencairn | Dundrennan | 9.3 | 1421 | 1253 |
| Dundrennan | Kirkcudbright | 6.3 | 446 | 659 |
This makes a total distance of 23.4 miles, with 2674 feet of ascent and 2729 feet of descent.


For more information on profiles, ascents and descents, see this page
---
Accommodation
We stayed at the Brighouse Bay Holiday Park, Borgue, Kirkcudbright, Dumfries and Galloway DG6 4TS. They can be contacted on 01557 870267, or by email at bofb@brighouse-bay.co.uk, and they have a website at www.gillespie-leisure.co.uk. This site was reasonably nice and very large, with a full championship golf course. Best of all it had a massive bath, which always make a campsite good in my eyes. Unfortunately the service was absolutely dire, and they charged us much more than they said that they would over the phone. This morning we also had some quite severe fluctuations in the power supply, and some of the facilities that we needed to use were off-line. All in all this should have been a very nice site, but was exceedingly let down by the staff in our eyes.
---
Disclaimer
Please note that I take no responsibility for anything that may happen when following these directions. If you intend to follow this route, then please use the relevant maps and check the route out before you go out. As always when walking, use common sense and you should be fine.
If you find any information on any of these routes that is inaccurate, or you wish to add anything, then please email me.
All images on this site are © of the author. Any reproduction, retransmissions, or republication of all or part of any document found on this site is expressly prohibited, unless the author has explicitly granted its prior written consent to so reproduce, retransmit, or republish the material. All other rights reserved.
Although this site includes links providing convenient direct access to other Internet sites, I do not endorse, approve, certify or make warranties or representations as to the accuracy of the information on these sites.
And finally, enjoy your walking!
---
This walk was mentioned in the following routes:
---
Nearby walks
---