Walk #445: Southerness Point to Palnackie
| | | |
| --- | --- | --- |
| | | |
| P20035172808 Heading westwards along Mersehead Sands. | | P20035172813 The track leading northeastwards through the Mersehead Nature Reserve. |
General Data
| | |
| --- | --- |
| Date Walked | 17/05/2003 |
| County | Dumfries and Galloway |
| Start Location | Southerness Point |
| End Location | Palnackie |
| Start time | 08.25 |
| End time | 17.48 |
| Distance | 22.1 miles |
| Description | This was quite an enjoyable walk, with some nice beach and cliff top walks being broken up by some long stretches along main roads. |
| Pack | Today I carried my 30-litre Karrimor HotRock rucksack, which was filled with my packed lunch, waterproof leggings, water bottle and a couple of spare shirts, together with the usual assortment of odds and ends. |
| Condition | I slightly hurt my right shoulder today (see below), but aside from this I could easily have walked further if the need had arisen. Both of my ankles gave me no trouble today, which is quite a relief. |
| Weather | It rained all last night, and so it was a relief when I woke up this morning and it was dry. There were some quite heavy clouds above, and so I was glad that I was fortunate enough that I got a couple of hours of walking in the dry before it started to rain. It was not a cold day and there was not much wind, so despite the rain I did not get cold. The rain carried on at various intensities, from quite fierce to drizzle, for the rest of the day. |
| OS map | Landranger number 84 (Dumfries & Castle Douglas) |
| | | |
| --- | --- | --- |
| | | |
| P20035172815 The river at Caulkerbush. | | P20035172823 Looking northeast along the cliffs. |
| | | |
| --- | --- | --- |
| | | |
| P20035172827 Heading westwards along the cliffs. | | P20035172833 Pretty colours near the Mote of Mark. |
---
Map of the walk
Maps courtesy of Google Maps. Route for indicative purposes only, and may have been plotted after the walk. Please let me
have comments
on what you think of this new format. For a detailed table of timings for this walk, please see
the table file
.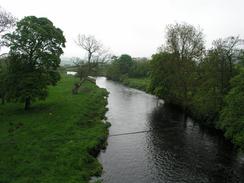 P20035172840 Buittle Bridge over Urr Water.
---
Notes
This was yet another wet day, although fortunately it was not as wet as it was yesterday. It did not rain for the first couple of hours of the walk, which gave me a nice walk along the beach, although any views were rather obscured by the low cloud. There was quite a lot of litter on the beach, which is always a shame to see. I met a local early on who told me that it is possible to walk across to Sandyhills Bay at low tide, which saves the walk up to Caulkerbush to cross Southwick Water.
As I was walking along the road I received a text message from Graham asking me how far I had walked between the Severn Bridge and Gretna. I phoned Sam up to get my mileage when I was at Severn Bridge, and I then phone Graham up with the total (which was 1326.4 miles). I have walked further than he will on this stretch, as my total includes Anglesea and the walks to Snowdon, Scaafell Pike and the walk down to cross the Mersea at Runcorn Bridge, all of which probably added a couple of hundred miles onto my total. We chatted for about twenty minutes about our respective walks, and it is great to think that we will be meeting again soon. His walk is going very well, and he is now past Ullapool and heading further south. It is so nice to be able to talk to someone who knows exactly how it feels to be walking for a year. Only someone who is doing it, or has done it, can know exactly how it feels - both mentally and physically - to be doing the walk.
As I was walking from Port o'Warren along the cliffs I met a couple of ladies who were walking along the cliffs. We chatted for a few minutes, and it turns out that one of them had heard me on the radio the other day. We talked about the walk and the local area, and they were kind enough to give me a donation for the charity. It feels really strange to meet people who have heard me on the radio, in a way that I cannot adequately explain. I am not someone who goes out to get publicity for myself, but the walk really demands it to a certain extent.
A few minutes later I was crossing a stone wall using some steps built into the wall when I slipped and found myself lying in pain on the ground. My right shoulder felt like it was dislocated, and my right hand and bottom were hurting. It was obvious what had happened; the second step from the top of the wall was angled downwards, and my foot had slipped off the wet step. My right hand had been holding my walking pole, and as I had fallen the weight of my body had wrenched my shoulder before my grip loosened and my hand slid down the pole and by bum hit the bottom step before I eventually ended up sprawled on the ground. Once the initial shock had died down I checked myself over, and found that although the shoulder really hurt, I still had full movement. I carefully picked myself up, and continued on the walk.
The rest of the walk as far as Kippford was very nice, with some beautiful scenery and cliffs, but unfortunately the weather rather spoilt it. Rough Island, near Rockcliffe, looked lovely, and I enjoyed the walk past it. I met Sam in a car park in Kippford, and she kindly made me a coffee whilst I warmed up after the drenching that I had suffered. My shoulder was really aching, and so I decided that I would do the next stretch without my pack, which would hopefully give it a chance to recover slightly.
Without my pack encumbering me I managed to keep up a good pace along the road as far as the outskirts of Dalbeattie, which I skirted around. The little of the town that I saw was not very impressive, but as I did not go into the centre I cannot really judge it. Sam was waiting for me in Mervan, to see if I was fit enough to continue. I had a quick word with her to say that everything was fine, and after snaffling a Snickers bar I walked on, and Sam drove off to the campsite.
I reached the campsite in quite good time, and I found Mervan quite near the toilet block. The site looked quite well ordained, but I was so tired that I entered it and promptly collapsed. Sam had bought a bottle of wine at the site shop, and during a lovely dinner of bangers and mash we drunk it - a great way to end the day. Afterwards I had a much-needed shower, and Sam gave my shoulder, feet and legs a massage, which helped relieve the aching somewhat.
---
Directions
This walk starts off at the car park by The Nineteenth Hole pub in Southerness. Turn right out of the car park and head southeastwards down the road for a short distance until the beach is reached near the lighthouse. Turn right and head westwards along the beach for about four miles, until a pole is reached near grid reference NX918552. Turn right to head inland at the pole, and follow an obvious path across the marshland. This eventually joins the end of a track, which can be followed northeastwards, passing Mersehead Cottages before meeting a road at Beck Bridge. From here, head straight on for a short distance until the road ends at a T-junction with the A710 road.
Turn left to walk along the A710 into Caulkerbush, where the road crosses Southwick Water at Southwick Bridge. Continue on along the A710 as it heads southwestwards for a little under three miles until Sandyhills is reached. Turn left into the car park at Sandyhills and then join the beach, and walk south along this to a bridge over a little stream. Cross the bridge and then climb uphill along an obvious track to the viewpoint at the top of The Torrs. The path as far as Rockcliffe is well signed, and it climbs up and down, passing through Port o'Warren, where it meets a road. Turn left down this road and shortly before it ends turn right along a path that climbs uphill once more.
The path heads westwards along the top of the cliffs until Castle Point is reached. The path then turns to the right and descends down to the foreshore, before climbing up and joining a road to enter Rockcliffe. From Rockcliffe there a choice of paths that can be followed; the Jubilee path climbs up to the Mote of Mark, whilst I picked a lower path that headed on the seaward side of the Mote of Mark through some woodland, and eventually joined a private road that headed northwards into Kippford. In Kippford join the road and follow it as it curves away from the water and climbs uphill for a mile untl it ends at a T-junction with the A710 road. Turn left and follow the A710 northwards for a little over three miles until the road junction with the A711 in Dalbeattie is reached, Turn left and walk westwards for a kilometre until Buittle Bridge is reached. At the bridge turn left and walk southwards along the A711 for two and a half miles, until the Barlochan caravan park is reached on the right, on the northern outskirts of Palnackie, where this walk ends.
---
Distances
| From | To | Distance (m) | Ascent (ft) | Descent (ft) |
| --- | --- | --- | --- | --- |
| Southerness Point | Sandyhills | 8.4 | 446 | 433 |
| Sandyhills | Kippford | 6.5 | 1076 | 1096 |
| Kippford | Caravan park in Palnackie | 7.2 | 459 | 417 |
This makes a total distance of 22.1 miles, with 1981 feet of ascent and 1946 feet of descent.


For more information on profiles, ascents and descents, see this page
---
Accommodation
We parked Mervan at the Barlochan Caravan Park, Palnackie, Castle Douglas, Dumfries and Galloway DG7 1PE. This site was quite nice and very tidy, with very warm showers. It cost us eleven pounds for the night including electricity hook-up, and they can be contacted on (01556) 600256 or (04557) 870267.
---
Disclaimer
Please note that I take no responsibility for anything that may happen when following these directions. If you intend to follow this route, then please use the relevant maps and check the route out before you go out. As always when walking, use common sense and you should be fine.
If you find any information on any of these routes that is inaccurate, or you wish to add anything, then please email me.
All images on this site are © of the author. Any reproduction, retransmissions, or republication of all or part of any document found on this site is expressly prohibited, unless the author has explicitly granted its prior written consent to so reproduce, retransmit, or republish the material. All other rights reserved.
Although this site includes links providing convenient direct access to other Internet sites, I do not endorse, approve, certify or make warranties or representations as to the accuracy of the information on these sites.
And finally, enjoy your walking!
---
This walk was mentioned in the following routes:
---
Nearby walks
---