Walk #424: Lytham St Anne's to Thornton
| | | |
| --- | --- | --- |
| | | |
| P20034251909 Lytham St Anne's pier. | | P20034251913 The roller coaster at Blackpool Pleasure Beach. |
General Data
| | |
| --- | --- |
| Date Walked | 25/04/2003 |
| County | Lancashire |
| Start Location | Lytham St Anne's |
| End Location | Thornton |
| Start time | 09.05 |
| End time | 15.32 |
| Distance | 17.3 miles |
| Description | This walk is hardly a classic, as it follows roads and promenades northwards through Blackpool before curving around to Fleetwood and beyond. |
| Pack | Today I carried my 30-litre Karrimor HotRock rucksack, which was filled with my packed lunch, waterproof leggings, water bottle and a couple of spare shirts, together with the usual assortment of odds and ends. |
| Condition | I am more or less okay after this walk, and I could have walked further. The biggest problem I had was with my right ankle yet again. I wore my third pair of boots again today, but instead of using my old ankle brace I used a new one of a different design. This hurt the inside of my right ankle, and when I took my boot off it became obvious that the brace had a seam right where I am having trouble with my ankle. I changed into my trainers for the last couple of miles, but my ankle was still sore this evening. |
| Weather | This was the first day where it has rained all day for some time, although in a strange way it did not matter that much. The rain was continuous but it was never very hard, and this meant that I found it much easier to cope with. There was not much wind and it was not a cold day, which again made the rain easier to cope with. All in all it could have been much worse. |
| OS map | Landranger number 102 (Preston & Blackpool, Lytham St Anne's) |
| | | |
| --- | --- | --- |
| | | |
| P20034251916 Looking north through Blackpool. | | P20034251921 Blackpool Tower. |
| | | |
| --- | --- | --- |
| | | |
| P20034251928 Heading north through Blackpool. | | P20034251931 The promenade near Fleetwood. |
---
Map of the walk
Maps courtesy of Google Maps. Route for indicative purposes only, and may have been plotted after the walk. Please let me
have comments
on what you think of this new format. For a detailed table of timings for this walk, please see
the table file
.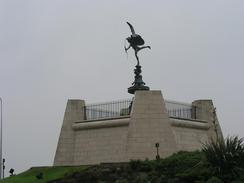 P20034251937 A statue on a roundabout of the A585(T) in Fleetwood.
---
Notes
The rain was falling when I woke up, and I soon realised that I would be faced with my first totally wet day since the Gower Peninsular in South Wales, which seems like an age ago. I waited in Mervan with Sam so that we could listen to the broadcast of my interview on BBC Radio Lancashire, and it was not a bad interview. When this was over I wrapped myself up warm and stepped out into the rain. I was surprised to find that this was not too hard, and although it rained continuously all day I did not get soaked.
There could not be more of a difference between Lytham St Anne's and Blackpool. Lytham St Anne's is quite smart and almost dignified, whereas Blackpool is much more commercial and almost tacky. It was my first trip to the resort and I was not very impressed with Blackpool, but then again it is not easy to be impressed with any seaside resort in the rain - they always seem dingy and almost seedy in the rain. I was hoping that I would be impressed by Blackpool Tower, but I was not - although I could see it from miles away (even in the miserable weather) it was let down by the surrounding buildings. A tower should be separate from other buildings so that the scale and grandeur can be seen from many angles, rather than huddled amongst a clutter of grubby buildings.
The trams in Blackpool were something that I had many memories of from television in the past, green and cream double-decker machines going through the town past the pier. I was surprised to see that the majority of them were single-deck cars with advertising plastered all over them I only saw one in traditional livery, which is a shame. Despite this it was very nice to see an original tram system still in use in this country, after so many were ripped up and destroyed in the fifties and sixties. If the weather had been nice then I would have been extremely tempted to take a trip up and down along the system from Fleetwood, but I did not fancy doing this in the rain.
I walked past five piers today, one in Lytham St Anne's, three in Blackpool and one in Fleetwood. Of these only two, the Blackpool North Pier and Lytham St Anne's Pier, were really worthy of the name in my opinion. Fleetwood Pier was short, stumpy and had an ugly building on top of it; Blackpool South Pier had a fairground on top of it. The Blackpool central pier was better but far too commercialised, but the north Pier was reasonable.
I met Sam in Fleetwood, and as I had not yet stopped today I used the opportunity to get into the dry so that I could eat my sandwiches. I had only walked fifteen miles so far, and as the rain appeared to have eased slightly I decided to walk on. My boots had been hurting my right ankle for the last few miles, so I used the opportunity to change into my trainers for the last couple of miles.
This evening we relaxed in Mervan, but we did make a trip out to the Bourne Poacher pub for a quick drink. I am absolutely shattered, as I have had two nights with disturbed sleep, so I should sleep very well tonight. This area is not very bad, and after Sam had cooked me a lovely meal I went for a quick fifteen-minute stroll through the area, which is a rather typical suburban one.
---
Directions
This walk follows the Lancashire Coastal Way for the majority of the time, as far as Fleetwood. The walk starts off by the pier in Fleetwood. Either walk northwards along the beach or follow the road past the pier as it skirts the seafront for about a mile before turning to the right and then the left to join the A584 road.
Follow the A584 road as it heads northwards past some sand dunes until it jinks to the left by the end of the tramline. Here a promenade begins, and this promenade can be followed northwards through Blackpool for about ten miles until it starts to curve to the right to head eastwards into Fleetwood.
When the promenade ends by the pier in Fleetwood join the road that curves around past the lifeboat station and eventually head southwestwards to become the A585(T) road. The road continues on southwestwards out of Fleetwood, and at the third roundabout turn left down the B5268 road. This walk ends a little under a kilometre down this road, where a footpath leads off to the left past an industrial estate.
---
Distances
| From | To | Distance (m) | Ascent (ft) | Descent (ft) |
| --- | --- | --- | --- | --- |
| Lytham St Anne's | Blackpool | 5.2 | 66 | 46 |
| Blackpool | Fleetwood | 9.3 | 249 | 262 |
| Fleetwood | Thornton | 2.8 | 13 | 26 |
This makes a total distance of 17.3 miles, with 328 feet of ascent and 334 feet of descent.


For more information on profiles, ascents and descents, see this page
---
Accommodation
The landlord of the Bourne Poacher pub allowed us to stay in the pubs car park, which was kind of him. This was convenient for the pub and a few other facilities, and kept us off the roadside.
---
Disclaimer
Please note that I take no responsibility for anything that may happen when following these directions. If you intend to follow this route, then please use the relevant maps and check the route out before you go out. As always when walking, use common sense and you should be fine.
If you find any information on any of these routes that is inaccurate, or you wish to add anything, then please email me.
All images on this site are © of the author. Any reproduction, retransmissions, or republication of all or part of any document found on this site is expressly prohibited, unless the author has explicitly granted its prior written consent to so reproduce, retransmit, or republish the material. All other rights reserved.
Although this site includes links providing convenient direct access to other Internet sites, I do not endorse, approve, certify or make warranties or representations as to the accuracy of the information on these sites.
And finally, enjoy your walking!
---
This walk was mentioned in the following routes:
---
Nearby walks
---