Walk #415: Rhos-on-Sea to Point of Ayr
| | | |
| --- | --- | --- |
| | | |
| P20034161561 Looking back towards Rhos-on-Sea from Colwyn Bay. | | P20034161566 The view along the coast from near Penmaen Rhos. |
General Data
| | |
| --- | --- |
| Date Walked | 16/04/2003 |
| County | Conwy, Clwyd |
| Start Location | Rhos-on-Sea |
| End Location | Point of Ayr |
| Start time | 09.05 |
| End time | 1614 |
| Distance | 19.9 miles |
| Description | This was a fairly boring and uninteresting walk, mainly following the national Cycle Network route 5 eastwards through Rhyl and Prestatyn. |
| Pack | Today I carried my 30-litre Karrimor HotRock rucksack, which was filled with my packed lunch, waterproof leggings, water bottle and a couple of spare shirts, together with the usual assortment of odds and ends. |
| Condition | I feel absolutely fine after this walk, and have no problems to report. My feet were far, far better than they were after yesterday's walk (probably due to all the strapping I put around them), and I could easily have walked further if I had needed to. I have a little sunburn on my right leg, but this is not too bad considering how bad it could have been. |
| Weather | The weather today was perfect, with not a single cloud in the sky all day. It was also definitely the hottest day of the year so far, much hotter than yesterday but it was cooled by a warm wind. |
| OS map | Landranger number 116 (Denbigh & Colwyn Bay) |
| | | |
| --- | --- | --- |
| | | |
| P20034161572 Looking west from near Abergele. | | P20034161576 Boats on the River Clwyd. |
| | | |
| --- | --- | --- |
| | | |
| P20034161587 The beach to the east of Prestatyn. | | P20034161591 The beach to the east of Prestatyn. |
---
Map of the walk
Maps courtesy of Google Maps. Route for indicative purposes only, and may have been plotted after the walk. Please let me
have comments
on what you think of this new format. For a detailed table of timings for this walk, please see
the table file
.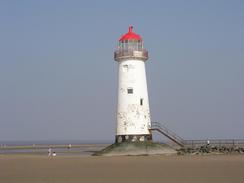 P20034161594 The lighthouse at Point of Ayr.
---
Notes
This was one of the most boring walks that I have done for some time, and the directions are extremely simple. The initial part of the walk from Rhos-on-sea through Colwyn Bay was quite nice, as the views back along the coast towards Little Ormes Head were very good, and I enjoyed the walk past the quite attractive and not overly commercialised pier in the town. I was rather disappointed to see a grey haze when I looked to the northeast, which looked as though it may be a smog layer over the Liverpool area.
I walked quite fast today, averaging well over three miles an hour for the day. This was due mainly due to the flat and easy nature of the terrain, which allowed fast walking, even by me, who is not the world's fastest walker. Although walking this fast was a little straining, I found that I could keep it up for almost all of the day, and this is particularly surprising given the state that my feet were in after yesterday's walk. I had strapped them up very well this morning, and this appears to have done the trick and protected my feet today. This procedure will have to be repeated for the next few days until my feet have recovered naturally.
Sam parked Mervan in Rhyl and rode down on her bike, meeting me in Abergele and she rode alongside me as I walked. By the time that we reached Kinmel Bay I was in need of a rest, so we stopped at The Ferry pub near the bridge over the River Clwyd so that we could have a drink and a little rest before continuing on. Rhyl itself was what I can only describe as a bit of a dump - the seafront area was extremely commercialised, and there was nothing really that I found of interest. Prestatyn was much better, and the seafront area appeared to be far nicer. Both towns were very busy due to the high temperatures, with hundreds of people scattered around the seafront areas. It was quite strange (and in a way sad) that the vast majority of the people were packed into the area right beside the facilities - on the beach in the centre of Rhyl there was hardly any sand to be seen amongst the throngs of people, and yet when I walked a mile eastwards there was the same lovely beach but very few people. It is fairly obvious that people are loath to go a little distance away from the facilities, which is a great shame.
When I met Sam in the car park beside the Smugglers Inn at the Point of Ayr, and I sank with relief onto the step of the van. I was feeling absolutely fine and was quite keen to continue, but I decided that it would be best to stop where I was; I had already walked a good distance today, and I am trying not to push myself too hard. My trainers were soaked after walking through the little river on the beach, and so I sat on the step allowing them to dry out slowly.
It was a lovely evening, and we decided to go on a bit of a fund raising drive this evening. We drove back into Rhyl and raided a few pubs in the town, before moving into Prestatyn and eventually back to the Point of Ayr. This was quite successful, and as summer comes along I can see us doing this more often. I was very tired when we eventually got back to the car park, and I went into the pub so that I could use their facilities before having a shower in the van.
Tomorrow promises to be an irritating day. I have to walk down the southern bank of the River Dee to Flint, and this will involve walking along a main road for long distances. I will not be able to see the sea for long periods, and I shall be entering large industrial areas. I can only hope that the traffic on the main road will be light, as some sections are dual carriageway and so I doubt that they will have pavements beside them. I am really not looking forward to this walk, and it looks as though this may be the case until I get to Liverpool - the next few days to come are all through industrial areas.
---
Directions
The directions for this walk are very simple, as from Rhos-on-Sea to the eastern side of Prestatyn there is a surfaced cycle path (part of the National Cycle Network route 5) all the way. This is well signposted and easy to follow, and only moved away from the seafront once, to cross the River Clwyd.
When the cycle path ends in Prestatyn I joined the beach, and followed this eastwards until I got to the lighthouse at the Point of Ayr. I walked quite far out from the dunes on this section, which was probably a mistake as there was a little river to cross, which I managed to ford easily although my trainers did get soaked. From the lighthouse I headed southeastwards inland across the beach, aiming for a car park beside the Smugglers Inn in Talacre, where this walk ends.
---
Distances
| From | To | Distance (m) | Ascent (ft) | Descent (ft) |
| --- | --- | --- | --- | --- |
| Rhos-on-Sea | Rhyl | 11.7 | 492 | 505 |
| Rhyl | Point of Ayr | 8.2 | 62 | 62 |
This makes a total distance of 19.9 miles, with 554 feet of ascent and 567 feet of descent.


For more information on profiles, ascents and descents, see this page
---
Accommodation
We parked in a car park at the Point of Ayr, near the Smugglers Inn. This car park was quite busy, but I was too tired to really care about the noise.
---
Disclaimer
Please note that I take no responsibility for anything that may happen when following these directions. If you intend to follow this route, then please use the relevant maps and check the route out before you go out. As always when walking, use common sense and you should be fine.
If you find any information on any of these routes that is inaccurate, or you wish to add anything, then please email me.
All images on this site are © of the author. Any reproduction, retransmissions, or republication of all or part of any document found on this site is expressly prohibited, unless the author has explicitly granted its prior written consent to so reproduce, retransmit, or republish the material. All other rights reserved.
Although this site includes links providing convenient direct access to other Internet sites, I do not endorse, approve, certify or make warranties or representations as to the accuracy of the information on these sites.
And finally, enjoy your walking!
---
This walk was mentioned in the following routes:
---
Nearby walks
---