Walk #390: Abereiddy to Strumble Head
| | | |
| --- | --- | --- |
| | | |
| P20033210326 The view down over Abereiddy. | | P20033210333 The view down into Porthgain. |
General Data
| | |
| --- | --- |
| Date Walked | 21/03/2003 |
| County | Dyfed |
| Start Location | Abereiddy |
| End Location | Strumble Head |
| Start time | 08.42 |
| End time | 15.41 |
| Distance | 16.1 miles |
| Description | This was a short but enjoyable walk, with some stunning scenery to be seen. |
| Pack | Today I carried my 30-litre Karrimor HotRock rucksack, which was filled with my packed lunch, waterproof leggings, water bottle and a couple of spare shirts, together with the usual assortment of odds and ends. |
| Condition | The underside of both my feet ache after this walk, and I found the last few miles quite hard going. Fortunately I did not get any problems from the bruising on my right ankle, and I had no other significant problems. |
| Weather | Today was far cloudier than yesterday; but fortunately there was no sign of any rain. The sun did break through occasionally, but even when it did the sky was very hazy, restricting the views of anything in the distance. |
| OS map | Landranger number 157 (St David's & Haverfordwest) |
| | | |
| --- | --- | --- |
| | | |
| P20033210337 Islands to the east of Porthgain. | | P20033210346 The Carreg Sampson burial chamber, above Abercastle. |
| | | |
| --- | --- | --- |
| | | |
| P20033210353 Aber Mawr Beach. | | P20033210359 The cliffs at the headland of Penbwchdy. |
---
Map of the walk
Maps courtesy of Google Maps. Route for indicative purposes only, and may have been plotted after the walk. Please let me
have comments
on what you think of this new format. For a detailed table of timings for this walk, please see
the table file
.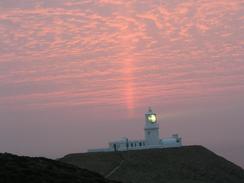 P20033210378 Strumble Head lighthouse.
---
Notes
This was a short day, and I was glad about this as I found it hard to get going. My heart really was not in the walk, and the situation was not helped by the hazy sky, that obscured any really good views. There are days when you can take positives out of everything that happens, and days like today when whatever happens I still feel slightly down. My feet start aching towards the end of the walk, a result of my trainers getting wet from mistiming a jump over a stream. The terrain was very rocky underfoot, and as I was wearing trainers the hours of walking over them hurt my feet as well. Tomorrow I shall have to try wearing my trainers, and I hope that my ankle has recovered enough to allow me to do this.
Just before I reached Abercastle I diverted off route so that I could visit the Neolithic burial chamber of Carreg Sampson. This burial chamber is very spectacular, and was well worth the short diversion from the path. The capstone is over 16 feet long and 10 feet wide, with six upright stones (although not all of these touch the capstone). A couple of sheep and lambs were underneath it when I was there, and as I walked around it they moved to the other side to avoid me
The scenery on this walk was brilliant, although the weather meant that expansive view were not available. Some of the cliffs towards the youth hostel at Pwllderi were quite spectacular, and reminded me yet again of some parts of the Peak District - although Derbyshire does not have any views out to sea! Yet again the Pembrokeshire Coast has stunned me - it is by far the best section of coast that I have seen on the trip so far, and every day has had scenic delights. I only have a couple of days left of the Coast Path before it ends at Cardigan, and I will miss it. One of the reasons that I may have enjoyed it so much is the fact that the weather has been so nice, as it is hard to enjoy scenery if there is low cloud and driving rain. My first couple of weeks in South Wales had been quite wet, and so it has been nice to have a couple of weeks that have been sunny, even if there have been hazy skies with only a couple of days with clear skies.
I walked on autopilot for much of today, putting my little aches and pains to the back of my mind and just powered on. Unfortunately it was not the sort of autopilot which I enjoy (like yesterday, when the walk was an absolute joy), but another sort of autopilot where it is a struggle, and this made the walk much harder. Hopefully if I do another short day tomorrow this may improve matters, and help me recharge my batteries slightly.
We parked the van in the car park adjacent to the island on which the lighthouse sits, but we could not find a really level spot to park. We tried using the levelling ramps, but Mervan was still on an angle. I tuned the television, and found out that we could only get three Irish Television stations. We sat outside and ate dinner, and afterwards Sam went for a walk and found another car park about a hundred yards away that was more level. We moved the van there, and despite it being so near to the previous spot we got all five terrestrial British channels, plus the three Irish ones! This allowed us to watch Simpsons on BBC 2 and follow it immediately with the Simpsons on Irish TV, and when ITV delayed Coronation Street to make way for a program on the war, we could watch it on Irish TV! I do not want to give the impression that we live for television, but you can make up your own mind. Actually watching Irish TV is quite weird - particularly the adverts. There is a very powerful anti-drink driving one, with a child playing football in a garden being hit by a car. Sam had a stunned bunny look on her face after watching it.
As the sun went down behind the lighthouse the sky went a beautiful red colour, with a vertical beam going up into the sky as a horizontal white beam swept around from the lighthouse - a stunning view, and one that photographs cannot reproduce well. The light got annoying after a while as it was massively bright, and could be seen sweeping around the countryside beside the van, so we closed the blinds and curtains to keep the light out.
---
Directions
| | |
| --- | --- |
| This walk follows the Pembrokeshire Coast Path, the route of which is detailed in the Ordnance Survey National Trail Guide 7, Pembrokeshire Coast Path (ISBN 1-85410-770-4). Unfortunately the route description is written in reverse to the direction that I am walking, but the 1:25,000 maps in the book are clear and the signs on the ground are very good. Please click on the image to the right to go to the Amazon page for this book. | |
---
Distances
| From | To | Distance (m) | Ascent (ft) | Descent (ft) |
| --- | --- | --- | --- | --- |
| Abereiddy | Abercastle | 6.4 | 1506 | 1496 |
| Abercastle | Strumble Head | 9.7 | 1965 | 1867 |
This makes a total distance of 16.1 miles, with 3471 feet of ascent and 3363 feet of descent.


For more information on profiles, ascents and descents, see this page
---
Accommodation
We parked Mervan in a car park at Strumble Head, which was a lovely place to park as long as you can black out he light from the lighthouse, which sweeps over the landscape and car park four times at regular intervals.
---
Disclaimer
Please note that I take no responsibility for anything that may happen when following these directions. If you intend to follow this route, then please use the relevant maps and check the route out before you go out. As always when walking, use common sense and you should be fine.
If you find any information on any of these routes that is inaccurate, or you wish to add anything, then please email me.
All images on this site are © of the author. Any reproduction, retransmissions, or republication of all or part of any document found on this site is expressly prohibited, unless the author has explicitly granted its prior written consent to so reproduce, retransmit, or republish the material. All other rights reserved.
Although this site includes links providing convenient direct access to other Internet sites, I do not endorse, approve, certify or make warranties or representations as to the accuracy of the information on these sites.
And finally, enjoy your walking!
---
This walk was mentioned in the following routes:
---
Nearby walks
---