Walk #333: Saltash to Antony
| | | |
| --- | --- | --- |
| | | |
| P20031210062 The viaduct over a creek below Coombe Road in Saltash. | | P20031210063 Looking back at the Saltash rail and road bridges. |
General Data
| | |
| --- | --- |
| Date Walked | 21/01/2003 |
| County | Cornwall |
| Start Location | Saltash |
| End Location | Antony |
| Start time | 08.24 |
| End time | 16.24 |
| Distance | 17.8 miles |
| Description | This was a long and boring road walk, and one that I would much rather not have had to do, especially as some of the roads were quite busy. |
| Pack | Today I carried my 30-litre Karrimor HotRock rucksack, which was filled with my packed lunch, waterproof leggings, water bottle and a couple of spare shirts, together with the usual assortment of odds and ends. |
| Condition | I feel absolutely fine after this walk aside from a little hot-spot on the ball of my left foot that is a legacy of yesterday's walk. Despite this I could easily have walked further, but Sam was waiting for me and Antony seemed like as good a place as any to finish for the day. |
| Weather | There was lots of rain last night, and so I did not set off this morning expecting anything else but getting wet. Fortunately the rain did not start until late on, but when it did it fairly bucketed down. Late on it calmed down a bit, but there were still sporadic showers with sunny spells, which led to a lovely double rainbow |
| OS map | Landranger number 201 (Plymouth & Launceston, Tavistock & Looe) |
| | | |
| --- | --- | --- |
| | | |
| P20031210070 An attractive bridge over the end of a creek. | | P20031210075 The river in Tideford. |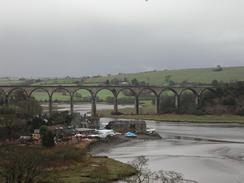 P20031210004 A view of a railway viaduct to the east of St Germans.
---
Map of the walk
Maps courtesy of Google Maps. Route for indicative purposes only, and may have been plotted after the walk. Please let me
have comments
on what you think of this new format. For a detailed table of timings for this walk, please see
the table file
.
---
Notes
Today consisted of far too much road walking for my liking, and in particular the short sections along the A38 were particularly galling. This was probably some of the worst road walking of the trip so far, as the road was quite busy and winding and there were no pavements to separate me from the traffic, so I was forced to walk on the verge for some of the way. It was certainly not a very nice experience, but I did not have much alternative, as there were no other suitable roads or footpaths on those sections. Anyone else walking this section may want to walk more inland to avoid these road sections but this will add many more miles onto the route and be less coastal. This is certainly not a route to be walked by people who do not like walking along busy main roads!
In Landrake I picked up a copy of the Plymouth Evening Herald, which has a little article about my walk in it. It also has a photograph of myself standing in front of Smeatons Tower on Plymouth Hoe, and I must admit that it is for from the best photograph I have ever had taken of me, as I look really old! Despite this the article is quite good, and it is nice to have some more publicity for the walk.
On the walk into the little village of St Germans I passed the village church, which caused me to stop and have a look around. The first thing I noticed was that the church has two towers (which is unusual for a parish church), and the whole building is quite large. As I had a look around the outside I saw the archway at the west end, which was massive and more like an entrance into a cathedral than into a church - it is twenty feet wide and consists of seven concentric arches. When I went into the church I discovered why; before the Diocese of Devon and Cornwall were combined in 1043 it was the cathedral of Cornwall. The two towers are quite unusual as one of them is octagonal and the other is square.
As I was walking down to the A374 in Polbathic when it started to rain quite heavily. The sky overhead seemed very dark, and so when I passed the Halfway House Inn in the village (so named as it is halfway between Torpoint and Liskeard) I turned back and went into the pub, as much to get out of the rain as for any other reason. I chatted to the owner and a couple of locals for a while about the walk and other things, and then a gent offered to buy me another pint. I had a look out of the window and it was still raining, so I accepted his kind offer and stayed in the pub for a little longer. Eventually the rain lifted and so I voyaged out for the next five-mile stretch along the road. I quite like the place name 'Polbathic' - it is my first Cornish-sounding place name of the walk, all the other places that I passed today sounding English.
This evening we went out into the local pub so that we could use their facilities. We were going to only one drink each, but we started talking to a couple of locals who had done the Pennine Way, and we started telling each other tales of the trail. They also bought us two drinks, which was very nice indeed and this led to us not leaving the pub until ten thirty, which is far later than I usually go to bed.
Tomorrow I should reach the coast path once more at Cremyll, after another long walk along roads to get there. This means that Plymouth will have taken me over two days to walk around, when there is a handy ferry that could have cut almost all of that journey out. It has not been the most pleasant walk in the world, particularly today's walk, and I am very much looking forward to reaching the coast and being able to make some proper progress once again.
---
Directions
This walk starts off in Coombe Road in Saltash. Head downhill along Coombe Road southwards, and pass under a low bridge under the railway line before reaching the bottom of the hill beside a large and magnificent stone viaduct. Follow the road as it curves uphill to pass under one of the arches of the viaduct and then immediately turn to the right along a footpath. This footpath leads up to Deacon Close, which is followed until it ends at a T-junction with Lynher Drive. Turn right down Lynher Drive and follow it for a short distance until a bridleway leads off to the left past the entrance to a school.
Follow this bridleway as it heads across a field and ends a surfaced track giving access to a school. When this track ends turn right down a public road and then almost immediately take a footpath that leads off to the left before the houses start. Follow this footpath westwards across a field until it ends at Farm Lane, which is turned down to the right to lead up to St Stephens Church and St Stephens Hill road. Turn left and follow St Stephens Hill as it descends down into the pretty little village of Forder.
In Forder take a road that follows the western bank of the creek, which slowly climbs up and passes under a graceful railway viaduct. Immediately after this it curves to the right and heads uphill to follow the railway line past Shillingham Manor. When the road curves sharply to the right to pass over the railway line continue straight on along a footpath that descends down a field. The path skirts some trees before turning to the right and crossing a stream, after which it turns to the left and skirts the hillside above a creek. At the end of the creek a pretty stone bridge is crossed before the path heads uphill and meets a track.
Turn right along this track and follow it as it heads above a railway tunnel and past a farm until it ends at a junction of roads in Elm Gate. Turn right along a road that heads northwards, and follow this road for a couple of miles through the little village of Tremton to the A38. Turn left and follow the A38 as it descends down towards Notter Bridge. Follow this road carefully as there is no pavement; you may well want to make an alternative route around this section. Take the second road to the right, which leads down to the pretty Notter Bridge and curves around to meet the A38 once again.
Cross the A38 and take a road that leads steeply uphill into the village of Landrake. Continue on towards the church and take a road, church Lane, that leads uphill to the left beside the church. When this road forks take the right-hand fork and follow the road for a kilometre until it reaches Trewint. Immediately past Trewint Farm take a narrow road to the right that climbs up and down past Tredinnick for a mile before ending at the A38 once again.
Turn left and carefully follow the A38 as it descends downhill into the village of Tideford; again you may want to find an alternative route as there is no pavement along this section. In Tideford turn left along a road that crosses a bridge and on the other side of the bridge take a footpath that heads steeply uphill through a wooded area. The path emerges from the wooded area and heads across a couple of fields before it reaches the B3249 road. At the road turn left and follow it for a couple of miles into the village of St Germans.
Pass under the railway line in St Germans and follow the B3249 road as it heads westwards for a mile and descends down into the village of Polbathic. When the road ends at the A374 in the village turn left and follow this road, which was fairly quiet when I walked it, eastwards for four or five miles past Sheviock to the village of Antony, where this walk ends.
---
Distances
| From | To | Distance (m) | Ascent (ft) | Descent (ft) |
| --- | --- | --- | --- | --- |
| Saltash | Tideford | 10.0 | 1591 | 1680 |
| Tideford | Antony | 7.8 | 1086 | 981 |
This makes a total distance of 17.8 miles, with 2677 feet of ascent and 2661 feet of descent.


For more information on profiles, ascents and descents, see this page
---
Accommodation
We parked in a little lay-by in the village of Antony, opposite the post office and fairly near to the pub. This was a reasonable place to park, but it was quite noisy from the traffic going along the main road.
---
Disclaimer
Please note that I take no responsibility for anything that may happen when following these directions. If you intend to follow this route, then please use the relevant maps and check the route out before you go out. As always when walking, use common sense and you should be fine.
If you find any information on any of these routes that is inaccurate, or you wish to add anything, then please email me.
All images on this site are © of the author. Any reproduction, retransmissions, or republication of all or part of any document found on this site is expressly prohibited, unless the author has explicitly granted its prior written consent to so reproduce, retransmit, or republish the material. All other rights reserved.
Although this site includes links providing convenient direct access to other Internet sites, I do not endorse, approve, certify or make warranties or representations as to the accuracy of the information on these sites.
And finally, enjoy your walking!
---
This walk was mentioned in the following routes:
---
Nearby walks
---