Walk #120: St Neots to Biggleswade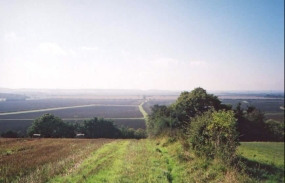 V07 Looking south down Crane Hill along the course of the roman road.
General Data
| | |
| --- | --- |
| Date Walked | 01/10/2000 |
| County | Cambridgeshire, Bedfordshire |
| Start Location | St Neots |
| End Location | Biggleswade |
| Start time | 09.30 |
| End time | 14.30 |
| Distance | 13.0 miles |
| Description | This was a lovely track and path walk heading south, the majority of which was along an old Roman Road. |
| Pack | Today I carried a minimal pack, with no tent or spare clothes. |
| Condition | I feel generally okay after this walk. I am slightly tired, but nothing is hurting more than usual. I have no new blisters after this walk, which is nice considering I was using my X Adventure 7 boots, which I have had trouble with occasionally before. I had a few twinges from my left (bad) ankle later on during the walk, but again nothing continuous or anything to get concerned about. I think that my body is getting used to this walking lark now ;-) |
| Weather | The weather was initially very misty, but after a couple of hours it started to clear up as the sun started to evaporate it. The rest of the day was fairly sunny with occasional cloudy periods, and it warmed up nicely in the afternoon. The wind was not too fierce which meant that later on keeping cool was a problem. |
| OS map | Landranger number 153 (Bedford & Huntingdon, St Neots & Biggleswade) |
---
Map of the walk
Maps courtesy of Google Maps. Route for indicative purposes only, and may have been plotted after the walk. Please let me
have comments
on what you think of this new format. For a detailed table of timings for this walk, please see
the table file
.
---
Notes
This was a lovely walk in some lovely, if initially misty weather. The walk along the long section of roman road was very nice, with some great views available from the top of Crane Hill. It must be said that this is not exactly classic walking terrain, but nonetheless it was still a highly enjoyable walk, and probably made even more so by the fact that there were few if any other walkers about. I like a bit of solitude on my walks, if only because it makes the occasions when you do meet other people even more special.
When I reached Sandy I decided that I would go down and visit the station, which means that if I walk to Bedford I will be able to start the walk there and connect the two walks up. Whilst at the station I spotted a convenient pub in the forecourt, so of course I felt obliged to go in and visit.
I felt really at ease during this walk, and perhaps more calm than I have felt for some time. It is a strange feeling that at a time when my work is getting very stressful that I can find escape from that stress by walking long distances. Nevertheless it works well, and is a good excuse to do even more walking.
There was a problem with navigation just after the golf course at the top of the ascent up to the top of Crane Hill. After crossing a track leading to a hotel the path crossed a recently ploughed field before meeting a bend in a road. Unfortunately there was a small band of woodland between the field and the road, and because I had followed the edge of the field due to the rough going I found it hard to see where the footpath left the field. Eventually I found a way post covered in vegetation, and since it looked impassable I walked back along the edge of the field and joined the road a few hundred yards to the northwest. I find this sot of thing very annoying, as it breaks up the flow of my walking, as well as delaying my progress.
I have now done 60 walks this year, which is the total that I did during all of last year. I am also over 150 miles ahead of last year's total, so I have generally walked further on each walk. This is nice, as it means that an informal aim I had at new year, to do more walking than I did in 1999, has been met. I have now set myself another informal target of walking 1,000 miles this year, but after today I have about 150 miles left to go to meet this. Unfortunately I will not be able to do any walking for the next three weekends as I am either visiting, or being visited by friends who do not really like walking ;-)
---
Directions
Turn left out of St Neots station and head down the road to a roundabout. Turn right and almost immediately turn left at another roundabout. Follow this road past some industrial units and factory until you have just crossed over a stream. Once you have passed the stream turn left up Hampden Way and follow the road it curves around though a housing estate. Follow the right bank of the stream as it passes to the left of some low-rise flats and then under the East Coast Main railway line.
Continue on the right bank of the stream, which is called Hen Brook, for about a mile as it passes under the A428(T) and reaches some where the path beside the stream ends at some woodland. Turn right and follow the right-hand side of some woodland southwards for a few hundred yards to the B1046 road.
You are now on a Roman Road which you will follow roughly southwards all the way to the outskirts of Sandy. This path is mainly straight as an arrow as it follows the road, and is quite an impressive walk. After the B1046 the path climbs up across a golf course until it meets a track leading to a hotel. It crosses this track and continues straight on across a field to a thin stretch of woodland, on the other side of which is a road. Unfortunately today the woodland was impassable, so I had to make a small diversion to join the road further west.
The path follows the road south for a few hundred yards until there is a sharp left-hand bend in he road. At this point the path continues straight on, plunging through some attractive woodland at the top of Crane Hill. When the woodland ends you are faced with a lovely view to the south, with the course of the Roman Road and the footpath clearly visible all the way to Sandy.
Follow the path down Crane Hill and then along a fairly uninteresting section to Woodbury Low Farm. After crossing straight between the Farm buildings it again goes straight on to a minor road between Church End and Potton. It then crosses this road and eventually makes a little climb up a saddle between Cox Hill to the northwest and Swading Hill to the southeast. At the top of the hill the path meets a road, and the section of this walk that follows the Roman Road has come to an end.
The road stretches away to the left and the right, but straight ahead is a track that leads for a few yards across a T-junction to another road that heads south-southwest downhill to the B1042. Sandy station is about a hundred yards to the left down the B1042, along with quite a nice pub in the station forecourt.
If you do not want to visit the station (or the pub) turn right down the B1042 and turn left down another road just before the bridge over the railway is reached. Follow this road as it passes a cemetery and then between the woods of Sandy Warren and the railway for about a mile before it bends to the left and becomes a track. This track heads uphill for about 500 metres before a footpath leads off to the right and heads over the course of the old Sandy to Cambridge railway line and downhill.
The path passes over a stream by a bridge and heads across Biggleswade Common to Furzenhall Farm. At the Farm turn right down a track towards a waste treatment plant, but after a few yards turn left southwards down another track that leads past some buildings and down into Biggleswade. The track meets a housing estate by some playing fields, and join a road through the estate. When the road soon meets another road, turn left and then almost immediately right down another road. This road soon joins the B1040 which can be followed for a few hundred yards before you turn right towards the town centre. Head down this road to a bridge over the railway, and the station is to the right over to the bridge.
---
Distances
| From | To | Distance (m) | Ascent (ft) | Descent (ft) |
| --- | --- | --- | --- | --- |
| St Neots | Sandy | 9.0 | 344 | 322 |
| Sandy | Biggleswade | 4.0 | 128 | 128 |
This makes a total distance of 13.0 miles, with 472 feet of ascent and 450 feet of descent.


For more information on profiles, ascents and descents, see this page
---
Transport
There are regular train services on the East Coast Main Line between St Neots, Sandy and Biggleswade stations. There are also some bus services linking the two towns.
---
Disclaimer
Please note that I take no responsibility for anything that may happen when following these directions. If you intend to follow this route, then please use the relevant maps and check the route out before you go out. As always when walking, use common sense and you should be fine.
If you find any information on any of these routes that is inaccurate, or you wish to add anything, then please email me.
All images on this site are © of the author. Any reproduction, retransmissions, or republication of all or part of any document found on this site is expressly prohibited, unless the author has explicitly granted its prior written consent to so reproduce, retransmit, or republish the material. All other rights reserved.
Although this site includes links providing convenient direct access to other Internet sites, I do not endorse, approve, certify or make warranties or representations as to the accuracy of the information on these sites.
And finally, enjoy your walking!
---
Nearby walks
---