Walk #719: Stowmarket to Diss
| | | |
| --- | --- | --- |
| | | |
| P20064011484 Columbine Hall. | | P20064011492 The path beside the River Gipping. |
General Data
| | |
| --- | --- |
| Date Walked | 01/04/2006 |
| County | Suffolk, Norfolk |
| Start Location | Stowmarket station |
| End Location | Diss station |
| Start time | 08.56 |
| End time | 16.12 |
| Distance | 19.5 miles |
| Description | This long walk took me north through Suffolk from Stowmarket to the Norfolk border at Diss. |
| Pack | Today I carried my 30-litre Karrimor rucksack filled with my waterproofs, two litres of water, a book and various other odds and ends. |
| Condition | I feel fine after this walk, which was fairly easy with very little ascent. My left knee ached a little at times, and I have a blister on the small toe of the same foot. |
| Weather | The day was generally sunny with periods of cloud blotting out the sun on occasion. There was a small breeze, but it was quite mild and although it was a mild day, I still had to keep my fleece on all day. |
| OS map | Landranger number 155 (Bury St Edmunds, Sudbury & Stowmarket) and Landranger number 144 (Thetford & Diss, Breckland & Wymondham) |
| | | |
| --- | --- | --- |
| | | |
| P20064011499 Gipping Church. | | P20064011502 The road leading towards Gipping Lone. |
| | | |
| --- | --- | --- |
| | | |
| P20064011527 The path heading away from Wickham Skeith church. | | P20064011554 The village pond in Thrandes. |
---
Map of the walk
Maps courtesy of Google Maps. Route for indicative purposes only, and may have been plotted after the walk. Please let me
have comments
on what you think of this new format. For a detailed table of timings for this walk, please see
the table file
.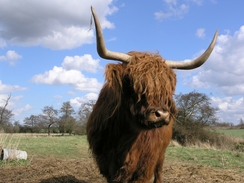 P20064011572 A highland cow to the southeast of Palgraves.
---
Notes
A few years ago, when I was relatively new to walking, I had followed a curving route from Cambridge to Ipswich in a series of day walks. The route had passed through Stowmarket, and I had found myself wondering if I would be able to follow the railway line from there north to Norwich. A quick look at the map showed that it would be about twenty miles a day for two days (with Diss in the middle), and as this was further than I routinely walked in those days I did not do it. Fast forward six years, and when looking at my map of walks I realised that this would fill a large gap in Suffolk and Norfolk..
Thus I drove down to Stowmarket along the A14 this morning, and after parking at the station set off along the road out of the village. I was initially stopped at the level crossing by the station, which was closed to allow a train to pass, but after it had gone I set off on surprisingly stiff legs up the road. This soon crossed the A14 on a bridge, and soon afterwards I started walking with the village of Stowupland, walking along the grass of what appeared to be a long strip village green. This led me into Thorney Green, and soon after this I turned away to join another footpath.
Soon I reached the superb Columbine Hall, a white-faced house magnificently situated within a moat, the walls rising straight out of the water. The hall is mostly 14th Century, with extensions and alterations in later centuries. I could not take my eyes off it, and I looked at it for a while and took photographs of it before heading on. I had obviously been distracted, as I headed down a field from the house only to find no exit in the field, which caused me to walk back up and climb over a gate to reach the path, which somehow was on the other side of the hedge.
The path led me down to the River Gipping, and this in turn took me a short distance to a road. This was followed northwards on a fairly uninteresting stretch of walk, passing Old Newton Hall before reaching Gipping Church, which looked beautiful in the morning sunshine. On the way I passed a farm, and outside this there was a large mound of finely-chopped orange material. As I passed the smell of oranges hung in the air, and the pile was obviously oranges to be used as feed for animals - something that I had not seen before. After taking some photographs of the church I pressed on along a bridleway and footpath that dropped me off in the village of Cotton. I delighted at having found a village with my surname (there is another one in Staffordshire), and could not help but take some photographs of the village sign before walking to look at the church, which seemed to be fairly uninteresting.
Walking slowly out of Cotton it took me a few minutes to reach the strangely named Dandy Corner, which seemed anything but dandy. A long stretch of footpath headed on across fields and I quite enjoyed the stroll, which soon became a track that dumped me into Wickham Skeith. I soon reached the church, and when I got there some people were leaving it. A lady told me that if I wanted to visit the church I had to hurry as it was about to be locked up, and after thanking her added that I had to press on. More footpaths led me on towards Waterhouses, and on the way I totally missed the footpath junction that I needed to take, having to backtrack a short distance before I found it. Waterhouses was surprisingly pretty, with the road going through a ford, although as I had my eyes on stopping at the pub I took a drier route to reach the Horseshoes pub in Thornham Magna.
The pub was packed and seemed fairly smart, but after checking that my boots were clean I entered, half expecting to be asked to sit outside as I was aware that I was not at my cleanest. Inside was packed with people eating lunch, but after ordering a pint of beer and one of orange and lemonade, I sat down at a table and read a book whilst I drank and munched on some crisps. The book was fairly engrossing, and this caused me to drink slower than I normally would have. The time flew by, but I soon realised the time and that I would have to get on. After chatting to another customer who asked me where I was walking to I headed of, and once outside the pub the sunshine made the alcohol hit me. I felt like I had drunk much more than one pint, and I took the first half mile easy until I felt slightly better.
The next few miles after passing the church were straightforward and un-noteworthy, as the surprising amount of alcohol that had been in the pint worked its way out of my system. I was surprised by this as a pint rarely has this sort of affect on me, and I was most certainly not dehydrated. The road passed near to the Thornham Parva church, and after taking a by-way I eventually reached the village of Thrandeston. The road passed by a pretty pond, and as I still felt fit I decide to extend the walk slightly by taking a more roundabout route into Diss. I therefore passed the church, and took a winding route to the northeast of the village before eventually reaching the A143 road.
A minor road led down to a level crossing, and near this I came across a few highland cows in a field to the right. One of these was right by the gate, and I stopped for a few minutes whilst I took a few photographs of it. It seemed very friendly and not in the least concerned about my being on the other side of the gate. It is rare for me to get an opportunity to take close-photographs of these magnificent beasts, and I grasped the chance with both hands. Eventually I had had enough, so I continued on along the road the short distance into Palgrave. On the way I passed an old cast-iron standpipe, and a little later a house with little wooden windmills for sale. It was a pretty village, but I did not get to see much of it as I soon turned to head away from it along a road.
This took me down to Denmark Bridge over the River Waveney, which was not too pretty as there was a large yard nearby, and on towards Diss. On the outskirts of the town there was a large fair, and there were plenty of people about enjoying the sunshine and the rides. I also crossed the path of the Angles Way, which runs from Thetford to Diss and on towards the coast along the Suffolk - Norfolk border, and I noted this as it is a path that I want to do someday. Instead of taking a direct route to the station I decided to take a diversion through the centre of the town, which was a risk as I did not have long to go before the next train.
Diss was bustling, which was probably due to the fair, and as I walked I was surprised to see a large expanse of water, The Mere, down to my right, looking much larger than it seemed on the map. This led me into the centre of the town where there was a market, and past the imposing church and a chip shop, whose fumes wafted over me and made me feel extremely hungry. Looking at my watch I knew that I did not have much time until the train, and so I asked a girl how to get to the station. She pointed me down a road, and what followed was a series of paths and roads that led almost directly to the station, although the route was highly non-obvious on the ground and I had to ask a couple of other people the route. Eventually I reached the station with a few minutes to spare, and I jogged across the footbridge and manage to buy a ticket about a minute before the train came. On the train I sat down and watched the countryside flash by, my mind full of the walk that I had just completed.
---
Directions
This walk starts at Stowmarket station. Leave the station and turn right, to follow the B1115 Stowupland Road as it immediately crosses a level crossing and heads northeastwards out of the town. After about a kilometre it passes a roundabout and crosses the A14 on a bridge, and once on the other side continue on for a couple of hundred yards before turning left up Throney Green Road. Initially this heads northwards before curving around to a more northeasterly course; either continue along the road or walk along the green to the left to enter Thorney Green. Soon the path meets Columbyne Close end-on, and this leads down to a junction with another road, where there is a footpath leading off to the left. Take this footpath, and follow it as it heads northwards, skirting immediately to the west of Columbine Hall and starts to head downhill. Do not stay in the same field but climb a gate on the left to enter the next field, and then turn right to keep a hedge on the right and descend down to meet the River Gipping.
At the river the footpath turns to the right and follows the southern bank of the river eastwards to a road; here turn left and follow the road as it heads northwestwards, initially in a couple of sharp bends before passing Old Newton Hall and reaches a junction. Turn right and take a road that heads northwards for about a kilometre to a triangular junction, and then follow the right-hand fork, which heads northeastwards, passing under some power lines. After passing under the power lines take the first road off to the left, which heads in a rough northerly direction for a few hundred yards before reaching Gipping church. At the church the road becomes a track that turns sharply to the left towards a farm after a few yards it turns to the right to resume a more northerly course towards Gipping Lone. The track carries a bridleway, and when the former ends by a hedge the latter continues on to the right of the hedge, heading northwards for a few hundred yards until it ends at a by-way.
Here turn right along the bridleway for a few yards and then turn left to start walking north-northwestwards along a footpath. This heads across fields, and after about a kilometre meets a clump of trees that hide a moat. The path runs along the western side of the trees for a short distance until they end, and then turns right to walk along their northern edge for a few yards before curving to the left to resume the previous course for another half mile before ending at a road. At this road turn right and then almost immediately left, to join another road that heads northwards into the village of Cotton.
Pass Cotton church and continue northwards for a few yards to another junction, and turn half-right to follow another road northeastwards. This road winds around to Dandy Corner; when it curve sharply to the left take a footpath that heads off to the right, initially heading roughly northwards before curving to take a more northeasterly course. It passes immediately to the south of Wickham Abbey Farm, where it joins a track that continues on for a little over a kilometre into the village of Wickham Skeith, becoming a road at Daisy Green. When the road ends at a crossroads continue straight on along another road, which curves to the left and then the right before reaching Wickham Skeith church.
Enter the churchyard and walk through it towards the church before turning left to walk to a stile that leads to a track. Turn right along this track, and when it ends follow a footpath that continues on northeastwards, dropping down to cross a stream before climbing up a slight slope towards some power lines, Before these are reached turn left along another footpath that heads in a more northerly direction, skirting the eastern edge of some woodland before ending after about a kilometre at the hamlet of Waterhouses, Turn left and follow a road as it crosses a ford (there is a bridge nearby) and on up a slight hill until it ends at a crossroads beside the Horseshoes pub, immediately to the south of Thornham Magna.
Cross the road and pass the pub on the left to continue on northwards up another road. This passes Thornham Magna church before winding around the eastern side of Thornham Park and resuming a northerly course.It passes close to the west of Thornham Parve church before continuing on for another mile to end at a road immediately to the east of Mellis. Cross the road and on the other side follow a by-way that heads north along a track for a little over a kilometre until it ends at a road; continue straight on along this road as it heads northwards before curving to head northeastwards, passing a pond on the right before reaching a T-junction in Thrandeston.
Here turn right, and follow a road as it winds southeastwards for about a kilometre; at another T-junction turn left and follow the road northwards for about half a kilometre before reaching another junction. Turn right to walk eastwards for a few hundred yards, and then turn left along a road for about a kilometre northwestwards until it ends at the A143 road. Turn right along the road for a few yards before turning to the left to head northwestwards along Crossing Road, which plunges downhill to cross a level crossing and climbing up to enter the village of Palgrave.
Walk towards the church, and immediately before this is reached turn right along Denmark Road, which heads northwestwards for about a kilometre to reach Denmark Bridge over the River Waveney. Cross the river on a bridge and continue along Denmark Street for a few hundred yards until it ends at the A106 road. To reach Diss station directly turn right along the A1066 for a little under a mile to a railway bridge; pass under this and immediately turn left to walk up an access road with the railway on the left to reach the station.
However I took a more indirect route that visited the centre of Diss; cross the A1066 and take the second road to the right, the B1077, which heads northeastwards with The Mere down below to the right. At a crossroads turn right and follow St Nicholas Street eastwards through the centre of Diss, pass the church and continue on along Church Street for another couple of hundred yards and then turn right along Skelton Road that curves southeastwards for a short distance. Here turn left, and a series of roads and footpaths squeeze between the houses to head eastwards, eventually joining Gilray Road that leads towards the station; you will probably have to ask the way as it is far from obvious on the ground.
---
Distances
| From | To | Distance (m) | Ascent (ft) | Descent (ft) |
| --- | --- | --- | --- | --- |
| Stowmarket | Cotton | 6.7 | 249 | 167 |
| Cotton | Thrandeston | 8.1 | 157 | 217 |
| Thrandeston | Diss | 4.7 | 210 | 226 |
This makes a total distance of 19.5 miles, with 616 feet of ascent and 610 feet of descent.


For more information on profiles, ascents and descents, see this page
---
Transport
There are regular (hourly on Saturdays) trains from Diss back to Stowmarket; the single ticket cost me £4.50. Check the National Rail timetables service for more information on train times.
---
Disclaimer
Please note that I take no responsibility for anything that may happen when following these directions. If you intend to follow this route, then please use the relevant maps and check the route out before you go out. As always when walking, use common sense and you should be fine.
If you find any information on any of these routes that is inaccurate, or you wish to add anything, then please email me.
All images on this site are © of the author. Any reproduction, retransmissions, or republication of all or part of any document found on this site is expressly prohibited, unless the author has explicitly granted its prior written consent to so reproduce, retransmit, or republish the material. All other rights reserved.
Although this site includes links providing convenient direct access to other Internet sites, I do not endorse, approve, certify or make warranties or representations as to the accuracy of the information on these sites.
And finally, enjoy your walking!
---
Nearby walks
---