Walk #685: A circular walk from Fairholmes to Alport Castle and Bleaklow
| | | |
| --- | --- | --- |
| | | |
| P20058066954 Looking west down the Ashop Valley. | | P20058066963 A panoramic view over the Ashop Valley. |
General Data
| | |
| --- | --- |
| Date Walked | 06/08/2005 |
| County | Derbyshire, South Yorkshire |
| Start Location | Fairholmes car park, Derwent Reservoir |
| End Location | Fairholmes car park, Derwent Reservoir |
| Start time | 10.00 |
| End time | 17.34 |
| Distance | 19.7 miles |
| Description | This was a spectacular stroll, taking in Alport Castle, Bleaklow and the northeastern edges of the Peak District. |
| Pack | Today I carried my 30-litre Karrimor Hotrock rucksack, containing my waterproofs, a fleece, a few odds and ends such as spare batteries, my Psion 5 and two litres of water. |
| Condition | I have suffered severe problems today. My right knee started aching about three quarters of the way through the day, and although initially it was not bad it soon started to get worse. This caused me to favour my left leg, and this in turn caused me to twist my left ankle about three miles from the end. I limped on, but this put increasing force on my right knee to an extent that it was extremely painful to walk this evening. |
| Weather | In Cambridge the skies were clear, but by the time that I reached Fairholmes car park it was spitting with rain. The skies slowly cleared during the day and there was no further rain, the clouds being blown along by a sometimes chilly brisk breeze. The wind made it cold when I was exposed to its full strength on the tops, and although the skies cleared towards the end of the day the wind was still present. |
| OS map | Outdoor Leisure number 1 (The Peak District - Dark Peak Area) |
| | | |
| --- | --- | --- |
| | | |
| P20058066967 Alport Castles. | | P20058066969 Alport Castles. |
| | | |
| --- | --- | --- |
| | | |
| P20058066974 Alport Castles. | | P20058066986 The view back down Alport Dale. |
---
Map of the walk
Maps courtesy of Google Maps. Route for indicative purposes only, and may have been plotted after the walk. Please let me
have comments
on what you think of this new format. For a detailed table of timings for this walk, please see
the table file
.
| | | |
| --- | --- | --- |
| | | |
| P20058067008 Bleaklow Stones. | | P20058067012 Bleaklow Stones. |
| | | |
| --- | --- | --- |
| | | |
| P20058067026 Bleaklow. | | P20058067036 Heading across Harden Moss. |
---
Notes
I had decided to take a day off work on Monday, and this therefore gave me a nice three-day weekend in which to go walking. My last nine walks had been along the North Downs Way, and whilst these had been enjoyable I had an overwhelming feeling of missing the hills. This made it an easy decision to visit my native Derbyshire, with the target area being the northern area, the Dark Peak, which I had not visited since the New Year. As this is an hour's drive away from southern Derbyshire where my parents live, I decided to reduce the amount of driving that I would do over the weekend, and to camp somewhere in the Dark Peak.
As a result of these decisions, I found myself setting off early this morning on the long, two and a half hour drive northwestwards to the Peak, passing through Sheffield before eventually pulling up at Fairholmes car park, which is situated between Derwent Reservoir to the north and the much larger Ladybower Reservoir to the south. It had been a long drive, and after I parked up I walked around for a few minutes, stretching my legs and preparing them for the strenuous drive ahead. This also gave me an opportunity to visit the superb little café at the car park, where I purchased a couple of cake bars, fuel for the walk ahead.
It did not take me long to complete packing my rucksack, and I soon found myself strolling up the exit road from the car park, and heading up a steep path through trees. I had last walked this path a good eighteen months before, when I had completed a marathon 23-mile winter walk along the eastern gritstone edges of the Peak. I therefore knew my way up the hill, and aside from a few pauses to study the view back over Ladybower Reservoir, I soon arrived at the track that led me on to Lockerbrook Farm. There were a couple of children here who wanted to chat, and they were very curious about the GPS unit that was attached to my rucksack straps. I gave the a little demonstration of how it worked whilst I stroked their dog, but aware of the fact that my legs were beginning to stiffen, I bade them goodbye and set off along the track.
Before long I left the path (and consequently the route that I had walked before), and started taking a path that headed northwestwards over Rowlee Pasture. There were some superb views over Kinder Scout to the south, and so I paused in the brisk breeze to take a panoramic photograph. Unfortunately when I got back this did not turn out too well, so I may have to come back hare another day for another try. I soon found myself at my first target for the day, Alport Castles, a large area of landslip that forms a spectacular landscape. The wind was blowing keenly by now, and I found myself getting chilled whilst I chatted to another walked, surprisingly the first that I had seen since leaving the car park. Alport Castles are very spectacular, and in the future I will have to leave some time to descend down into Alport Dale in order to view them from below.
The path led on northwestwards, decreasing in quality as it slowly led across the moorland towards West End trig pillar, a white beacon that can be seen for miles against the dark, earthy background of the peat. On the map the path ended here, but on the ground a fairly distinct one led on northwestwards, and I decided to follow it rather than make my own path across the moors. The going was not too hard as the path descended into several deep groughs, and ahead of me the Bleaklow plateau started to rise in grandeur. Surprisingly I came across a fence on the moors - apparently erected to preserve the moors from overgrazing - and I used one of the many stiles, seemingly erected every ten yards or so along the fence. From here the path rapidly deteriorated, and I found myself making my own way northwards along a series of indistinct tracks up to Bleaklow Stones.
As it was lunchtime I looked for a good position to hunker down in the lee of the stones out of the wind, and when I found such a position it was not surprising to find another couple sheltering there. We chatted for a few minutes - they were doing a circular walk that I had done before, starting at Crowden and heading to Bleaklow Head along the Pennine Way, before descending to Bleaklow Stones and down Far Black Clough. The couple soon headed off, and OI sat down, and used the opportunity to phone up a few campsites. On the third try I got a place for the night, but they wanted me to make an appearance before seven. I had been hoping to take my time on the rest of the walk, and I was aware that this was going to make it quite tight, and so I decided to have an abbreviated rest and headed off again across the moors.
For someone like me who loves moorland, Bleaklow is an absolutely superb place. The black peat is cut through by deep groughs, and these can make the going muddy and treacherous going. However I have never found Bleaklow to be as hard going as Kinder perhaps because the routes I take tend to follow the lines of the groughs rather than cut across them, and I had soon descended down to Swains Head. Here I left Bleaklow behind, and a good path led on in a rough easterly direction, crossing Featherbed Moss. It was here that I started to get some twinges of discomfort from my right knee, something I put down to not having done enough stretches after the long drive before starting the walk. As I walked on the discomfort increased, but the solitary nature of the moors, the superb views available to the east and the sheer, unadulterated joy that I was feeling from the walk more than amply offset it. The views got better the further east that I headed, and eventually the Rocking Stones and Crow Stones Edge became visible to my right. Unfortunately my route did not visit these, and instead, as I listened to a gripping afternoon play on Radio 4, I turned to head south towards the trig pillar on Outer Edge.
Outer Edge marks the northern edge of the eastern gritstone edges of the Peak District, and I felt an exhilaration from being on the edge in the sunshine. A superb stroll of a mile took me onto the trig pillar on Margery Hill, the highest point in South Yorkshire, and a pillar that stands proud in its whitewashed brilliance against the dark surroundings. Unfortunately on the way to Margery Hill I felt something pop in my knee, and although the resultant pain subsided after a few steps, it was obvious that my right knee was far from okay. A short distance further on I cam across a corroded shell lying on the ground - it looked to be about six inches long, and I did not know what to do with it - I certainly was not going to pick it up, so I left it there and walked on. Further research when I got home showed that this could be part of the wreckage of Airspeed Oxford Mk.I LX518 of 21 (P)AFU, which crashed on Featherbed Moss near Margary Hill 18th October 1943, killing the pilot, Denis Patrick Kyne RNZAF
I chatted to another nice couple for a few minutes before heading on along Howden Edge, which is a stunning walk in the sunshine. I managed to recreate one of the favourite photographs that I have ever taken, a view down from the edge towards Howden Reservoir. My knee was feeling much worse, and I decided not to take the option of walking along to Back Tor, and instead started to follow the track that leads down to Derwent Reservoir across Upper Hey. The track was rough and rutted, and to stop the pain in my knee I resorted to keep my right foot firmly on the flatter ground between the ruts. I had not descended far before my left foot slipped into the rut on the left side, and I crumpled into an ungainly heap on the floor, one of my walk poles going flying through the air for ten feet before coming to rest amongst the heather.
A scream emanated from my lips as I fell, and I lay on the ground with intense pain coming from my left ankle. I have had many operations on this ankle over the years and have got metal in it, so as I lay on the ground I was more than a little worried. There was little choice open to me except to get up, however, and so I gingerly stood up and tried to out weight on my ankle. Pain shot though it as it protested, but it withstood the weight, and so I hobbled gingerly over to reclaim the pole and carefully set off down the track. I took it very slowly and the pain coming from my ankle was intense every time I put weight on it, but despite this I eventually made my way along the track as it ran beside Abbey Brook, and reached the track that runs alongside the eastern edge of the reservoirs.
Here I knew that I could relax a little, as the track is wide enough for vehicles to get along, and I knew that if my ankle or knee got much worse I could always sit down and ask someone to get help. I hobbled on, and was surprised to find that despite the pain I could keep up a good pace on the well-surfaced, flat track. The water level in Derwent Reservoir was a low as I can ever remember it being, and there was a wide, bare, steeply-sloping patch of ground leading down from the track to the water's edge. Cyclists passed me as I hobbled on and I was very relieved when the impressive stone tower of Derwent Dam came into view. The steps leading down to the base of dam caused me much pain in my knee, but once at the bottom I let the views of the massive stone walls of Derwent dam take my mind off the pain. I find it quite hard to imagine the weight of water those stone walls must be holding back - it is civil engineering at its absolute finest. Also, the stone walls seems so much more elegant than the concrete dams that are normal nowadays. The car park soon came into view, and I soon found myself driving the short distance to Hope and m campsite for the night. After I pitched my tent I hobbled to the shower block for a shower, and followed this by a walk into the village to visit a pub for a meal and three pints, which of course were only to act as painkillers.
| | | |
| --- | --- | --- |
| | | |
| P20058067059 Outer Edge trig pillar. | | P20058067080 Howden Edge. |
| | | |
| --- | --- | --- |
| | | |
| P20058067091 The track leading down across Nether Hey. | | P20058067103 Derwent Reservoir. |
---
Directions
This walk starts off from Fairholmes Car park, which is situated on the western side of Ladybower Reservoir, directly beneath Derwent Dam. Leave the car park be heading westwards along the exit road from the car park, and once this meets the road that runs up the western side of the reservoir turn left for a few yards, before turning right to join a footpath. This footpath head steeply uphill through some woodland, and for a period joins a track that winds uphill. It is a well signposted walk, and eventually the path emerges from the trees before continuing on for a short distance to end at a rough track. Turn left along this track and follow it southwards for a couple of hundred yards to Lockerbrook Farm. Pass the farm, and when a track junction is reached after another few hundred yards near SK164890, turn sharply to the right to take a footpath.
The path slowly climbs uphill a little to the west of north, reaching the top of Bellhag Tor before turning to take a more northwesterly course. It is easy to follow as it heads across Rowlee Pasture, and it eventually runs along the eastern edge of Alport Dale before reaching the spectacular Alport Castles. Follow the path as it heads on from Alport Castles, becoming more indistinct as it runs northwestwards. By some fords it leaves the edge of Alport Dale, and runs across moorland up to West End trig pillar.
From the trig pillar an indistinct path leads on northwestwards, joining The Ridge as it heads towards Alport Head. After crossing a path the path becomes very indistinct; turn to take a more northerly heading that takes you up onto Bleaklow, and head directly towards the prominent Bleaklow Stones. From the stones join a path that heads eastwards for a few hundred yards, before turning to head northeastwards; a line of stakes aids navigation across the rough moorland. After a kilometre the path turns to head northwards the route again being shown by stakes, and after a little over a kilometre at SK125981 it turns sharply to the right, to start heading eastwards. The path is easy to follow as it heads towards Swains Head, and then on across Featherbed Moss. The fence is crossed once more, and the path heads on across Harden Moss towards Cat Cloughs Head.
Here the path starts to curve to the right, taking a more southeasterly course as it skirts above Outer Edge towards Outer Edge trig pillar. The path becomes more distinct as it heads southeastwards to the trig pillar on Margery Hill; pass this and then head along the pat that runs south along Howden Edge. At about SK186933 this becomes a rough track, that curves to the right to head westwards downhill. Just before a little hillock is reached ahead the track curves to the left, to head southwestwards towards Abbey Clough. The track enters an area of woodland as it becomes increasingly steep, and eventually ends at a T-junction with the track that runs along the eastern edge of Derwent Reservoir.
Turn to the left and start following the track as it runs southwards; it immediately crosses Abbey Brook by a bridge before heading on. After a couple of miles it passes the eastern tower of Derwent Dam; pass this and then immediately turn to the right, to descend dome steps to an area of flat grass below the dam. Cross this grass diagonally, joining a road just before a bridge over the River Derwent is reached. Join this road and turn right, to cross the bridge. After about fifty yards a path leads off to the left; this is a short-cut that leads southwards for a few yards towards Fairholmes car park, where this walk ends.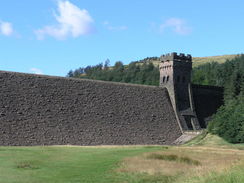 P20058067109 Derwent Reservoir dam.
---
Distances
| From | To | Distance (m) | Ascent (ft) | Descent (ft) |
| --- | --- | --- | --- | --- |
| Fairholmes car park | Alport Castles | 3.3 | 1135 | 285 |
| Alport Castles | Bleaklow Stones | 4.2 | 925 | 417 |
| Bleaklow Stones | Outer Edge | 5.5 | 282 | 568 |
| Outer Edge | Fairholmes car park | 6.7 | 764 | 1836 |
This makes a total distance of 19.7 miles, with 3106 feet of ascent and 3106 feet of descent.


For more information on profiles, ascents and descents, see this page
---
Accommodation
I spent the night at the Laneside Caravan Site, Laneside, Hope, S30 2RR. Telephone (01433) 620215. This was a well-appointed site, an easy stagger away from the pubs in the village. It cost me nineteen ponds for the two nights that I stayed; eleven pounds for the Saturday night, and eight pounds fifty for the Sunday night.
---
Disclaimer
Please note that I take no responsibility for anything that may happen when following these directions. If you intend to follow this route, then please use the relevant maps and check the route out before you go out. As always when walking, use common sense and you should be fine.
If you find any information on any of these routes that is inaccurate, or you wish to add anything, then please email me.
All images on this site are © of the author. Any reproduction, retransmissions, or republication of all or part of any document found on this site is expressly prohibited, unless the author has explicitly granted its prior written consent to so reproduce, retransmit, or republish the material. All other rights reserved.
Although this site includes links providing convenient direct access to other Internet sites, I do not endorse, approve, certify or make warranties or representations as to the accuracy of the information on these sites.
And finally, enjoy your walking!
---
Nearby walks
---