Walk #656: Leeds to Ilkley Moor
| | | |
| --- | --- | --- |
| | | |
| P20053245002 Heading northwestwards through Leeds on the canal towpath. | | P20053245014 Newlay Staircase Locks Nos 11 to 13. |
General Data
| | |
| --- | --- |
| Date Walked | 24/03/2005 |
| County | West Yorkshire |
| Start Location | Leeds station |
| End Location | Ilkley Moor |
| Start time | 10.25 |
| End time | 17.59 |
| Distance | 19.7 miles |
| Description | This was a varied walk; the first two-thirds of which followed the Leeds and Liverpool canal westwards out of Leeds, and the latter third climbing up slowly onto Ilkley Moor. |
| Pack | Today I carried my 70-litre Craghoppers WildPlaces 70-liotre rucksack, filled with full camping gear and food. |
| Condition | I feel remarkably fine after this walk, with remarkably few problems to report considering the weight that I was carrying. |
| Weather | Today was very much a mixture of sunshine and cloud, and it was quite warm for the time of year. There was no sight of any rain. |
| OS map | Landranger number 104 (Leeds & Bradford, Harrogate & Ilkley) |
| | | |
| --- | --- | --- |
| | | |
| P20053245031 Field Staircase Locks Nos 16 to 18. | | P20053245058 Shipley Glen. |
| | | |
| --- | --- | --- |
| | | |
| P20053245065 The top of Shipley Glen. | | P20053245067 Heading north towards Bingley Moor. |
---
Map of the walk
Maps courtesy of Google Maps. Route for indicative purposes only, and may have been plotted after the walk. Please let me
have comments
on what you think of this new format. For a detailed table of timings for this walk, please see
the table file
.
| | | |
| --- | --- | --- |
| | | |
| P20053245074 Looking south over Bingley. | | P20053245077 The path leading onto Ilkley Moor. |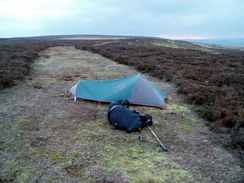 P20053245089 My tent on on Ilkley Moor.
---
Notes
I awoke early this morning, well aware that I had a long journey to Leeds awaiting me. Wearily I made myself a coffee, and used the few available minutes to try and wake up the best I could. I had finished packing my rucksack last night, so I just checked that the zips were all closed and that the straps were tightened, threw my rucksack on and headed off down to the bus stop. I had a train ticket to Leeds from my local railway station, but as this is a ten minute walk from my flat I decided to do the first leg of the trip to Cambridge station from the bus stop outside my house. My rucksack felt ominously heavy on my shoulders, and I rested it on a bollard by the bus shelter as I waited. The bus arrived on time, and I found myself waiting at Cambridge, where I had another coffee to unsuccessfully try and remove the least dregs of sleep from my system.
As I waited for my scheduled train, I noticed that a train to Peterborough was about to depart, a good twenty minutes before my stopping service was due to leave. As my ticket was a saver I jumped on this, and quickly worked out that maybe, just maybe, I could catch the earlier Leeds train at Peterborough. Hope made the journey to Peterborough drag on, and when the train pulled into the station I quickly ran across and onto the Leeds train just before it departed; if I had had to change platforms then I would never have made it. Having caught the earlier train made me very happy, as it meant that I got to Leeds an hour earlier than I was expecting, which would mean that the day's walk would have a lot less time pressure.
The train pulled into Leeds station on time, and once I exited the station via the main exit I realised that I did not know the way to the canal. The OS map was not too much help, and neither were the local street maps helpfully displayed by the station, but eventually by dead reckoning I found myself walking along Aire Street towards the River Aire and the Leeds and Liverpool canal. I had a DAB radio from work with me, and I switched this on so that I could listen to the radio as I walked along the canal towpath. I passed one lock and soon reached a set of staggered staircase locks; these are locks where two adjoining locks share a gate. This allows the locks to fit in a much reduced space to conventional locks, with the main disadvantage being that they require much more water.
I found the walk along the canal to be quite enjoyable, and time flew by as I followed the towpath northwestwards out of Leeds. The walk did not become fully rural for a long time, but as usual with canal walks the urban stretches were uniformly pleasant, and the sun made appearances as I strolled. The weight of the rucksack was making itself known to my shoulders, but this was not too annoying and I headed on, eventually reaching Shipley, and then on to Saltaire. The latter is quite a fascinating place; the entire town was built by Titus Salt as worker housing for his mills, which line the canal at this point. As well as housing he also built the adjacent park, church, and other amenities. A complex man, Titus Salt was advanced in some areas (creating high-quality workers housing, reducing working hours and pollution from his mills, whilst conversely supporting the use of child labour and arguing against trade unionism). When the main Salts Mill shut it was converted into offices, and the company that I used to work with was based in it, which meant that I knew the place well.
Saltaire also marked the point where I would be leaving the canal, and so I decided to nip into the riverside pub, the Boat House Inn, for a quick rest and drink. I could only afford to do this because I had got an earlier train; if I had arrived in Leeds at my scheduled time I would have had to walk on. I knew the pub well, and I was therefore surprised when the Landlord told me that he was going to be shutting in ten minutes; it turned out that he had forgotten that the Easter bank holiday was starting tomorrow, and he had failed to get any loose change for the tills. He said I could sit outside, however, and I got him to fill up my main water bottle and a spare two-litre bottle; the extra was required as I knew that getting water on top of Ilkley Moor could well be difficult.
I went outside and started drinking my pint, watching the River Aire flow serenely past and people walking through the park on the opposite side. It was a relaxing time, and I ended up chatting to some other customers who had been turfed out of the pub. Eventually, however, I knew that I had to continue, so I lifted my rucksack up onto my sore shoulders and walked along the canal to the next lock, before heading towards Shipley Glen. This is a fantastic path that climbs uphill through a sparsely-wooded valley, boulders and rocky outcrops occurring everywhere you look, I really enjoyed the walk, especially as the sun was shining, and I was slightly annoyed when all too soon I reached the top of the glen and start following the Dales Way link route from Bradford northwards.
Once I had crossed a little road at Glovershaw the path became indistinct underfoot as it crossed a series of low quality grazing land. The grass underfoot was damp despite the sun, and it seemed to take me a long time to reach the road by the pub under Eldwick Crag. Here I stopped, resisting the temptation of nipping in for a pint, and soaked up a few of the sun's rays, which were still warm despite the fact that it was hanging low in the sky. The shadows were lengthening as I headed north along an obvious path across Ilkley Moor, and I shortly started keeping my eye out for good camping spots amongst the heather.
As I headed towards the Twelve Apostles stone circle I was passed by another backpacker, and he said that he was making his way to a B&B in Ilkley. I envied him this, and after pausing to examine the stone circle, which is in a wonderfully atmospheric location, I made my way a short distance further on. After a short distance I found a nearly-ideal wild camping spot; a flat area of land with good views. The only downside was the lack of a nearby water source, but I was not bothered about this as I had thought ahead and taken an extra couple of litres with me from Saltaire.
The sun was very low in the sky now, and as I started putting my tent up a fell runner came past at full pelt, making his way up towards the trig pillar on top of the moor. By the time he returned the tent was up, and I ended up chatting to him for a while as the sun descended to my left. Soon it was dark, and I went and snuggled into my tent, thankful for the fact that I had managed today's walk well, despite the weight that I was carrying.
---
Directions
This walk starts off at Leeds railway station. Leave the station via the main entrance, and then turn left to start walking along the road as it curves around to the right. At the first road junction turn left and then almost immediately left again, to start heading along Aire Street. This soon becomes Wellington Road and passes new developments; when the bridge over the River Aire is reached cross the bridge, and immediately before the canal bridge is reached turn right and descend down some steps onto the canal towpath. Continue straight on, to start following the canal towpath as it heads northwestwards through Leeds. Continue along the canal for over thirteen and a half miles until Hirst Lock, immediately to the east of Saltaire, is reached.
At Hirst Lock the Dales Link, linking Bradford with the start of the Dales Way in Ilkley is crossed, and this will be followed for the rest of the day. Leave the canal at the lock, and head north to cross the River Aire via a footbridge. Once on the other side continue north through a little housing estate, crossing a local road before reaching the start of the footpath up Shipley Glen. Head along this footpath, following it as it climbs uphill on the eastern side of Loadpit Beck. The path is easy to follow, and once it emerges at the top of the glen continue northwards, paralleling but not joining an unfenced road to the right and passing a little car park. When the road curves away to the right continue straight on as the path runs near the Beck before reaching Glovershaw Lane in Glovershaw
Once the lane is reached continue straight on up the driveway leading to Golcar Farm. At Golcar Farm head north to a house, and then turn west and then north once again until another road is reached. Turn left down this road until just past a public house and turn right along a path that passes Eldwick Crag before continuing northwards onto Ilkley Moor. The path is easy to follow, and after a couple of miles the Twelve Apostles Stone Circle can be seen a few yards to the right. I headed on for another hundred yards to a footpath marker stone, and then turned left along a path for a few yards until I found a suitable spot to pitch my tent, with the stone circle still visible nearby.
---
Distances
| From | To | Distance (m) | Ascent (ft) | Descent (ft) |
| --- | --- | --- | --- | --- |
| Leeds station | Saltaire | 13.7 | 604 | 541 |
| Saltaire | Ilkley Moor | 6.0 | 1201 | 177 |
This makes a total distance of 19.7 miles, with 1805 feet of ascent and 718 feet of descent.


For more information on profiles, ascents and descents, see this page
---
Accommodation
I spent the night in my tent on Ilkley Moor at SE1241845164, a short distance southeast of the Twelve Apostles Stone Circle.
---
Disclaimer
Please note that I take no responsibility for anything that may happen when following these directions. If you intend to follow this route, then please use the relevant maps and check the route out before you go out. As always when walking, use common sense and you should be fine.
If you find any information on any of these routes that is inaccurate, or you wish to add anything, then please email me.
All images on this site are © of the author. Any reproduction, retransmissions, or republication of all or part of any document found on this site is expressly prohibited, unless the author has explicitly granted its prior written consent to so reproduce, retransmit, or republish the material. All other rights reserved.
Although this site includes links providing convenient direct access to other Internet sites, I do not endorse, approve, certify or make warranties or representations as to the accuracy of the information on these sites.
And finally, enjoy your walking!
---
Nearby walks
---