Walk #558: Errol to Abernethy
| | | |
| --- | --- | --- |
| | | |
| P20039168781 The Grey Stone. | | P20039168791 A building beside the Tay in Perth. |
General Data
| | |
| --- | --- |
| Date Walked | 16/09/2003 |
| County | Tayside |
| Start Location | Errol |
| End Location | Abernethy |
| Start time | 08.40 |
| End time | 17.45 |
| Distance | 25.0 miles |
| Description | This was a fairly long walk, mostly along road, that was not particularly memorable or entertaining. |
| Pack | Today I carried my 30-litre Karrimor HotRock rucksack, which was filled with my packed lunch, waterproof leggings, water bottle and a couple of spare shirts, together with the usual assortment of odds and ends. |
| Condition | I am quite fatigued after this walk, but aside from this I feel fine. My legs did not give me any trouble, and the underside of both of my feet were fine. |
| Weather | The weather today was predominately cloudy, with not much sunshine to be seen during the day. There was a little period of drizzle, but this was short in duration and not enough to annoy me. There was not much wind either, which is a relied after the last couple of days. |
| OS map | Landranger number 53 (Blairgowrie & Forest of Blyth) and Landranger number 58 (Perth to Alloa, Auchterarder) |
| | | |
| --- | --- | --- |
| | | |
| P20039168793 The Tay in Perth. | | P20039168802 The track near the farm at Balhepburn. |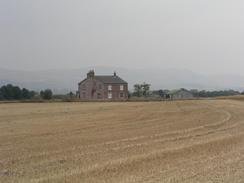 P20039168808 The house at Carey.
---
Map of the walk
Maps courtesy of Google Maps. Route for indicative purposes only, and may have been plotted after the walk. Please let me
have comments
on what you think of this new format. For a detailed table of timings for this walk, please see
the table file
.
---
Notes
In the pub last night I had made the decision not to walk along the path that is marked on the map running westwards alongside the river towards Perth, and that instead I would walk along roads. Locals in the pub had been fairly adamant that the path was not of very good quality, and that the road would be the best way to go. I therefore followed local roads westwards to St Madoes and this made for a fast if boring walk; the only highlight was the Grey Stone, a low and stumpy standing stone that was in a field to the south. Even this was not that impressive, and I have seen far better standing stones on the trip.
At St Madoes the local road ended at the A90, and I had to follow this road for a fair few miles towards Perth. Fortunately for nearly the entire way there was a pavement beside the Perth-bound carriageway, and this made the walk much more bearable than it should otherwise have been. I would hardly have called it a nice walk, however, and I was glad when I could follow a road that led off to the left towards Walnut Grove. I have walked along many dual carriageways on this trip, and the vast majority of them have been in diversions around estuaries. They are hardly the most enjoyable walks, and the only good thing that can be said about them is that you can get the miles done quickly.
Eventually I reached the centre of Perth, and I spent some time walking around the centre of the town before heading to meet Sam. I have only been to Perth twice before, and both times were train to bus swaps, and I had not been impressed with the town. This time, however, I saw a totally different side to the town and I must admit that it was quite pretty. There were lots of pretty flower baskets everywhere and some nice architecture. The town was bustling, and after five minutes I got fed up with the crowds and made my way to the car park at South Inch, where Sam was waiting for me. This car park was once the site of a fort built by Cromwell, but nothing of this remains above ground level except for an information board about it.
I had made good time for the first ten miles, so I was quite hungry by the time that I reached Mervan and wolfed down the sandwiches that Sam made for me. I let myself have a little rest, but then I wanted to set off as I wanted, if possible, to get a good distance done. On the map there is a path that runs along he southern bank of the river towards Elcho Castle, and I decided that this would be a good route to follow. The initial stretch was along a road, but this soon led to a track that headed through an industrial estate. On the map the path continues on from the end of this road, but it was not visible on the ground and so I climbed over a fence and followed the edge of a field beside the river.
After climbing over a very overgrown drainage ditch I made my way to a couple of houses at Orchardnook; I had to climb over another fence and go through a garden to gain access to a track that leads towards a sewage farm. The map shows a path leading off to head east from a barn, but the hedge line was a massive tangle of trees, bushes and overgrowth. I walked down the track to the sewage farm to see if there was another way through but there was not, and so I had to head back to the barn.
Again I could not see a good way through, and so after studying the map I decided to follow a different route using tracks via Grange of Elcho and Balhepburn. I found this very annoying, as it would have been much preferable to stick to riverside paths, but it really was unavoidable - there was absolutely no trace of the path on the ground, and I had no indication that there would ever be any.
I met Sam once again at the Bridge of Earn, and despite having walked twenty miles I still felt absolutely fine. This made me want to extend the walk, and so I decided to walk on for four miles to Abernethy, which would give me several options for tomorrow's walk. This was probably the nicest stretch of today's walk, but even then it was hardly a great stroll, although I was away from traffic for most of the day. I was quite relieved when I finally reached Mervan in Abernethy, and I was quite tired and went to bed at nine and fell asleep almost immediately.
Tomorrow I will finish the walk along the southern bank of the Tay, which is the penultimate estuary of any size on the trip. I must admit that so far the walk around the Tay has not been very memorable - there was far too much road walking today, and the views over the estuary have been obstructed in most places. I can only hope that tomorrows walk will be better, and that there will be more to see as I head east. On a more positive note I shall be seeing my parents for the first time in a few months, and I am very much looking forward to that. One of the hardest things about this walk is the fact that I have not been able to see my family and friends as often as I would have liked, and once the walk is over Sam and I are going to travel around the country for a couple of weeks catching up with people and collecting sponsorship money. I may well do a few more walks as well!
---
Directions
This walk starts off at the Old Smiddy Inn in Errol, which is next door to a shop in the village. Turn left to follow the main road through the village westwards, and follow it as it curves sharply to the left to leave the village. It skirts the southern side of Errol Park before continuing on a rough westerly direction through Chapelhill before entering St Madoes. Follow the road through the small village, and when the slip road down to the A90 is reached turn left to walk down to the A90. After a short distance on the westbound carriageway a pavement begins, which makes the going far safer. Follow the A90 westwards for a couple of miles until a slip road leads off to the left. Follow this slip road as it heads past Walnut Grove and passes under the bridge that carries the M90 over the River Tay.
When this road ends at a T-junction with the A85 turn left and follow the A85 for a couple of kilometres as it swings to head northwards towards Perth. At the first bridge over the river turn left and cross over onto the western bank, and then turn left to walk south along a road beside the river. Shortly after it passes a dock on the left a track leads off to the left, passing between an industrial estate on the right and the river on the left. Walk along this track until it ends, and then continue on across fields beside the river, passing under the M90 Bridge once again. When some houses are met turn right and walk up their access driveway until it ends at a T-junction, and then turn left to walk eastwards for a few hundred yards towards Grange of Elcho.
At Grange of Elcho turn right and follow another track south as it heads uphill for a few hundred yards until it ends at a T-junction with a road. Turn left and walk eastwards along this road for about a mile. Shortly after Rhynd Church on the left turn left down a surfaced track that leads towards Elcho Castle. When this track curves left to head downhill towards the castle continue straight on along a grassy track that heads eastwards towards the farm at Balhepburn, passing through it to Muirhead.
Here it turns to the right, zigziaging southeastwards before eventually ending at a T-junction with another road. Turn right down this road and follow it as it heads westwards for about four kilometres, eventually passing under the M90 and ending at a T-junction with the A912 road. Turn left and cross the River Earn and enter the Bridge of Earn.
Continue on along the A912 through the village until just before the bridge over the railway line is reached, and then turn left along another road that winds around before meeting the railway line and following that eastwards out of the village. It goes under the M90 once again and passes the sprawled out buildings of a disused hospital on the left. When the road ends continue straight on down a private track that heads across flat fields to Culfargie Farm.
The track becomes rougher as it curves to the right and reaches Fargie Bridge over the River Farg, where the track ends. Continue south across a small field and then into a larger one, passing under some power lines until a railway line is met. Turn left and follow a track eastwards alongside the railway line until the farm at Carey is reached. Here join another track that curves around the farm.
Here the map shows a track heading southeastwards towards the railway line but this does not exist on the ground, so follow the track to the farm at Hatton and then turn right down another track that passes under the railway line and curves to head eastwards to the A913 road in Abernethy, where this walk ends.
---
Distances
| From | To | Distance (m) | Ascent (ft) | Descent (ft) |
| --- | --- | --- | --- | --- |
| Errol | Perth | 9.9 | 390 | 515 |
| Perth | Bridge of Earn | 10.5 | 614 | 581 |
| Bridge of Earn | Abernethy | 4.6 | 177 | 115 |
This makes a total distance of 25.0 miles, with 1181 feet of ascent and 1211 feet of descent.


For more information on profiles, ascents and descents, see this page
---
Accommodation
We parked Mervan on a little loop road near a hotel in the village of Abernethy. This was not an ideal place to park, as it was quite noisy between midnight and one, with doors slamming and cars coming and going.
---
Disclaimer
Please note that I take no responsibility for anything that may happen when following these directions. If you intend to follow this route, then please use the relevant maps and check the route out before you go out. As always when walking, use common sense and you should be fine.
If you find any information on any of these routes that is inaccurate, or you wish to add anything, then please email me.
All images on this site are © of the author. Any reproduction, retransmissions, or republication of all or part of any document found on this site is expressly prohibited, unless the author has explicitly granted its prior written consent to so reproduce, retransmit, or republish the material. All other rights reserved.
Although this site includes links providing convenient direct access to other Internet sites, I do not endorse, approve, certify or make warranties or representations as to the accuracy of the information on these sites.
And finally, enjoy your walking!
---
This walk was mentioned in the following routes:
---
Nearby walks
---