Walk #506: Kyle of Lochalsh to Strathcarron
| | | |
| --- | --- | --- |
| | | |
| P20037225659 The Skye Bridge from Kyle of Lochalsh. | | P20037225668 The Skye Bridge. |
General Data
| | |
| --- | --- |
| Date Walked | 22/07/2003 |
| County | Highlands |
| Start Location | Kyle of Lochalsh |
| End Location | Strathcarron |
| Start time | 09.16 |
| End time | 16.48 |
| Distance | 19.7 miles |
| Description | This was a highly enjoyable walk, mostly along roads, with some superb views along Loch Carron. |
| Pack | Today I carried my 30-litre Karrimor HotRock rucksack, which was filled with my packed lunch, waterproof leggings, water bottle and a couple of spare shirts, together with the usual assortment of odds and ends. |
| Condition | I feel absolutely fine after this walk, and I have no significant problems to report. My neck and right shoulder, which were aching after yesterday's walk, were absolutely fine today. |
| Weather | Aside from a few drops of rain late on in the afternoon today was dry, and I was quite thankful for this. There was some sunshine during the day, but there were also some dark and grey clouds that threatened heavy rain, and indeed I could see rain in the distance at one stage. There was not much wind and it was a reasonably warm day, so all in al it could have been far worse. |
| OS map | Landranger number 33 (Loch Alsh, Glen Shiel & Loch Hourn), Landranger number 24 (Raasay & Applecross, Loch Torridon & Plockton) and Landranger number 25 (Glen Carron & Glen Affric) |
| | | |
| --- | --- | --- |
| | | |
| P20037225691 Plockton. | | P20037225694 A derelcit boat by the bay in Plockton. |
| | | |
| --- | --- | --- |
| | | |
| P20037225702 Looking over to the Applecross Hills. | | P20037225707 Loch Carron. |
---
Map of the walk
Maps courtesy of Google Maps. Route for indicative purposes only, and may have been plotted after the walk. Please let me
have comments
on what you think of this new format. For a detailed table of timings for this walk, please see
the table file
.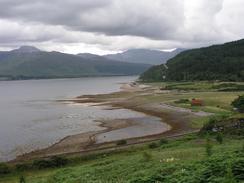 P20037225719 Loch Carron.
---
Notes
Kyle of Lochalsh woke up before me this morning, and the sound of cars in the car park was my alarm clock. Groggily I got up, nearly falling down the ladder in the process, and put the kettle on. Over the course of this trip it has got so that I cannot function until I have a coffee in the morning, and this morning was a rather spectacular example of this. The first cup of coffee did not do much good, and so I needed a second to g down and give the first some encouragement. Once I opened the blind I could see several other motor homes in the car park, so it is obviously a popular place to spend the night.
I did not have to visit the lovely little village of Plockton as it was off my route and I would have to turn back on myself, but I was very keen to see the village. It is most famous for having featured in the television series 'Hamish McBeth' a few years ago and as I entered the village I could see why - it is truly beautiful. On the way into the village I passed an open-air church, long disused, which was used when the locals split from the Church of Scotland. In the village I bumped into Sam, and we went into the Plockton Hotel for a nice and well-deserved drink. We did not stay long as Sam was scheduled to go on a seal-watching trip in a boat, which she thoroughly enjoyed, and she saw twenty to thirty seals - not bad for a fiver (the proprietor even gave us that back for the charity, which was kind of him). There is a little island offshore, and as the tide was low people were making their way out over a very low causeway to it. Unfortunately as the tide started to come in they found themselves cut off by a small stream of water. Much prevaricating then ensued as the situation got worse, until eventually they had to wade over through ever deepening waters.
The next section was along a pretty path through woodlands towards Duncraig Castle. The path was easy to follow and fairly good, if muddy in spots, and there were some quite low branches to negotiate under. This was the only stretch of path walking that I had today, which was a shame - I would have liked to have had more like that.
The views over Loch Carron were absolutely superb, and when the sun was shining the water glinted superbly. I met Sam for lunch at a viewpoint high above the loch, and it was a great place to eat lunch. As I walked along the road it seemed that every vehicle was either a motorhome or a motorcycle, and many of these are foreign. This shows how much the local area depends on tourism, although many of the roads are hardly ideal for motorhomes! For a long distance the road and adjacent railway line are running beside the loch and against a high cliff, much of which is blanketed with wire mesh to stop rocks falling. At one point, however, the falls are obviously too frequent and so a large concrete tunnel, with trees planted on the top, covers the road and railway. This avalanche shelter is not designed to stop cliff falls, which are apparently frequent at this location, but to divert them over the transport links and into the loch. Having said that I would not like to be in the tunnel when there is a cliff fall!
This evening we had dinner and I had a shave and a shower - it was the first shave that I have had for a while, and I was getting far more bearded than I normally like to be, particularly in summer. The shower really refreshed me, and we then decided to go out to the hotel fro a drink. I took one large gulp of my pint of beer only to find that it was off - it tasted like fizzy, sour beer, with an aftertaste of dishwashing liquid. They gave me another pint, but my stomach felt upset for the rest of the evening.
Tomorrow promises to be a relatively short day for rather complex reasons. To get to Applecross I have to cross the very high pass at Bealach na Ba at over 600 metres high. This road is fairly infamous as being a difficult drive, and so Sam is going to take the long route around via the coast road to the north. As she will not be driving up the pass I will have to end tomorrow at the eastern end of the pass, which will make a fourteen or fifteen mile day. I could try and make my way around the coast to Toscaig (a few miles to the south of Applecross), and there is only a few miles with no path, but the same problem arises - I will have to starts the walk from the same place. I do like the idea of taking the high road as the views must be superb, and I may be able to access the 896-metre summit of Beinn Bhan whilst I am up there if the weather is suitable.
---
Directions
This walk starts off in a car park beside the railway station and tourist information office in Kyle of Lochalsh. Leave the tourist information and head north along a road that leaves the village. It climbs up onto the top of a hill before descending into Badicaul and Erbusaig. When a road leads off to the right heading towards Balmacara continue straight on as the road curves to he left and climbs uphill, before descending down into Drumbruie and then Duirinish (which was complete with highland cows acting as impromptu sleeping policemen on the road).
On the far side of Duirinish turn left along a road that immediately crosses a bridge over the Allt Duirinish before heading northeastwards uphill before descending to the north and reaching Plockton railway station. Continue on along the road into Plockton; after a couple of hundred yards a footpath lead off to the right and descends to walk between a bay and the railway line; however I walked for half a mile into Plockton and back first. The path skirts between the sea and the railway line, before heading under the line on a bridge and climbing uphill. When a junction is reached turn left down another, slightly rougher, path, which leads towards Duncraig Castle. The path heads uphill and ends on a road near a junction. Turn right to head to the junction and then left along a road that heads eastwards along the hillside above Loch Carron.
After a couple of miles this road descends and turns to the right to head southeastwards near the Allt Cadh an Eas for about a mile, until it turns to the left to head northwards through the village of Achmore and meets the A890 road. Turn left and head in a rough northeasterly direction along the A890 road as it follows the southern bank of Loch Carron. This walk ends about eight miles up the road just beyond the head of Loch Carron at Strathcarron Station.
---
Distances
| From | To | Distance (m) | Ascent (ft) | Descent (ft) |
| --- | --- | --- | --- | --- |
| Kyle of Lochalsh | Plockton | 6.0 | 833 | 846 |
| Plockton | Strathcarron | 13.7 | 2260 | 2231 |
This makes a total distance of 19.7 miles, with 3093 feet of ascent and 3077 feet of descent.


For more information on profiles, ascents and descents, see this page
---
Accommodation
We parked for the night in the car park of the Strathcarron Hotel, which is immediately adjacent to the railway station.
---
Disclaimer
Please note that I take no responsibility for anything that may happen when following these directions. If you intend to follow this route, then please use the relevant maps and check the route out before you go out. As always when walking, use common sense and you should be fine.
If you find any information on any of these routes that is inaccurate, or you wish to add anything, then please email me.
All images on this site are © of the author. Any reproduction, retransmissions, or republication of all or part of any document found on this site is expressly prohibited, unless the author has explicitly granted its prior written consent to so reproduce, retransmit, or republish the material. All other rights reserved.
Although this site includes links providing convenient direct access to other Internet sites, I do not endorse, approve, certify or make warranties or representations as to the accuracy of the information on these sites.
And finally, enjoy your walking!
---
This walk was mentioned in the following routes:
---
Nearby walks
---