Walk #474: Dougarie Point to Kildonan
| | | |
| --- | --- | --- |
| | | |
| P20036164264 Iorsa Water at Dougarie. | | P20036164266 The view back towards Dougarie. |
General Data
| | |
| --- | --- |
| Date Walked | 16/06/2003 |
| County | Strathclyde |
| Start Location | Dougarie Point |
| End Location | Kildonan |
| Start time | 07.56 |
| End time | 16.41 |
| Distance | 19.2 miles |
| Description | This was a long road plod, but an enjoyable one due to the great views over to Kintyre and towards the Ayrshire Coast. |
| Pack | Today I carried my 70-litre Craghoppers rucksack with full camping gear, including four days food. |
| Condition | I feel absolutely fine after this walk, and the only problems that I have had is with the midge bites that I had last night. My feet were both more or less okay, and my legs were also fine. |
| Weather | Today was a bright and sunny day, with not much cloud to be seen for most of the day. It got quite hot during the day, and this made the many climbs on the road hot work. There was not much wind to hep cool me down, and so when the little cloud did come overhead I was very grateful. |
| OS map | Landranger number 69 (Isle of Arran) |
| | | |
| --- | --- | --- |
| | | |
| P20036164271 Loooking west to Kintyre from Blackwaterfoot. | | P20036164273 The river in Blackwaterfoot. |
| | | |
| --- | --- | --- |
| | | |
| P20036164275 The view back towards Blackwaterfoot. | | P20036164284 Looking northwestwards from near Sliddery. |
---
Map of the walk
Maps courtesy of Google Maps. Route for indicative purposes only, and may have been plotted after the walk. Please let me
have comments
on what you think of this new format. For a detailed table of timings for this walk, please see
the table file
.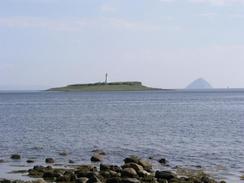 P20036164294 Pladda Island and Ailsa Craig.
---
Notes
I woke up the next morning after a good nights sleep, staring at the squashed midges against the roof of the tent, and of some that I had missed dancing around their dead brethren. It was quite a hypnotic sight, and I lay there staring up at them before I eventually rose up, readjusted my pillow (which consisted of my clean clothes bag) and went to sleep for another couple of hours. The sound of sheep reawakened me, and the first sight that greeted me was the grey haze of midges on the outside of the tent. I lay in my sleeping bag as long as possible, but the early morning sun was quite warm and I could not open the tent to cool myself down due to the midges outside. Eventually I packed up my rucksack ready to go, opened the zip, threw the pack outside and pulled my tent down in record time. The midges were obviously sluggish this morning, and were nowhere near as violent as they had been last night, so I got away without being bitten.
Once I had escaped the midges I could admire the view, which was absolutely superb. The day was very sunny and clear, and I could see the Kintyre peninsular in detail. My legs were wobbly at first as I got used to the weight, but this soon improved as I got into my stride. Fairly soon I was faced with my first choice; when the road diverted inland slightly I had intended to walk along the coast to Drumaddon Point and then on into Blackwaterfoot, but I really could not be bothered and so I continued along the road. Arran is an 'extra' on this trip; something I was not planning to be doing and therefore I can do it in whatever way I like. In Blackwaterfoot I had a rest and visited the shop for a bite to eat, which recharged my batteries somewhat.
The road became increasingly hilly as it left Blackwaterfoot, and I was forced to work harder for the miles. After another seven miles I was tired again, so I decided to stop at the Lagg Inn in Lagg for a rest. The menu looked tempting, and so I had some haddock and chips whilst I drank an orange and lemonade that was swiftly followed by a pint. After the meal I noticed that the inn had Internet access, so I spent half an hour answering emails and doing some general surfing. I also spent some time chatting to the barmaid, who was Australian and seemed fascinated by what I was doing. Eventually I could delay no longer, and I was forced to go out into the heat once more.
It had been Sam's intention to catch the ferry over to Lochranza and then cycle down to meet me, but as the day went on it became obvious that she would not meet me in time to cycle back again, and so she turned back before we met. This was disappointing as I was missing her after only one night, but hopefully we will meet up tomorrow in Brodick.
As I walked along the south side of the island some lovely views unfurled; I could see Aisla Craig clearly, which was strange as I had last seen it a few weeks ago when walking the Ayrshire Coast, a sure sign of how far I had walked for very little distance gained as the crow flies. As I got nearer to Kildonan I could also see the beautiful island of Pladda, and a flotilla of navy boats winding to and fro across the sea. There were many boats out at sea, although it was hard to count them as some were going out of sight before coming back again. Fast jets were also flying overhead, giving the people watching in Kildodan their very own military show in miniature.
After nineteen miles I reached the campsite at Kildonan where I had planned last night to finish today's walk. I was still feeling very fit, however, and I knew that the next town, Whiting Bay, was only five miles away. I was extremely tempted to walk the extra five miles to the town, and as usual instead of making a decision I mentally prevaricated. If I did the extra mileage tomorrow then it would be possible to finish the walk around the island tomorrow and save another night of wild camping; on the other hand if I stopped at the campsite I would have a nice long day and not overtire myself, and I could also look forward to the joys of a shower and a pint in the adjacent hotel. After a couple of minutes thought I descended down to the campsite and enquired if they had a space for the night. Not only did they have a space but the gave it to me for free, which was extremely kind of them. I put the tent up and then lay in it, enjoying being able to lie in the tent without midges coming in through the open flap. Under two hours after I finished walking it started to rain, so it looks as though I made the right decision.
I have amazed myself with how quickly I have settled into this camping out and heavy pack carrying lifestyle. Throughout the trip so far I have had a guilty feeling that I am not *really* doing the walk, as I had back-up and was not carrying all my own gear and not camping out each night. I have even been criticised in this way, by someone who was so overweight that it looked as though climbing a ladder would give him a coronary. As I was in the shower this evening, letting the hot water stream over my body - showers always feel better when camping out - I asked myself if I could have done the walk on my own, and camping out a lot. After the last couple of days I think that he answer is yes - I may not have got to where I am so quickly, but I could have done it. The worst thing, however, would have been not having Sam beside me at the end of each day. Before I met her I thought that I was a very independent person, but since I have known her I find it hard to spend a night away from her. She had been pure gold on this trip, and I cannot find the words to express how much I love her.
After my shower I went into the local hotel for a quick pint. I took my electronic equipment (I do not feel that it is safe in my tent without me around) and also the collection pot and the charity banner from the rear of my pack. The hotel had free Internet access, so for the second time today I got to check my emails - normally I have to wait a few weeks to check it once! There is a scheme running in Scotland called Open Scotland, and this is getting computers to remote places - ideal for wandering itinerants like me. By the time that I finished on the computers a folk band was playing, and they kindly let me do a collection and once I had stood up and said what I was doing I got a round of applause - very embarrassing!
---
Directions
This walk starts off on the A841 road at Dougarie Point, and the directions are simple; just walk southwards along the A841 road through Blackwaterfoot and then follow it as it turns to head eastwards through Lagg and Kilmory. When a road lead off downhill to the right just before Auchenhew Bridge, take the road and follow it as it reaches the shore and turns to the left to follow the shore eastwards. This walk ends at the Seal Shore Camping and touring site, at the eastern end of the village.
---
Distances
| From | To | Distance (m) | Ascent (ft) | Descent (ft) |
| --- | --- | --- | --- | --- |
| Dougarie Point | Blackwaterfoot | 6.5 | 358 | 354 |
| Blackwaterfoot | Lagg | 7.1 | 951 | 896 |
| Lagg | Kildonan | 5.6 | 636 | 686 |
This makes a total distance of 19.2 miles, with 1945 feet of ascent and 1936 feet of descent.


For more information on profiles, ascents and descents, see this page
---
Accommodation
I camped at the Seal Shore Camping and touring site, Kildonan, Isle of Arran KA27 8SE. They can be contacted on (01770) 820320, or on the web at www.isleofarran.freeserve.co.uk. This site was very nice with some superb views over towards the island of Pladda and Aisla Craig. They let me stay at the site for free as I was on a charity walk, which was extremely kind of them.
---
Disclaimer
Please note that I take no responsibility for anything that may happen when following these directions. If you intend to follow this route, then please use the relevant maps and check the route out before you go out. As always when walking, use common sense and you should be fine.
If you find any information on any of these routes that is inaccurate, or you wish to add anything, then please email me.
All images on this site are © of the author. Any reproduction, retransmissions, or republication of all or part of any document found on this site is expressly prohibited, unless the author has explicitly granted its prior written consent to so reproduce, retransmit, or republish the material. All other rights reserved.
Although this site includes links providing convenient direct access to other Internet sites, I do not endorse, approve, certify or make warranties or representations as to the accuracy of the information on these sites.
And finally, enjoy your walking!
---
This walk was mentioned in the following routes:
---
Nearby walks
---