Walk #412: Moelfre to Beaumaris
| | | |
| --- | --- | --- |
| | | |
| P20034131417 The beach at Benllech. | | P20034131421 A bridge at the southern edge of Red Wharf Bay. |
General Data
| | |
| --- | --- |
| Date Walked | 13/04/2003 |
| County | Anglesey |
| Start Location | Moelfre |
| End Location | Beaumaris |
| Start time | 08.20 |
| End time | 15.40 |
| Distance | 18.1 miles |
| Description | This was a lovely walk, with some great scenery available from the path. |
| Pack | Today I carried my 30-litre Karrimor HotRock rucksack, which was filled with my packed lunch, waterproof leggings, water bottle and a couple of spare shirts, together with the usual assortment of odds and ends. |
| Condition | The underside of my feet ache a great deal after this walk, and although I had no significant aches from my left ankle or knee, my left leg was aching at the end. I am unsure about why this was, and I hope that it does not reoccur tomorrow. |
| Weather | The forecast was for heavy rain this afternoon, but the morning dawned bright with some sunshine. As the day went on the warm wind brought more cloud in, and for the last hour of the walk it was trying to rain with large raindrops landing. Fortunately this was not at all heavy, and I did not need to stop to put my coat on. It could have been much worse, and indeed during the night it rained quite hard, the first significant rainfall that I have seen for some time. |
| OS map | Landranger number 114 (Anglesey) |
| | | |
| --- | --- | --- |
| | | |
| P20034131428 The view back westwards over Red Wharf Bay. | | P20034131430 Black Point, with Puffin Island behind. |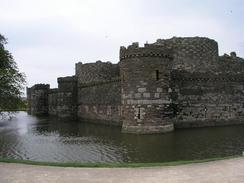 P20034131454 Beaumaris Castle.
---
Map of the walk
Maps courtesy of Google Maps. Route for indicative purposes only, and may have been plotted after the walk. Please let me
have comments
on what you think of this new format. For a detailed table of timings for this walk, please see
the table file
.
---
Notes
I had taken yesterday off (it was only my fourth day off on the entire trip) so that I could get my website up to date. This was quite a stressful day as there was lots of work for em to do, but I managed to do it all in time and get an update to Terry so that he could place the updates on the server. The weather forecast said that there would be heavy rain later on today, so I decided to set off early so that I could try and is it. I walked a little over a mile from the campsite to the start of the walk in Moelfre, which I treated as a slow stroll so that I could warm myself up ready for the main walk.
When I reached Moelfre I was disappointed to see that the tide was high. I knew that there were several sections of the walk where I had to walk on the high tide line, and unfortunately the state of the tide made the walk hard. When I reached Traeth Bychan between Moelfre and Benllech I found that I could not progress along the beach; I had to divert through a caravan park and then clamber over rocks to reach the south end of the beach. This was quite tiring, and it would have been much better if the tide had been out. When I reached Red Wharf Bay the tide was still high, and the bay was a large expanse of water so I picked my way through the fringe of marshes at its edge. By the time that I reached the other side of the bay the water had been replaces with sand - it is amazing how fast the tide went out.
The walk from Black Point (the English name for the point opposite Puffin Island) down to Beaumaris was quite interesting. In particular as I was passing through Penmon I saw a curious building on the left. I had a look at the plaque on the wall, and it turned out to be a Tudor dovecote. I have seen a dovecote before (a larger one in Bedfordshire), but this one was open and I went inside. It is quite an interesting structure - the inside is lined with a series of recessed ledges for the doves from floor to ceiling, and inside it there is a large stone pillar with crude steps spiralling up it - this was used to place ladders on to gain access to the higher ledges. This building fascinated me, and right next door there were the remains of an old 13th Century Priory that I had a quick look around.
Sam met me about a mile away from Beaumaris, and we walked together back to the van in amazement at the number of rabbits grazing on the fields to the north of the town. We sat down in Mervan, which was parked in a car park by the castle walls, and I decided not to walk on to Menai Bridge. The undersides of my feet were aching, and I did not want to put myself under more strain by walking that extra four miles. Instead we went for a walk around the town, which is dominated by the walls of the castle. This was built by Edward I in 1295 to 1296, and is believed to be the best example of a concentrically designed fortress in Britain, although it was never completed. We stopped in a pub for a quick drink, but we did not stay long as it was a bit too loud for our liking (now that I have reached 30 I seem not to like noisy pubs as much!). The town itself is very attractive, and it is well worth looking around it. I took a photograph of Sam by a doorway of a house built around 1400 - the doorway was so small that even Sam would have to duck to get in!
When we got back to the van after walking around the town we switched the television on, and there is quite a funny little story. A man on a jet ski had taken his four children (three on the bike, one being towed on a tyre) for a ride from Conwy. They had gone five miles to Puffin Island before a coastguard helicopter had to rescue them. All they were wearing was thin wetsuits, and they had hypothermia. They were very lucky, and this reminds me about how near Conwy and Puffin Island are, yet to walk between them will take me over a day.
---
Directions
This walk mostly follows the Anglesey Coastal Path, a new path being created around the island. There are some laminated map sheets available from local Tourist Information offices, and there will also be a guidebook released in a few months time. There are gaps in the path that remain to be filled, and new permissive sections of footpath have been created. I found the signage on these new stretches to be inadequate or even inaccurate; then again, it is very much work in progress. I found it best to use the new route as a guide and create my own route based on it, in time this situation should improve. Fortunately this particular stretch of the coast path is very well signed, and therefore it is easy to follow.
This walk starts off by the harbour in the little village of Moelfre. Leave the harbour area and when the road curves uphill to the right continue on southwards along a footpath, passing a little bay near Nant Bychan and reaching the northern end of Traeth Bycan. If the tide is low then walk southward along the beach towards the headland at Penrhyn; but if the tide is high then you will have to very carefully scramble over the rocks along the high tide line above the beach. From the headland a good path heads southwards along the cliffs past Borth-wen until you reach a road at the northern end of the village of Benllech.
Follow the short promenade through Benllech and when the road curves away and leaves the beach join the beach and walk southeastwards along Benllech Sands. If the tide is low then walk around the headland at Twyn Dwlban and then head south along Red Wharf Bay. Pass the little village of Red Wharf Bay and then follow the edge of the bay was it turns to head in a more easterly direction. After a couple of miles a road is met beside the beach. Join this road and follow it eastwards until a large hill ahead is reached. Before the road starts to curves to the right, climb uphill drop down onto the beach for a few yards before climbing some steps up a footpath. This footpath starts the climb uphill and joins a track for a few yards before a junction is reached with another track. Turn left up this track and follow it as it heads uphill, but before a farm is reached take a footpath that heads off to the right.
This footpath heads uphill before joining another track that curves around the northern side of the hill of Bwrdd Arthur. On the eastern side of this hill before the track ends at a road a footpath leads off to the left to head eastwards across fields, joining a track before rending at a road. Turn left down this road and follow it eastwards as it drops down towards a little village. Take a road off to the left and heads eastwards. When a track leads off to the left turn down this and follow it for a few yards until a footpath lead of to the right. Take this footpath and follow it eastwards as it crosses over a series of tracks before ending at the fourth track. Turn right down this track for a short distance until it ends at a road. Turn left down this road and follow it eastwards until it ends, and then continue on along a footpath that leads on to the car park at Black Point.
Leave the car park and follow the road southwestwards along the coast. The road passes the dovecote and old priory at Penmon and passes a beach and the headland of Trwyn y Penrhyn. South of here I joined the beach and followed it southwards for a couple of miles until the B5109 reaches the coast. I then joined the B5109 and followed it southwards for a little under a mile into the town of Beaumaris. This walk ends at the car park by the castle in the town, where this walk ends.
---
Distances
| From | To | Distance (m) | Ascent (ft) | Descent (ft) |
| --- | --- | --- | --- | --- |
| Moelfre | Benllech | 3.0 | 535 | 558 |
| Benllech | Black Point | 10.6 | 1024 | 1033 |
| Black Point | Beaumaris | 4.5 | 361 | 351 |
This makes a total distance of 18.1 miles, with 1920 feet of ascent and 1942 feet of descent.


For more information on profiles, ascents and descents, see this page
---
Accommodation
We spent the night in a car park beside the castle in Beaumaris. There were no signs that we could see prohibiting overnight parking, so we were happy to stay here. It was quite a nice place to park, with beautiful views toward he walls of the castle on one side and over the Menai Straits to Bangor and Snowdonia on the other.
---
Disclaimer
Please note that I take no responsibility for anything that may happen when following these directions. If you intend to follow this route, then please use the relevant maps and check the route out before you go out. As always when walking, use common sense and you should be fine.
If you find any information on any of these routes that is inaccurate, or you wish to add anything, then please email me.
All images on this site are © of the author. Any reproduction, retransmissions, or republication of all or part of any document found on this site is expressly prohibited, unless the author has explicitly granted its prior written consent to so reproduce, retransmit, or republish the material. All other rights reserved.
Although this site includes links providing convenient direct access to other Internet sites, I do not endorse, approve, certify or make warranties or representations as to the accuracy of the information on these sites.
And finally, enjoy your walking!
---
This walk was mentioned in the following routes:
---
Nearby walks
---