Walk #73: Devizes to Wooton Rivers
| | | |
| --- | --- | --- |
| | | |
| I16 Lady's bridge | | I17 Pewsey Wharf |
General Data
| | |
| --- | --- |
| Date Walked | 02/04/2000 |
| County | Wiltshire |
| Start Location | Devizes |
| End Location | Wooton Rivers |
| Start time | 09.20 |
| End time | 14.45 |
| Distance | 14.9 miles |
| Description | A nice day of canal walking, this time with no stoppages to worry about. |
| Pack | Full Pennine Way kit. |
| Condition | My energy levels are fine, and I found the 15-mile distance no problem. The underside of my feet, however, are suffering badly. They feel as if they have been continusly hit from underneath with cricket bats. |
| Weather | An overcast day, with occasional glimpses of sunshine through the cloud. It did not rain except for a short shower after Pewsey. |
| OS map | Landranger number 173 (Swindon & Devizes, Marlborough & Trowbridge) |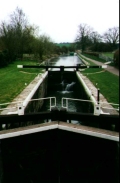 I19 Wooton Rivers Lock
---
Map of the walk
Maps courtesy of Google Maps. Route for indicative purposes only, and may have been plotted after the walk. Please let me
have comments
on what you think of this new format. For a detailed table of timings for this walk, please see
the table file
.
For more details of the distances involved with this walk, please see Jim Shead's waterways pages.
---
Notes
A nice day which I finished in plenty of time despite a relatively (for me) late start. Early on in the day's walk the underside of my feet started aching and this aching did not let up until my bath fter I had got to my B&B for the night.
Today's walk was 15 miles of very easy canal towpath walking - I had time to walk further, but my feet were suffering towards the end of the day. Highlights of the day were the White Horse carved on the hillside north of All Cannings and the picturesque village of Wooton Rivers, where nearly every house is thatched.
This B&B is very nice (although relatively expensive), and I am still about 7 miles ahead of my schedule. I am considering spending tomorrow night in Kintbury (between Hungerford and Newbury), or at Newbury itself (at 19 miles perhaps a bit too far . It will all depend on the state of my feet.
The local accent is absolutely delicious - one of the barmaids at the Royal Oak sounds like a real country bumpkin with a very thick but lovely accent. As I drunk my pint I reflected on the fact that I could live in a village like this, and indeed it has been used for filming television series in the past.
On the other hand, another barmaid told me that in the sixties and seventies Wooton Rivers was known as the most incestuous village in England, and in the eighties it was in the papers as the wife-swapping centre of the country. I find it hard to believe it of such a lovely village, but on the other hand everyone in the village did seem very close and friendly, so who knows?
---
Directions
This was a simple walk following the Kennet and Avon canal eastwards from Devizes passing though All Cannings, Honeystreet and Pewsey. Navigation was simple; I just had to follow the canal. The towpath starts on the southern side of the canal; at ST113607 it crosses over onto the northern bank, and at Bristow Bridge (ST150614) it seaps back over to the southern side once more. It remains on the soutehrn bank until Wooton Rivers is reached.
---
Distances
| From | To | Distance (m) | Ascent (ft) | Descent (ft) |
| --- | --- | --- | --- | --- |
| Devizes | Honeystreet | 7.7 | 125 | 128 |
| Honeystreet | Wooton Rivers | 7.2 | 279 | 249 |
This makes a total distance of 14.9 miles, with 404 feet of ascent and 377 feet of descent.


For more information on profiles, ascents and descents, see this page
---
Disclaimer
Please note that I take no responsibility for anything that may happen when following these directions. If you intend to follow this route, then please use the relevant maps and check the route out before you go out. As always when walking, use common sense and you should be fine.
If you find any information on any of these routes that is inaccurate, or you wish to add anything, then please email me.
All images on this site are © of the author. Any reproduction, retransmissions, or republication of all or part of any document found on this site is expressly prohibited, unless the author has explicitly granted its prior written consent to so reproduce, retransmit, or republish the material. All other rights reserved.
Although this site includes links providing convenient direct access to other Internet sites, I do not endorse, approve, certify or make warranties or representations as to the accuracy of the information on these sites.
And finally, enjoy your walking!
---
This walk was mentioned in the following routes:
---
Nearby walks
---